This extra crunchy and airy Sunflower Seed Brittle takes only minutes to make. This versatile recipe can be easily customized by adding spices and other seeds of your choice!
Brittles are some of my favorite sweet snacks because they're so easy and quick to make. They require only a handful of ingredients, and don't need any special skills or tools.
Store-bought seed brittles can be too sticky and hard – definitely not child friendly. This sunflower seed brittle is much more aerated and lighter, but still crunchy. Perfect for kiddos and adults alike!
If you like trying new recipes, you are going to love this asian cuisine treat!
Why You Will Love This Recipe
While it's not exactly a healthy snack, there are plenty of reasons to love this easy sunflower seed brittle recipe.
Easy to make: This recipe takes only minutes to prepare and is very forgivable. You don't need any specials skills or techniques to make it.
Crunchy, but not too hard: Sunflower seed brittle is crunchy and has a great snap to it, without being rock hard or too sticky.
Airy and light: Baking soda gives this recipe a very light and aerated texture. Once cooled, this brittle is not overly hard, making it child friendly.
Very customizable: Change this recipe up by adding your favorite spices and other seeds. See section below for variations and flavor ideas.
Long storage: This recipe can be stored at room temperature for 6-8 weeks. So you can make a big batch and enjoy it for a long time! It also make a delicious gift.
Sunflower Seed Brittle Ingredients
All ingredients needed to make this sunflower seed brittle are very simple and can be found in most households. Also, the only specialty tool you will need is a candy thermometer.
Here's what you need to make this recipe:
Sunflower seeds – You need raw, unsalted sunflower seeds for this recipe.
Sugar – Plain granulated sugar works best. You can also use brown sugar if desired.
Corn syrup – Use light corn syrup for the most neutral flavor. This ingredient is essential to prevent the sugar from crystallizing.
Water – needed to make caramel. I recommend using filtered water if possible.
Baking soda – One of the most important ingredients in this recipe. Baking soda gives brittles their airy texture. Without it, the caramel would set like hard candy, making it difficult to eat. This ingredient cannot be left out or substituted.
Salt – Sea salt brings out the flavors in sunflower seed brittle. I recommend using Kosher salt.
Flavors: Pure vanilla extract and cinnamon – I highly recommend using both. Vanilla adds fragrance, whilst cinnamon gives a subtle spicy flavor to the brittle.
Optional: butter – Although not required, butter makes the brittle much softer and easier to eat. It also makes it melt in your mouth delicious!
How to Make Sunflower Seed Brittle
​While this is a process to make, it's more than worth the time!
Combine sugar and water. Combine the sugar, water and corn syrup in a saucepan and bring to a boil.
Add sunflower seeds. Add in the sunflower seeds. This will bring down the temperature, so keep cooking it to bring up the temperature.
Add rest of ingredients. Quickly mix in the remaining ingredients until the mixture foams up.
Pour onto baking sheet. Pour the hot mixture in a thin layer onto a prepared baking sheet and cool down.
Sunflower Seed Brittle Variations
The best thing about this sunflower seed brittle recipe is how versatile it is. You can easily add various spices, seeds, and nuts to make your own flavors. Here are some of my favorite combinations:
Nuts & Seeds
Pumpkin seeds
Sesame seeds
Poppy seeds
Almonds
Walnuts
Cashew nuts
Peanuts
Hazelnuts
Brazil nuts (chopped)
Pistachio
Macadamia nuts
Pecans
Spices
Ground nutmeg
Ground ginger
Allspice
Cayenne pepper or chili flakes (for a spicy kick)
Ground pink peppercorn (subtle spicy aroma)
Ground cardamom
Rum extract
Almond extract
Citrus (lemon or orange) extract
Dried mint
Licorice
Mulled wine spices
Cocoa powder
Other Ideas
Cereals
Rice puffs
Sprinkles
Dried or candied fruit
Coconut flakes
Popcorn
Peppermint candy
Tips & Tricks
Candy making can be a little tricky, but I'm sharing all the tips you need!
Use a candy thermometer: Overcooked sunflower seed brittle can get very hard and unpleasant to eat. A candy thermometer is needed to achieve the perfect temperature (320°F).
Cook the seeds with the caramel: Adding a lot of sunflower seeds will bring down the temperature of the caramel and can make it harden too quickly. This is why you need to keep cooking the caramel with the sunflower seeds until it reaches 320°F (160°C). Add the remaining ingredients only after the right temperature is achieved.
Perfect texture: Baking soda is crucial in creating the best brittle texture. It makes it airy and light, whilst still maintaining the crunch. Do not skip baking soda.
Line the baking sheet: Brittle will stick to anything, so make sure you line and grease the baking sheet beforehand. This will make it easier to remove the brittle once it's set. You can also use a good quality silicone mat instead of parchment paper.
Pour whilst piping hot: Once brittle starts to set, it's difficult to shape. Pour it onto a lined tray whilst still piping hot, so it's nice and thin. Thick brittle can be tricky to eat, so ensure it's nice and thin.
Get creative: Play around with seeds, nuts and spices to create your favorite flavor. This recipe is really versatile and fun! See the section above for flavor ideas.
Cool down completely: Let the sunflower seed brittle cool down completely before breaking it into smaller pieces. It should be at the hard-crack stage and non-sticky when fully set.
What to Serve with Sunflower Seed Brittle
Of course this brittle tastes good all on it's own as a snack, but there are plenty of ways you can serve it.
I like to add mine to vanilla ice cream for a little crunch. It's the perfect treat to add to a snack board or charcuterie board too.
Storage and Freezing
This recipe is great because it can be stored for a long time. To store, place in an airtight container, with wax paper or parchment paper in between each layer. Keep at room temperature in a dry place for up to 6-8 weeks.
Do not refrigerate sunflower seed brittle, as the moisture in the fridge can make it go sticky and soft.
More Sweet Treat Recipes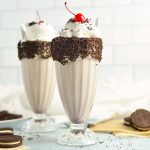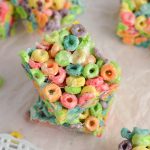 Sunflower Seed Brittle Recipe
This crunchy and airy Sunflower Seed Brittle takes only minutes to make. It can be easily customized by adding spices and other seeds!
Print
Pin
Rate
Ingredients
1

cup

plain sugar

½

cup

water

½

cup

corn syrup

1

cup

raw sunflower seeds

1 ½

teaspoons

coarse Kosher salt

1

teaspoon

baking soda

½

teaspoon

vanilla extract

¼

teaspoon

ground cinnamon

1

teaspoon

butter

room temperature
Instructions
Line a large, rimmed baking sheet with parchment paper and spray with cooking spray or grease with oil. Set aside.

In a large heavy bottom saucepan, combine the sugar, water, and corn syrup.

Cook until it comes to a low boil. Boil over medium heat until it comes to 300°F (150°C) using a candy thermometer. Do not stir or swish until it is fully melted. This will take 9-14 minutes depending on the stove but watch carefully to not burn.

Add in the sunflower seeds and mix then into the caramel. The temperature will drop, so keep cooking over low heat until the mixture reaches 320°F (160°C).

Once it reaches 320°F, remove from heat and quickly whisk in the salt, baking soda, vanilla and cinnamon.

Work quickly and add in the butter, mixing it well into the caramel.

Carefully pour onto the prepared baking dish and spread it thinly with a spatula.

Let cool down completely, then break the brittle into smaller pieces.

If you've tried this recipe, come back and let us know how it was in the comments or star ratings!
Nutrition
Calories:
205
kcal
|
Carbohydrates:
36
g
|
Protein:
3
g
|
Fat:
7
g
|
Saturated Fat:
1
g
|
Polyunsaturated Fat:
3
g
|
Monounsaturated Fat:
2
g
|
Cholesterol:
0.1
mg
|
Sodium:
1169
mg
|
Potassium:
88
mg
|
Fiber:
1
g
|
Sugar:
33
g
|
Vitamin A:
8
IU
|
Vitamin C:
0.2
mg
|
Calcium:
15
mg
|
Iron:
1
mg