Some people refer to muffins as "breakfast cake." While I may not always agree, these jumbo chocolate chip muffins may fit that description and I love them for that.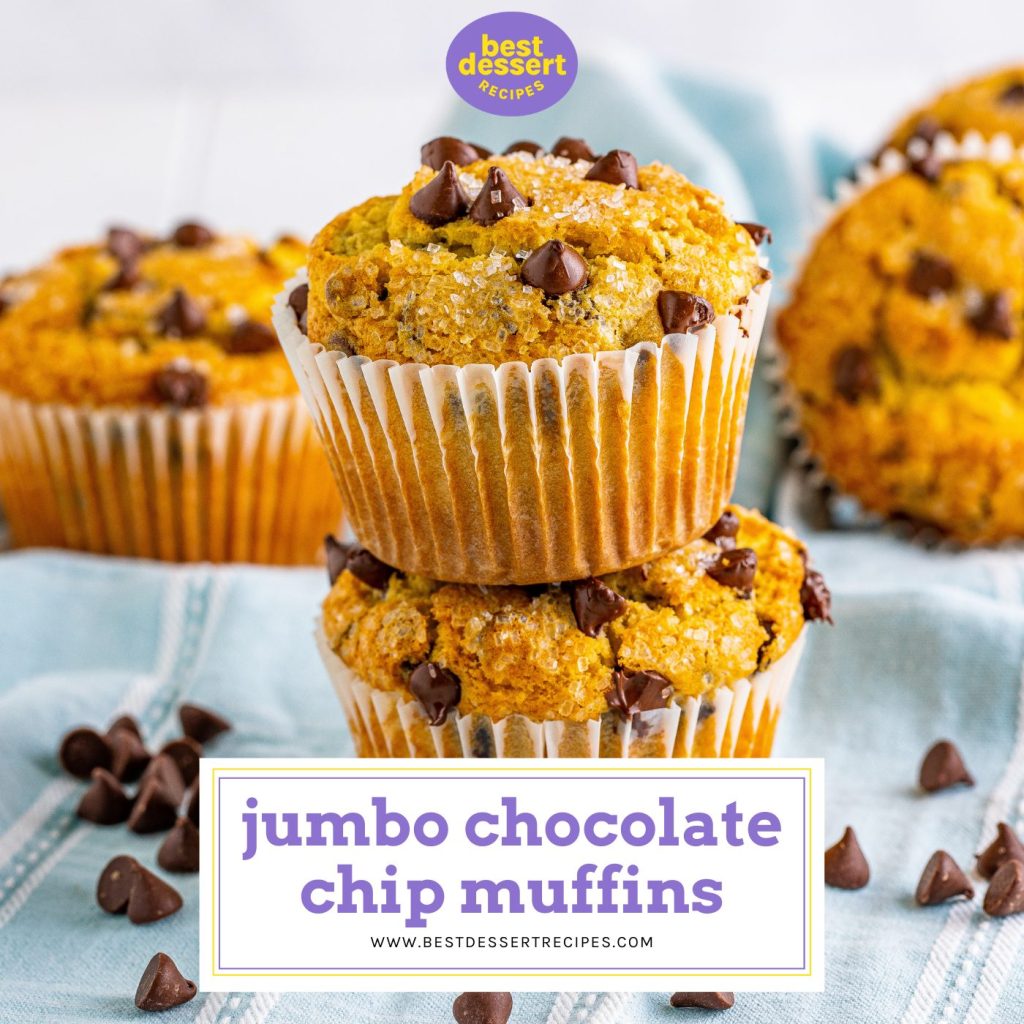 Homemade muffins (when made right) are superior to any muffin largely because they are at their most moist and fresh version straight when you've baked them in your oven. That said, there's something special about big bakery style muffins — this recipe combines the goodness of both.
With their super fluffy texture, these jumbo muffins are amazing all on their own but you can dunk them into your morning warm cup of coffee or top them with some ice cream for an afternoon snack or dessert after dinner. They're amazing any time of day.
The next time you feel a chocolate craving coming on, or you just want a light, airy muffin, this is your go-to recipe.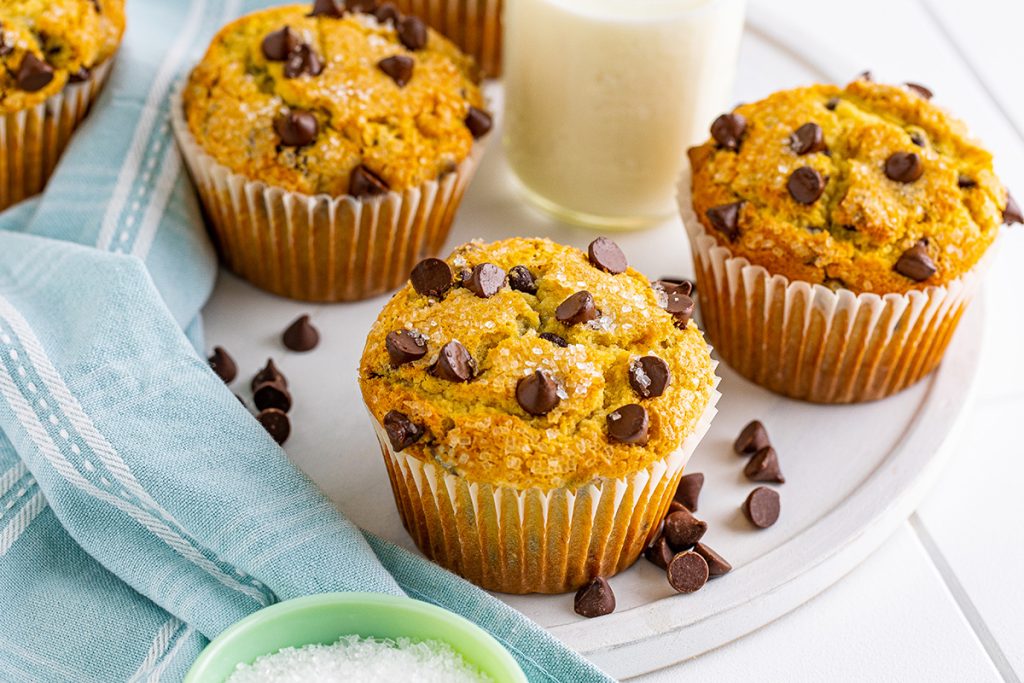 Why You'll Love Jumbo Chocolate Chip Muffins
Bakery-style chocolate chip muffins but in jumbo size- what's not to love!
Easy – These muffins are some of the easiest to make that you'll find and have the most basic ingredients.
Chocolatey – These pack so much chocolate flavor into one muffin. It can be a sweet breakfast treat or a delicious dessert.
Versatile – You can make this the base of an ice cream sundae or it can be a fun version of a birthday cupcake.
Portable – You can take these anywhere — pack for a hike or in lunch bags. These are also the perfect way to create a gorgeous edible centerpiece for your next brunch gathering.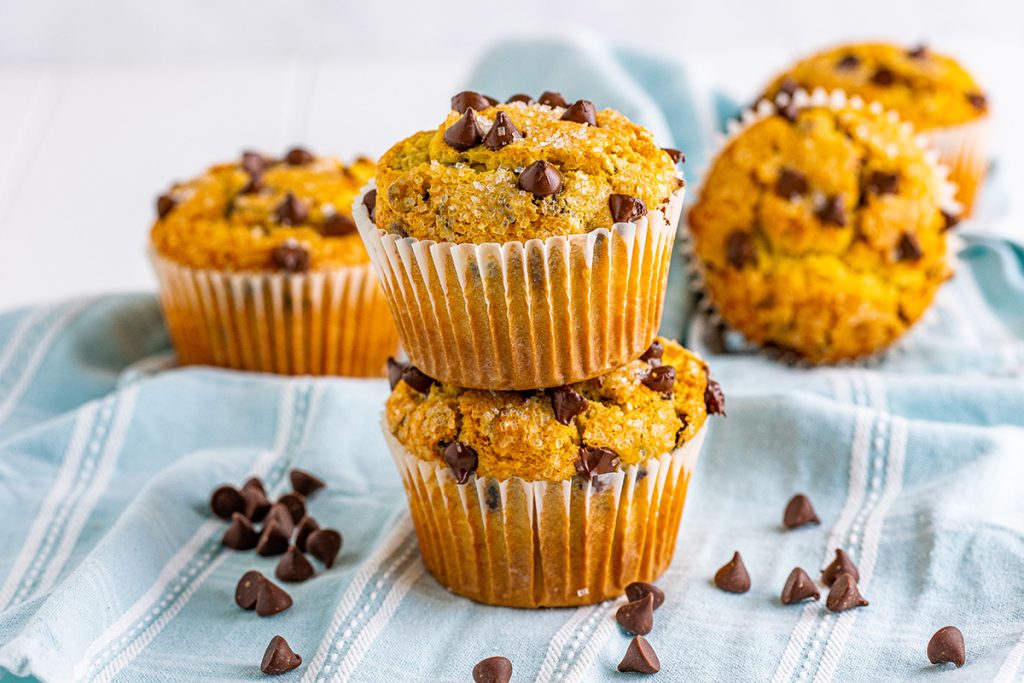 Ingredients
Besides maybe the buttermilk, I'd bet you have almost all of the ingredients for these large muffins already on hand!
All-purpose flour – All purpose flour helps these muffins to rise beautifully.
Baking powder – One of the most important leavening agents, baking powder is another ingredient that helps these muffins turn out perfect.
Sea salt – Make sure your sea salt has fine granules so it dissolves well when mixing and baking.
Unsalted butter – Make sure to use melted butter for the easiest mixing.
Granulated sugar – The fine granules will melt perfectly for this recipe.
Light brown sugar – Make sure to pack the sugar in the measuring cup to ensure the correct quantity.
Eggs – Use large eggs which are the typically preferred size for baking.
Vanilla extract – Any brand you grab from the grocery store will do but you can also make your own.
Buttermilk – This adds a rich, creamy texture to your muffins that regular milk can't replicate.
Semi-sweet chocolate chips – While I prefer to use these you can also use any chocolate chunks whether it's dark chocolate, mini chips, or milk chocolate chips.
Decorator's sugar – This is optional but can add texture and a fun flair to your muffins.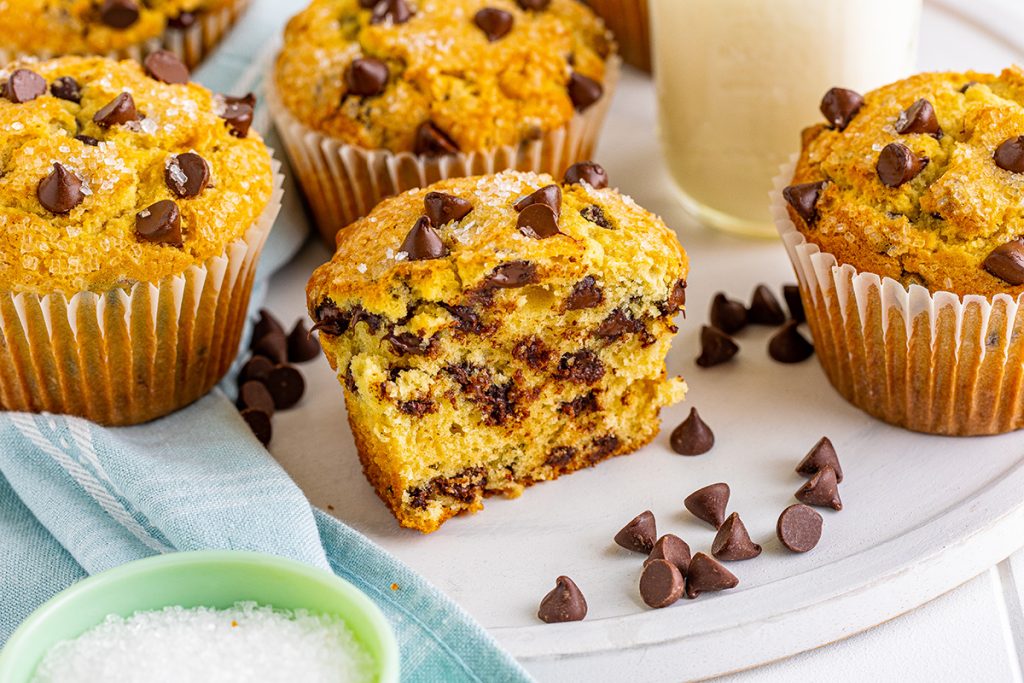 How To Make Jumbo Chocolate Chip Muffins
Make sure that you have room temperature ingredients before you begin baking.
Dry ingredients. Mix the dry ingredients — flour, baking powder, and salt — in a medium bowl with a wooden spoon.
Mix butter and sugars. In a large bowl, combine the melted butter, granulated sugar, and brown sugar. Mix them together until combined.
Add in eggs. Next, whisk the eggs and vanilla into the butter and sugar mixture until silky smooth.
Add half of dry ingredients. Add half of the dry ingredients to the butter mixture and whisk vigorously in until smooth. Then, add half of the buttermilk, and combine.
Add remaining dry ingredients. Add the remaining flour mixture and buttermilk and mix until all ingredients are completely combined and smooth. Ensure to not mix too much so that you don't have tall muffin tops.
Chocolate chips. Using a spatula, gently fold in the chocolate chips.
Scoop into liners. Then, evenly spoon the batter into the jumbo muffin pan prepared with jumbo muffin liners..
Top with chocolate chips and sugar. Sprinkle more chocolate chips on top of the batter in the tin. Then, shake decorator's sugar over the muffins.
Bake. Bake until an inserted toothpick comes out clean and the muffins have slightly round tops. The edges should be golden brown.

Jumbo Chocolate Chip Muffins Variations
You can use various substitutions or additions to make these muffins your own.
Nuts – Sprinkle crushed nuts on top to add texture and impart that sweet/salty flavor.
Sour cream – Using sour cream can help to make baked goods more moist.
Chips – Use peanut butter chips, butterscotch chips, or white chocolate chunks in the muffin batter to add a pop of flavor.
Cocoa powder – Incorporating cocoa powder can increase the richness of baked goods.
Filling – Pipe a pudding, jelly, or whipped cream filling into the center of the muffins.
Extracts – Try coconut, almond, orange, strawberry, or cherry.
Greek yogurt – The acidity of Greek yogurt can work with baking powder to increase the fluffy texture of muffins. Its flavor adds tang.
Fruit – Garnish with berries, sliced bananas, or any other fruit that you enjoy. Make it seasonal!
Melted coconut oil – Using coconut oil makes baked goods lighter and adds rich flavor when it is substituted for butter.
Sprinkle of coarse sugar – Add some texture to the muffins by using a coarse sugar to sprinkle on top of the muffins. Use colored decorator's sugar to make it colorful.
Alternatve flour – You can experiment with any gluten free flours as well if you're trying to lower carbs or can't have gluten.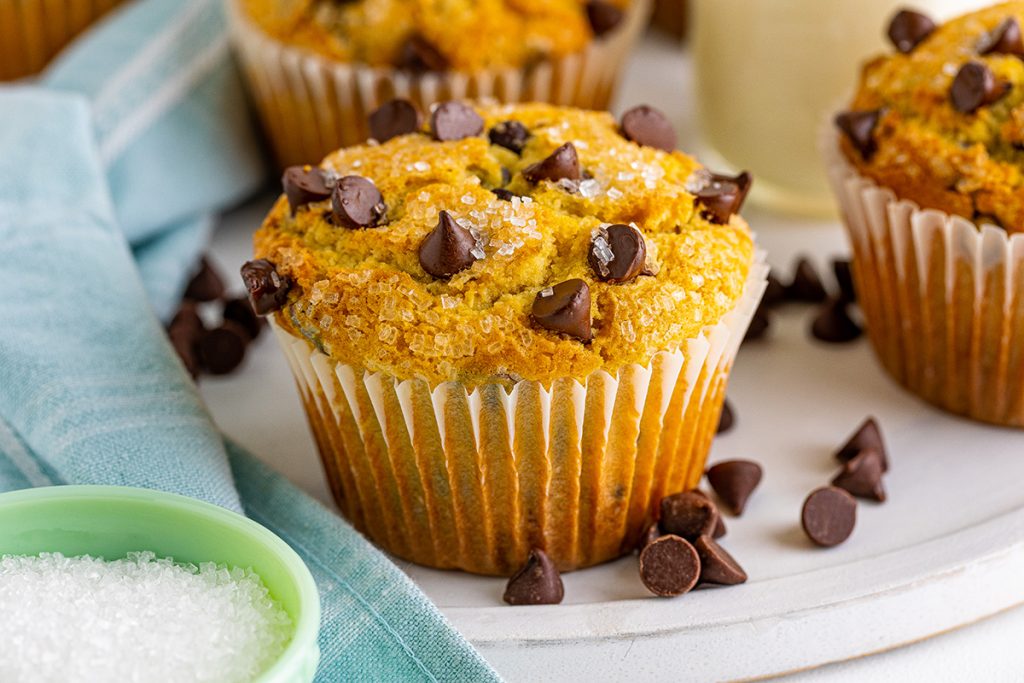 Storage and Freezing
Storage: You can store these muffins for up to a 5 days at room temperature or in the refrigerator.
Freezing: You can also freeze them in an airtight container, ziploc bag, or wrapped in plastic wrap for up to 3 months in the freezer.
Frequently Asked Questions
What is the difference between a jumbo muffin and a muffin? 
The real difference is really in the name, it's just size. Contrary to mini muffins, these ones are just larger in size.
How do you make my muffins rise really big?
Starting the oven at a higher temperature and then dropping it down after the initial few minutes will make the muffins rise quickly.
What is the secret to moist muffins?
While it does add extra time, chilling your batter in the refrigerator overnight actually helps to make a moist and tender muffin.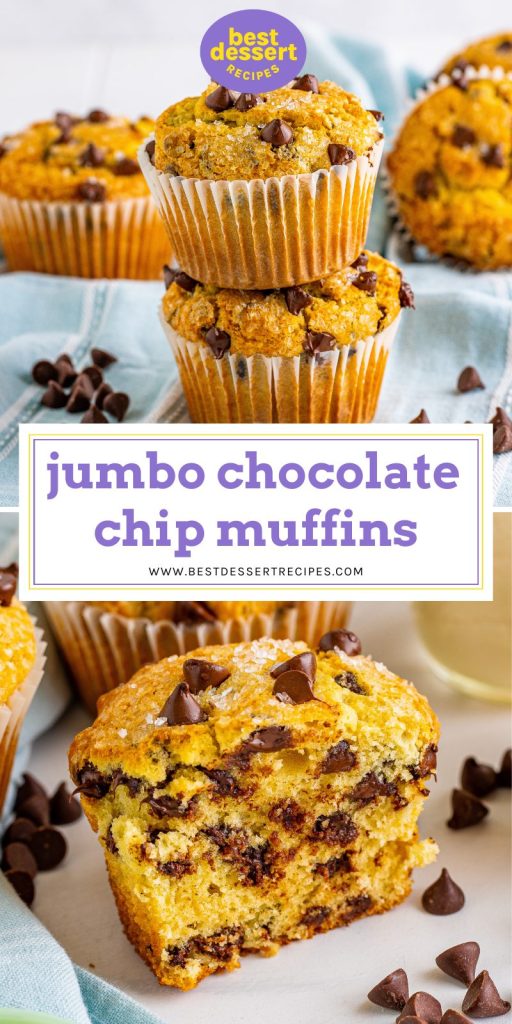 More Easy Desserts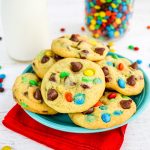 Peanut Butter Chocolate Chip Bars
Buttery and chewy cookie bars mixed with peanut butter and laced with peanut butter chips and chocolate chips.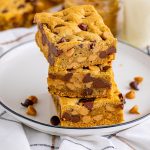 Chocolate Chip Cookie Dough Dip
The best no-cook edible chocolate chip cookie dough dip made with cream cheese, brown sugar and mini chocolate chips.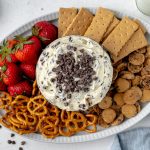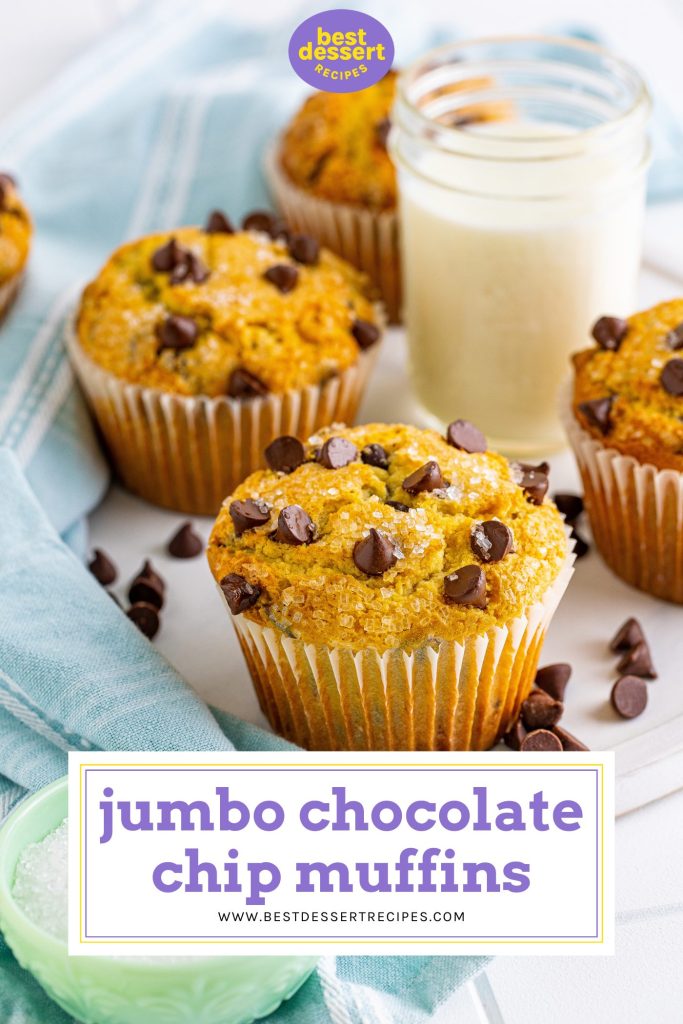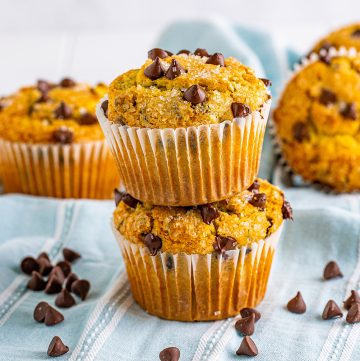 Jumbo Chocolate Chip Muffins
Moist muffins, studded with chocolate chips & a crunchy sugar top, this Jumbo Chocolate Chip Muffins recipe tastes straight from the bakery!
Print
Pin
Rate
Ingredients
2

cups

all-purpose flour

2

teaspoons

baking powder

1/4

teaspoon

fine sea salt

1/2

cup

unsalted butter

melted

1/2

cup

granulated sugar

1/2

cup

light brown sugar

packed

2

large eggs

2

teaspoons

vanilla extract

1/2

cup

buttermilk

12

ounces

semi-sweet chocolate chips

1

tablespoon

decorators sugar or turbinado

optional
Instructions
Preheat the oven to 425°F. Line 6 sections of a jumbo muffin tin with jumbo muffin liners or spray with baking spray, set aside.

In a medium bowl stir together the flour, baking powder, and salt, set aside.

In a large bowl whisk together the melted butter, granulated sugar, and brown sugar until combined. Whisk in the eggs and vanilla until smooth.

Add half of the flour mixture, whisk it in until smooth. Add half of the buttermilk, whisk until smooth. Repeat with the remaining flour mixture and buttermilk.

Fold in the chocolate chips and divide the batter among the prepared muffin tin sections. Add more chocolate chips on top for a pretty presentation. Sprinkle the decorator's sugar on top of each muffin.

Place in the oven for 5 minutes. Reduce the heat to 350°F and continue to bake for 25-30 minutes until a toothpick inserted into the center comes out clean. The muffins will have a nice domed top and be golden brown.

Let cool in the pan for 10 minutes, then take them out and cool completely on a wire rack.

If you've tried this recipe, come back and let us know how it was in the comments or star ratings.
Nutrition
Calories:
795
kcal
|
Carbohydrates:
100
g
|
Protein:
10
g
|
Fat:
40
g
|
Saturated Fat:
23
g
|
Polyunsaturated Fat:
2
g
|
Monounsaturated Fat:
11
g
|
Trans Fat:
1
g
|
Cholesterol:
101
mg
|
Sodium:
294
mg
|
Potassium:
445
mg
|
Fiber:
6
g
|
Sugar:
59
g
|
Vitamin A:
613
IU
|
Calcium:
171
mg
|
Iron:
6
mg