My favorite part of a trip to a good grocery store is exploring the produce section. I'm always on the lookout for fresh fruits. These frosted grapes are one of my favorite recipes using fresh fruit!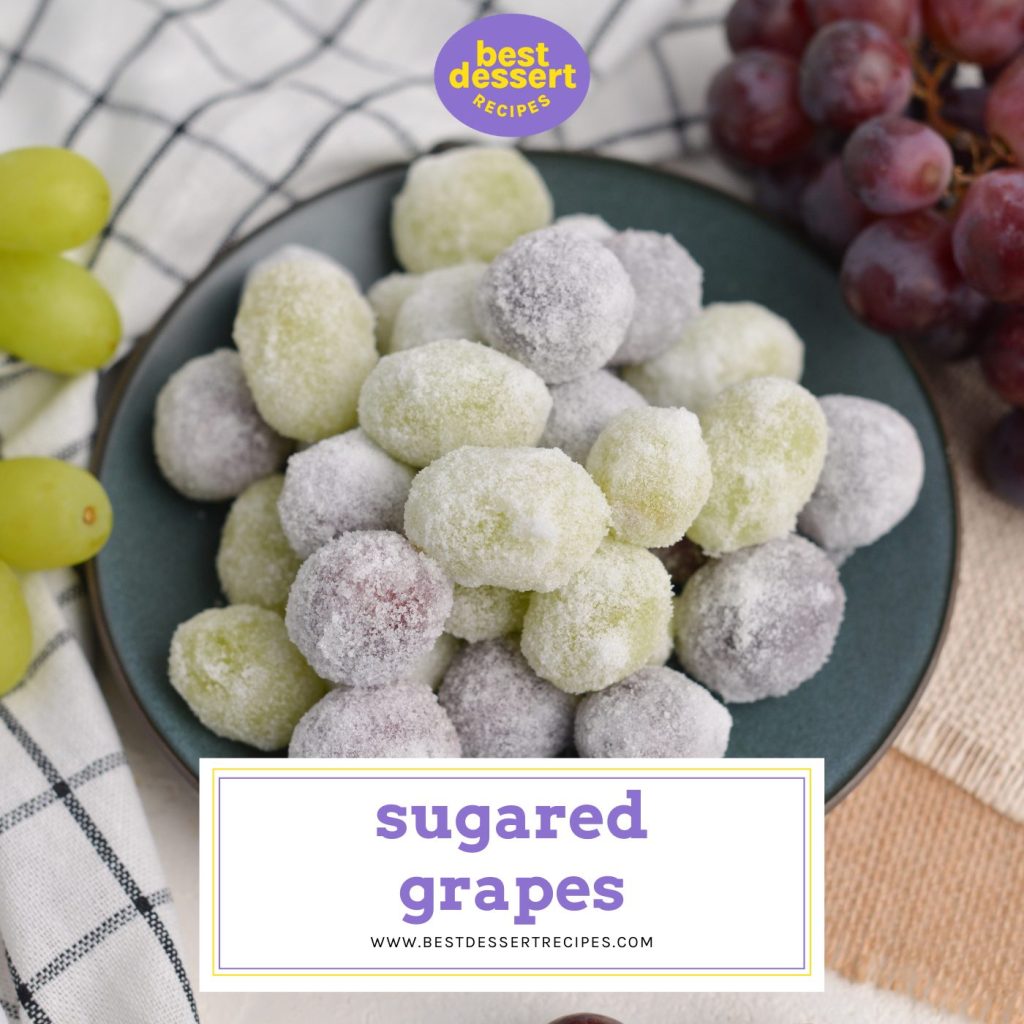 So, of course, I wanted to whip up some dessert recipes using them — these frosted grapes are one of my top choices for fruity desserts.
I can tell you for sure that there's no better way to enjoy grapes than these, enrobed in a sweet coating. They have a crunchy exterior and if you freeze them, they're like hard candies. I love the pop that they give when you crunch through the sugar coating and get to the juiciness of the fruit.
Frosted Grapes aka Sugared Grapes
These sugar-coated grapes are so easy to make, too. Just prepare the simple syrup then coat the fruit with that and then the sugar. The process is quick and you have a beautiful result that you can eat all on its own or use as a garnish.
While eating tons of sugar may not be a good thing, a little in moderation is just fine. That's what these sugared grapes deliver. With just a touch of sweetness on the outside I still consider this to fall in the category of healthy recipes when it comes to dessert.
Next time you have grapes in the refrigerator try this easy dessert recipe. You won't regret making this (somewhat) healthy snack.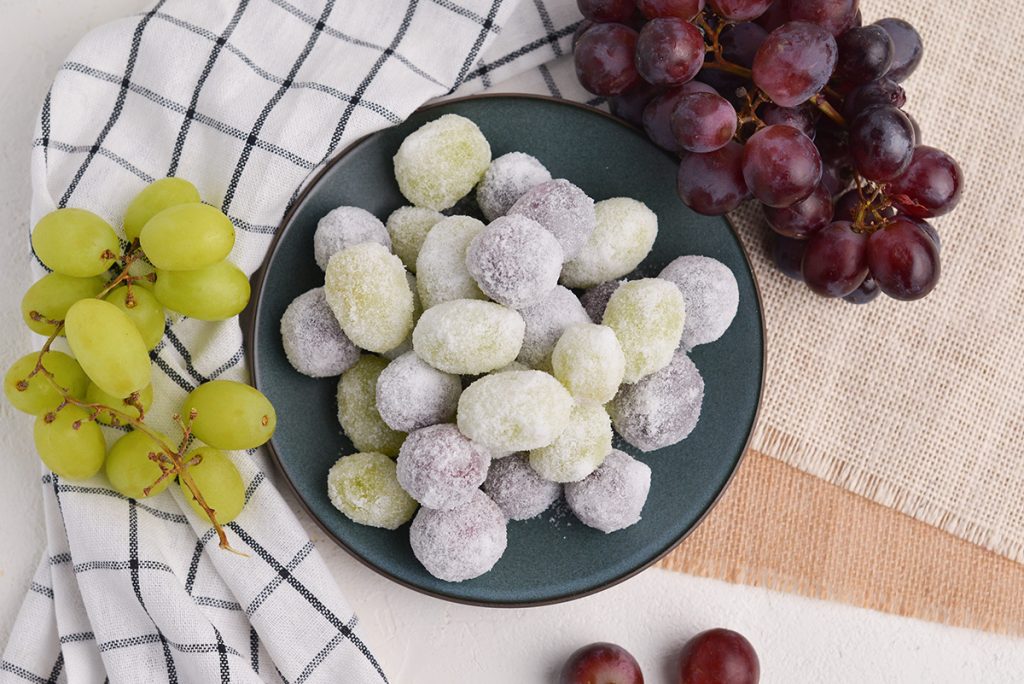 Why You'll Love Frosted Grapes
A sweet treat made from only three ingredients and made in only 30 minutes- what's not to love!
Easy– This is an easy recipe that you can throw together quickly.
Simple– With only a few steps to make, these are some simple sweet treats.
Accessible– The ingredients are probably already in your pantry or easy to pick up at any store.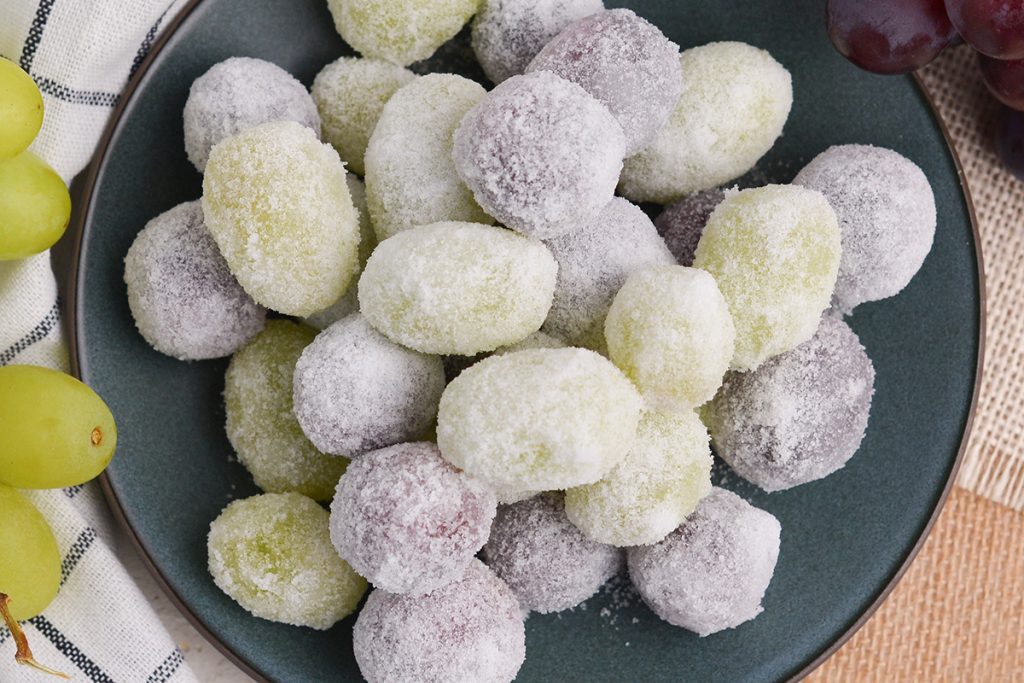 Ingredients
You only need a few simple ingredients to make this perfect treat.
Water– This will be the base of your simple syrup to coat the grapes.
Granulated sugar– You'll need to divide the sugar up so that you have some remaining to coat the grapes. The remainder will be part of the syrup.
Light corn syrup– Make sure to use light corn syrup both for the flavor and the color.
Grapes– These are the key ingredient, of course. You can use red grapes or green grapes, and they can be seedless grapes or not, any grape varieties will work.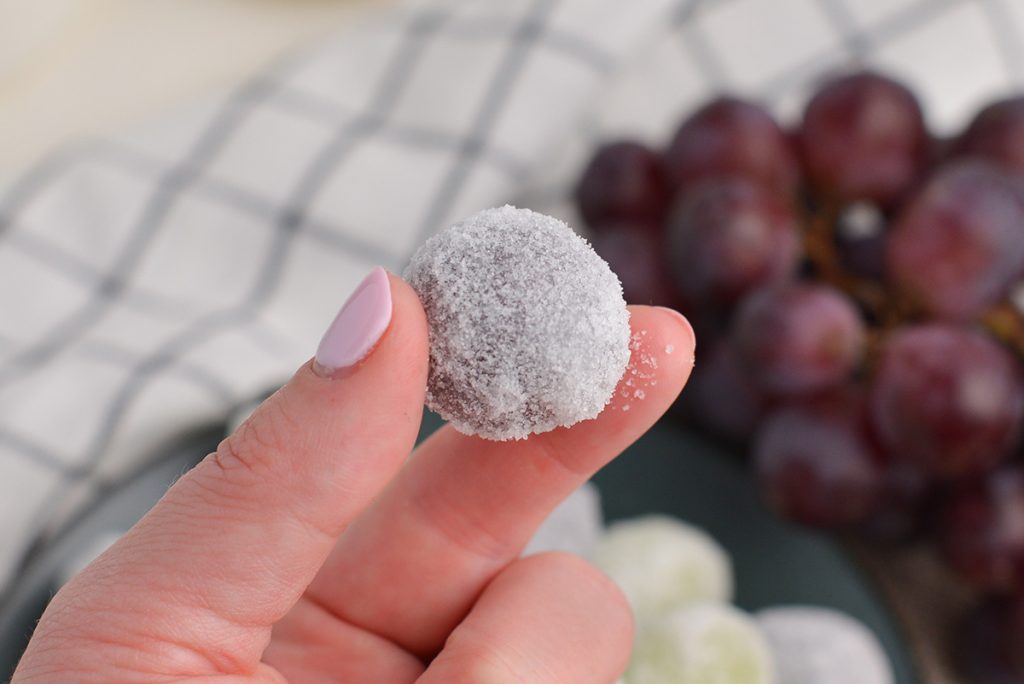 How To Make Frosted Grapes
You are going to love how easy it is to make this easy grapes recipe!
Make simple syrup.

Place sugar, water and corn syrup in a heavy bottom saucepan over low heat. You'll want to use a heavy bottom pan to reduce avoid being hit by any "spitting" from the mixture as it cooks.

The mixture should be completely liquified without any solids
Cool. Remove the pan from the heat and allow the mixture to cool slightly. Avoid leaving the mixture for longer than that because it will start to harden.
Toss grapes. After you wash grapes, toss the grapes in the simple syrup, coating them. You can use your hands or a large slotted spoon. Then, arrange them in a single layer on a wire rack.
Coat grapes in sugar. While allowing the grapes to cool, pour the remaining sugar in a plastic bag or a large bowl. If using a plastic bag you can toss the grapes in and shake. If using a bowl, roll the grapes in the sugar.
Tap off extra sugar. Once finished, tap off any excess sugar. You may want to keep a bowl of water and paper towels nearby to clean your fingers.
Allow to set. Once the grapes have been sugared, place them on a parchment paper lined baking sheet and allow to set.

What to Serve with Frosted Grapes
Serve these grapes at Sunday brunch, as an after school snack or even on party skewers for baby showers! They're perfect on a hot summer day and for kids of all ages.
You can serve with other fruits, in a whole bunch on a snack board with meats and cheeses, or in small bowls on party tables.
Variations
We like this grape recipe exactly as written, but there are plenty of ways you can make it your own.
Ice cream– Make these a pretty garnish for any ice cream.
Snow grapes– Mix together cream cheese, sour cream, and vanilla extract and toss these frosted grapes in for a sweet salad.
Cocktails– Use to garnish the likes of a lemon drop or French martini.
Jello– Substitute flavored gelatin mix for the corn syrup and sugar to make rainbow jello grapes. Dip the grapes in water or lemon juice before rolling them in the jell-o powder
Lemon juice– Toss in a touch of lemon juice to impart some tart flavor.
Storage and Freezing
Storage: Store in the refrigerator in ziploc bags or an airtight container. When you're ready to eat them, you can chow down straight from the fridge, or you can let them come to room temperature.
Freezing: You can also freeze these grapes. Store in airtight bags and you can even eat them frozen.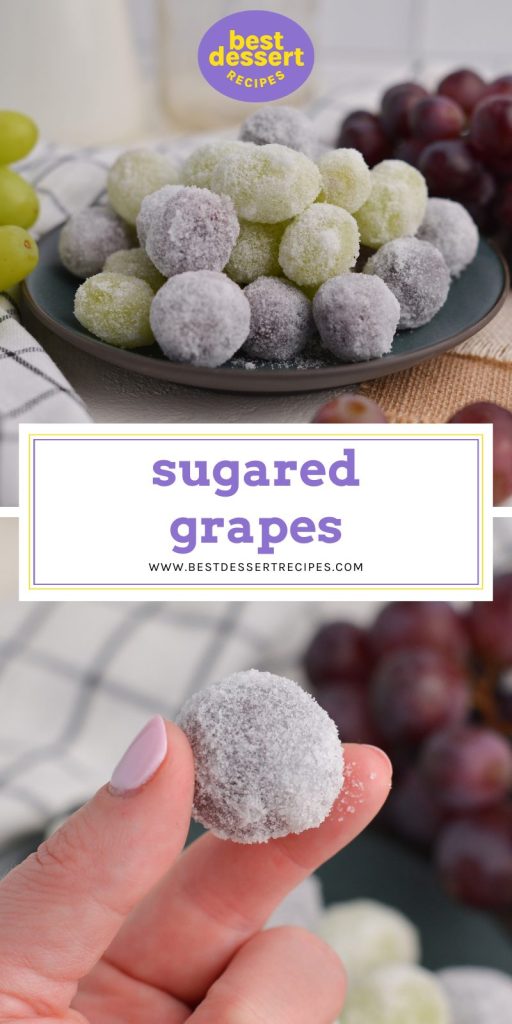 Other Fruity Desserts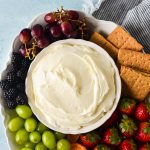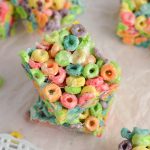 JELLO Grapes
With only 4 ingredients, this viral TikTok sensation is the new treat for summer! JELLO Grapes are sweet, tart and perfectly snackable!
Check out this recipe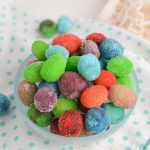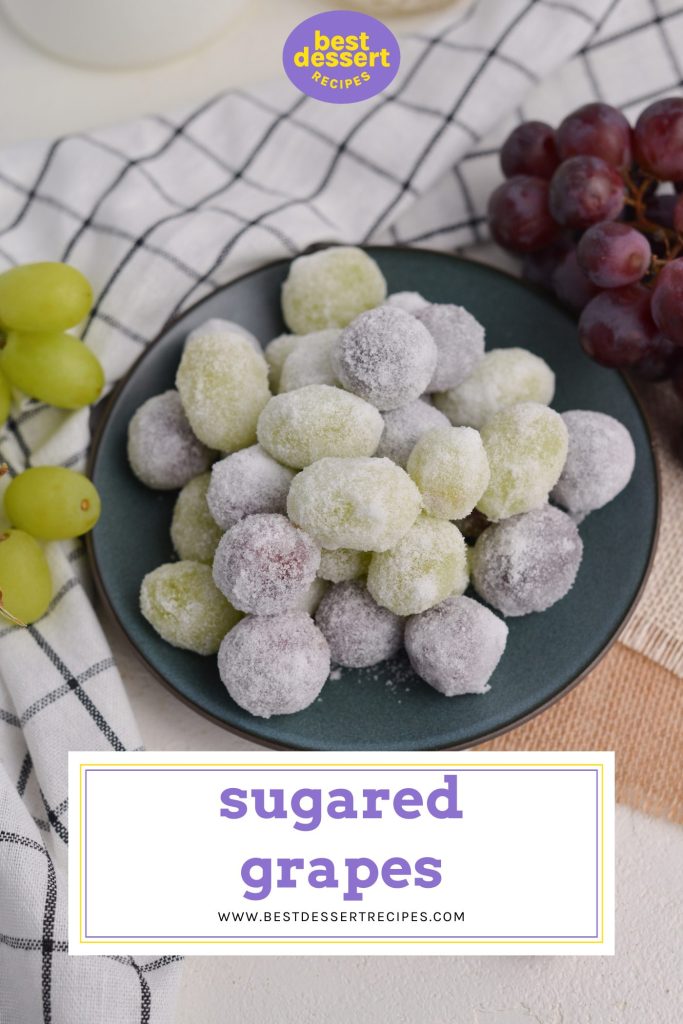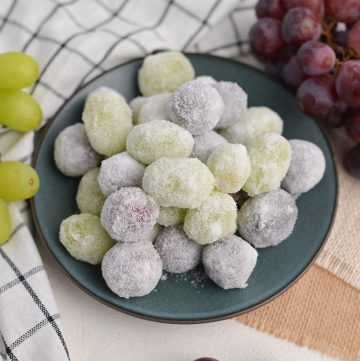 Frosted Grapes
When you want to enjoy a healthy dessert that you can make in a hurry, look no further than these Frosted Grapes, aka Sugared Grapes!
Print
Pin
Rate
Ingredients
1/2

cup

water

1

cup

granulated sugar

divided

1

tablespoon

light corn syrup

2

cups

grapes stems removed and rinsed
Instructions
In a heavy bottom saucepan over low heat, combine water, 1/2 cup of the sugar and corn syrup. Stir until sugar has melted and mixture has reduced, approximately 5 minutes.

Remove from heat and allow the mixture to cool for 10-15 minutes, but not too long or the mixture will start to harden.

Toss grapes in the simple syrup and then arrange in a single layer on a wire rack. Allow to cool for another 10-15 minutes.

Place the remaining 1/2 cup of sugar in a plastic bag or a large bowl. Roll the grapes in the sugar, tapping off any excess.

Place on a parchment lined baking sheet. Allow to set for at least 15 minutes, place in the refrigerator or freeze. Store grapes depending on how you enjoyed them- room temperature, the fridge or the freezer.

If you've tried this recipe, come back and let us know how it was in the comments or star ratings!
Nutrition
Calories:
1041
kcal
|
Carbohydrates:
271
g
|
Protein:
2
g
|
Fat:
1
g
|
Saturated Fat:
0.2
g
|
Polyunsaturated Fat:
0.1
g
|
Monounsaturated Fat:
0.02
g
|
Sodium:
28
mg
|
Potassium:
581
mg
|
Fiber:
3
g
|
Sugar:
263
g
|
Vitamin A:
199
IU
|
Vitamin C:
10
mg
|
Calcium:
39
mg
|
Iron:
1
mg