Fudgy brownies are one of my all-time favorite sweet treats whether it's a traditional cakey brownie or a decadent rich brownie. These easy red velvet brownies are the dense chewy kind but they also pack a slight punch with their tangy cream cheese frosting.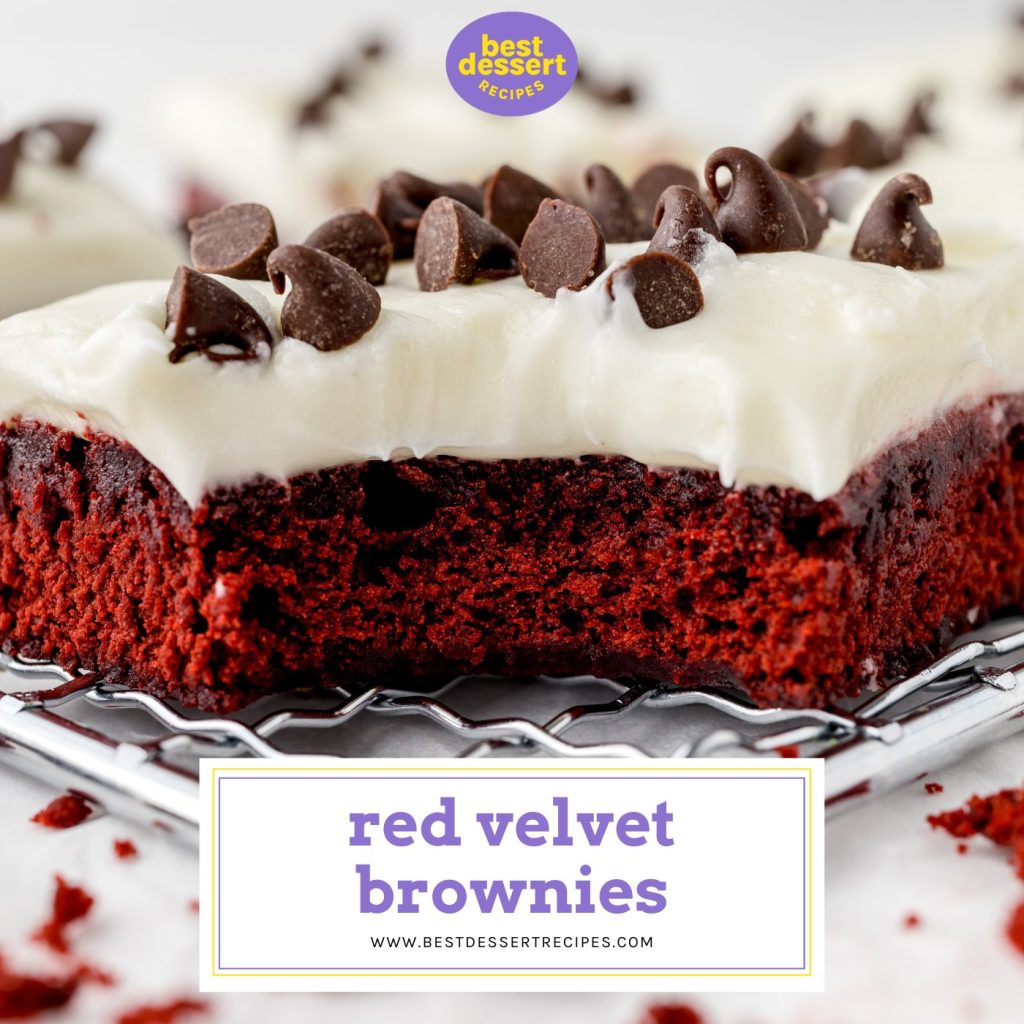 You might associate red velvet recipes with Valentine's day but a red velvet dessert deserves to happen all year. The delicious combination of sweetened cream cheese with thick, decadent chocolate is a treasure that should last year-round.
The deep red color of a traditional red velvet cake may not come through entirely in the format of a brownie, but the flavor certainly shines. The fluffy cream cheese frosting offsets the richness of the brownie.
Now the flavors (and colors) of red velvet spans to red velvet pancakes, red velvet cookies, red velvet cupcakes and more!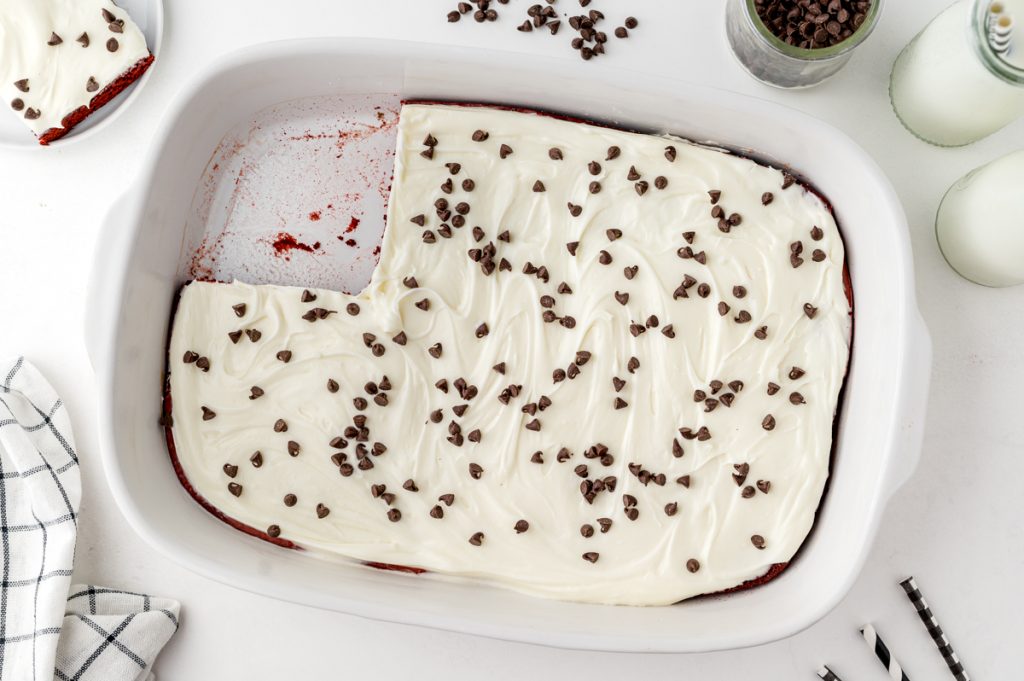 History of Red Velvet
Velvet cakes became popular in the 1800's when bakers realized that adding cocoa to the batter would create a reaction that decreased the coarseness of the flour. This step made the cake smoother and, of course, velvety, making it a fancier cake to serve at gatherings.
As for the red hue of the cake's batter, that can be attributed to the use of beet juice in the times of World War II rationing. Because sugar (along with butter and other staples) were not as easy to acquire, bakers began using beet juice or puree which resulted in the bright red color.
There are a number of places that lay claim to having invented the red velvet cake including the Waldorf-Astoria Hotel in New York in the 1930's but others claim that it was being served as early as the 1860's at Stein's Bakery in Dallas.
Southerners claim that its roots are in the United States' south and it is certainly a popular dessert at southern gatherings. Even if it wasn't a southern creation, the dessert does have a southern-based film to thank for its contemporary popularity.
It wasn't until the movie Steel Magnolias, which features a scene with this style of cake, that red velvet really took off. For years following the movie's release it became a bakery staple.
Today, some bakers choose to still use beet juice to color their red velvet cakes, but many opt to simply use red dye to get that scarlet hue that is so perfectly offset by the bright white cream cheese frosting.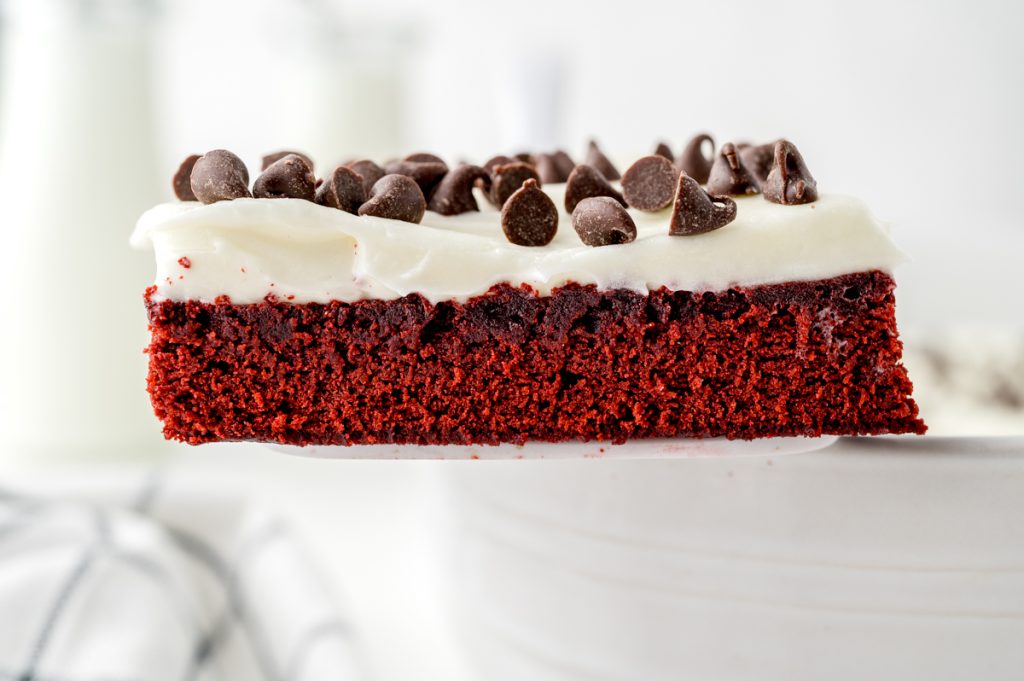 This Hack for Easy Brownies
Using brownie mix instead of scratch ingredients to make homemade brownies certainly makes for an easier, faster preparation. But there are a couple of other easy hacks you can use to make boxed brownies better.
First, adding vanilla extract helps to elevate the chocolate flavor, rounding out the sweetness and the richness of the brownies.
Second, using sour cream lends the traditional tangy flavor that red velvet baked goods are known for. However, it also helps to make for a more dense, chewy brownie.
A final boxed brownie hack is to add an extra egg yolk to make the brownies more chewy. We didn't do that with this recipe since we already used sour cream, but you can try it the next time you make other boxed brownies!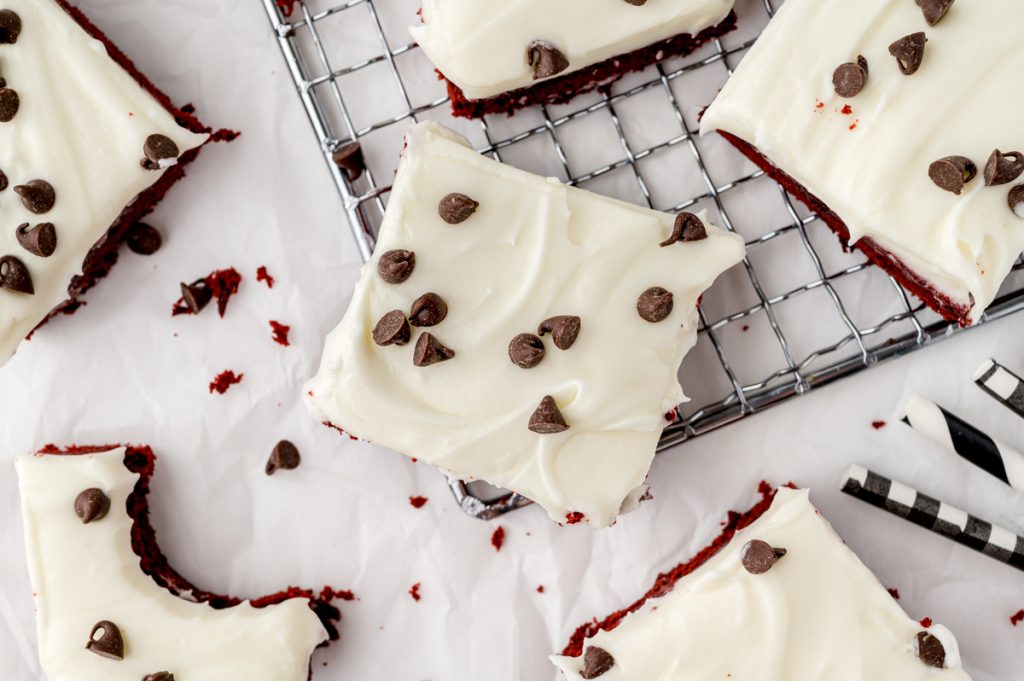 Why You'll Love Red Velvet Brownies
Easy – It's so simple to make these but they're incredibly decadent and will wow guests every time.
Portable – Just pack these in ziploc bags and they can go anywhere from lunch bags to hikes and cookie exchanges to the next party.
Delicious – These are a great pretty dessert to treat yourself after work any night.
Pretty – Their red color makes them a unique standout at any event.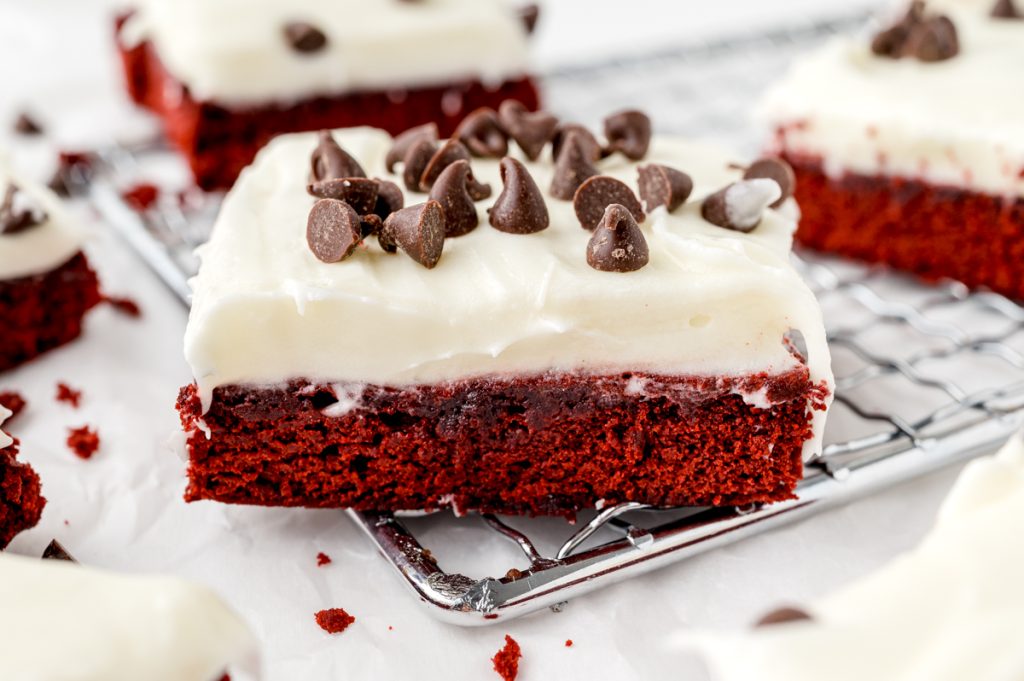 Ingredients
Brownies:
Fudge brownie mix – Use your favorite mix that you can find at your local grocery store.
Sour cream – Full fat sour cream works best in this recipe. You can use a lower fat version, but the richness of the brownies is best with a whole milk sour cream.
Eggs – Use large eggs, and for best results allow them to come to room temperature before baking.
Vanilla extract – You likely already have this in your cabinet but you can also make your own or substitute another flavored extract that you have.
Red velvet red food coloring – Just grab some red food coloring or you can also use beet juice to enhance your brownies' red color.
Frosting:
Cream cheese – Leave your cream cheese on the counter until it's softened to make it easier to mix.
Butter – Softened unsalted butter is best for this recipe. Leave it out for an hour before baking or soften it in intervals in the microwave.
Powdered sugar – Confectioner's sugar makes this frosting smooth and sweet.
Vanilla extract – Again, use what you have, make your own, or substitute with an extract like almond.
Sea salt – Make sure it's fine so that the granules dissolve quickly.
Heavy cream – You'll want to use heavy cream to make sure to get the perfectly thick consistency for the frosting.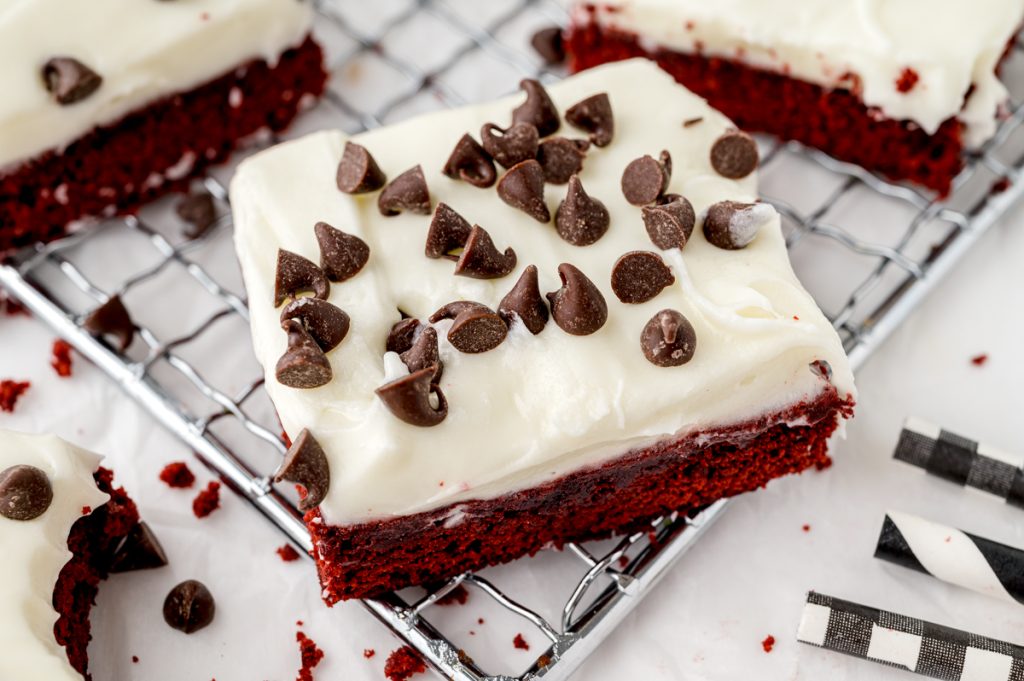 How To Make Red Velvet Brownies
Place the brownie mix, sour cream, eggs, vanilla extract and food coloring In a large bowl.
Using an electric mixer, mix the ingredients until fully combined.
Once combined, pour the batter into the square pan prepared with parchment paper and/or cooking spray.
Once baked, remove the pan from the oven and allow the brownies to completely come to room temperature on a wire rack before frosting.
While the brownies are baking and cooling, prepare the frosting.
Place the cream cheese and butter in a medium bowl.
Beat the cream cheese mixture until smooth and slightly fluffy.
Next, add the powdered sugar, extract, and sea salt.
Mix again until all ingredients are combined. If the mixture is too thick, add heavy cream until it reaches the desired consistency.
Once the brownies are completely cooled, frost them using a spatula. Use a light hand to avoid scraping the brownies.
Slice the brownies after icing — it makes it easier than spreading frosting on individual brownies!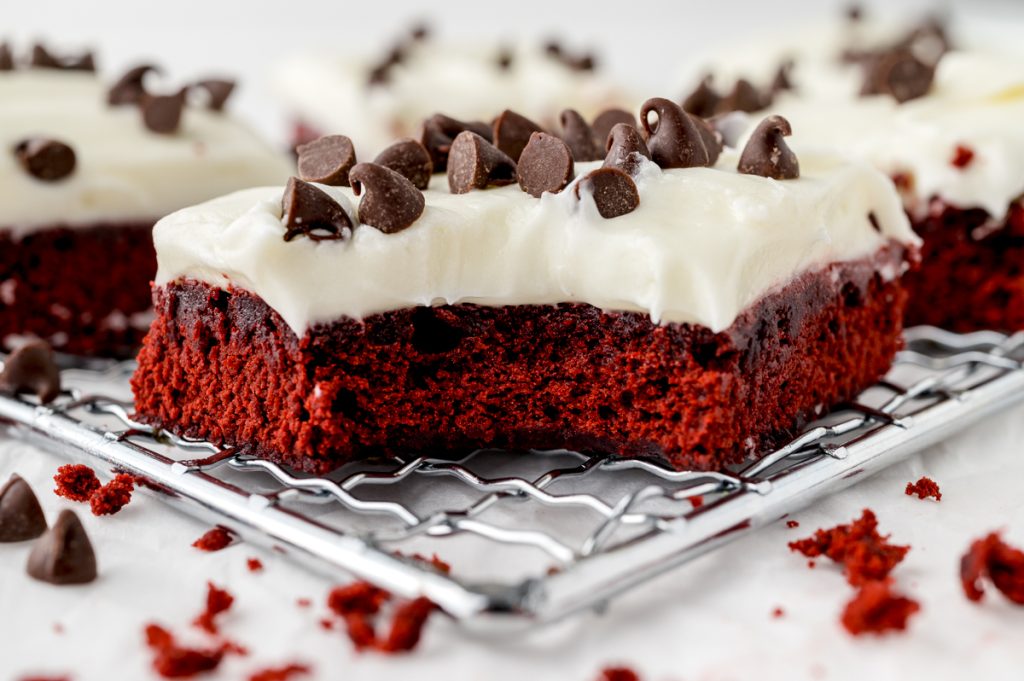 Variations
Cocoa powder – Add some cocoa powder for extra rich chocolate flavor.
Chips – Drizzle some melty chocolate goodness by adding some semi-sweet, milk chocolate, dark chocolate, or white chocolate chips to the batter or pressing them into the top.
Fruit – Blueberries, or blackberries all work well. Raspberries will also round out the red hue.
Greek Yogurt – Instead of sour cream, try plain Greek yogurt for your red velvet brownies.
Extracts – Try using any other extract you like. Flavors like almond will add a nutty flavor but you can try fruity versions, too.
Nuts – Experiment with crushing nuts and adding it to the batter or pressing it into the topping.
Coffee – Add some coffee extract or just a bit of espresso to the batter to impart a coffee flavor to the brownies.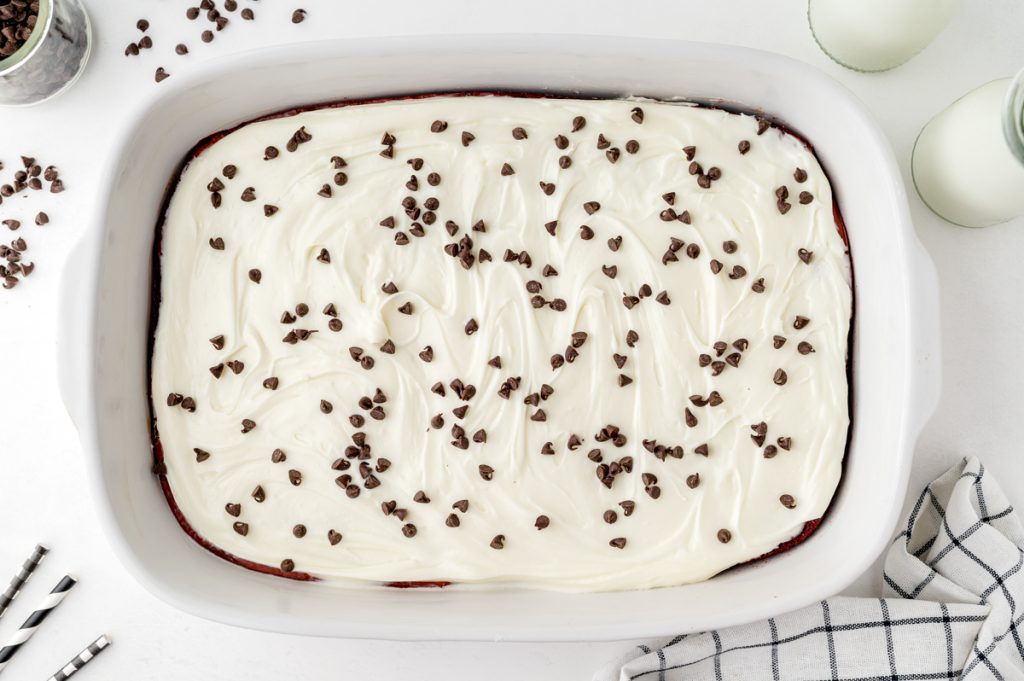 Storage and Freezing
Once the red velvet brownies come to room temperature, store them in an airtight container or wrap tightly in plastic wrap. They are best within 2-3 days. Freeze for up to 3 months.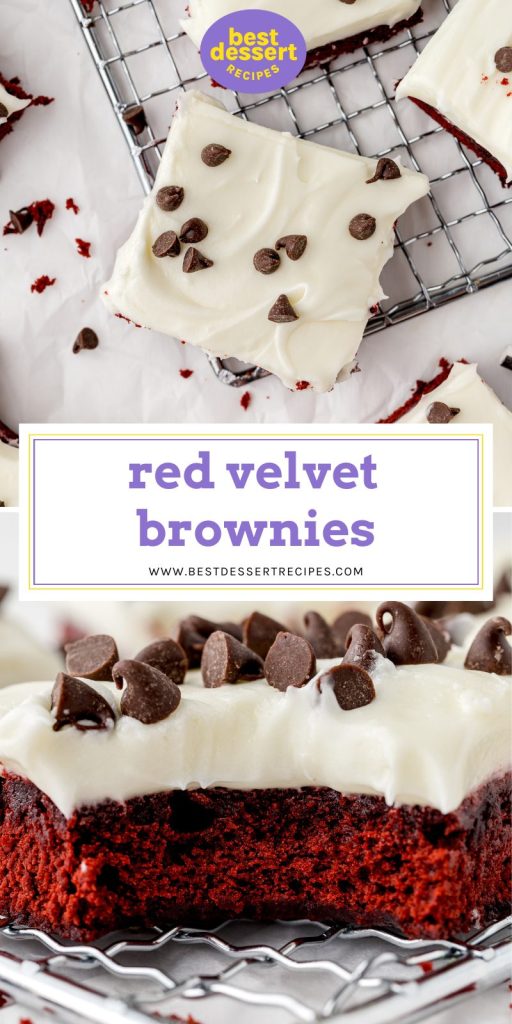 More Brownie Recipes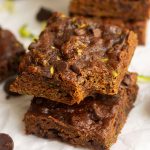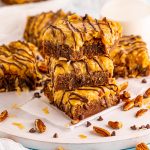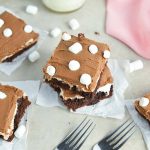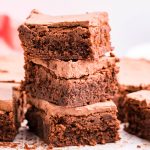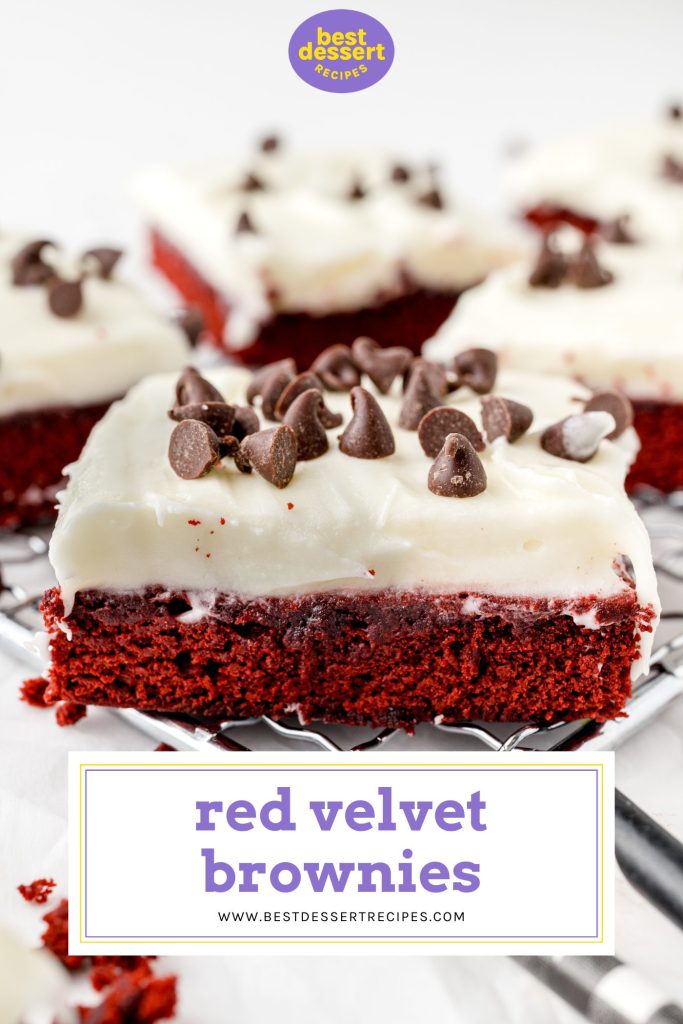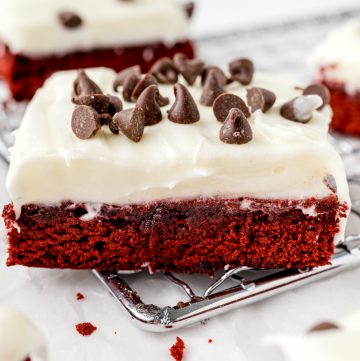 Red Velvet Brownies
Dense and chewy with a tangy cream cheese frosting, these EASY Red Velvet Brownies are everything you love about the cake, in brownie form!
Print
Pin
Rate
Ingredients
Brownies:
15.25

package fudge brownie mix

½

cup

sour cream

2

eggs

1

teaspoon

vanilla extract

1

ounce

red velvet red food coloring
Frosting:
8

ounces

cream cheese

softened

½

cup

unsalted butter

softened

4

cups

powdered sugar

2

teaspoons

vanilla extract

¼

teaspoon

fine sea salt

1-2

tablespoons

heavy cream
Instructions
Preheat the oven to the temperature listed on the box and coat a 13/9 inch baking pan with cooking spray.

In a large bowl, blend together the brownie mix, sour cream, eggs, vanilla extract and red food coloring. Pour the batter into prepared pan and bake according to package directions for 9×13 baking dish.

Remove and allow to cool fully before frosting.

Beat together the cream cheese and butter until smooth. Add the powdered sugar, extract, and sea salt. If need to thin out the frosting to a spreadable consistency, add 1-2 tablespoons of heavy cream, beating well between each addition.

Using an offset spatula, frost the brownies.

Cut brownies into 16 squares using a plastic knife or a sharp knife, wiping it clean between each cut.

If you've tried this recipe, come back and let us know how it was in the comments or star ratings.
Nutrition
Calories:
249
kcal
|
Carbohydrates:
32
g
|
Protein:
2
g
|
Fat:
13
g
|
Saturated Fat:
8
g
|
Polyunsaturated Fat:
1
g
|
Monounsaturated Fat:
3
g
|
Trans Fat:
0.2
g
|
Cholesterol:
55
mg
|
Sodium:
95
mg
|
Potassium:
40
mg
|
Sugar:
31
g
|
Vitamin A:
456
IU
|
Vitamin C:
0.1
mg
|
Calcium:
27
mg
|
Iron:
0.2
mg