If you're craving a dessert that perfectly balances zesty lemon flavor with layers of creamy indulgence look no further than this irresistible lemon lush recipe.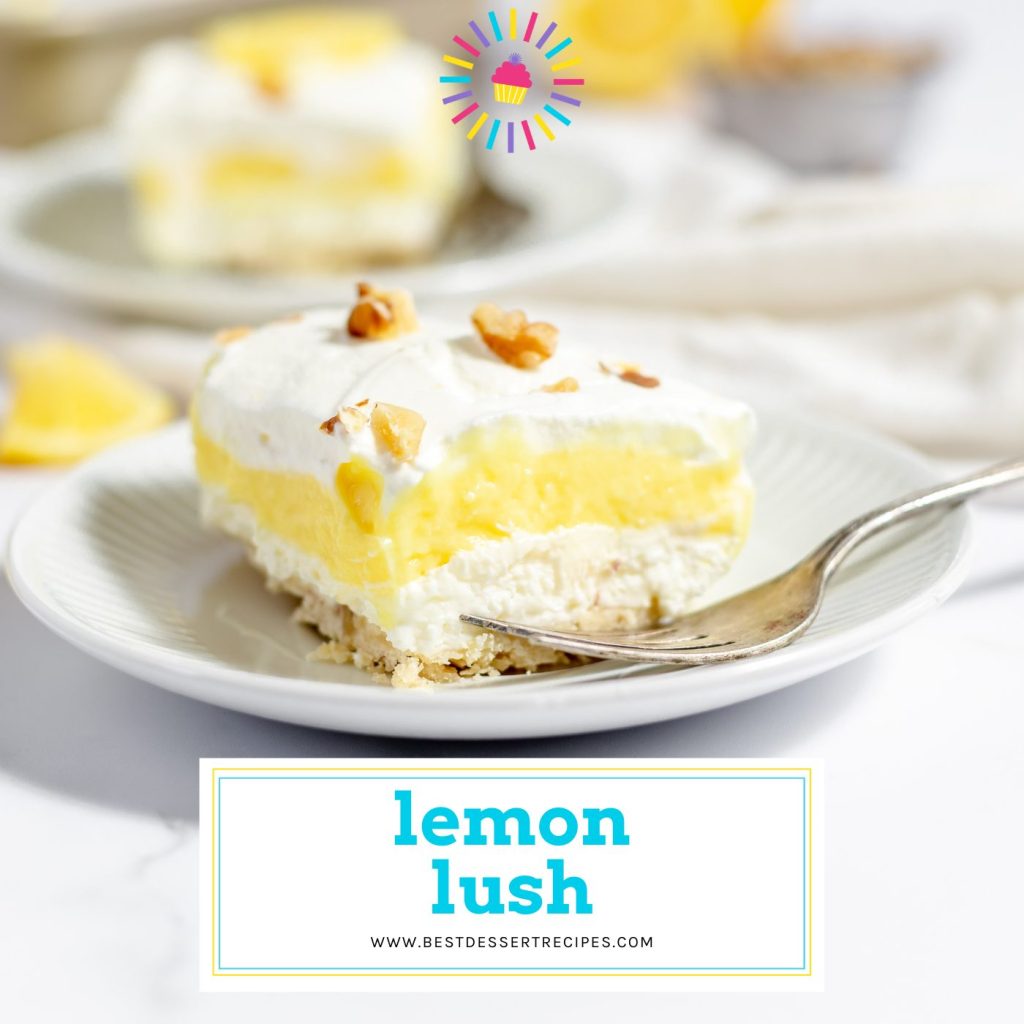 This heavenly dessert combines a buttery crust, luscious lemon filling, and a fluffy whipped cream topping.
What is a Lemon Lush?
This is essentially a sweet and luscious lemon lasagna with its layers of lemony goodness.
The great thing about his delicious lemon lush is that you can serve it at any event. From a special occasion to a casual weekend brunch, this is the best dessert to serve in spring or summer.
And while it's not a no-bake dessert, there's very little baking involved — just bake the crust until golden brown and then spread in the fillings.
The next time you're looking for a delectable treat that's full of fresh, bright flavor, try making this tangy and sweet lemon lush. If you're a fan of lemon desserts, this may become your new favorite.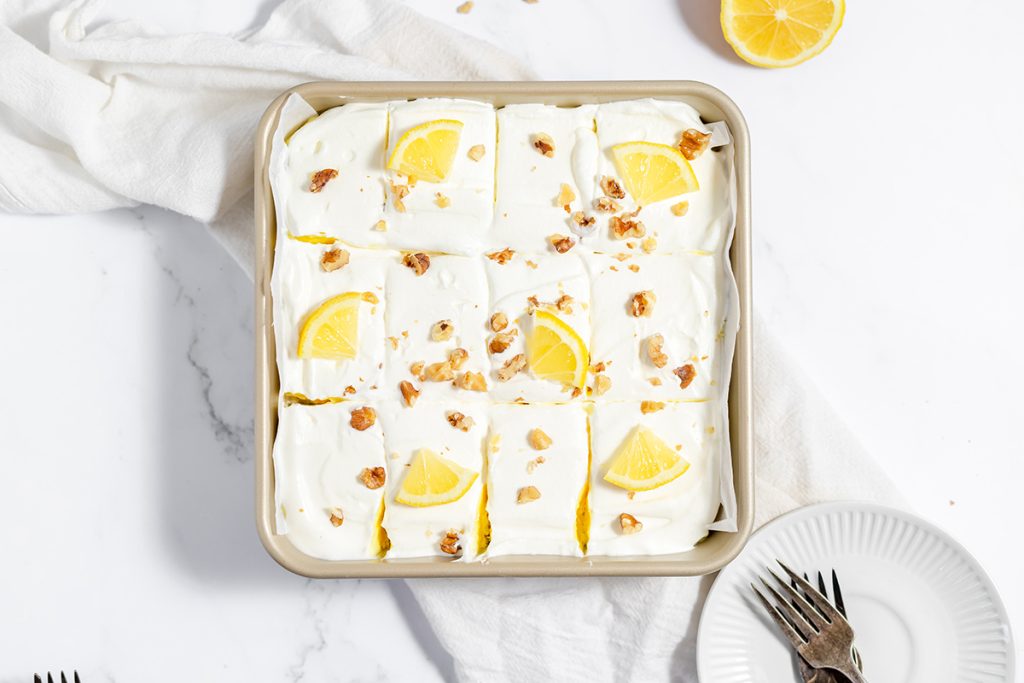 Why You'll Love Lemon Lush
What's not to love on this easy dessert?
Easy – No one will be able to believe how easy it is to make this bright dessert with its velvety texture and unbelievable flavor.
Accessible – All of the ingredients are easy to find at your local grocery store.
Customizable – You can switch up the ingredients in this easy lush in so many ways.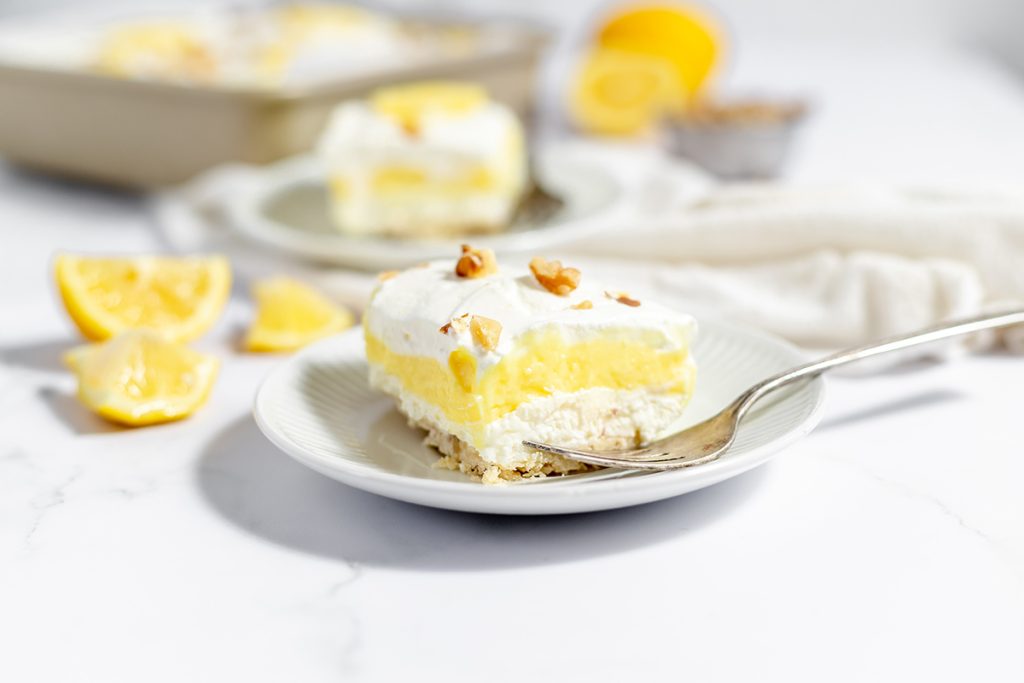 Ingredients
Just mix some simple ingredients together for a bright dessert that is sure to impress guests. Always use room temperature ingredients so that they mix easily.
All purpose flour: The foundation for the crust in lemon lush, flour providing structure and a crumbly texture that contrasts with the creamy layers.
Butter: Melted butter binds the flour together, creating a cohesive crust that holds its shape and adds rich flavor.
Chopped walnuts: Nuts add a satisfying crunch and enhance the overall texture of the dessert.
Cream: Cream is a key component in the filling of lemon lush. It adds richness and smooth, luxurious texture.
Powdered Sugar: The powdered sugar helps sweeten the cream and cream cheese layers, balancing the tartness of the lemon.
Cream Cheese: Softened cream cheese lends a tangy and creamy element to lemon lush, adding depth of flavor and silky smoothness.
Instant Lemon Pudding: Lemon instant pudding infuses the dessert with a burst of vibrant lemon flavor.
Milk: Milk is mixed with the instant lemon pudding to create a flavorful lemon filling. For even more rich flavor, use heavy whipping cream (or heavy cream).
Chopped Walnuts (for topping): These additional chopped walnuts provide a final layer of crunch and nutty flavor that perfectly complements the creamy dessert.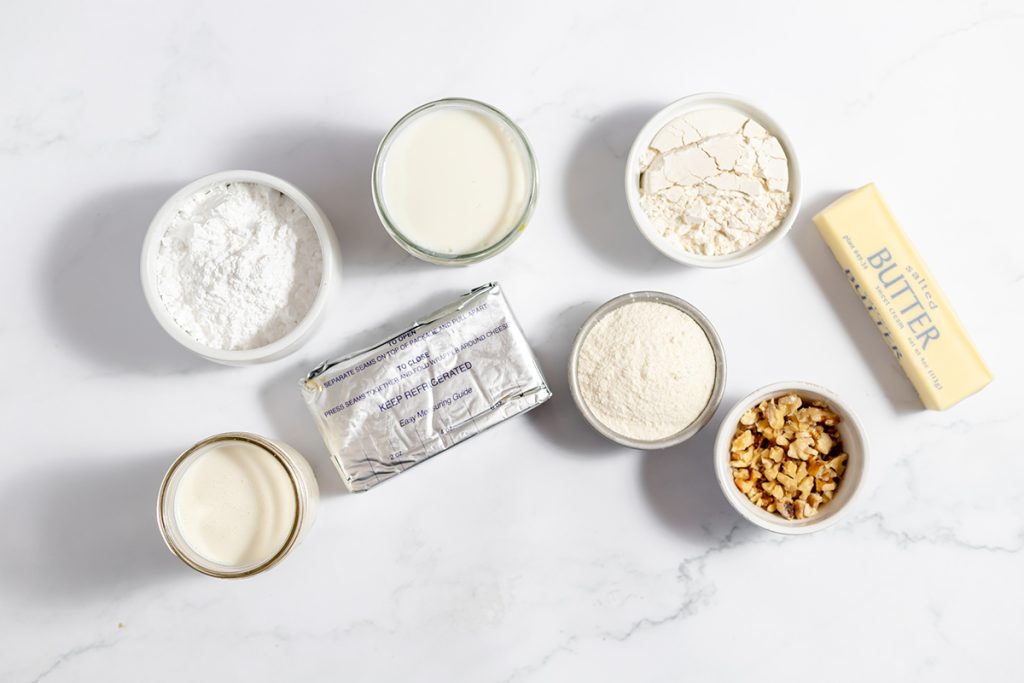 How To Make Lemon Lush
It couldn't be easier to make this luscious dessert with all of its delicious layers.
Make Crust. Mix together flour, butter, the chopped walnuts then press into the prepared pan. You can also mix them in a food processor. Bake the nut mixture for the recommended time, then allow to cool.
Make Filling. Add the cream and a portion of powdered sugar to a large bowl and beat, using an electric mixer. To a separate bowl, add cream cheese and powdered sugar. Mix cream cheese and powdered sugar until smooth.
Fold. With a rubber spatula, fold in half of the whipped cream and spread on top of the cooled crust.
Make Next Layer. Mix the lemon pudding and milk. Spread the pudding mixture on top of the cream cheese mixture.
Make Top Layer. For the next layer, add the remaining whipped cream on top of the lemon layer.
Garnish & Serve. Top with walnuts and serve, or store until ready to serve.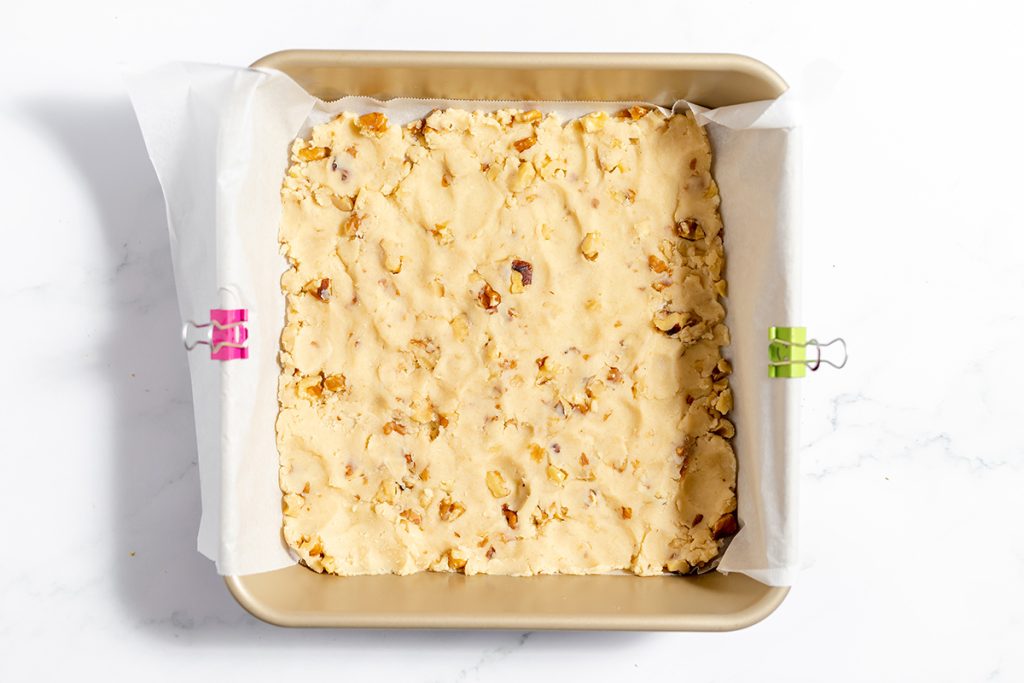 What to Serve with Lemon Lush
Of course, dessert is always great after a nice dinner. However, I won't stop you from eating it all day long- it's that good! It's also great for potlucks.
You can top this with more whipped cream, berries, or fruit salad. It's also great with ice cream and beverages like tea or coffee.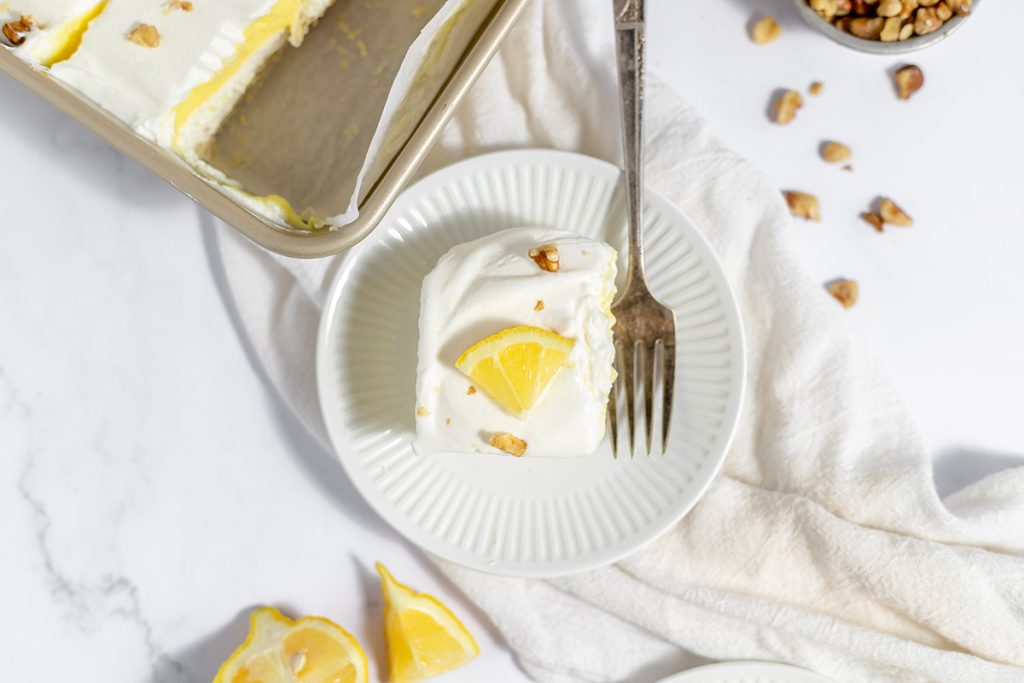 Variations
Make this lush lavish with your own swirls of signature goodness.
Nuts – Use different nuts like pecans or pistachios.
Flour – Experiment with alternative flours like coconut or almond flour.
Milk – Try using alternative options like almond milk, oat milk, or coconut milk.
Citrus – Add lemon zest to the top of the lush, or incorporate lemon juice.
Crust – Replace the nutty crust with graham cracker crust. Or create a cookie crust by crushing your favorite cookies.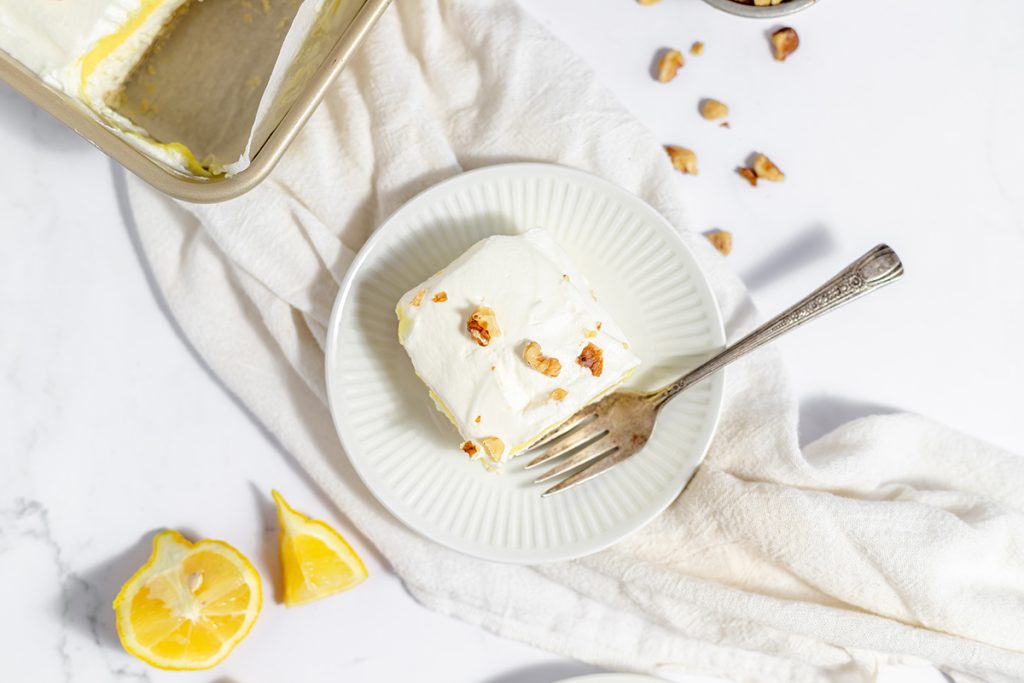 Storage and Freezing
Store this delicious lush in the fridge if you're lucky enough to have leftovers.
Refrigerator: Store this luscious lush for 3-4 days in the fridge in an airtight container or wrap the serving dish with plastic wrap.
Freezer: It may not retain its velvety texture after being frozen, but you can store it in the freezer for up to 3 months.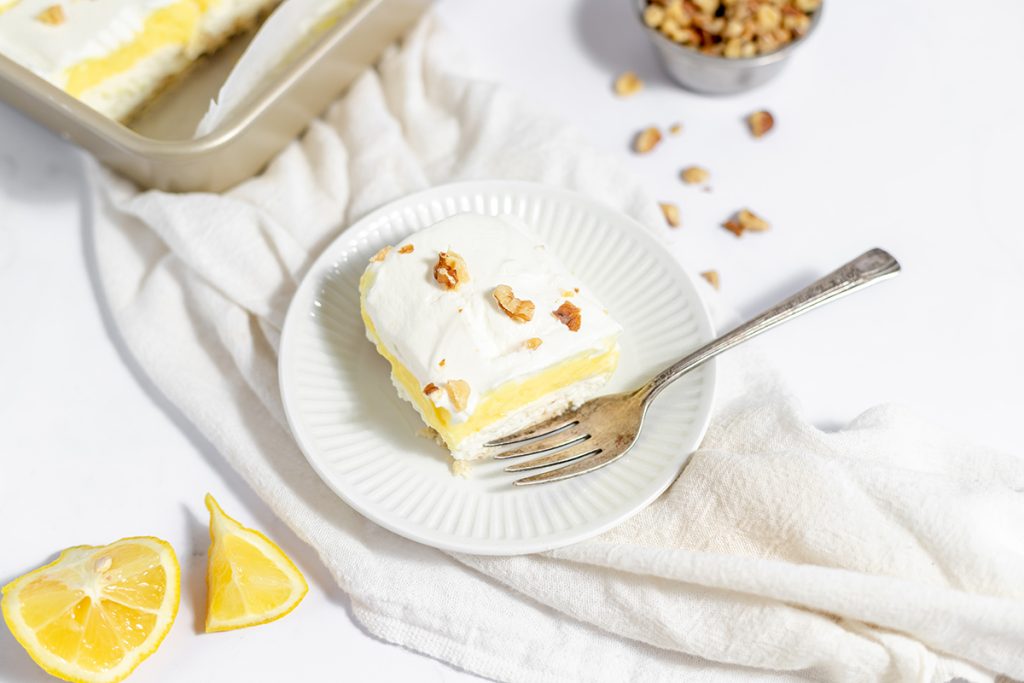 Common Questions About Lemon Lush
What is lemon lush?
Lemon lush is a layered dessert with a shortbread-style crust, a cream cheese filling, and a lemon pudding layer.
How long does lemon lush dessert last?
Lemon lush dessert can be stored in the refrigerator for up to 4 days.
How can I decorate lemon lush dessert?
You can decorate lemon lush dessert with lemon slices, whipped cream, or lemon glaze.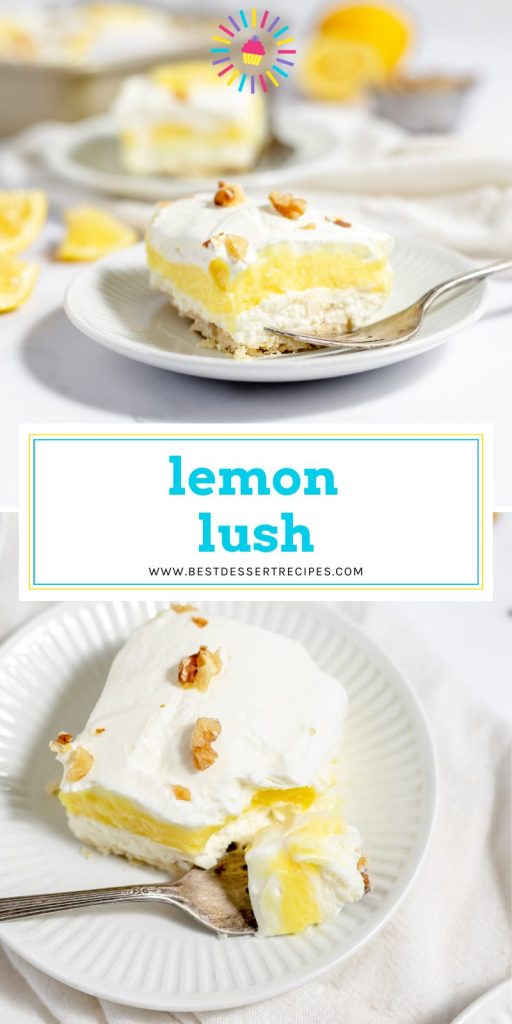 More Delicious Desserts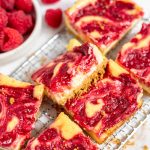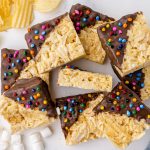 S'mores Layer Cake
This S'mores Layer Cake is a showstopper! Yellow box cake is mixed with graham cracker crumbs and layered with hot fudge and an incredible buttercream made with toasted marshmallows, it is delicious!
Check out this recipe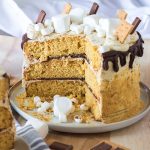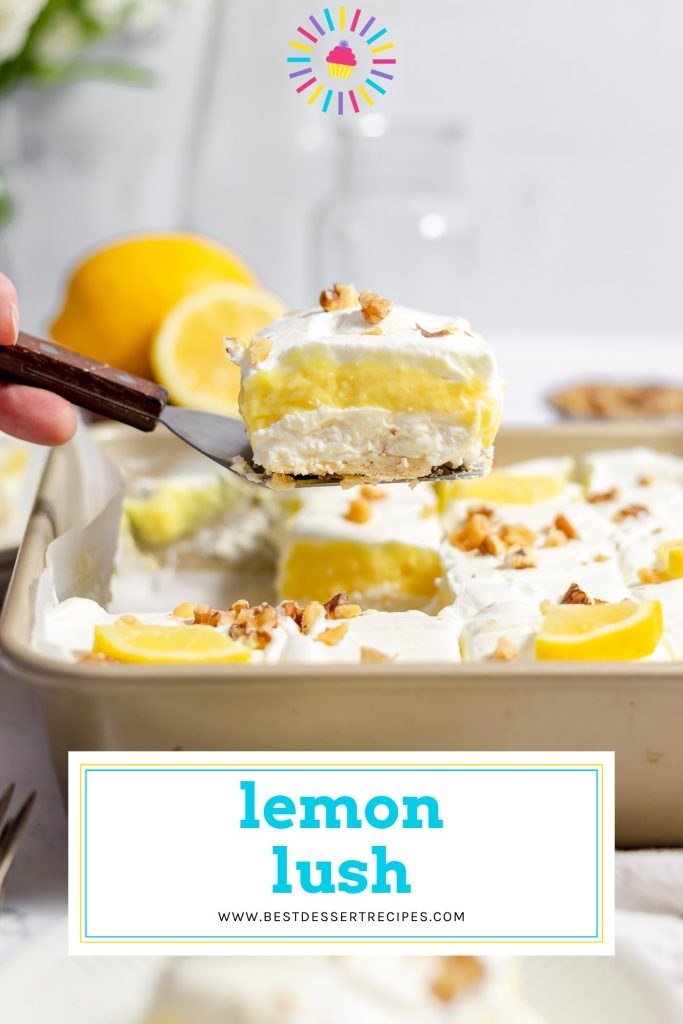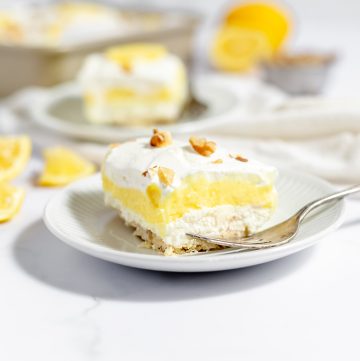 Easy Lemon Lush Dessert
This heavenly Lemon Lush recipe combines a buttery crust, luscious lemon filling, and a fluffy whipped cream topping. Perfect for summer!
Print
Pin
Rate
Ingredients
Crust
½

cup

flour

5

tablespoons

salted butter

, melted

¼

cup

walnuts

, chopped
Layer 2
1 ¾

cup

heavy cream

1

cup

powdered sugar

, divided

8

ounces

cream cheese

, softened
Layer 3
3.5

ounces

instant lemon pudding mix (dry)

1 ¾

cup

whole milk
Instructions
Crust:
Preheat the oven to 350ºF.

In a medium mixing bowl, combine the flour, butter, and chopped walnuts.

Press the crust into an 8×8 inch baking pan.

Bake in the center of the oven for 10 minutes.

Remove from the oven and let cool.
Layer 2:
In a large mixing bowl with using an electric hand mixer, beat the heavy cream and 3/4 cups of the powdered sugar together until stiff peaks form.

In a separate bowl, beat the cream cheese with the remaining 1/4 cup of powdered sugar.

Fold in half the whipped cream mixture using a rubber spatula. Spread in a layer on top of cooled crust. Set aside the remaining heavy cream mixture. Set bot in the refrigerator while making the next layer.
Layer 3
Using an electric hand mixer in a medium mixing bowl, beat the instant lemon pudding with milk until thickened.

Spread on top of the cream cheese layer. Top with the remaining whipped cream mixture and then chopped walnuts.

Refrigerate until ready to serve.

If you've tried this recipe, come back and let us know how it was in the comments or star ratings.
Notes
Tip: Placing the pan in the refrigerator or even freezer betweens layers helps them set without mixing together while you spread on the next layer. 
Nutrition
Calories:
455
kcal
|
Carbohydrates:
39
g
|
Protein:
6
g
|
Fat:
32
g
|
Saturated Fat:
17
g
|
Polyunsaturated Fat:
4
g
|
Monounsaturated Fat:
7
g
|
Cholesterol:
84
mg
|
Sodium:
191
mg
|
Potassium:
197
mg
|
Fiber:
1
g
|
Sugar:
19
g
|
Vitamin A:
1111
IU
|
Vitamin C:
0.4
mg
|
Calcium:
131
mg
|
Iron:
1
mg