Similar to a chess pie or a vanilla custard pie, a Creme Brûlée Pie is similar to taking a pie-size bite of creme brulee or velvety vanilla custard.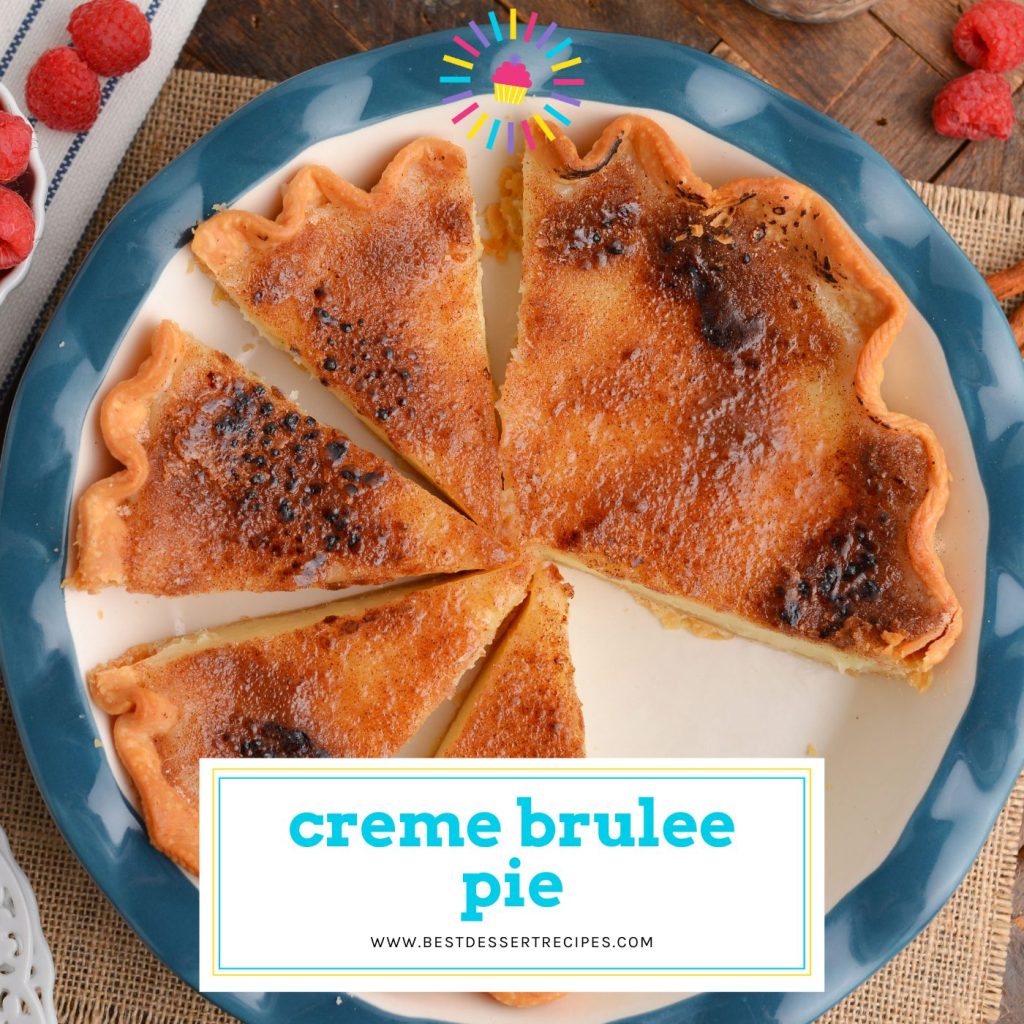 With vanilla flavored creamy filling and a spiced sugar brulee crust, it is an easy pie recipe that you'll make time and time again.
What Makes This Recipe Different
The bruelee topping makes all the difference in this crème brûlée pie. Many sugar cream pie recipes include a crunchy sugar topping, but they nearly all require a period of broiling to melt it.
This can burn the crust, overcook the custard filling, and potentially melt a crust saver. Instead, we are using the same technique used for creme brulee for this epic Indiana state pie.
Allowing the filling to set, and then creating the crust right before serving, you can cool the hot elements and still have fresh crunchy sugar.
The next time you're looking for a unique type of pie to serve at a gathering or take to a party, consider this creme brulee pie recipe. It might become you're next go-to recipe.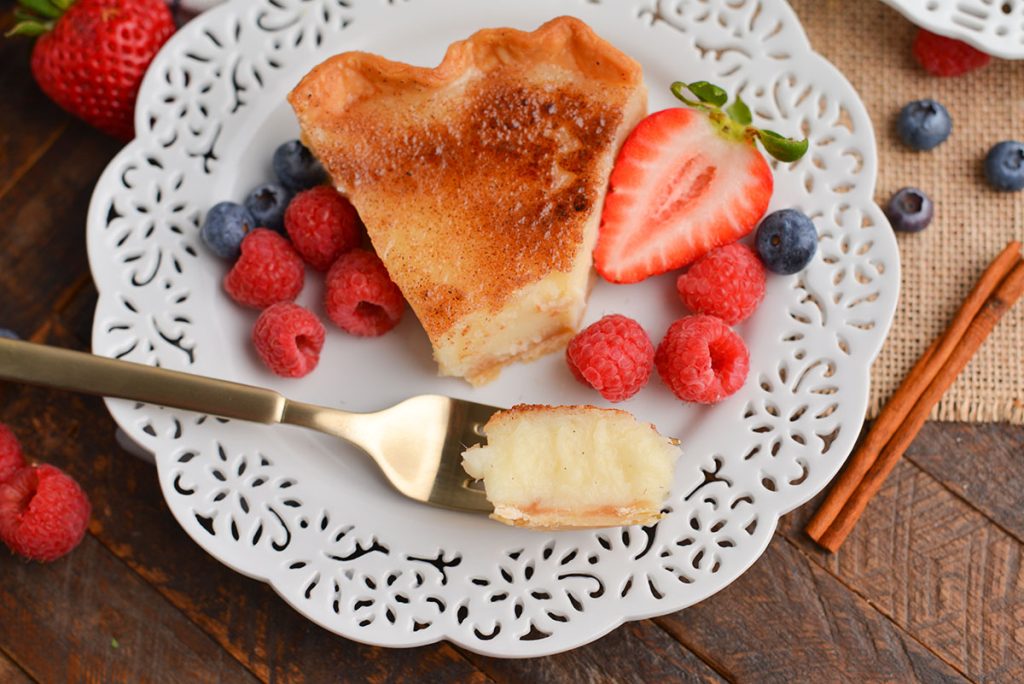 Why You'll Love Creme Brulee Pie
This state pie of Indiana is going to become your next go-to recipe.
Simple – It was created to be a simple, easy recipe and it remains the same delicious treat it has always been.
Convenient – Most of the ingredients are easy to find at the grocery store or will be in your pantry already.
Versatile – This beloved pie is as welcome at casual get-togethers as it is at parties or special occasions.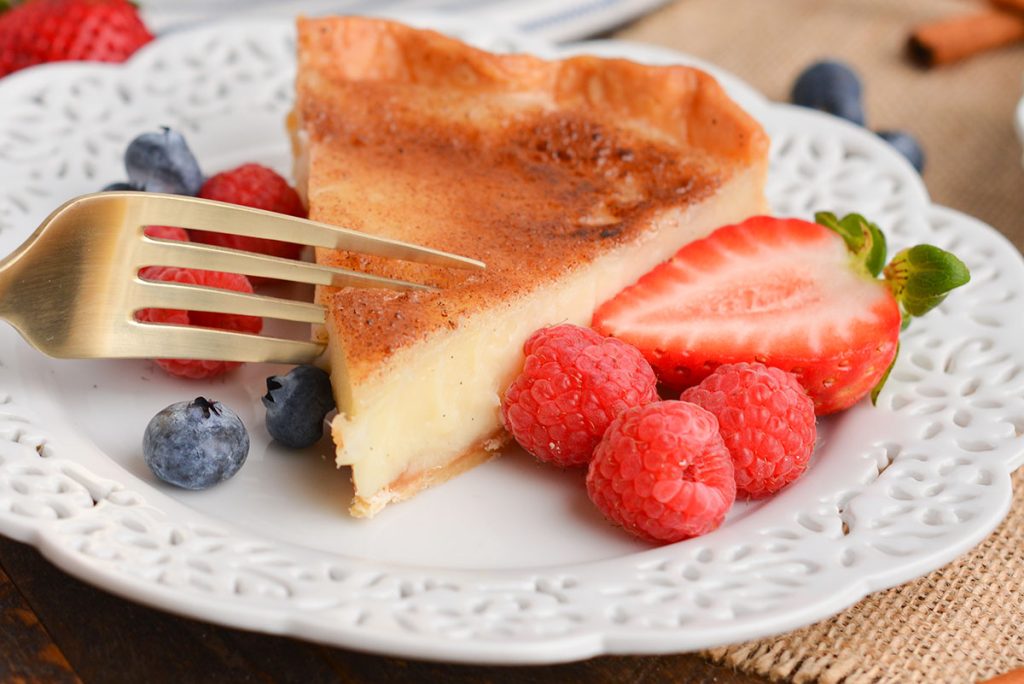 Creme Brulee Pie Ingredients
These simple ingredients couldn't be easier to find — making this pie is a cinch!
Vanilla Pie Filling:
Refrigerated pie crust – Use store-bought pie crust. The store-bought pie dough helps to make the recipe easier to make but you can make your own homemade crust, too.
White sugar – Granulated sugar works best since its granules are small and dissolve quickly.
Cornstarch – This thickening agent helps to give the right consistency to the filling.
Heavy cream – Don't skimp! Use the heavy cream instead of lighter ones to make sure that you have the creamiest filling.
Unsalted butter – As with most baked goods, using unsalted butter is preferable — you can always add salt, but you can't take it away.
Vanilla bean paste or vanilla extract – Vanilla helps to highlight the flavors of the other ingredients in the recipe.
Coarse Kosher salt – Salt balances this sweet pie.
Spice Brulee Topping:
Salted butter – Make sure to melt it ahead of time. Its easiest to melt in the microwave incrementally.
Cinnamon sugar – Make it on your own or buy it at the store.
Ground nutmeg – You can easily source this in the spice section at the grocery store.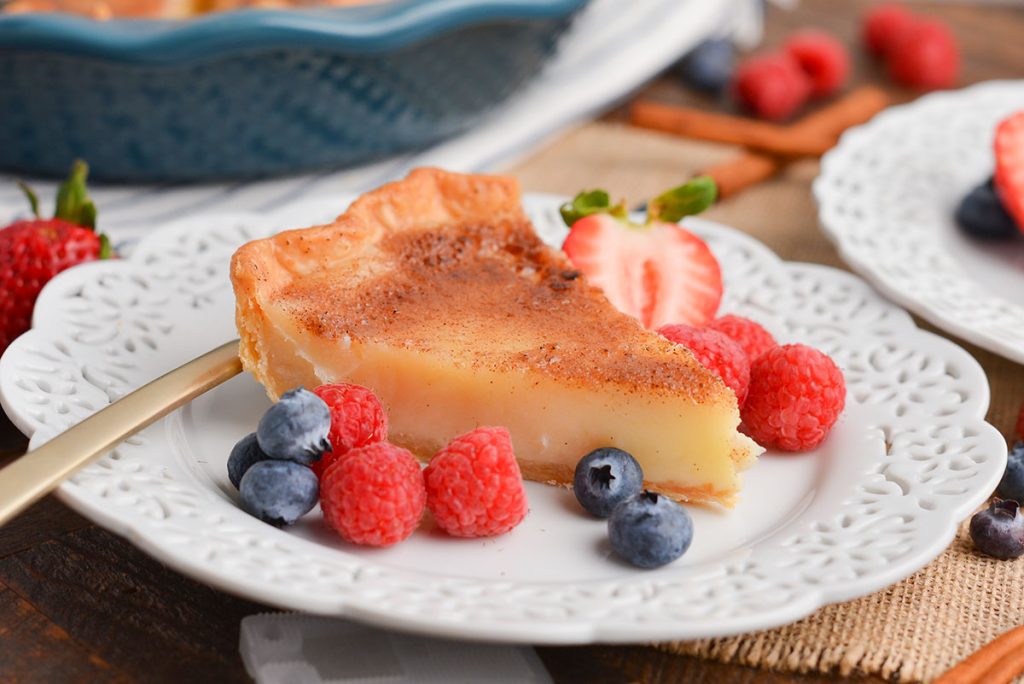 How To Make Creme Brulee Pie
You'll love how easy it is to make Indiana's state pie with easy, humble ingredients.
Place premade pie crust into pie plate (roll dough ahead of time if necessary).
Using a fork, pierce the dough.
Bake crust until golden brown before removing from oven and setting aside.
Using a wooden spoon, combine sugar and cornstarch in medium saucepan on the stove top before adding cream.
Once sugar dissolves and the mixture thickens, remove the pan from the heat and stir in the butter, vanilla, and salt.
Pour the filling into the pie crust and bake until the filling bubbles.
Remove the pie from the oven and let sit on a wire rack until it's cool enough to serve or comes to room temperature to store.
If serving, brush the top of the pie with melted butter and sprinkle cinnamon sugar over top.
Torch the top until the sugar melts and hardens into a crust.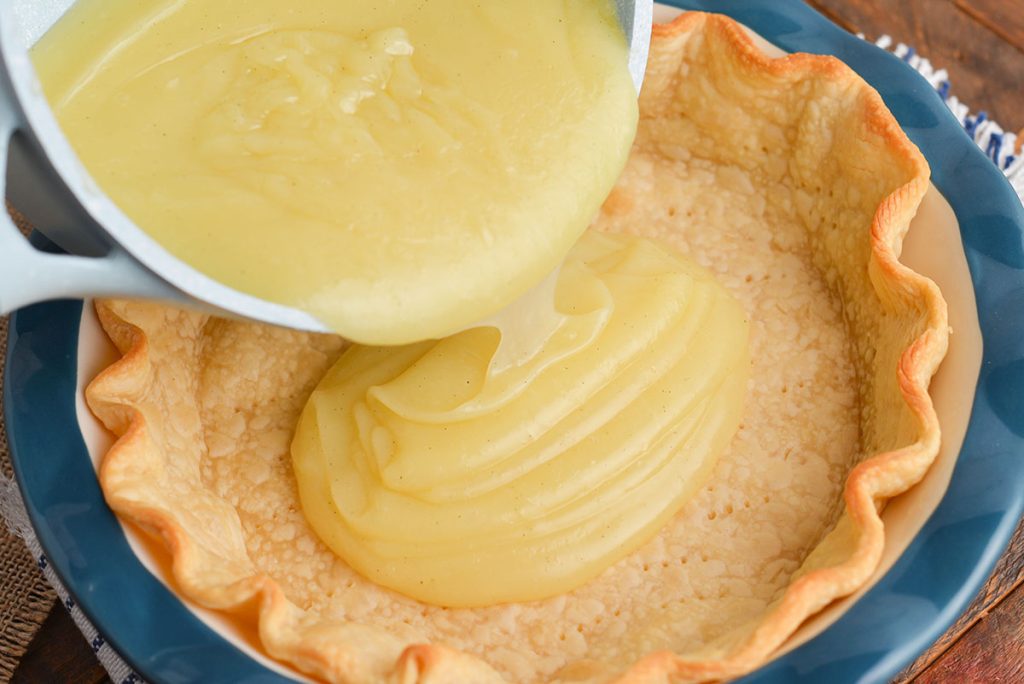 How to Serve
This sweet, creamy pie needs no accompaniments — it's incredibly delicious on its own. But if you are inclined to serve it up with something, we suggest topping it with whipped cream, serving it with a dalgona whipped coffee, or hunkering down with a warm white hot chocolate.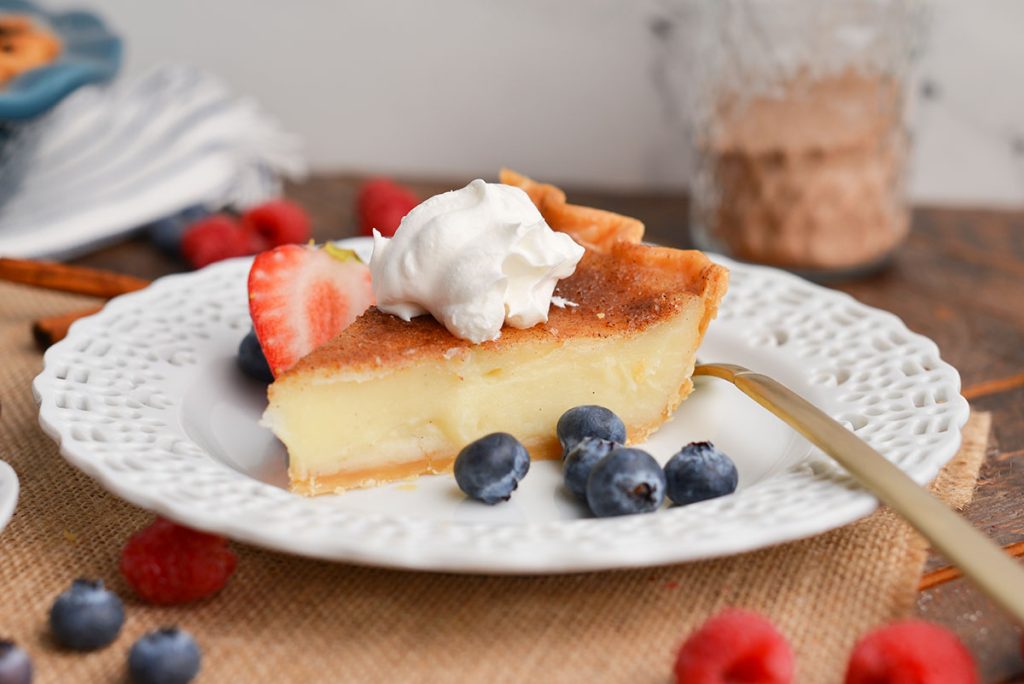 Storage and Freezing
Refrigerator: Cover this pie in plastic wrap or aluminum foil or save slices in an airtight container for up to five days.
Freezer: You can also freeze this delicious pie for up to three months.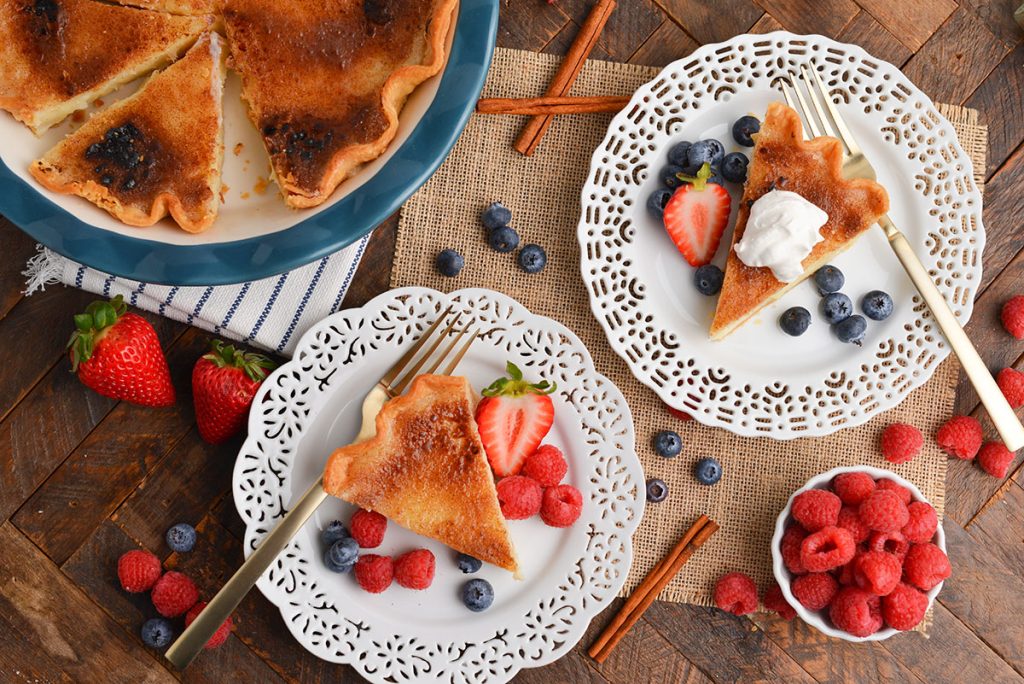 Common Questions About Creme Brulee Pie
Why is Indiana known for sugar cream pie?
Since it doesn't need fresh fruit, this pie was made popular during tough times in the early 1800's because it only required ingredients that were handy in their pantry. It's suspected that the Shaker or Amish communities brought it to Indiana and there's a trail dedicated to it in the state.
What's the difference between custard and cream pie? 
Custard pie has a baked filling while cream pie does not.
What is the most popular dessert in Indiana? 

Sugar creme pie is the most popular dessert in the state.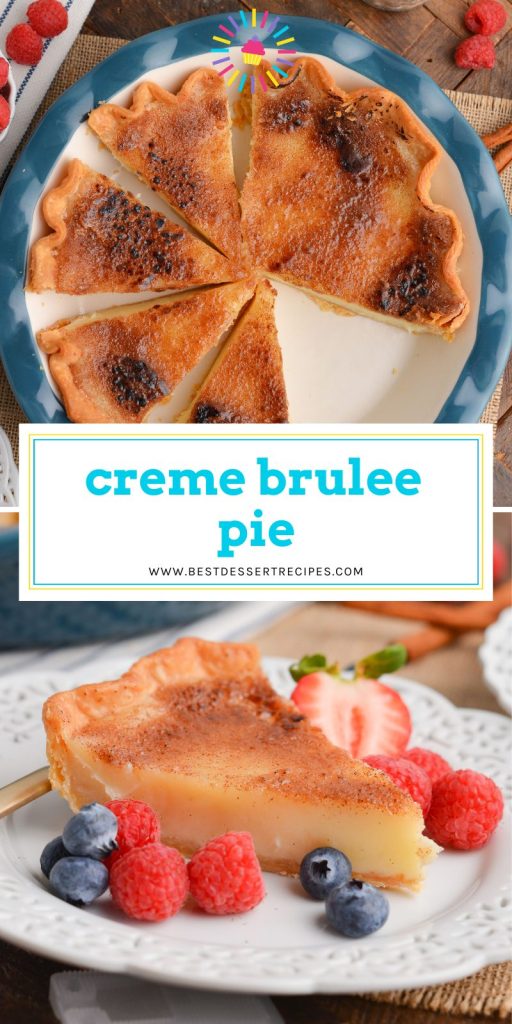 More Delicious Desserts
Pecan Pie Bars
These EASY Pecan Pie Bars have all the flavor of a traditional pecan pie, but it a convenient take-on-the-go bar form!
Check out this recipe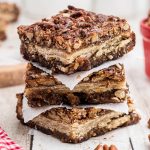 Old Fashioned Tea Cakes
Simple sugar cookies that are soft, delicious, and great with a cup of coffee or tea, these Old Fashioned Tea Cakes are always a winner!
Check out this recipe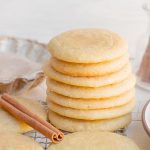 Cream Cheese Stuffed Chocolate Chip Cookies
Like a combo of cheesecake and classic chocolate chip cookies, these Cream Cheese Stuffed Chocolate Chip Cookies are the moist & delicious!
Check out this recipe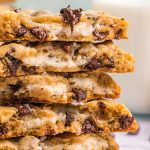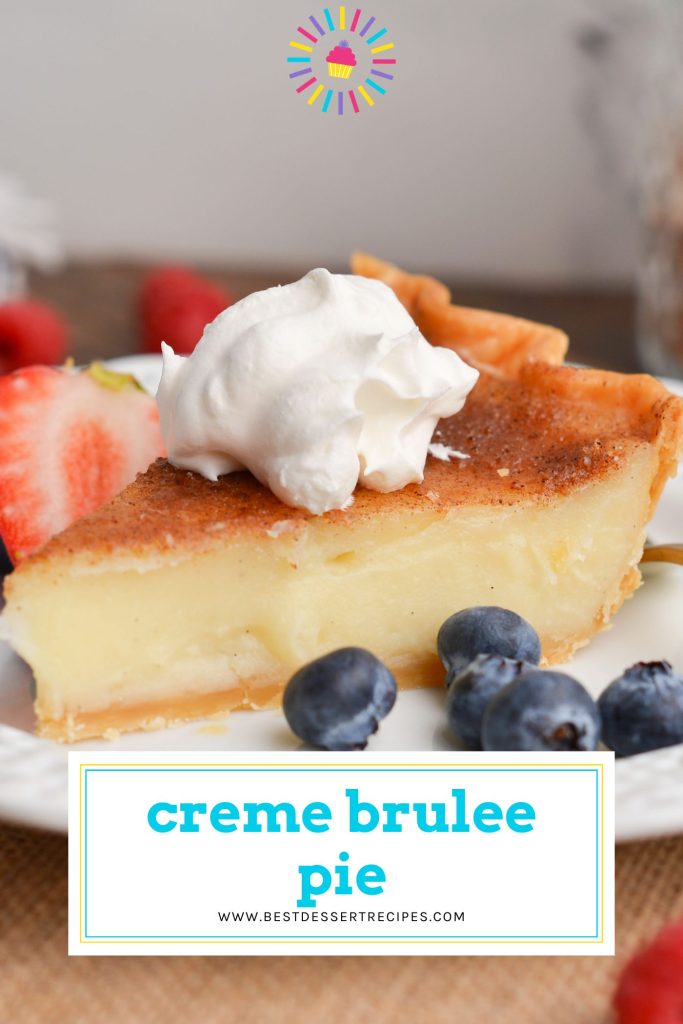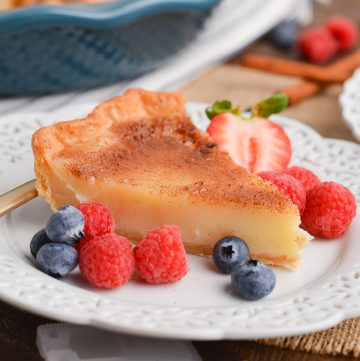 Creme Brulee Pie
With a vanilla flavored creamy filling and a spiced sugar brulee crust, this EASY Creme Brulee Pie an easy dessert that is loved by all!
Print
Pin
Rate
Ingredients
Vanilla Pie Filling:
1

refrigerated pie crust

1

cup

sugar

1/4

cup

cornstarch

2

cups

heavy cream

1/4

cup

unsalted butter

1

tablespoon

vanilla bean paste or vanilla extract

1/2

teaspoon

coarse Kosher salt
Spice Brulee Topping:
2

tablespoons

salted butter

melted

1/4

cup

cinnamon sugar

1/4

teaspoon

ground nutmeg
Instructions
Preheat the oven to 450°F. Roll the refrigerated pie crust into a 9-inch deep dish pie plate. Generously pierce on the bottoms and sides. Bake for 10-12 minutes or until just browned. Remove and set aside.

In a medium saucepan, whisk together the sugar and cornstarch. Add the cream and turn on heat to medium. Continue to whisk continuously until the sugar dissolves and it thickens, approximately 6-8 minutes. The thicken happens fast and you must whisk continuously to prevent scalding.

When it thickens, remove from the heat and whisk in the butter, vanilla bean paste (or extract) and salt.

Pour the vanilla filling into the prepared pie crust.

Reduce the oven heat to 350°F and bake for an additional 23-25 minutes or until the custard starts to bubble and then develop a layer of skin on top.

Remove and allow to cool.

When ready to serve, mix together the cinnamon sugar with nutmeg in a small bowl.

Baste the top of the pie with the melted butter and then evenly sprinkle with cinnamon sugar mixture.

Using a butane torch, brulee the sugar until it melts, browns and hardens.

If you've tried this recipe, come back and let us know how it was in the comments or star ratings.
Notes
If you do not have access to butane torch, you can melt the sugar under a hot broiler. Protect the pie crust from burning by creating a shield to using aluminum foil. Most "crust savers" aren't safe to use under the intense heat of a broiler.
Nutrition
Calories:
346
kcal
|
Carbohydrates:
32
g
|
Protein:
2
g
|
Fat:
24
g
|
Saturated Fat:
14
g
|
Polyunsaturated Fat:
1
g
|
Monounsaturated Fat:
7
g
|
Trans Fat:
0.2
g
|
Cholesterol:
60
mg
|
Sodium:
182
mg
|
Potassium:
54
mg
|
Fiber:
0.4
g
|
Sugar:
23
g
|
Vitamin A:
760
IU
|
Vitamin C:
0.2
mg
|
Calcium:
31
mg
|
Iron:
0.4
mg