When it comes to searching for an easy dessert recipe, it doesn't get better than a dump cake. With plenty of flavors from fruity to chocolate, these easy Dump Cake Recipes will be your new go to dessert.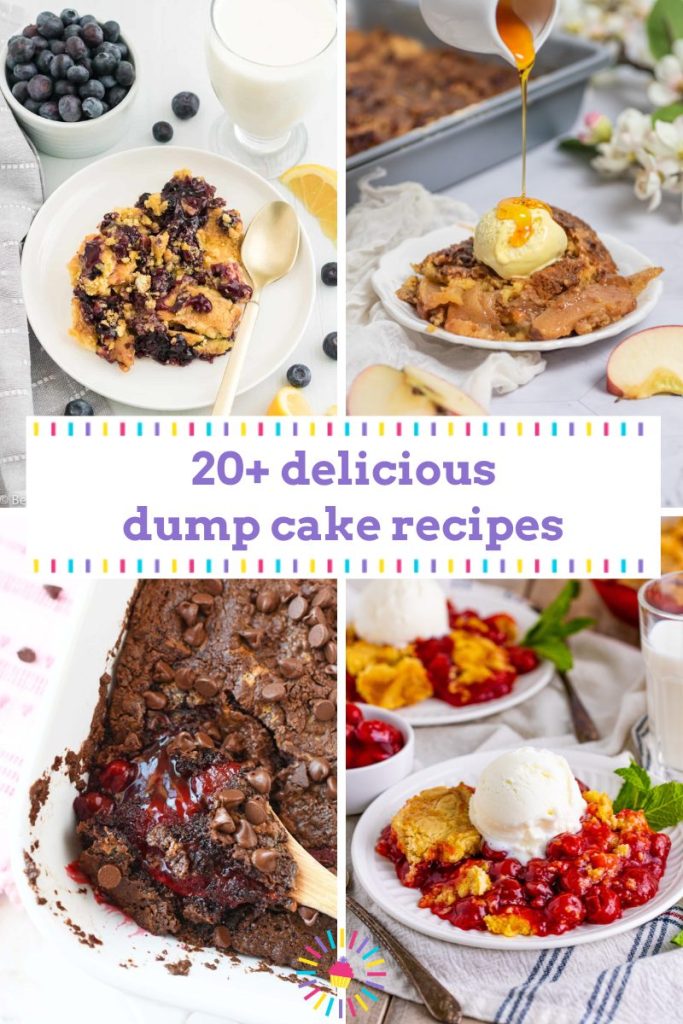 The premise behind a dump cake is just as it sounds- you "dump" the ingredients on top of each other. There is generally no mixing involved, and it's a great way to make a quick desserts with only a few simple ingredients.
You usually start with a fruit layer, then sprinkle a box of cake mix evenly over that, and then top with melted butter. Bake until golden brown and you have yourself a great dessert that took no time at all.
Served with fresh fruit like fresh peaches during peach season or even a scoop of vanilla ice cream, this sweet treat is the perfect dessert and sure to become a family favorite in no time.
Popular Dump Cake Recipes Ingredients
While every dump cake recipe is different, here are a few ingredients to keep on hand to make a delicious dessert in a pinch
Dry cake mix – Most popularly used cake mixes are yellow cake mix, white cake mix or chocolate cake mix.
Fruit – Most recipes call for a fruit filling or canned fruit like apple pie filling, strawberry pie filling, pumpkin pie mix, or canned cherry pie filling.
Butter – For most of these easy dump cakes, you pour melted butter over top of the cake mix in an even layer.
How to Store a Dump Cake
Most of these best dump cake recipes can be left out at room temperature while serving. However, it's a good idea to store them in an airtight container in the refrigerator after serving.
You can also wrap the whole casserole dish in plastic wrap and store in the refrigerator that way. Of course, check the instructions for each specific recipe to be sure.
Dump Cake Recipes
More Easy Cake Desserts