This iced banana bread brings together warm, aromatic spices and mild banana flavor with a simple, sweet glaze that takes the moist and flavorful bread to the next level.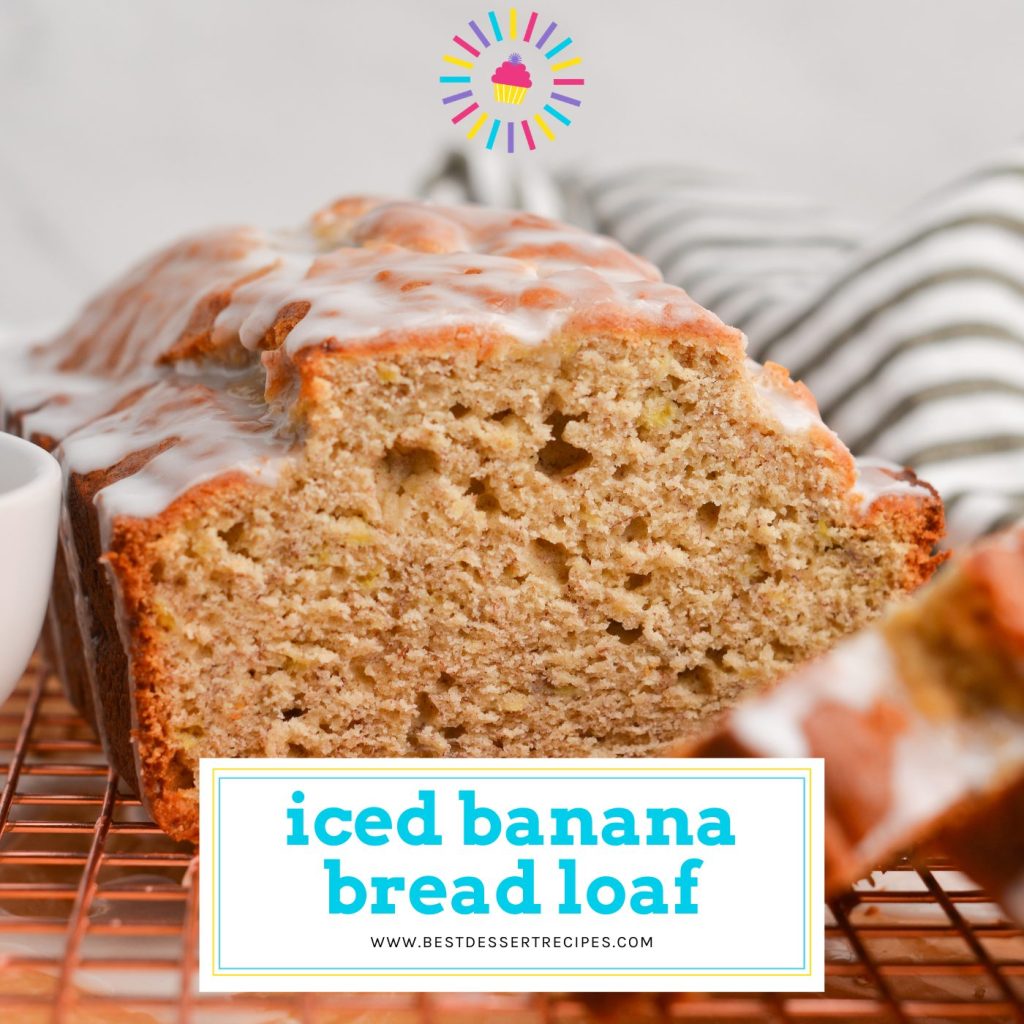 With just a handful of easy steps, this bread requires little prep time and it stays fresh for a week or more. It's the perfect treat to have on hand for surprise guests or for indulging throughout the week.
If you've been on the lookout for simple quick bread recipes, look no further than this one. Your whole family is sure to fall in love with it.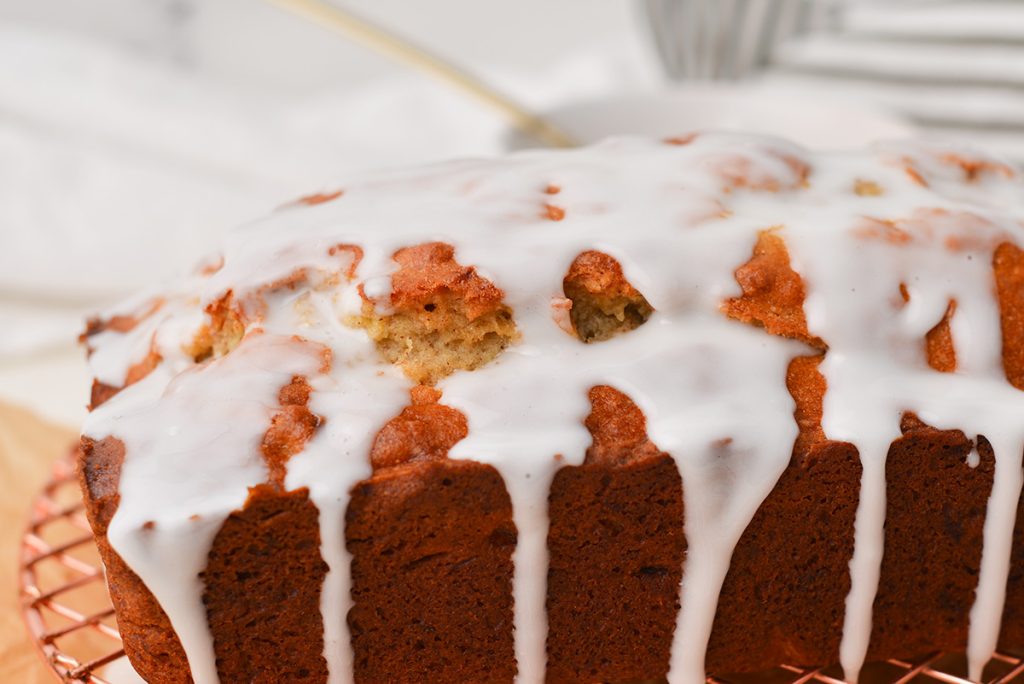 Why You'll Love Iced Banana Bread
This moist banana bread may become one of your new favorite quick breads.
Easy: With the simplest of ingredients, this quick recipe can be made in nearly no time.
Versatile: This bread makes for a great dessert, a delicious snack, or a sweet start to the day.
Customizable: You can make subtle changes that turn this into your signature sweet bread.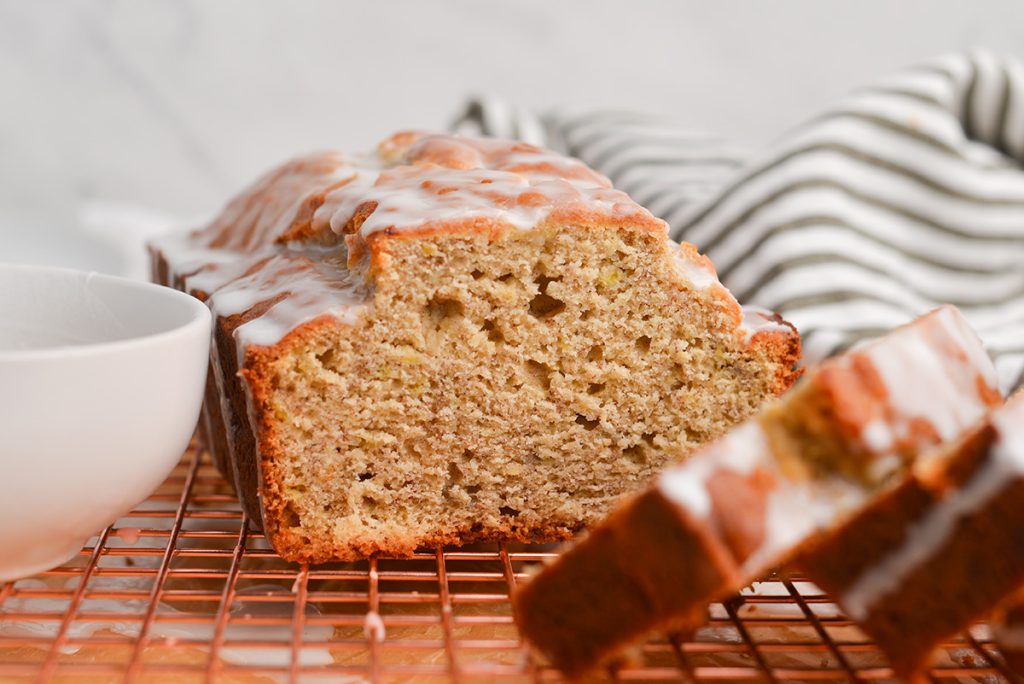 Ingredients
With these easy-to-find ingredients, you can whip up this irresistible banana bread.
Sugar: The sugar adds sweetness to this basic banana bread.
Shortening: The shortening helps to create a moist and tender texture.
Large eggs: Eggs provide both structure and stability to the bread.
Vanilla extract: The vanilla extract enhances the flavor of the other ingredients.
Overly ripe large bananas: The star of the show, overripe bananas, give the bread its flavor and contribute to the texture. Keep these in your freezer regularly so that you can bake up banana bread whenever you have a craving (just be sure to thaw frozen bananas).
Flour: All-purpose flour is all you need for this easy recipe.
Baking powder: This leavening agent helps the banana bread to rise and creates a light texture.
Coarse kosher salt: Salt elevates the flavors of the other ingredients.
Baking soda: Baking soda is another leavening agent that helps the banana bread rise.
Cinnamon: Cinnamon adds warm, subtly spicy flavor.
Nutmeg: Nutmeg also imparts a warm flavor and fragrance.
Walnuts: The chopped walnuts add crunchy nuttiness to the banana bread.
Cooking Spray: Cooking spray prevents the banana bread from sticking to the pan so that it can be removed easily and maintain its smooth appearance around the sides.
Powdered sugar icing: This icing adds even more sweetness to the bread.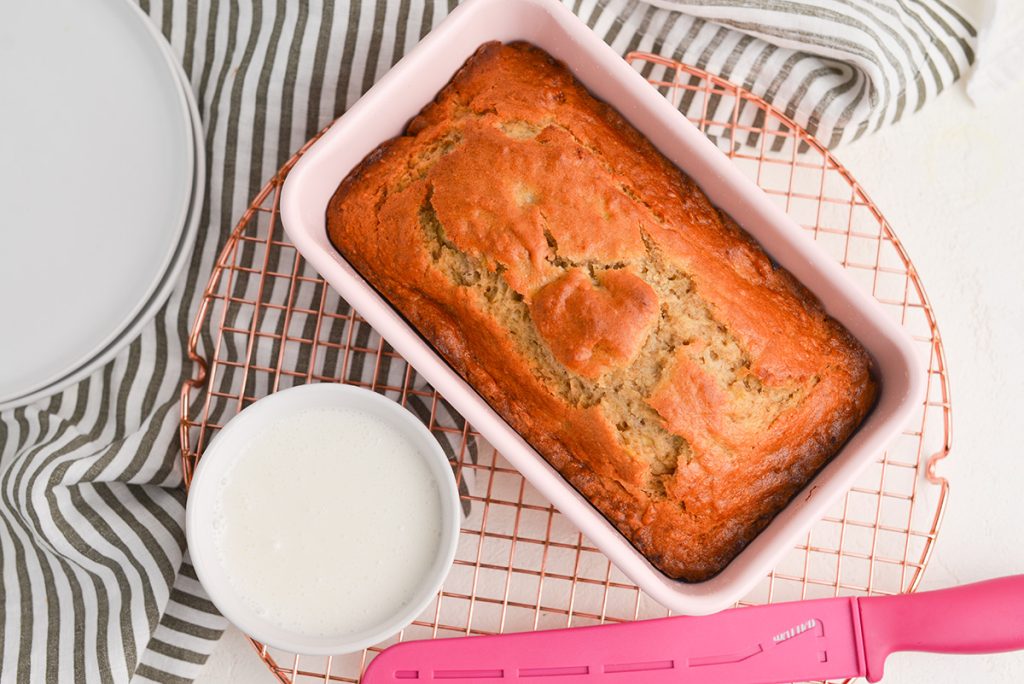 How To Make Banana Bread With Icing
It's almost unbelievable how quickly this sweet, moist bread can be made.
Cream sugar and shortening. Add the sugar and shortening to a large mixing bowl and cream the two ingredients together using either a stand mixer with a paddle attachment or an electric mixer.
Add eggs, vanilla and banana. While blending, add the eggs, mashed bananas, and vanilla extract. Ensure that all ingredients are completely combined.
Sift dry ingredients. In another large bowl, using a sifter (or a whisk), combine the flour, baking powder, salt, baking soda, cinnamon, and nutmeg.
Combine. Slowly add the dry ingredients to the wet ingredients and mix until entirely incorporated. Pro-tip: use a low speed when mixing to keep the dry ingredients in your bowl, not on your counter.
Fold in walnuts. With a rubber spatula, fold the walnuts into the mixture.
Add to pan. Pour the bread batter into the prepared loaf pan and bake until it the top is golden brown and the bread passes the toothpick test using either a toothpick or a cake tester. 
Bake and cool. Let the banana bread cool on a wire rack before icing the top of the banana bread or serving.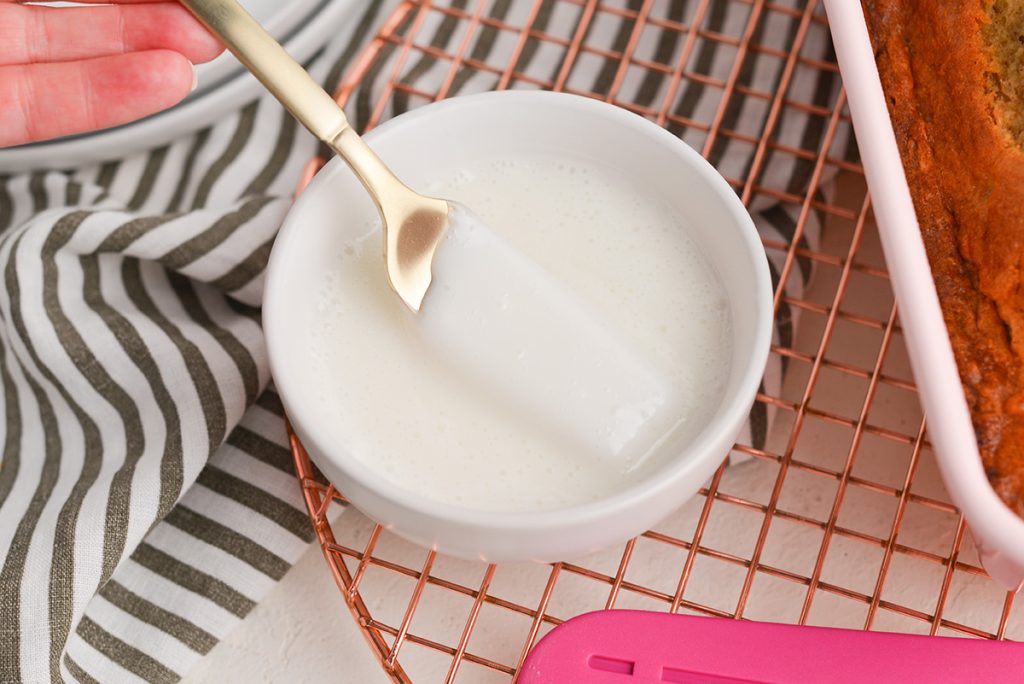 What To Serve with Iced Banana Bread
If you want to pair sweets with this quickbread, you can top it with whipped cream or serve it alongside a scoop of ice cream. For healthy pairings, try serving it with a fresh fruit salad, applesauce, or yogurt.
You can also spread butter, cream cheese, peanut butter, or homemade jam on a slice.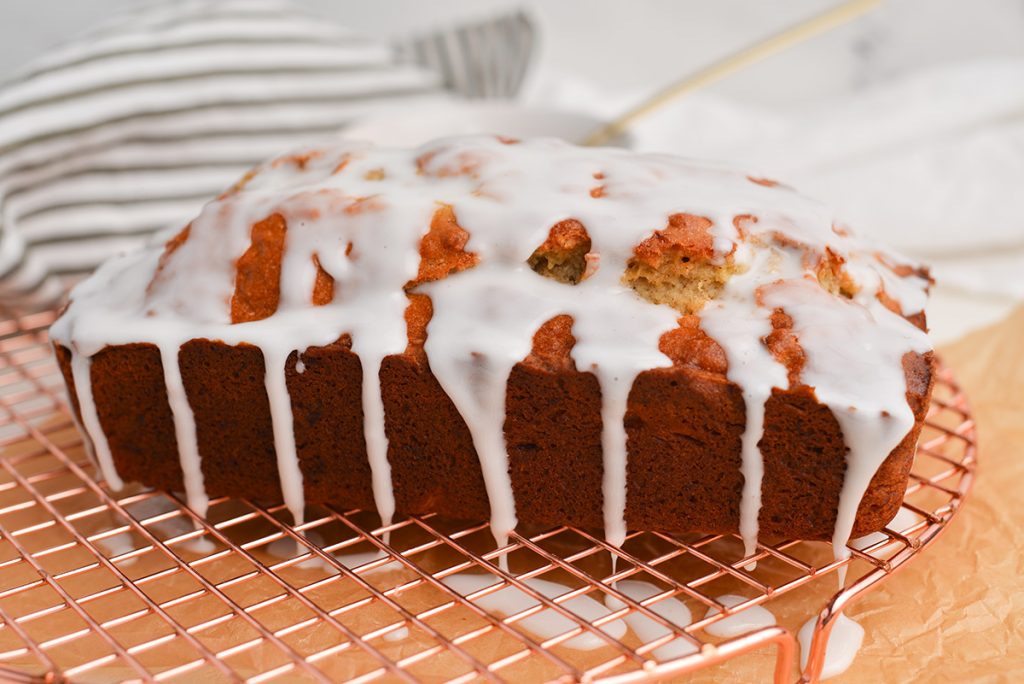 Variations
There are a few ways to switch up this easy banana bread recipe.
Nuts: Instead of walnuts, try using other nuts like pecans or pistachios.
Extract: Substitute almond extract for some or all of the vanilla for nutty flavor.
Citrus: Add lemon juice or orange juice to the icing for a tart contrast to the mellow banana bread.
Icing: Try using a cream cheese icing instead of the simple glaze. Or, simply dust the top of the bread with confectioners' sugar.
Chocolate: Fold miniature chocolate chips into the batter before baking. Or, melt chocolate and drizzle it over the iced bread for extra sweetness.
Brown sugar: For a richer, molasses-style flavor, try substituting brown sugar for some of the white sugar.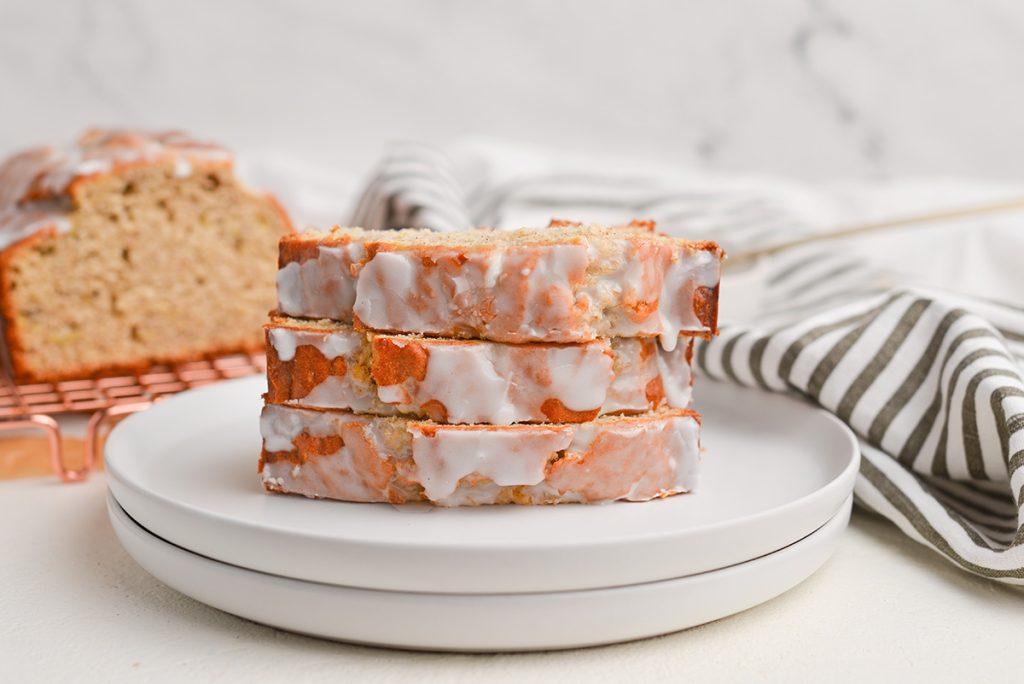 Storage and Freezing
Be sure to wrap banana bread tightly with plastic wrap or aluminum foil before storing so that it maintains its freshness.
Refrigerator: Store in the refrigerator for 7-10 days.
Freezer: Freeze for up to 3 months. Thaw at room temperature. It might need to be re-iced, the icing tends to sink into the bread.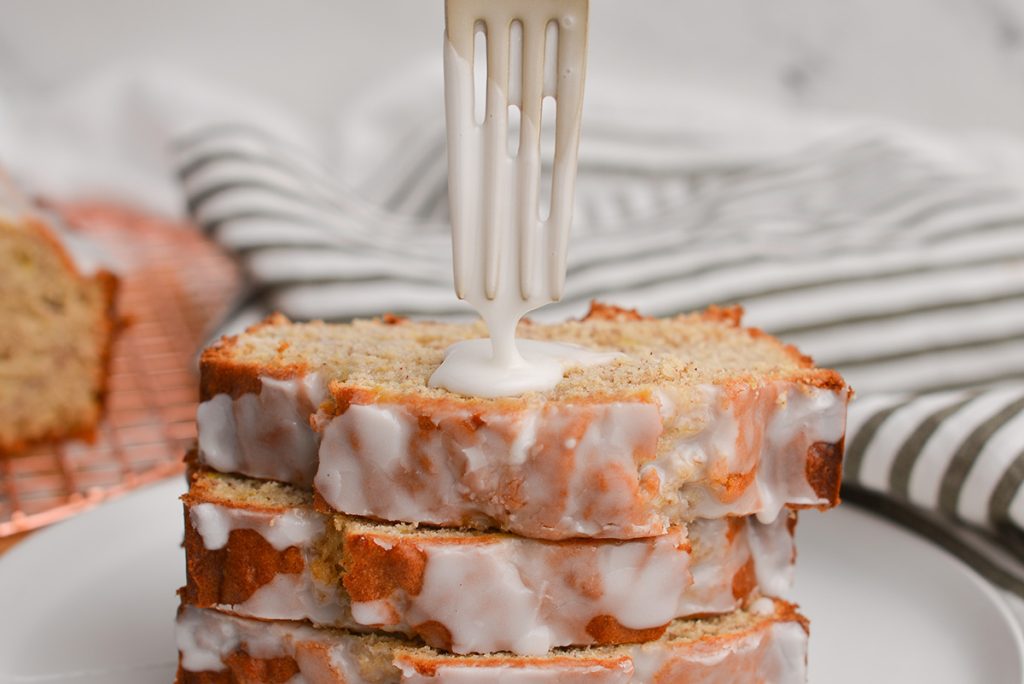 Common Questions About Iced Banana Bread
Should banana bread be eaten cold?
Banana bread can be eaten either warm or cold. Just be sure to allow it to cool a bit after removing it from the oven.
Does frozen banana bread taste good?
Once thawed, the banana bread may have an altered taste or texture if not wrapped properly. To make sure you get the best results, be sure to tightly wrap the bread with plastic.
Why cool banana bread?
Cooling banana bread to room temperature after baking can help to make it easier to slice. Also, cooling it before wrapping helps to prevent mold from growing.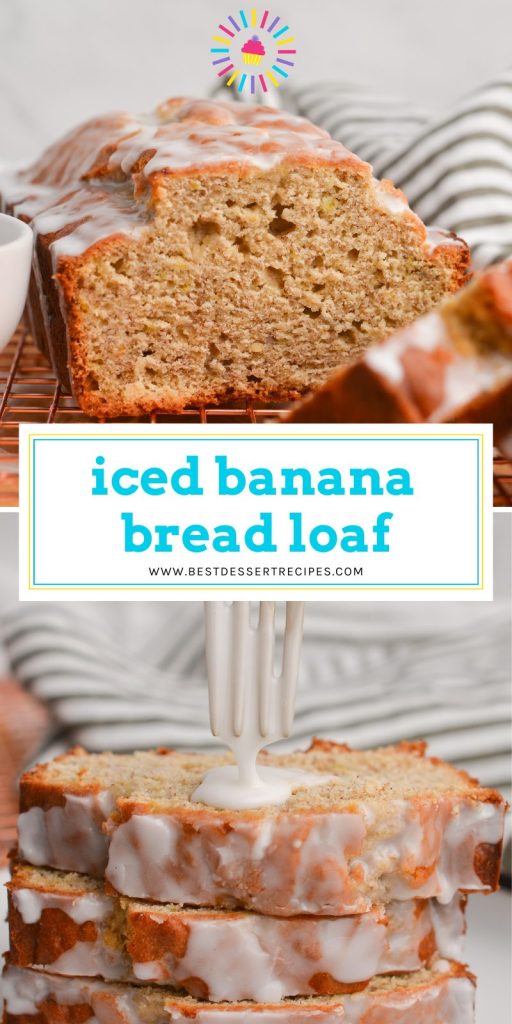 More Fruit and Vegetable-Based Sweet Treats
Lemon Bars
These homemade Lemon Bars are the perfect way to channel warm-weather flavors. The citrusy filling paired and shortbread crust are perfect!
Check out this recipe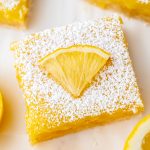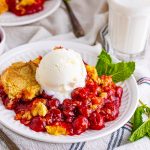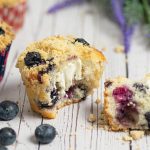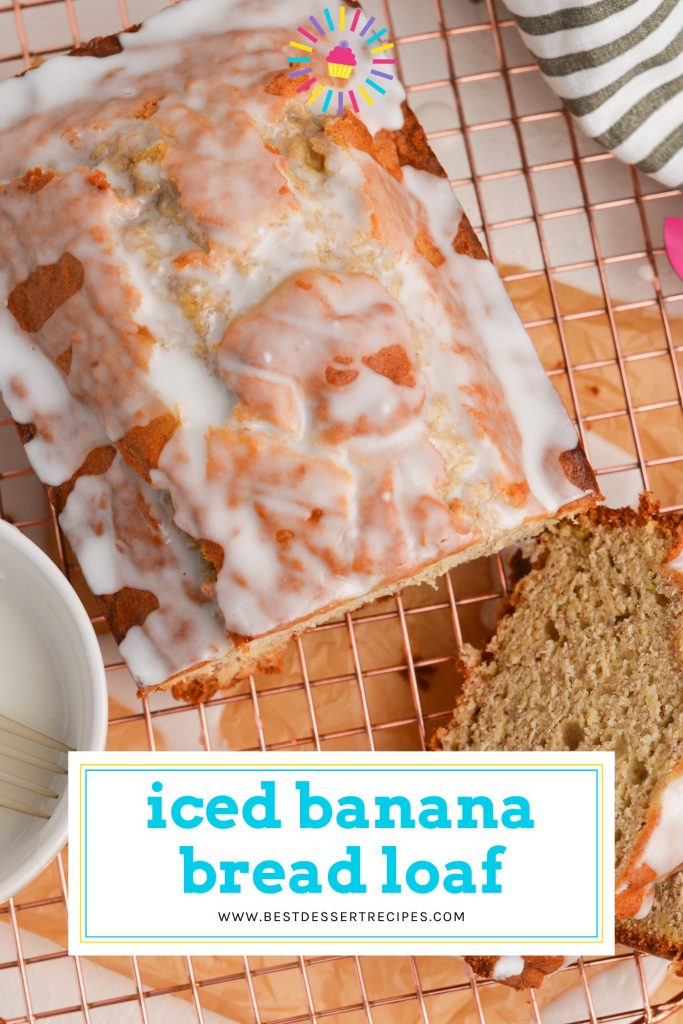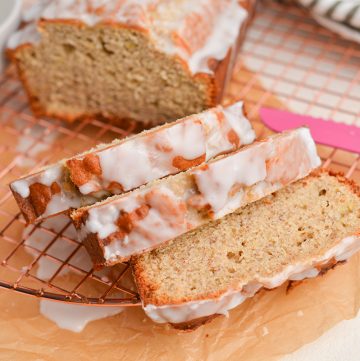 Iced Banana Bread
This Iced Banana Bread recipe brings together warm, aromatic spices and banana flavor with a simple glaze! Perfect for breakfast or dessert!
Print
Pin
Rate
Ingredients
1

cup

sugar

1/4

cup

shortening

2

eggs

room temperature

1

teaspoon

vanilla extract

1 1/2

cups

overly ripe bananas

peeled and mashed

2

cups

flour

2

teaspoons

baking powder

1/2

teaspoon

coarse kosher salt

1/4

teaspoon

baking soda

1

teaspoon

cinnamon

1/2

teaspoon

nutmeg

1

cup

walnuts chopped

Cooking Spray
Instructions
Preheat the oven to 350°F.

In a large mixing bowl or the bowl of a stand mixer fitted with a paddle attachment, cream together the sugar and shortening. Add the eggs, mashed bananas and vanilla and blend on low until incorporated.

In a separate bowl, sift or whisk together the flour, baking powder, salt, baking soda, cinnamon and nutmeg. Gradually add to the wet mixture until combined.

By hand, fold in the walnuts with a spatula. Lightly coat a 9-inch bread pan with cooking spray and line bottom with parchment paper for easy removal. Transfer the batter into the bread pan.

Bake for 45-50 minutes or until top is lightly brown and it passes the toothpick test. If the top starts to brown too fast loosely cover with a leaf of aluminum foil.

Allow to cool slightly before eating.

If you've tried this recipe, come back and let us know how it was in the comments or star ratings!