Cheesecake Brownies mix two of my favorite desserts into one. The fudgy brownie mixes with the creamy cheesecake to make for a decadent dessert.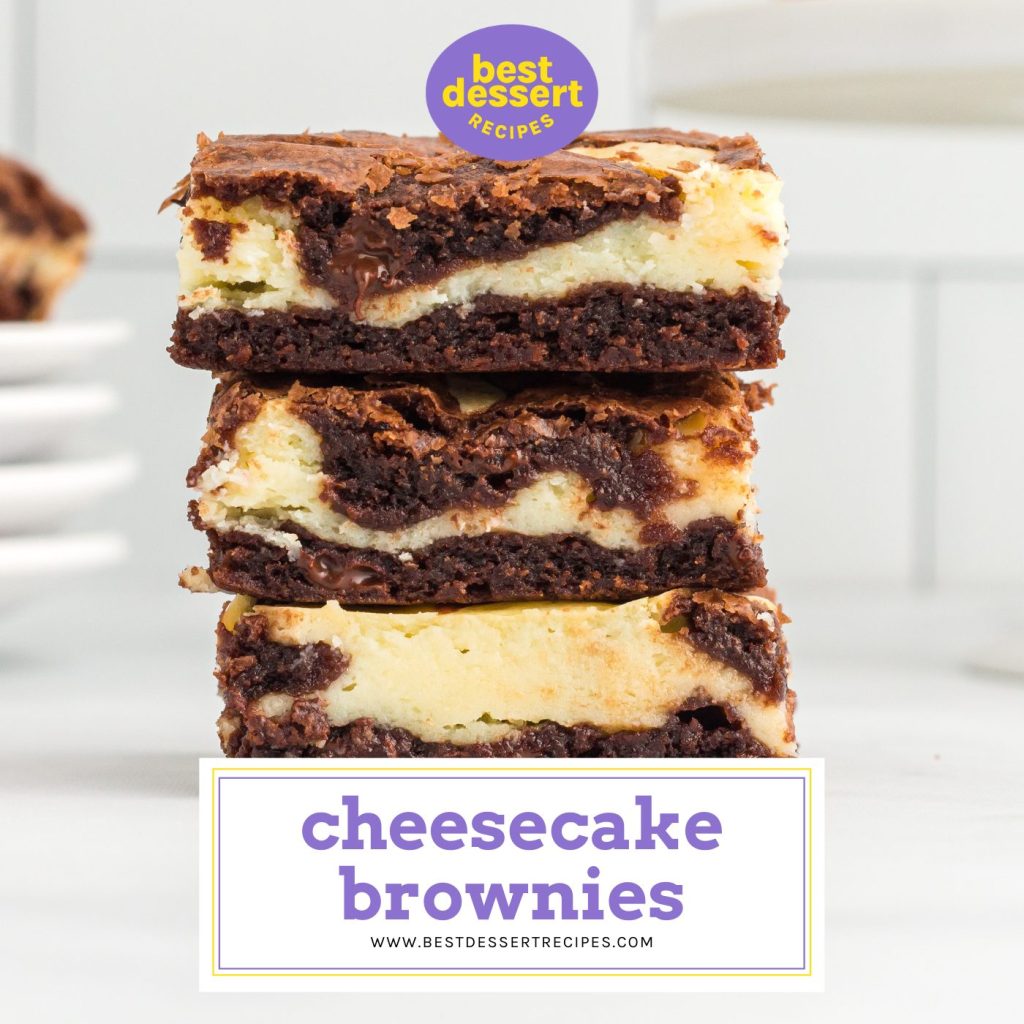 I love them all on their own, but I also like to make them the base of a brownie cheesecake sundae, with vanilla bean ice cream, a dollop of whipped cream, and a drizzle of caramel sauce.
Why You'll Love These Cheesecake Brownies
What I love about this brownie cheesecake bar recipe is that it is so incredibly easy thanks to using a simple boxed brownie mix. From start to finish it only takes 15 minutes to prep and then the oven does the rest.
I also love that they're a quick handheld version of a chocolatey cheesecake. You can refrigerate brownie cheesecake bars for up to a week, so you can bakes them on the weekend and they'll last all week in the refrigerator. Unless everyone else in the house finds them, of course!
These cheesecake brownies are perfect for parties. They travel well and they're so deliciously dreamy no one will ever guess what a cinch they were to make. Also, their fudgy texture mixed with the sweet cheesecake make them a hit with both adults and kids.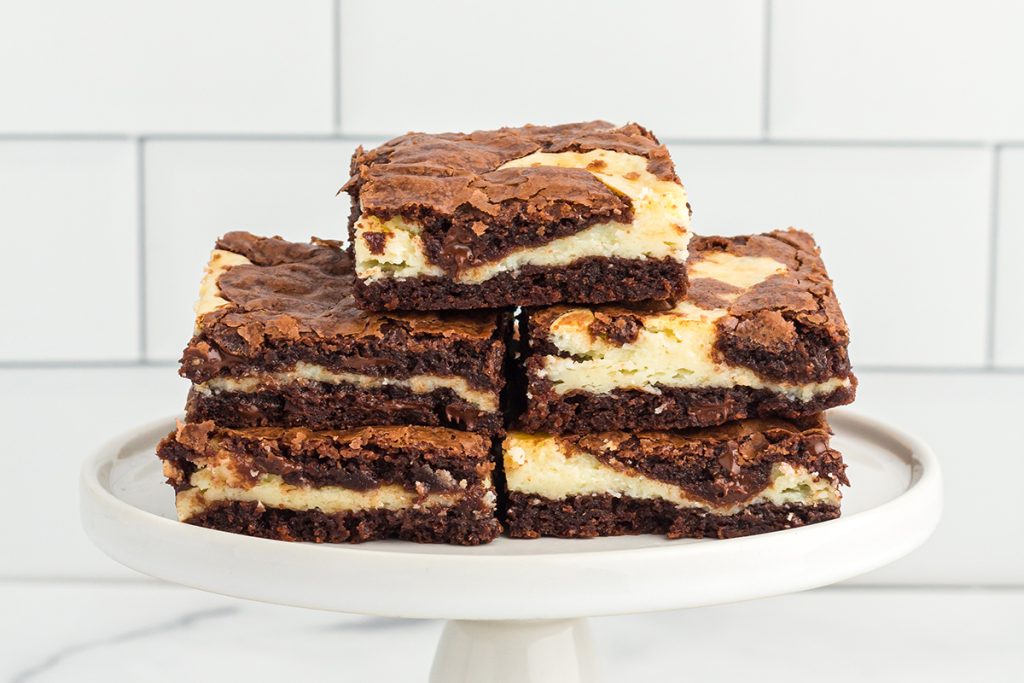 Ingredients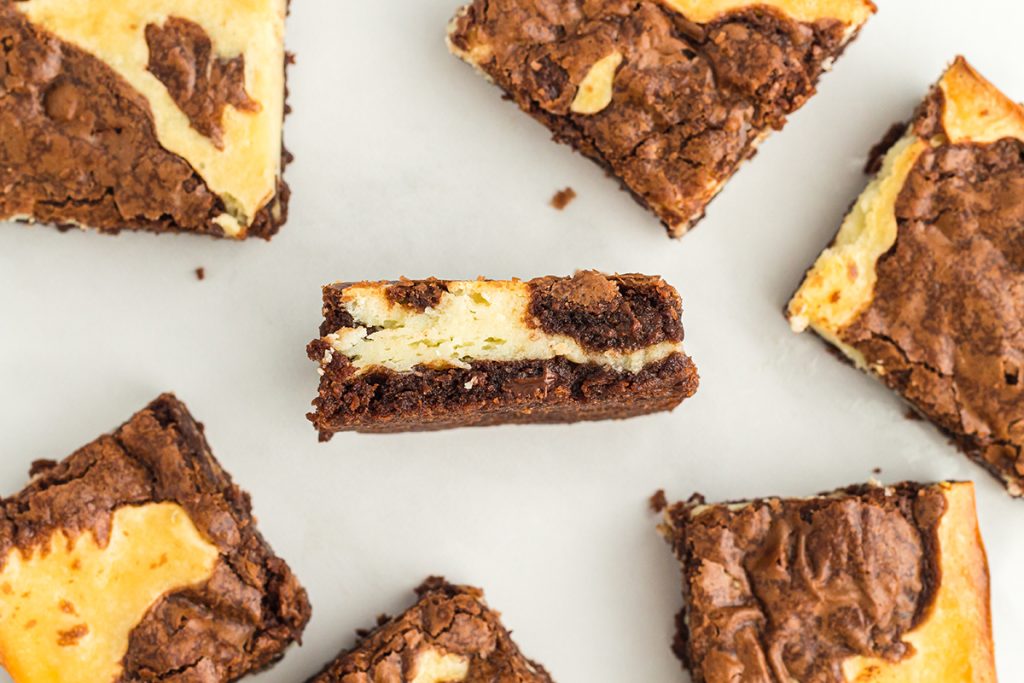 How To Make Cheesecake Brownies
Preheat the oven and make sure the oven has reached this temperature before putting the pan in the oven – cheesecake can be finicky and requires consistent, even heat.
Using parchment paper, line the baking pan. Be sure to use enough parchment paper so that it will extend beyond the sides of the pan to allow for easy removal of the bars, like a sling.
To prevent the bars from sticking, spray the parchment with non-stick cooking spray.
In a large mixing bowl, add the dry brownie mix, butter, egg, and vanilla extract to make a dough. Beat for until fully combined, being sure to not overmix the batter. If your brownie mix has lumps, sift it so you don't have to overmix.
Next, beat the cream cheese in a separate bowl on high. Do this until the cream cheese is smooth.
Then, add the sweetened condensed milk into the cream cheese, beating again until smooth.
Remove ⅔ of the cheesecake brownies mixture and place it in the prepared pan, pressing it evenly to cover the bottom. Using a spatula lightly sprayed with non-stick cooking spray may help to ease the process of spreading the dough.
Next, use a spatula to spread the mixture of cream cheese and condensed milk over the dough in the pan. Ensure that the mixture is spread evenly.
Take the rest of the ⅓ of the batter and flatten into very thin pieces. Use these pieces to cover the top layer as much as possible, though some of the cheesecake layer may still be visible.

Put the pan in the oven and bake. When finished, the edges will be slightly browned and the middle will be set. To test, insert a toothpick and be sure it is clean when it is removed. Avoid over-baking so that the bars retain their moist, gooey texture.
The bars will need to cool in the pan.
Once cooled, remove the brownie cheesecake from the pan. Lift it using the edges of the parchment paper.
Slice into 16 bars. To get squares with clean edges, use a sharp knife and wipe it with a damp paper towel or cloth between each slice or use a plastic knife.
Variations of Cheesecake Brownies
If you're looking to add any more sweetness to these brownie cheesecake bars, there are tons of good brownie topping options. You can add mini marshmallows, cookie pieces, or chocolate or peanut butter chips. You even drizzle your brownie cheesecake bars with a powdered sugar glaze. These bars are the best base for experimenting!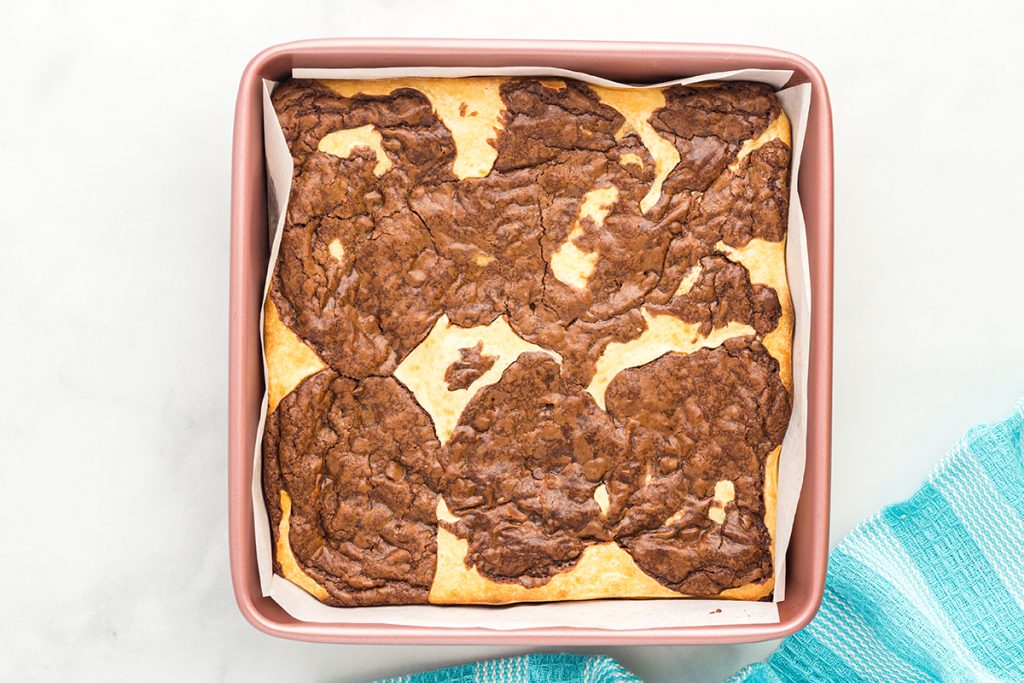 Storage & Freezing
Cheesecake Brownies can be stored in the refrigerator for up to one week. Be sure to store the bars in an airtight container or wrap them tightly with plastic wrap.
They can be frozen if wrapped tightly with plastic wrap or freezer paper for up to 3 months. Thaw in the refrigerator overnight.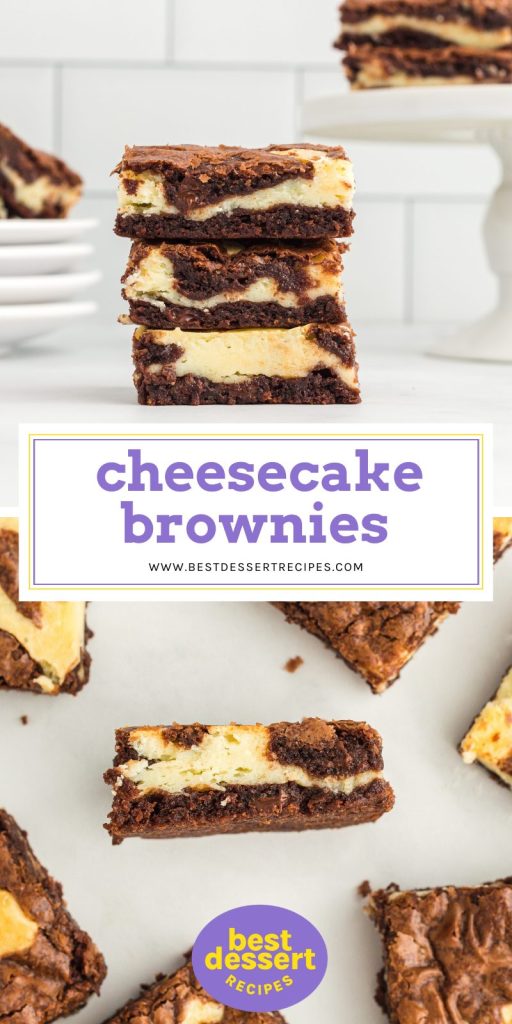 Other Delicious Dessert Bars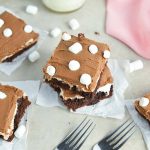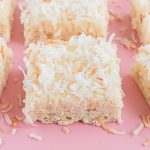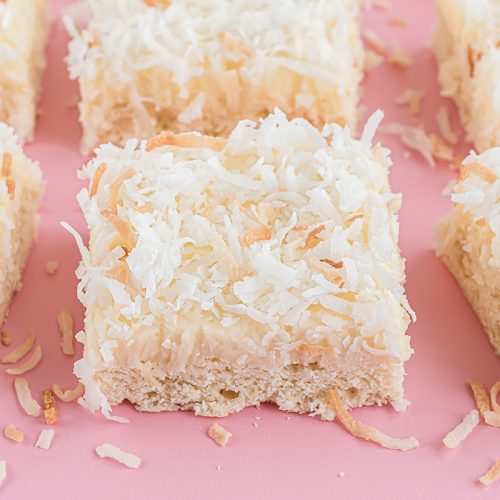 Peanut Butter Chocolate Chip Bars
Buttery and chewy cookie bars mixed with peanut butter and laced with peanut butter chips and chocolate chips.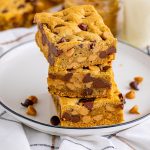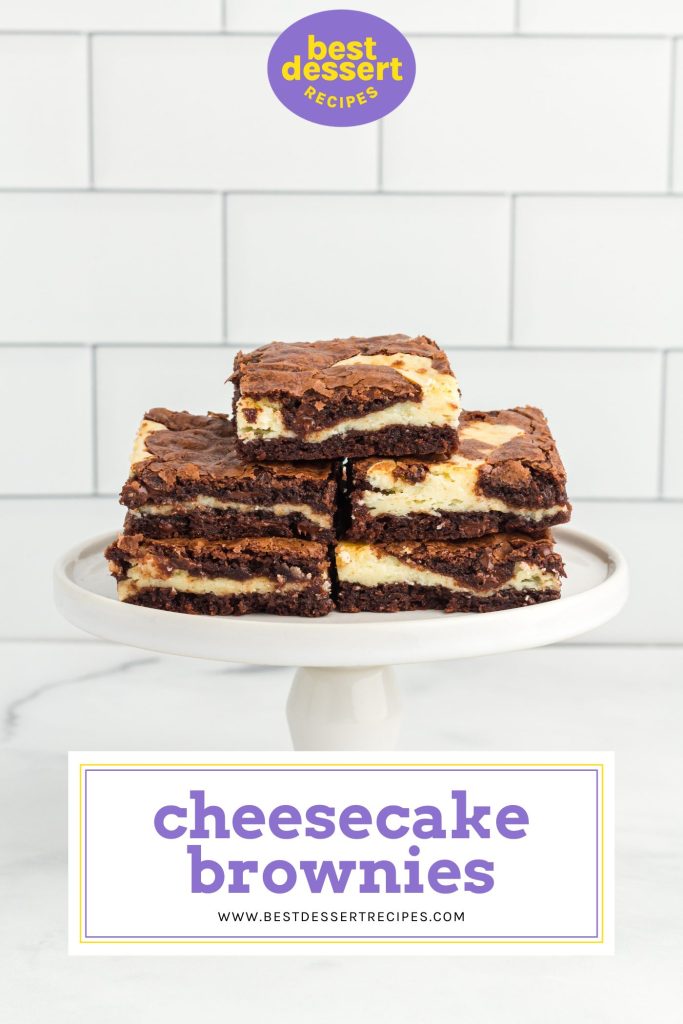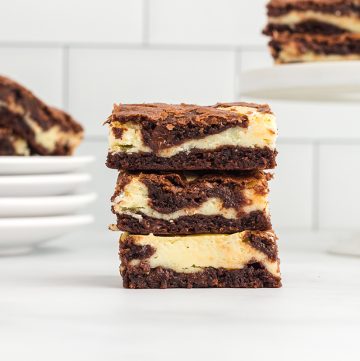 Cheesecake Brownies
Take a box of brownie mix to new heights with these fudgy brownies laced with rich, creamy vanilla cheesecake.
Print
Pin
Rate
Instructions
Preheat oven to 350 degrees F.

Line an 8" x 8" baking pan with parchment paper. Leave the sides a little higher than the pan so the bars can be lifted out easily after they've cooled. Spray the parchment paper lined pan with non-stick cooking spray and set aside.

In a large bowl, beat together dry brownie mix, butter, egg, and vanilla extract until fully combined (about 30 seconds). Do not overmix.

In a separate medium bowl, beat cream cheese on high until smooth (about 30 seconds).

Beat sweetened condensed milk into the cream cheese until smooth (about 30 seconds). Set aside.

Press about 2/3 of the dough mixture into the bottom of the prepared pan. This dough will be thick (cookie dough consistency). If having difficulties spreading dough into the pan, lightly spray a spatula with non-stick cooking spray to help spread out the bottom layer.

Spread the cream cheese & sweetened condensed milk mixture evenly over the first dough layer.

Press the remaining 1/3 of dough into super flat pieces and cover as much of the cream cheese & sweetened condensed milk layer with the dough as possible. It's okay if some of the cheesecake layer is still exposed.

Place baking tray in oven and bake for 29 to 31 minutes – the middle will look set and edges will be slightly browned. Do not over bake or these bars will lose the gooey texture.

Let bars cool in pan for at least 60 minutes before removing from pan and slicing into 16 squares. For clean edged squares, wipe the knife with a damp cloth in between cutting each row.
Notes
* This recipe starts with the dry mix only. Do not prepare the brownies as directed on the box.
** This recipe uses the block style cream cheese not the spreadable cream cheese found in the little tubs.
Nutrition
Calories:
234
kcal
|
Carbohydrates:
31
g
|
Protein:
4
g
|
Fat:
11
g
|
Saturated Fat:
5
g
|
Polyunsaturated Fat:
1
g
|
Monounsaturated Fat:
4
g
|
Trans Fat:
1
g
|
Cholesterol:
30
mg
|
Sodium:
160
mg
|
Potassium:
61
mg
|
Sugar:
21
g
|
Vitamin A:
221
IU
|
Vitamin C:
1
mg
|
Calcium:
55
mg
|
Iron:
1
mg