You may have seen those rainbow cakes with loads of different colored layers. While they are definitely beautiful, they're also fairly complicated. So when I wanted to make a rainbow dessert, I decided instead on these easy rainbow cupcakes.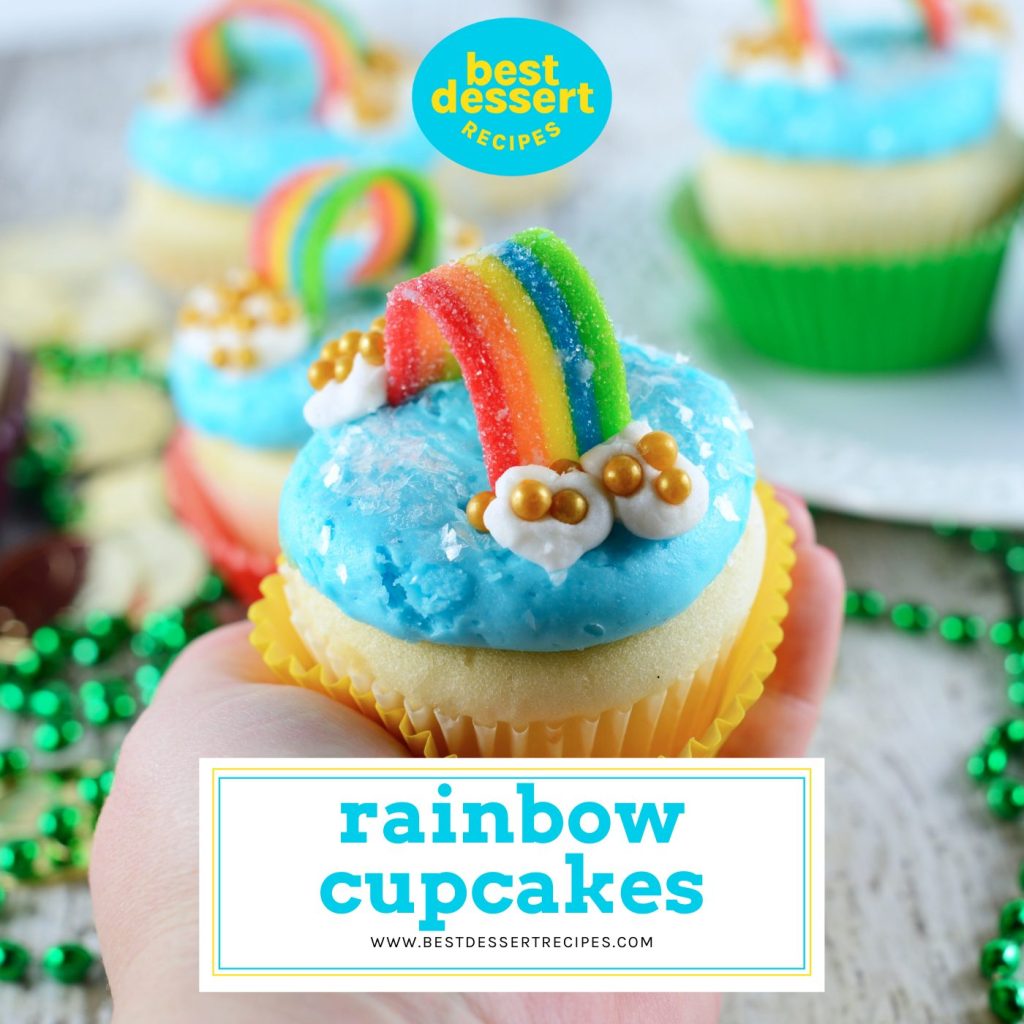 Instead of hiding the rainbow on the inside, these cupcakes wear their rainbows proudly on top. And for those of you who may be intimidated by cake decorating, rest assured this is the easiest way to make an adorable, colorful cupcake.
Why You'll Love These
One of the best parts of this recipe is that you can use cupcakes that are premade. Many grocery stores or bakeries will sell them without icing which means you don't even need to turn your oven on. What I also love is that any flavor cupcake will work as a base, so you can choose your favorite and go from there!
Some of the ingredients, like the sugar pearls, candy belts, or sparkles might not already be in your pantry, but you can easily and affordably find them online if you don't have a local shop where you can buy them. It will be worth the day or two to wait for them to ship so that you can make these fun cupcakes!
Why You'll Love These
Cute- Who can resist these pretty rainbow cupcakes with their bright colors and sparkles?
Perfect for parties- Whether it's a birthday party for kiddos or a St. Patrick's Day celebration, these cupcakes are a bright addition to any table.
Fast- If you're using premade cupcakes, these only take about 20 minutes to make, start to finish.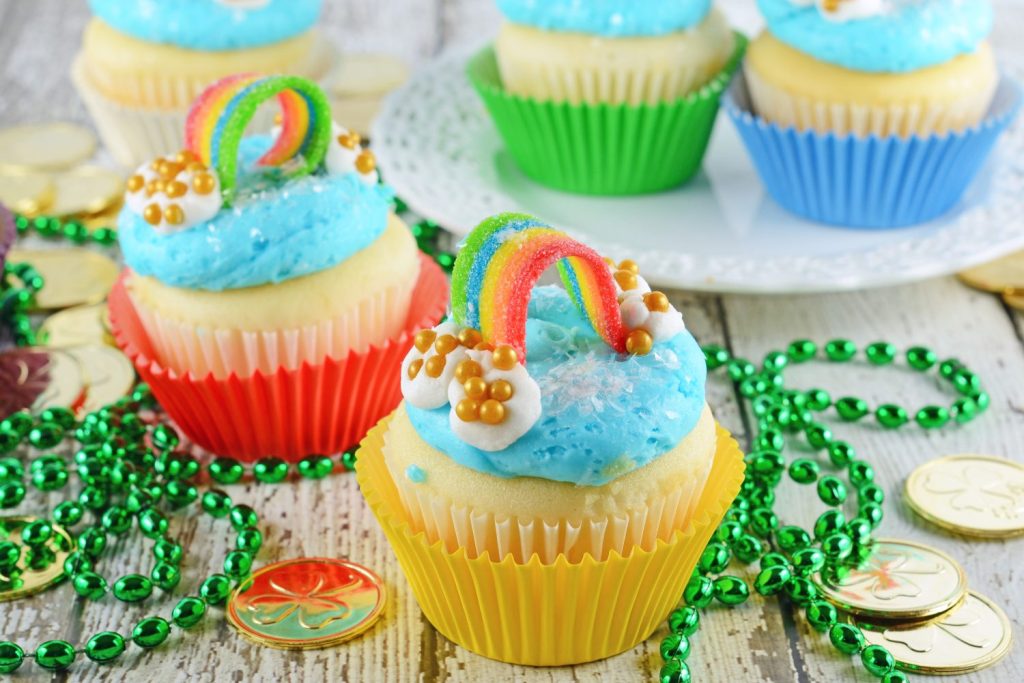 Rainbow Cupcakes Ingredients
Cupcakes (baked and undecorated)– You can use any cupcake recipe you might like, either from scratch or a boxed mix, or you may be able to find undecorated cupcakes at your grocery store.
Vanilla Buttercream Frosting– you can grab a can of frosting at the store or make your own vanilla buttercream frosting.
Blue Food Coloring– This ingredient is key for making sure you get that beautiful blue hue to top your cupcakes.
Gold Sugar Pearls– These golden sugary spheres add whimsy to these colorful cupcakes.
Rainbow Candy Belts– You can get these in either sour or sweet flavors – the choice is yours!
Cake Sparkles– This edible cake glitter makes the cupcakes sparkle and look even more festive.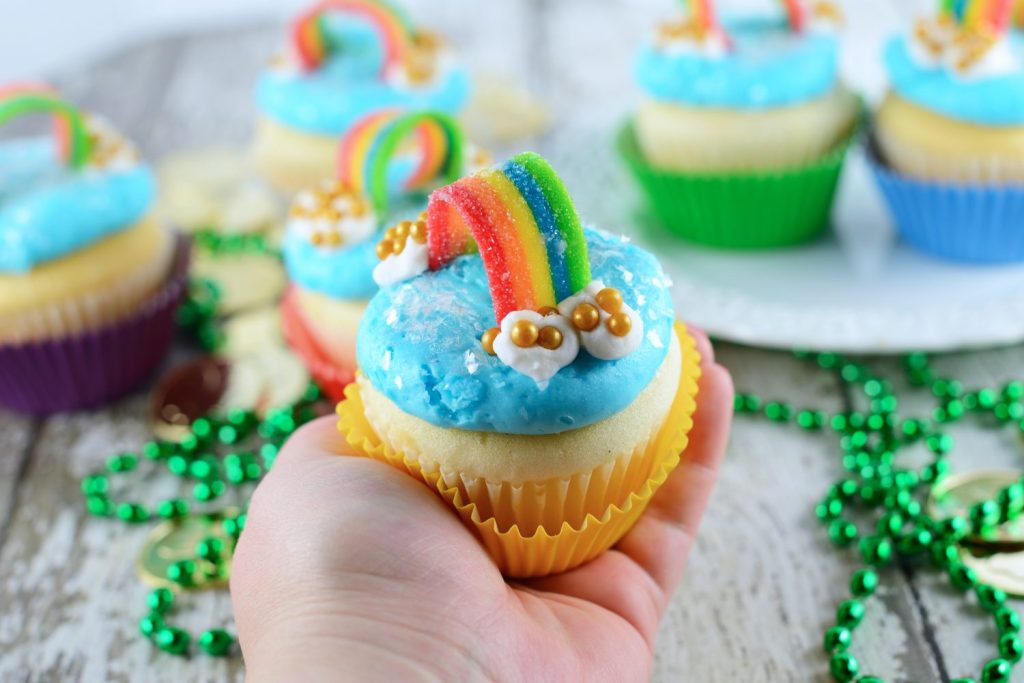 How To Make Rainbow Cupcakes
Dye frosting. Using a spatula or hand-mixer, mix the remaining buttercream frosting with the blue food coloring. You'll want for the frosting to be the same color as the sky on a cloudless day.
Frost cupcakes. Frost each cupcake, leaving the outer edges of the cupcake exposed. The frosting will support the other decorations, so be sure the layer is thick enough.
Add remaining frosting to piping bag. Spoon the remaining buttercream into a piping bag. If you do not have a piping bag, use a plastic sandwich bag, then cut off a small part of the bag's corner with kitchen shears.
Pipe clouds. Gently pipe the buttercream onto the blue frosting, making two balls on each side. These will be the clouds that will help to hold the rainbow belts in place.
Cut candy belts. Slice the rainbow candy belts into 1 ½ inch pieces using a paring knife or kitchen shears.
Add candy belts to clouds. Press the ends of the rainbow candy belts into the blue frosting on the rainbow cupcakes next to the "clouds."
Decorate. Gently press the gold sugar pearls into the clouds. Tweezers are a useful tool for this part of the process. Lightly sprinkle the cake sparkles over the blue frosting.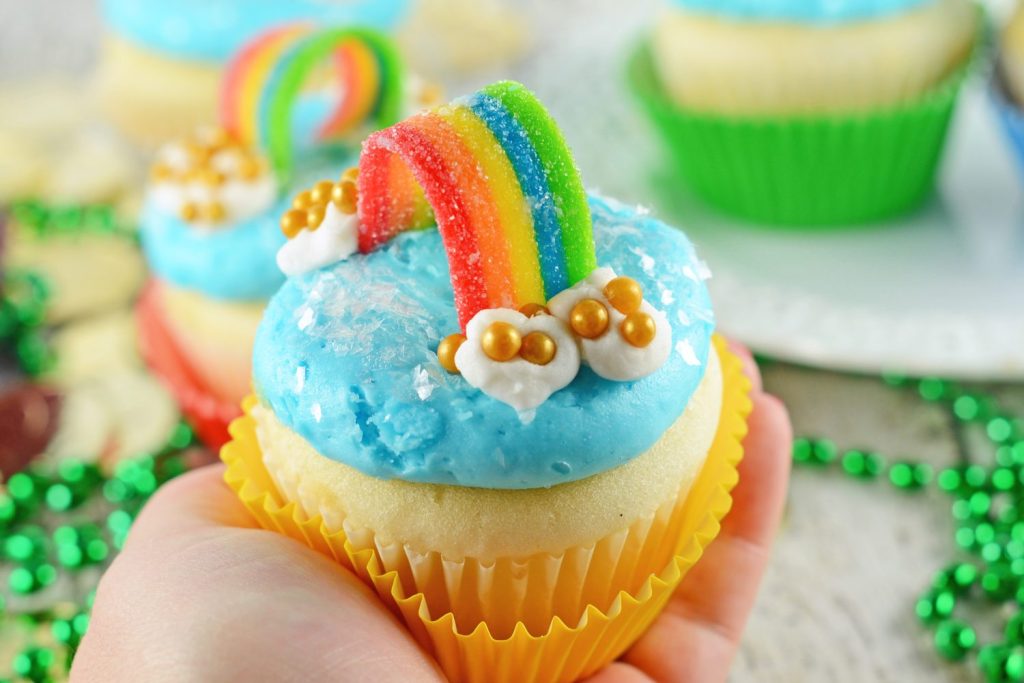 Variations
Flavors– Use any cake flavor that you like. Chocolate, lemon, and banana will all work well or you can use more complex flavors like red velvet or carrot cake.
Cream filling– For a fun addition (particularly for a St. Patrick's Day theme) you can fill the rainbow cupcakes with whipped topping or icing or even jam before you decorate them.
Sprinkles– Gently fold sprinkles into the batter for a colorful cupcake.
Decorator's sugar– Instead of the cake sparkles, use decorator's sugar which will also make your cupcakes shimmer.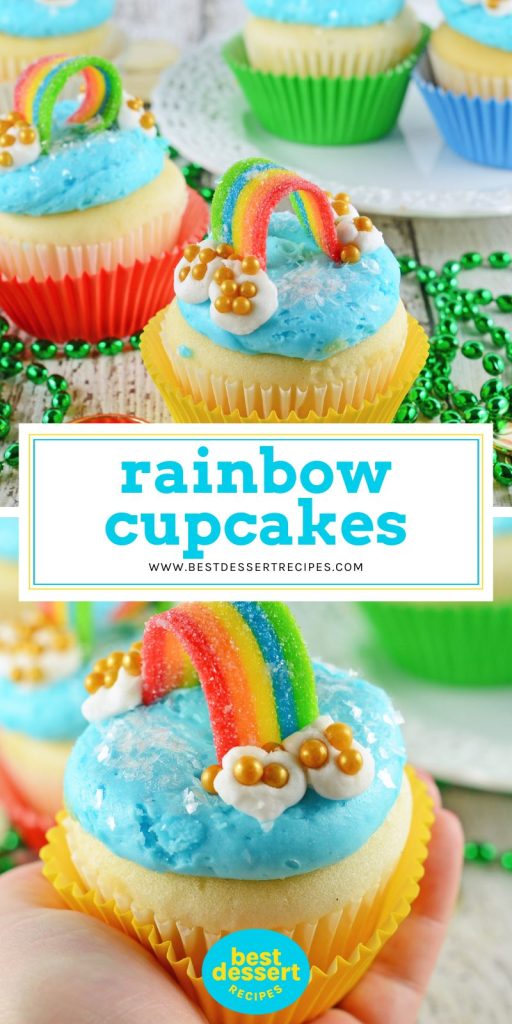 Other Cupcake Recipes
Peach Cobbler Cupcakes
Sweet cupcakes stuffed with peaches and topped with peach cream cheese frosting.
Check out this recipe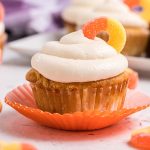 Lemon Cupcakes
We are taking your box cake mix to the next level with this Lemon Cupcake recipe- complete with a fluffy homemade lemon buttercream!
Check out this recipe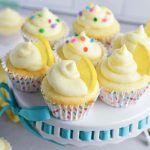 Lemon Strawberry Cupcakes
With real strawberries mixed into the batter, these EASY Lemon Strawberry Cupcakes are the ultimate summer dessert recipe!
Check out this recipe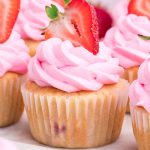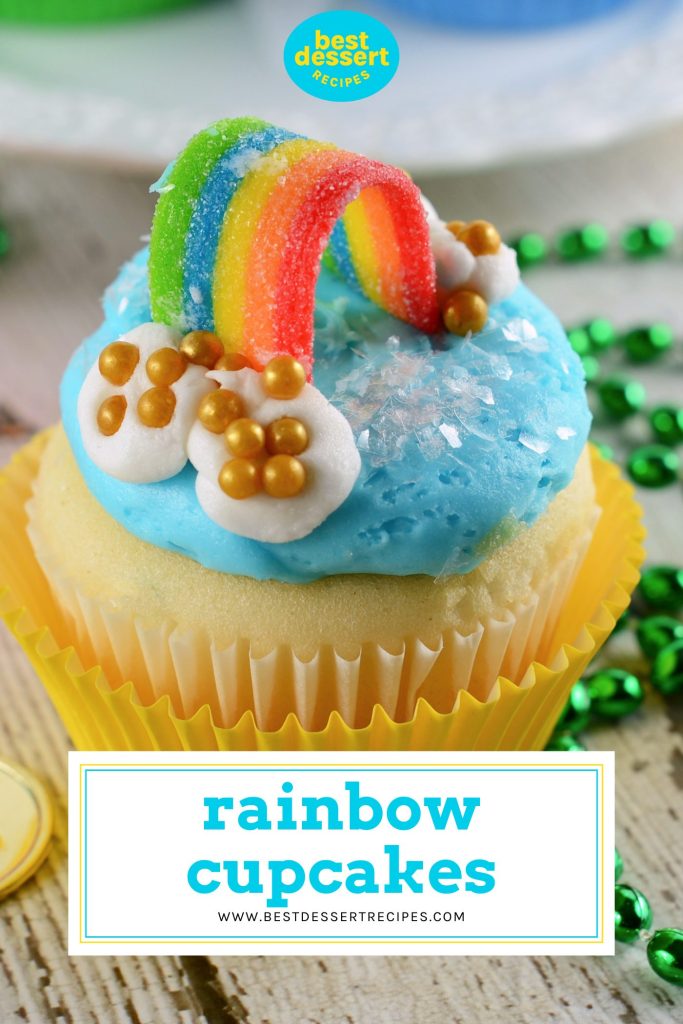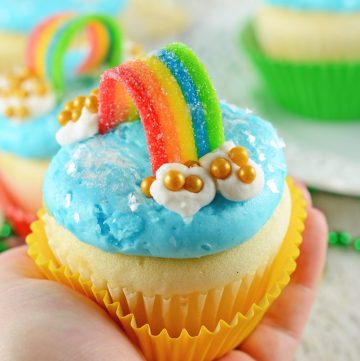 Rainbow Cupcakes
Rainbow Cupcakes are super easy and cute. The perfect cupcake for St. Patrick's Day, children's birthday parties or any random day of the week!
Print
Pin
Rate
Ingredients
24

cupcakes baked and undecorated

2

cups

Vanilla Buttercream Frosting

Blue food Coloring

2

tablespoons

Gold sugar pearls

1

package Rainbow Candy Belts

2

tablespoons

Cake sparkles
Instructions
Reserve 2 tablespoons vanilla buttercream frosting, mix the rest with blue food coloring achieving the perfect cloudy blue. Frost each cupcake.

Spoon remaining buttercream into a piping bag or a sandwich bag, snip the end. Pipe two balls on each side to secure the rainbows.

Cut rainbow candy belts into 1 1/2 inch pieces, secure them between the "clouds".

Using tweezers, place gold sugar pearls into the clouds.

Sprinkle cake sprinkles over "blue sky" and serve.

If you've tried this recipe, come back and let us know how it was!
Notes
You can used pre-baked cupcakes from the grocery store, your favorite homemade recipe or even a box mix.
Nutrition
Calories:
232
kcal
|
Carbohydrates:
37
g
|
Protein:
2
g
|
Fat:
8
g
|
Saturated Fat:
2
g
|
Polyunsaturated Fat:
3
g
|
Monounsaturated Fat:
3
g
|
Cholesterol:
1
mg
|
Sodium:
175
mg
|
Potassium:
47
mg
|
Fiber:
1
g
|
Sugar:
27
g
|
Vitamin A:
22
IU
|
Vitamin C:
1
mg
|
Calcium:
56
mg
|
Iron:
1
mg