There are certainly times when I want to make a fancier cake with all of the bells and whistles, but sometimes I just want to whip up a traditional, comforting style of cake. That's when I make this yellow sheet cake.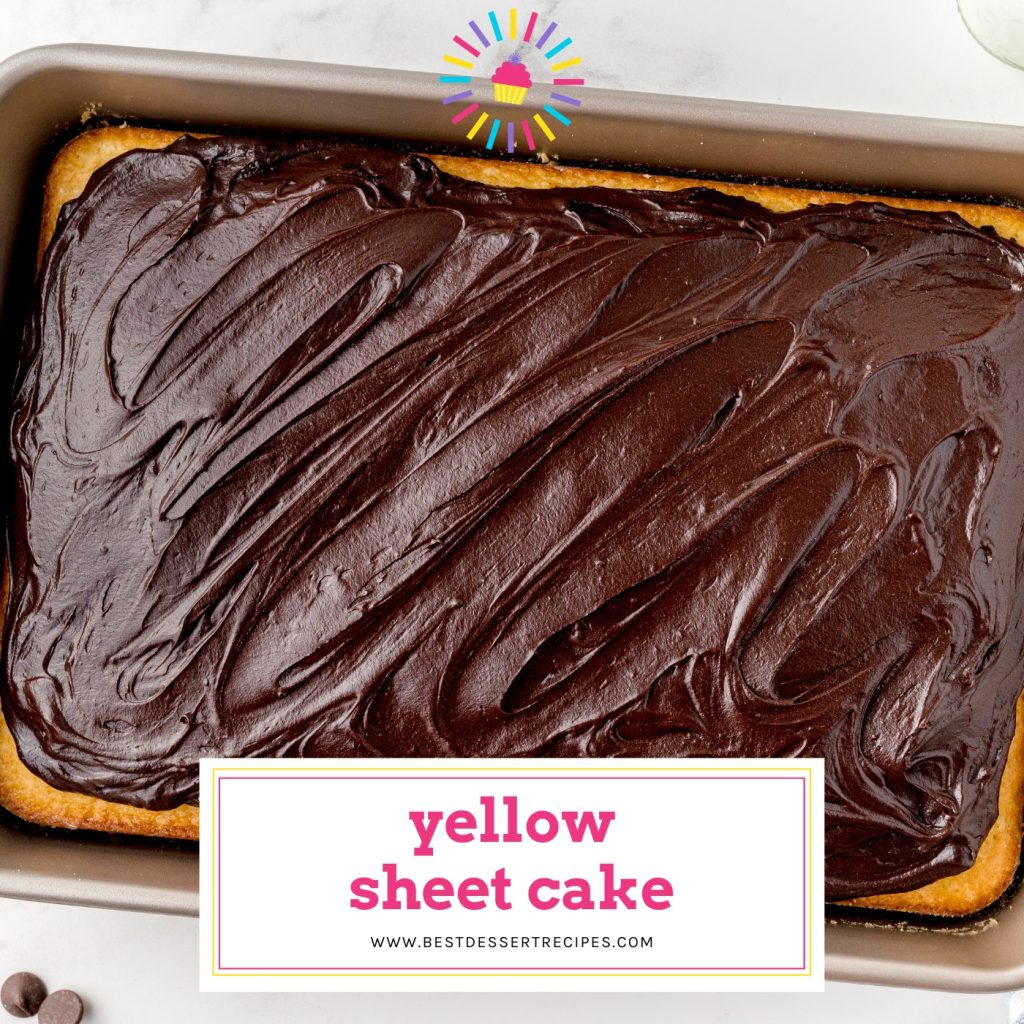 One of the best things about this cake is its simplicity. It's not fussy or fancy — but it is moist and delicious, and the perfect base for nearly any frosting flavor.
As for the topping, I'm partial to chocolate buttercream frosting — it reminds me of a classic birthday cake. I've actually made it for plenty of birthdays, but even when it's not for a celebration, I'm still half-tempted to put a few candles in it.
The next time you're tempted to pick up a boxed mix to make a cake, consider this recipe instead. The simple ingredients and minimal hands-on time make it easy for anyone to make it!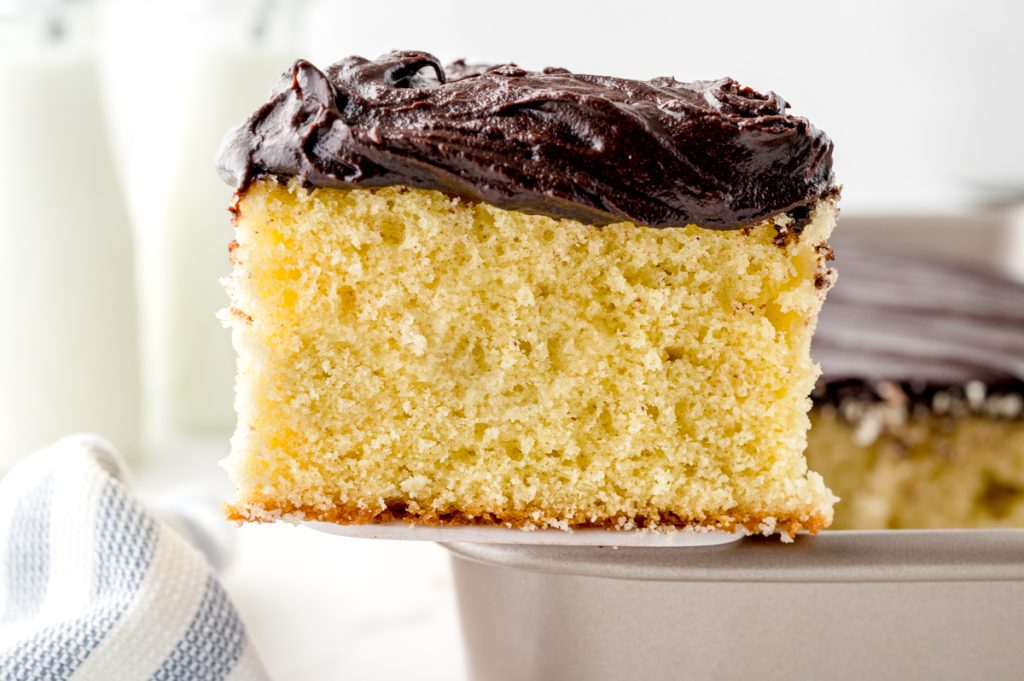 Why You'll Love Yellow Sheet Cake
There are plenty of reasons to fall in love with this classic cake.
Easy – The ingredients are simple and the steps to incorporate them all are straightforward.
Traditional – This traditional cake is easy for everyone to love, no matter what event or celebration you take it to.
Customizable – While you may not want to change up the recipe itself too much, once it's baked it's a perfect blank canvas for your creativity. You can choose any flavor frosting or glaze and you can decorate it as simply or ornately as you like.
Affordable – Many of the ingredients are staples you likely already have in your fridge or pantry. So, you don't have to drop a lot of dough to make this cake.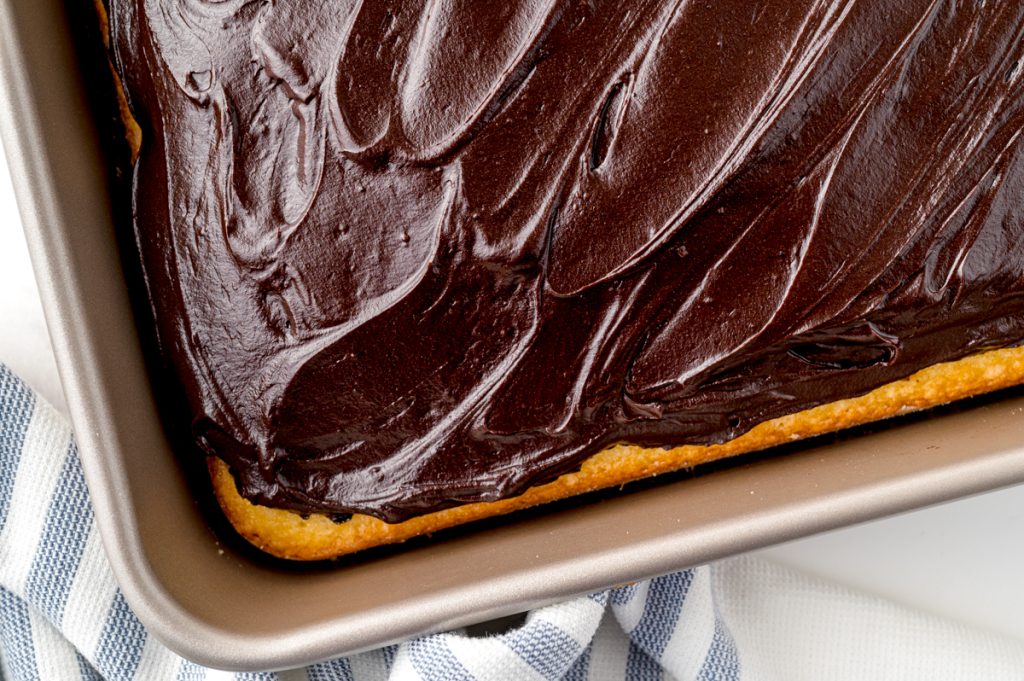 Ingredients
This homemade cake doesn't require a long list of ingredients and it comes together so quickly.
Large eggs plus egg yolks – This cake gets its beautiful shade of yellow from the butter but also from the extra egg yolks as well so be sure not to skimp by skipping the extra yolks.
Buttermilk – Buttermilk adds a touch of tanginess to the cake.
Vanilla extract – Vanilla balances the ingredients and highlights their flavor.
Bleached cake flour – While all-purpose flour is great for making dough for breads or pizza crust, or for when you're baking cookies, its gluten content makes it less ideal for cakes. Instead, use cake flour which has a lower level of gluten that makes for a softer texture in this cake.
Sugar – Granulated sugar is perfect for baking since it dissolves so quickly when it's mixed with wet ingredients.
Baking powder – This leavening agent will help the cake to rise.
Baking soda – This recipe calls for both baking powder and baking soda so be sure to use both — it affects the way that the cake rises as well as its color.
Fine sea salt – Just a bit of sea salt helps to balance out all of the flavors. It also enhances the sweetness of the sugar and the tang of the buttermilk.
Unsalted butter – Since the cake gets its color from the yolks and the butter, be sure to use high quality yellow European butter for the best results. Also be sure to soften (but not melt) the butter prior to mixing the batter.
Vegetable oil – While butter is one of the fats that is necessary to make this cake, oil is crucial, too. While butter provides some necessary fat, its role in this cake is more involved with imparting buttery flavor while the oil is used to make it more moist.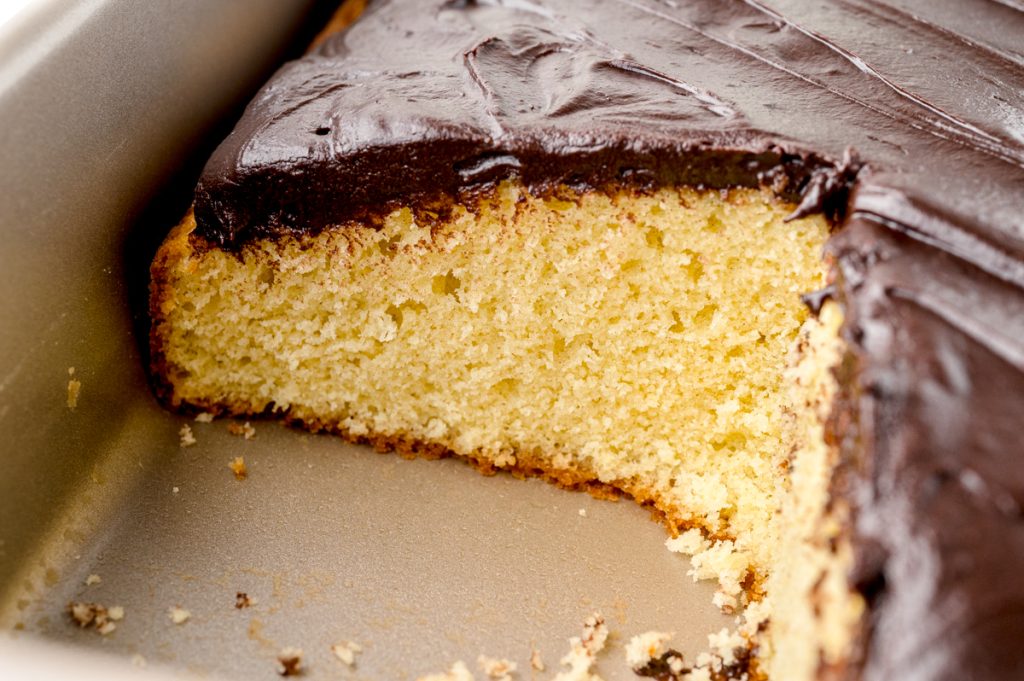 How To Make Yellow Sheet Cake
Make sure to use the reverse creaming method of adding the wet ingredients and fats to the mixed dry ingredients. This better ensures that the flour mixture is moistened throughout resulting in a moist, delicious cake.
Add the whole eggs, yolks, buttermilk, and vanilla to the medium mixing bowl. Whisk together the ingredients until combined.
Add dry ingredients to a separate bowl of a stand mixer. On low speed, mix the ingredients together until they are evenly dispersed.
Slowly add the butter and oil while continuing to mix. Then, gradually turn the mixer to medium-high speed, incorporating all ingredients completely.
Use a rubber spatula to scrape down the sides of the bowl and continue to mix. Don't shy away from mixing for the recommended amount of time — since cake flour is being used instead of all purpose flour, there is little chance of the cake ending up too dense.
When the cake batter is ready, pour it into a prepared pan sprayed with cooking spray. Be sure to scrape the bottom of the bowl to get all of the batter into the cake pan.
Gently tap the pan several times to ensure that any air bubbles in the batter are released.
Bake the cake until a toothpick inserted in the center comes out clean.
Place the cake on a wire rack to cool. Once the cake cools, frost it or store it — it's important to make sure the cake is completely cooled to ensure that your frosting doesn't melt.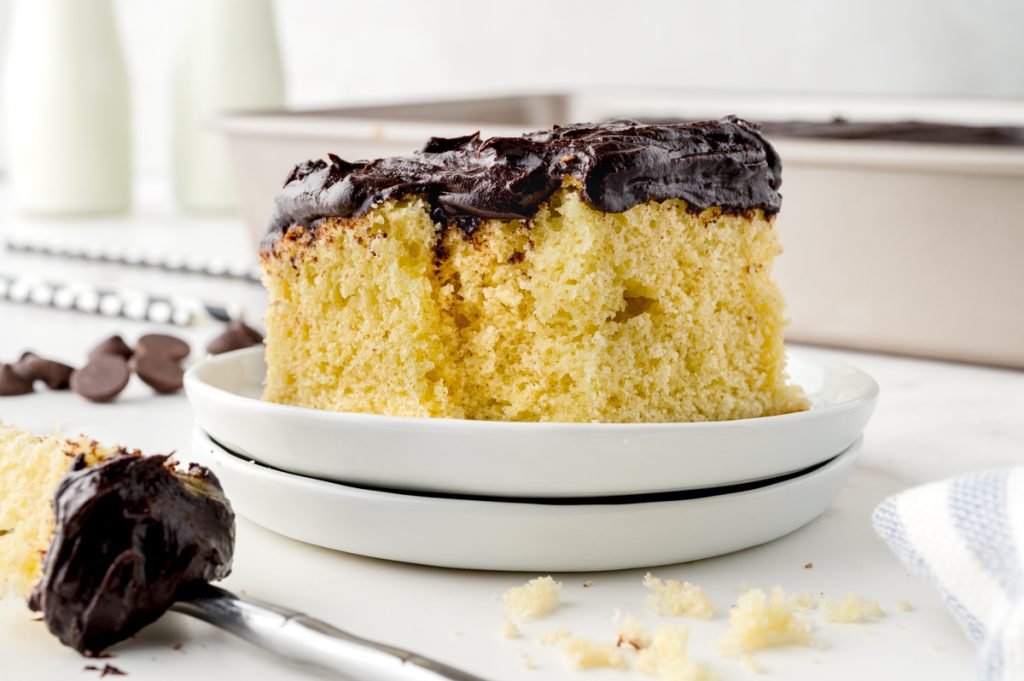 Variations
Since baking a perfectly moist cake does require some precision in terms of ingredients and techniques, you probably don't want to stray too far from this standard recipe. But there are a few things that you can switch up.
Extracts – If you're looking for a different flavor, swap out some or all of the vanilla extract for another flavor — almond extract works well. Do be mindful that if you use an extract that has color it will affect the color of the finished cake.
Applesauce – Applesauce is an option that you can swap in to replace some or all of the oil.
Simple syrup – To keep your cake from drying out, once it has finished baking you can brush a slight bit of simple syrup over the top. This is a great trick for when you've baked a cake a couple days before you intend to serve it — just don't overdo it.
Topping – Instead of the classic frosting, you can make a glaze or a whipped cream-based topping. You can even just dust it with powdered sugar for a simple presentation.
Cupcakes – Instead of a full sheet cake you can make yellow cupcakes.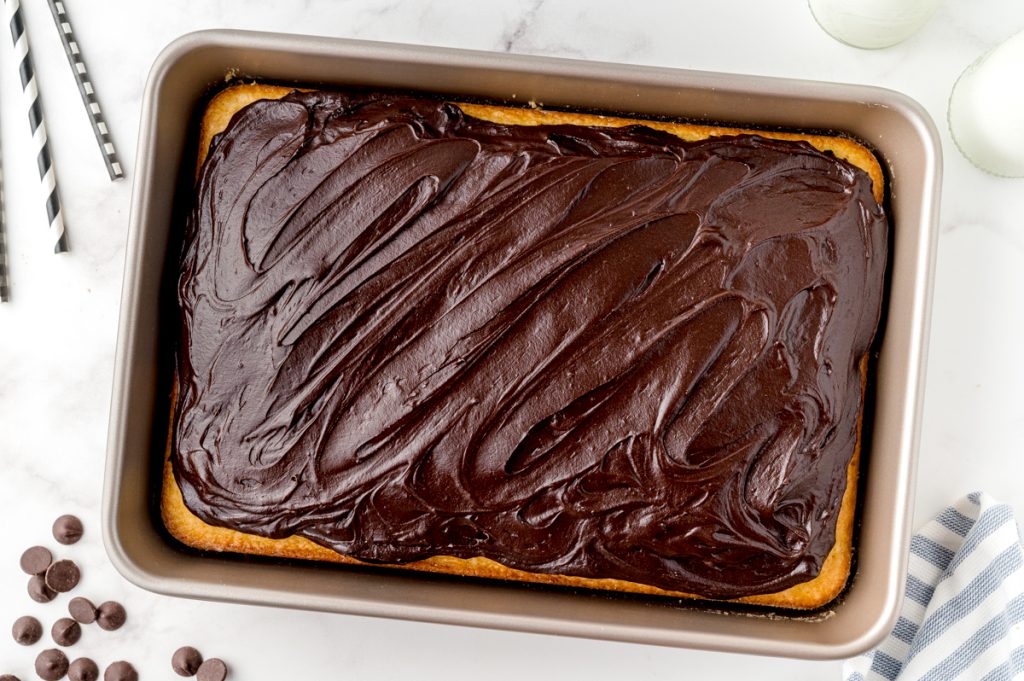 Storage, Make Ahead and Freezing
While you may be able to leave this cake out at room temperature you'll likely find that it stays fresh for a longer period of time if you refrigerate it. You can also freeze cake, either frosted or unfrosted.
Make Ahead: You can make this cake a day or two ahead of when you're intending to serve it.
Refrigerator: If you're storing the entire cake in the refrigerator, just wrap it with aluminum foil or cover it with plastic wrap — it should remain fresh for 4-5 days. You can also store slices in an airtight container.
Freezer: You can freeze individual slices in ziploc bags or wrap the entire cake tightly with plastic wrap.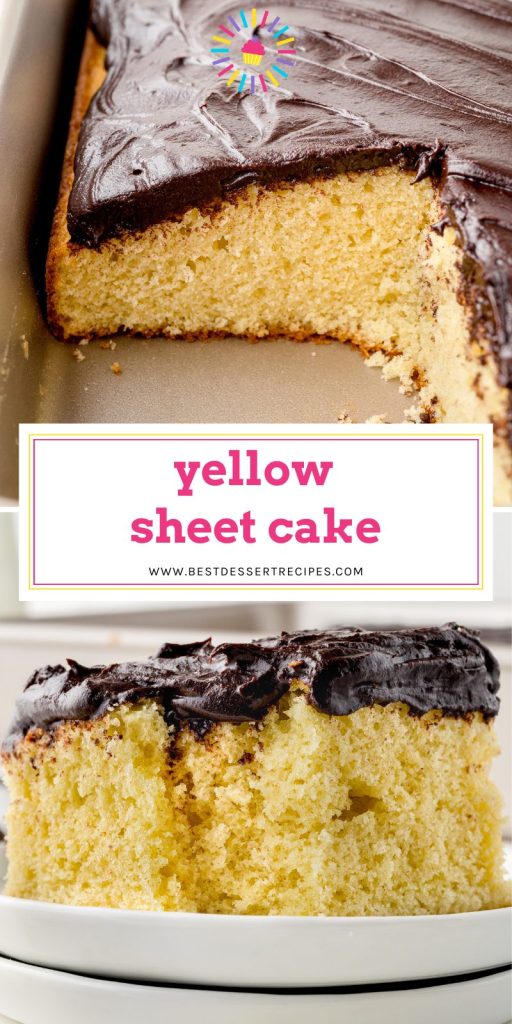 More Easy Cakes and Cupcakes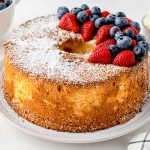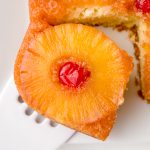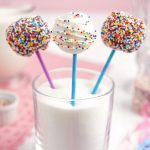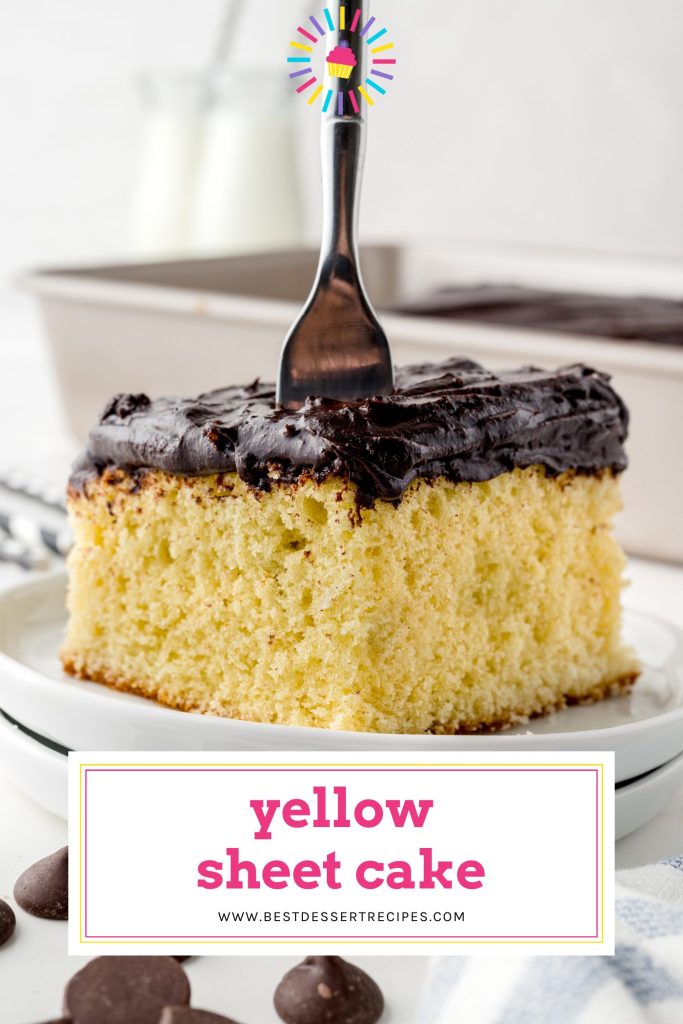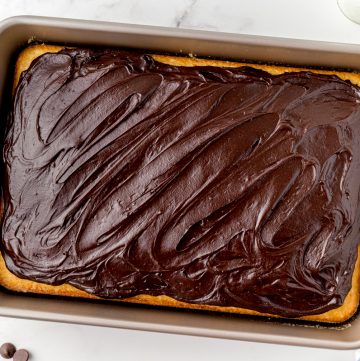 Yellow Sheet Cake
With simple pantry ingredients, you can make this classic Yellow Sheet Cake, perfect for any occasion! Great for birthdays, too!
Print
Pin
Rate
Ingredients
4

large eggs

plus 2 egg yolks

½

cup

buttermilk

1

tablespoon

vanilla extract

2 ¼

cups

bleached cake flour

1 ¾

cups

sugar

1 ¼

teaspoon

baking powder

¼

teaspoon

baking soda

½

teaspoon

fine sea salt

8

tablespoons

unsalted butter

softened

½

cup

vegetable oil
Instructions
Preheat the oven to 350°F and arrange a rack to the center of the oven. Spray a 9×13 baking dish liberally and then flour, tapping out excess. Set aside.

In a medium mixing bowl, whisk together the eggs, yolks, buttermilk and vanilla, approximately 1 minute. Set aside.

In the bowl of a stand mixer fitted with the paddle attachment or a large mixing bowl using an electric hand mixer, combine the flour, sugar, baking powder, baking soda and salt, mixing on low for 30 seconds.

Add the butter and oil, slowly increasing speed and mixing for about 1 minute. Slowly add the liquid mixture while still blending until no dry spots appear. Stop and scrape down the sides and then beat for an additional 3 minutes on medium speed.

Pour into the prepared cake pan, tapping several times to release air bubbles.

Bake for 28-32 minutes or until the cake passes the toothpick test. Cool fully on a wire rack.
Nutrition
Calories:
375
kcal
|
Carbohydrates:
47
g
|
Protein:
5
g
|
Fat:
19
g
|
Saturated Fat:
7
g
|
Polyunsaturated Fat:
6
g
|
Monounsaturated Fat:
5
g
|
Trans Fat:
0.4
g
|
Cholesterol:
76
mg
|
Sodium:
197
mg
|
Potassium:
62
mg
|
Fiber:
1
g
|
Sugar:
30
g
|
Vitamin A:
329
IU
|
Calcium:
50
mg
|
Iron:
1
mg