This S'mores layer cake brings together all of the flavors of the sweet graham cracker sandwich filled with fire-roasted marshmallows and chocolate — but you can make it any time of year!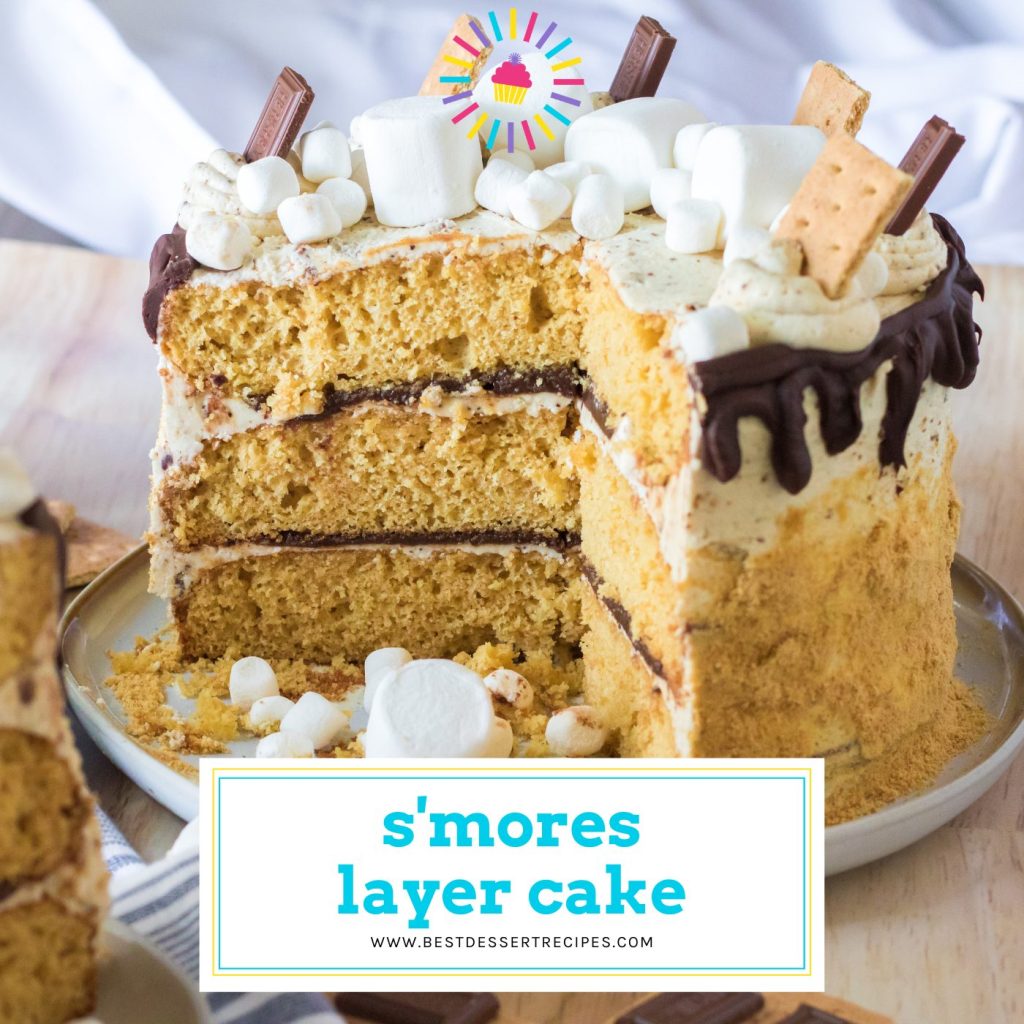 I absolutely adore making this delicious cake for nearly any occasion. With rich chocolate ganache and marshmallow flavored buttercream, how can it not be a hit?
The next time you're looking for an easy recipe for a creative cake that everyone will love, try this incredible s'mores cake.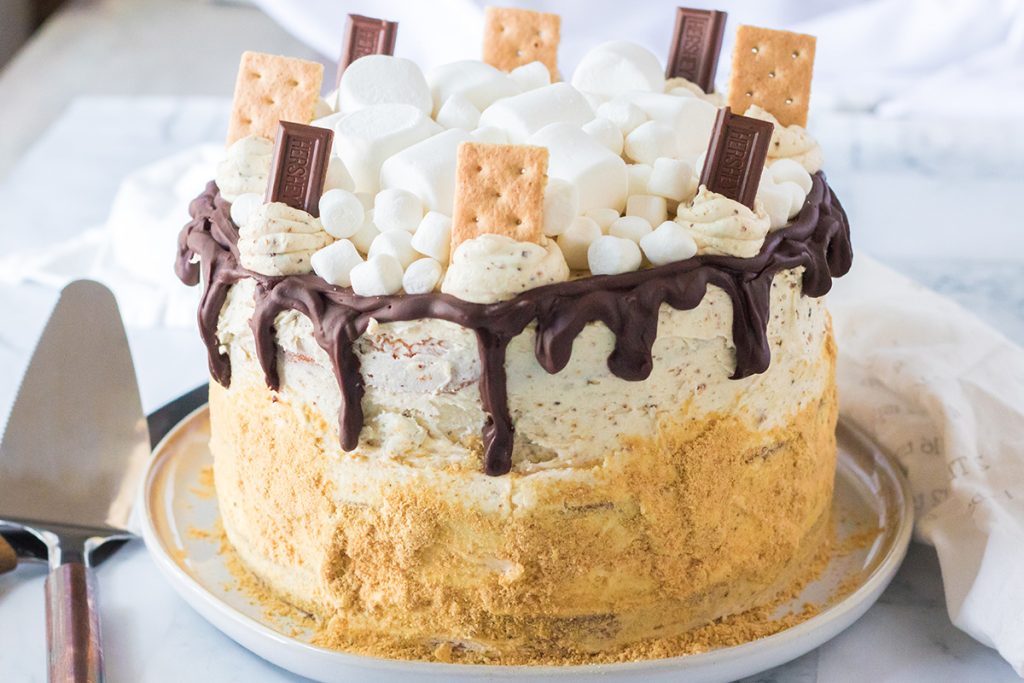 Why You'll Love S'mores Layer Cake
If you are a fan of s'mores you're going to fall in love with this decadent cake.
Easy – It may seem like a lot of steps but all of them are straightforward and easy enough for the most novice baker to the most experienced.
Gorgeous – This show-stopping cake is a crowd-pleaser every time.
Convenient – The ingredients are incredibly easy to source.
Tasty – This delicious cake channels the flavors of fireside s'mores for a sweet treat you can enjoy year-round.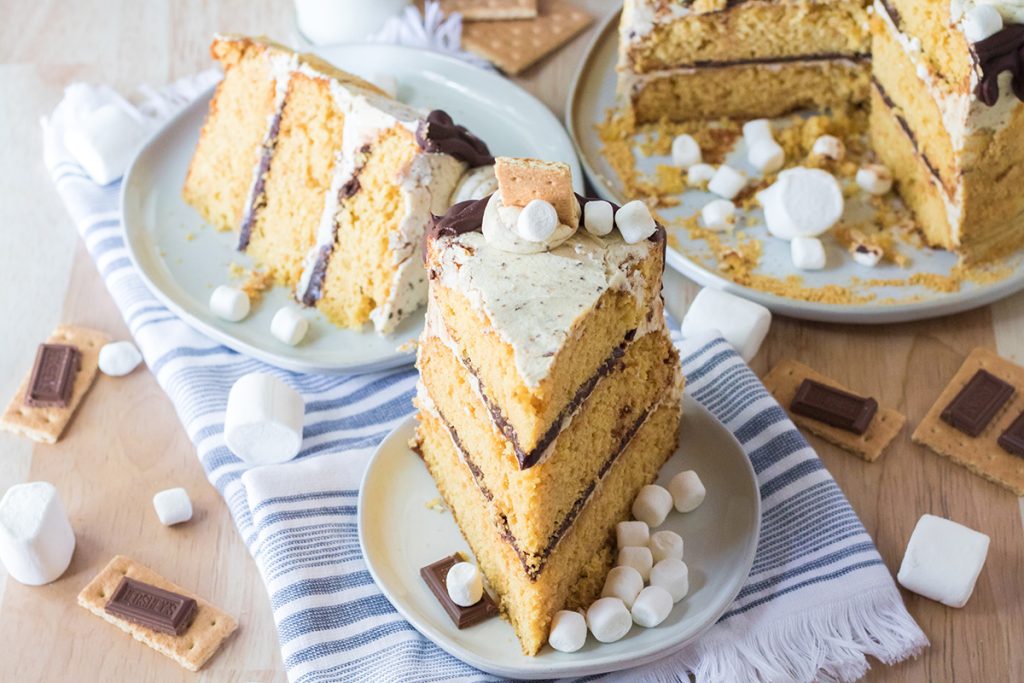 Ingredients
All this takes is a quick trip to the baking aisle and refrigerator section and you'll have all the ingredients you need.
Yellow cake mix – Grab the mix from the store but do not follow the box directions to make it.
Graham cracker crumbs – Crush your own crumbs with a rolling pin and graham crackers sealed in a resealable bag or grab pre-crushed crackers from the grocery store.
Water – Tap water will do but you can use a bottled version, too.
Vegetable oil – Any neutral oil will work but we like vegetable oil the best for this recipe.
Eggs – Large eggs are the standard size to use for baking.
Hot fudge – Just grab your favorite variety off the shelf — and get extra in case you want to replace the ganache with it.
Unsalted butter – Softening the butter ahead of time makes it easier to mix.
Mini marshmallows – This size will be far easier to whip with the butter than larger varieties.
Semisweet chocolate chips – This is our favorite variety to use for this cake but you can use milk chocolate or dark chocolate, too.
Heavy whipping cream – For a ganache you don't want to skimp by using a lighter dairy version. The fat helps to give it its silky texture.
Garnish – You can use graham cracker crumbs, hershey bars, graham crackers, mini marshmallows or regular marshmallows to make this cake even more spectacular.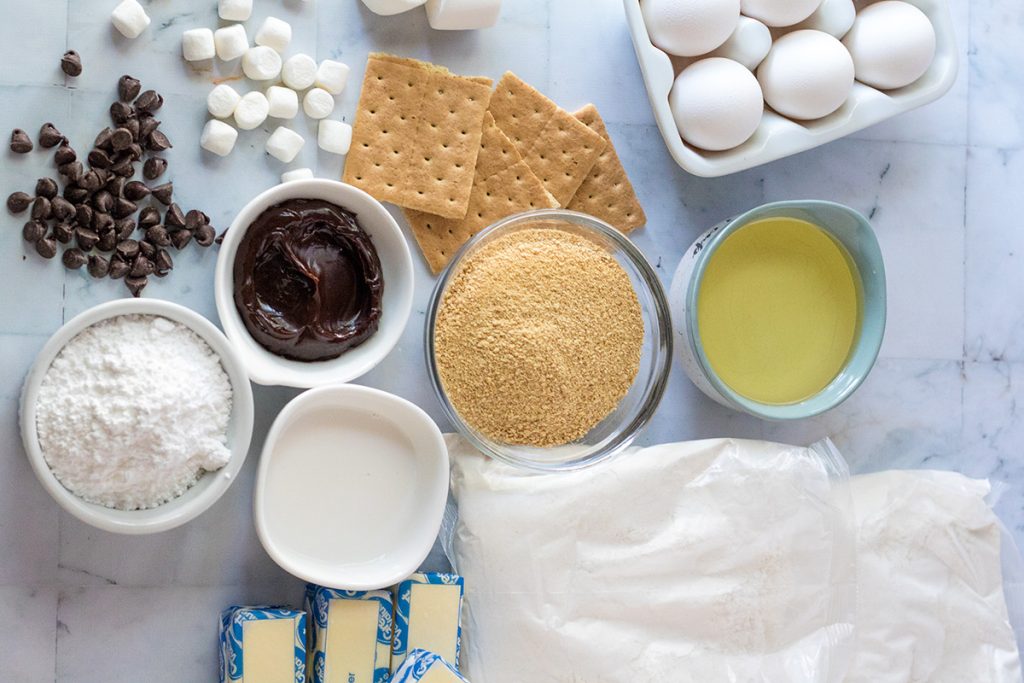 How To Make S'mores Cake
It may look like a lot of steps but this cake is so worth the work.
Cakes:
Add the 2 cake mixes, graham cracker crumbs, water, oil and eggs to a large bowl and stir together until completely combined.
Pour the cake batter evenly into each of the pans.
Bake until the cakes pass the toothpick test.
Allow the cakes to cool briefly before inverting onto a wire rack.
Let the cakes come to room temperature.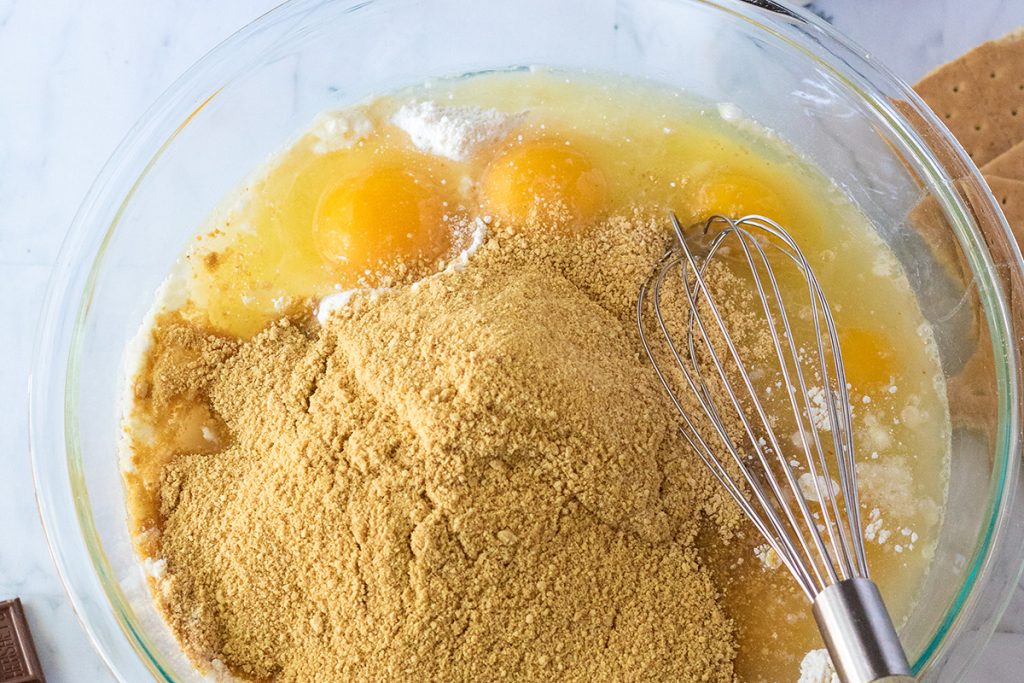 Buttercream:
Place the mini marshmallows on the prepared baking sheet.
Put the baking sheet in the oven under the preheated broiler.
Watch closely for marshmallows to become toasted before removing.
Add the toasted marshmallows to a large bowl along with the butter and beat with an electric mixer until combined.
Then, in intervals add the powdered sugar and continue to whip until the mixture is airy and fluffy.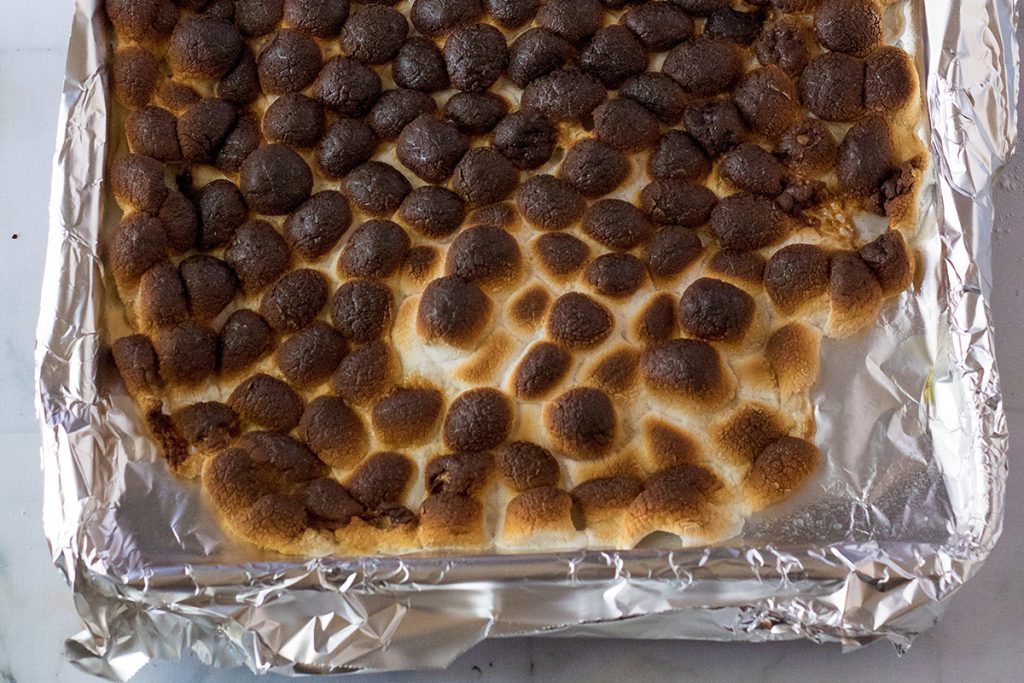 Assemble:
Place the first layer of cake onto a serving plate or cake board.
Spread marshmallow buttercream over top of the cake using an offset spatula.
Pour hot fudge sauce over top.
Do the same for the second cake layer.
Then, add the final layer to the top.
Frost the top and entire outside of the cake with the marshmallow buttercream.
Next, make the ganache by warming the heavy cream in 10 second increments in a heatproof bowl in the microwave until it is hot.
Pour the chocolate chips into the hot cream and let the chocolate mixture rest briefly before stirring together until smooth.
Allow the ganache to cool briefly before slowly drizzling it over the edge of the top layer.
Sprinkle graham cracker crumbs around the cake, press them into the bottom half, or sprinkle over top if desired.
Decorate with graham crackers, marshmallows, or chocolate bars on top of the ganache or buttercream if you choose.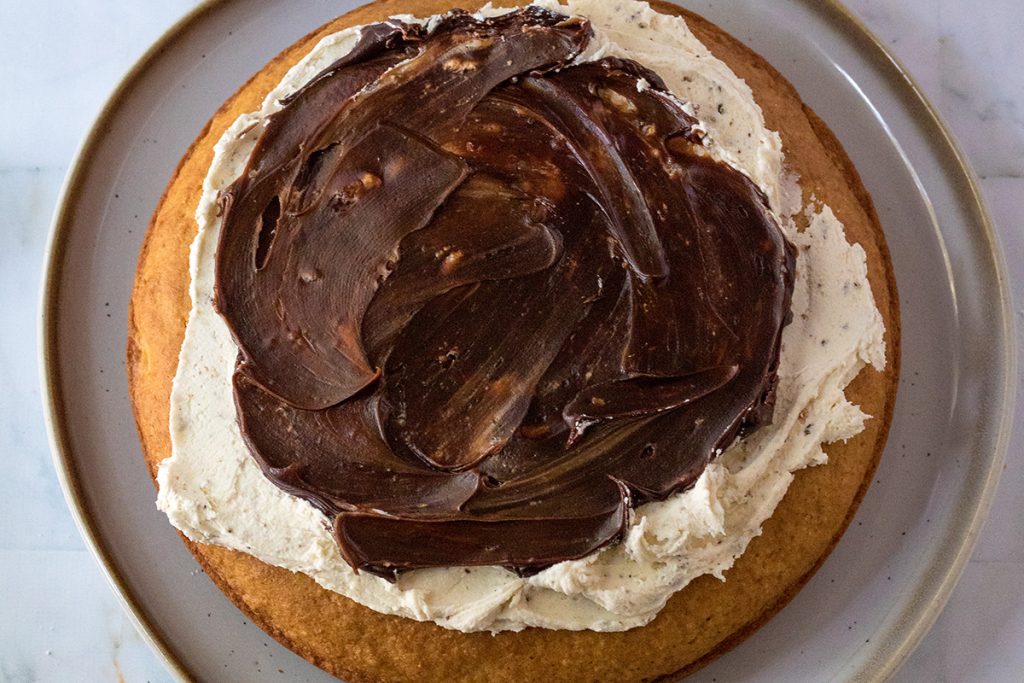 What to Serve with S'mores Layer Cake
This cake is so full of different flavors that you hardly need anything to go with it but if you're looking for extra ideas try topping it with whipped cream or vanilla ice cream.
It's also great served with dalgona whipped coffee, a coffee cooler, or Bailey's Irish Cream Coffee.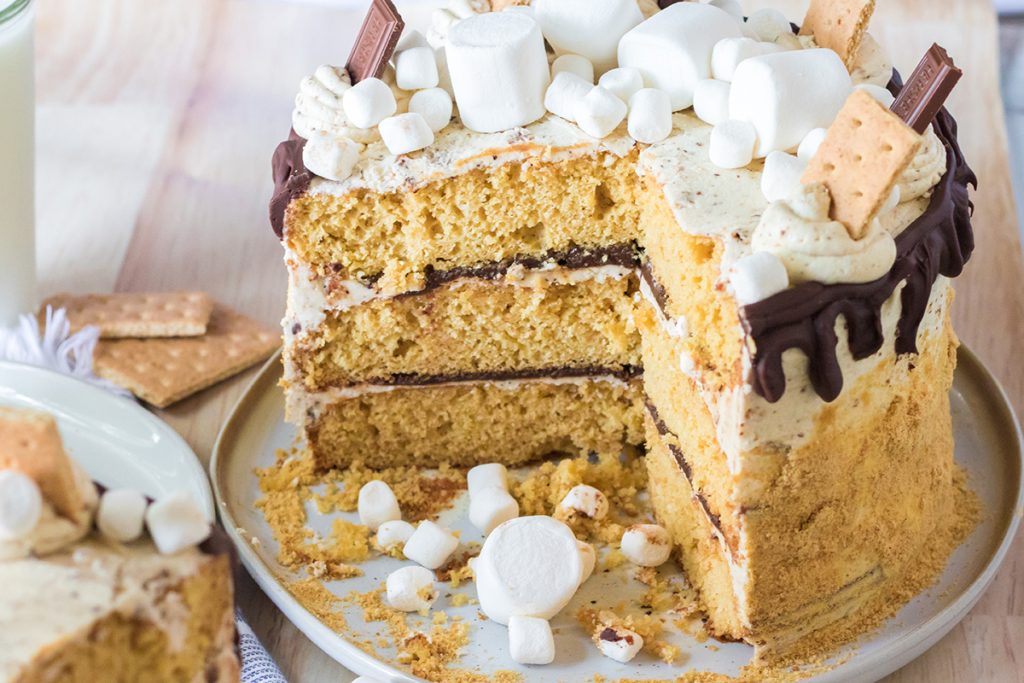 Variations
This is an amazing cake as-is but you can put your own twist on it, too.
Other formats – Make cupcakes or a 9 x 13 cake by make a few minor adjustments. Use 1 cake mix, 1 cup of graham cracker crumbs, 1 cup of water, ⅔ cup of oil and 3 eggs — after baking, pour the hot fudge on top of cupcakes or before spreading the marshmallow frosting.
Hot fudge – Save time by using hot fudge instead of preparing the ganache.
Piping – Instead of drizzling the ganache over top try piping it using a piping bag or a ziploc bag with the tip snipped off.
Fluff – Instead of making marshmallow buttercream, use a marshmallow fluff instead.
Chocolate flavor – If you want more chocolate flavor, add cocoa powder to the yellow cake mix or add it to the frosting to make a chocolate buttercream.
Extract – For added flavor, use extracts. Try vanilla extract, almond extract, or even coffee extract.
Toppings – Replace some or all of the ganache with other drizzled toppings like caramel sauce or peanut butter.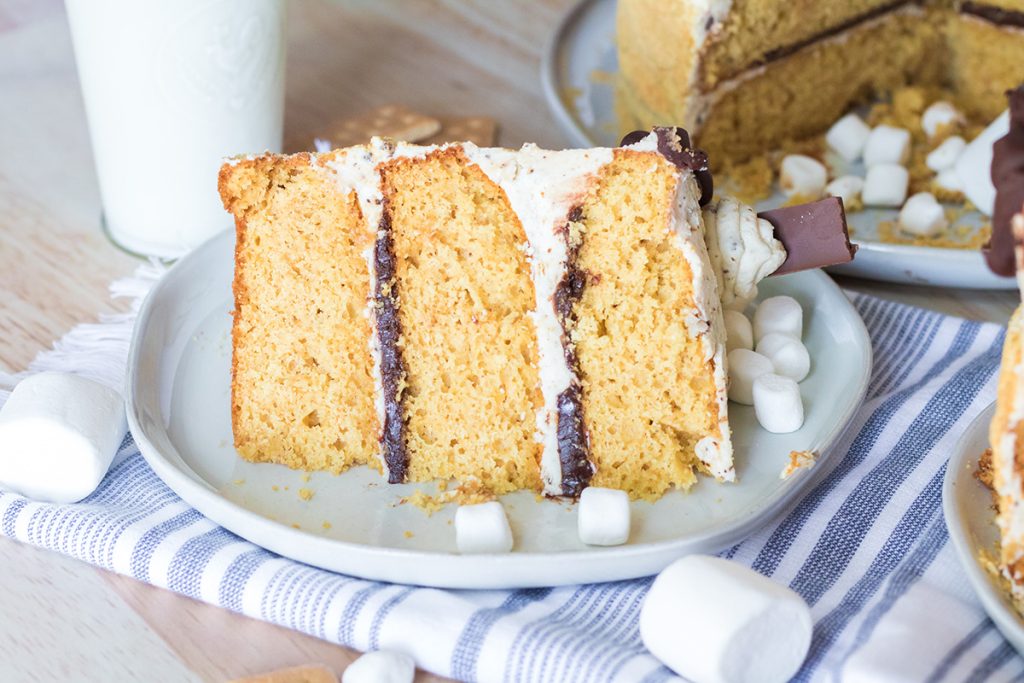 How to Store S'mores Layer Cake
Storing this cake is easy, especially if you just cover the entire cake.
Make ahead: This recipe is best made all at once but you can crush the graham crackers ahead of time.
Refrigerator: Store this cake by simply covering it tightly with plastic wrap or aluminum foil. You can also store slices in an airtight container or ziploc bag.
Freezer: We do not recommend freezing this recipe.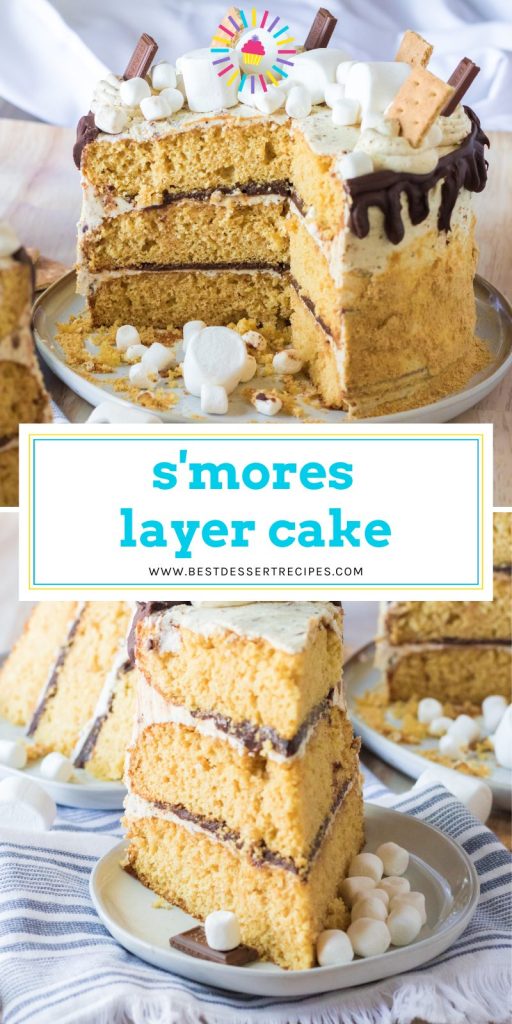 More Creative Cakes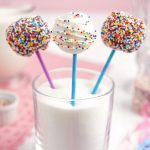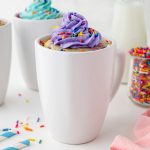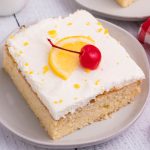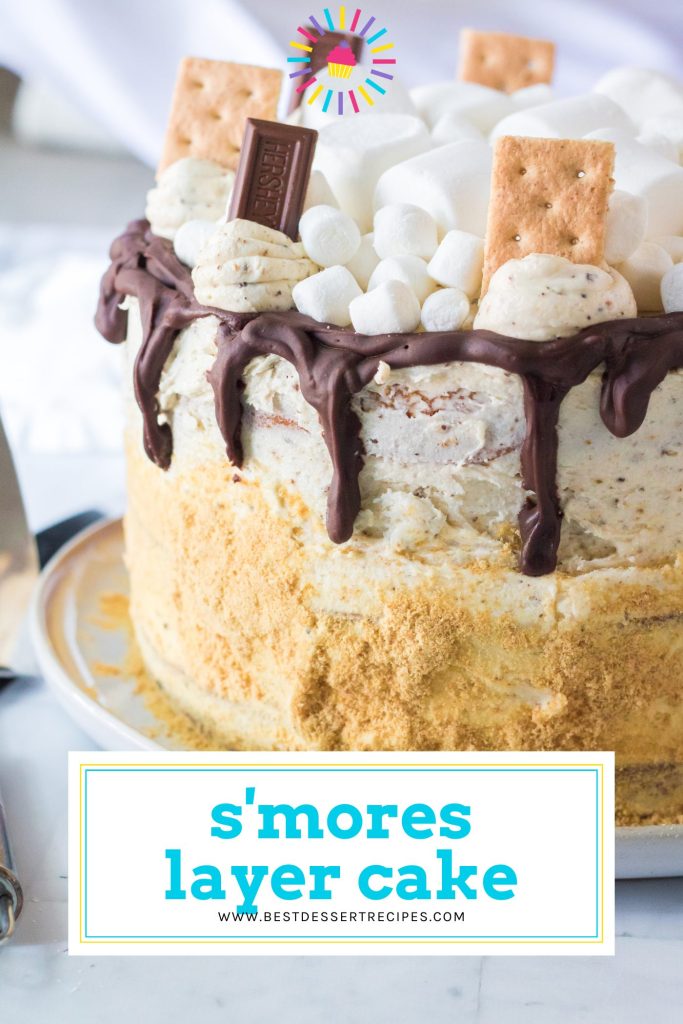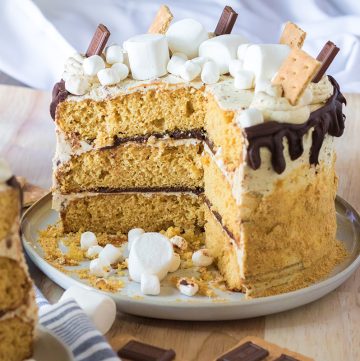 S'mores Layer Cake
This S'mores Layer Cake is a showstopper! Yellow box cake is mixed with graham cracker crumbs and layered with hot fudge and an incredible buttercream made with toasted marshmallows, it is delicious!
Print
Pin
Rate
Ingredients
2

boxes

15.25 ounce yellow cake mix

2

cups

graham cracker crumbs

2

cups

water

1 ⅓

cups

vegetable oil

6

eggs

11.75 -12 ounce jar of hot fudge

4

sticks

2 cups unsalted butter, softened

2

pounds

powdered sugar

4

cups

mini marshmallows

1

cup

semisweet chocolate chips

1

cup

heavy whipping cream

Garnish

graham cracker crumbs, hershey bars, graham crackers, mini marshmallows, regular marshmallows.
Instructions
Preheat oven to 350 degrees.

Lightly grease three 8 inch cake pans.

In a large mixing bowl combine the 2 cake mixes, graham cracker crumbs, water, oil and eggs.

Whisk until smooth and all combined.

Divide the batter evenly between the 3 pans.

Bake at 350 for 20-25 minutes or until a toothpick inserted comes out clean.

Let the cakes cool in the pans for 5 minutes before transferring from the pans to a cooling rack.

Cool the cakes completely.

Meanwhile prepare the buttercream.

Turn your oven to broil.

Line a baking sheet with foil and spray with non-stick spray.

Spread out the 4 cups of mini marshmallows on the baking sheet.

Place the marshmallows under the broiler.

Do not take your eyes off the marshmallows while they are under the broiler. It will only take them a minute to get toasted.

Remove the marshmallows from the oven and immediately add to a large mixing bowl.

To the bowl add your softened butter and using an electric mixer whip the butter and marshmallow together.

Next carefully add the powdered sugar a little at a time.

Once all the sugar is added, whip the frosting for 5-7 minutes until light and fluffy.

Next prepare to frost your cake.

Place a cake layer onto your serving plate or cake plate.

Frost the top of that layer with a layer of the marshmallow buttercream.

Top that with half of the hot fudge sauce. The buttercream and the fudge sauce will mix a little and that's okay.

Repeat with the next layer.

Place the final layer on top and frost the whole cake with the marshmallow buttercream. If you like you can reserve some frosting and pipe a bit on the top for decoration.

In a small microwave safe bowl warm your heavy whipping cream in 30 second increments until hot.

Add your chocolate chips to the cream and let sit for 5 minutes before whisking together. Whisk until smooth and glossy.

Let the ganache cool slightly and drizzle it around the top edge. You can also use a piping bag or ziploc bag with the tip snipped for this.

I like to take some graham cracker crumbs and sprinkle them around the bottom half of the cake. I then decorate the top with graham crackers, hershey bars and more marshmallows though this is optional.

Serve!
Nutrition
Calories:
963
kcal
|
Carbohydrates:
154
g
|
Protein:
7
g
|
Fat:
37
g
|
Saturated Fat:
12
g
|
Polyunsaturated Fat:
13
g
|
Monounsaturated Fat:
9
g
|
Trans Fat:
0.3
g
|
Cholesterol:
90
mg
|
Sodium:
665
mg
|
Potassium:
176
mg
|
Fiber:
2
g
|
Sugar:
112
g
|
Vitamin A:
363
IU
|
Vitamin C:
0.1
mg
|
Calcium:
198
mg
|
Iron:
3
mg