Who stole the cookies from the cookie jar? It's a classic childhood song but I bet if you make these old fashioned tea cakes everyone in the house will be stealing them.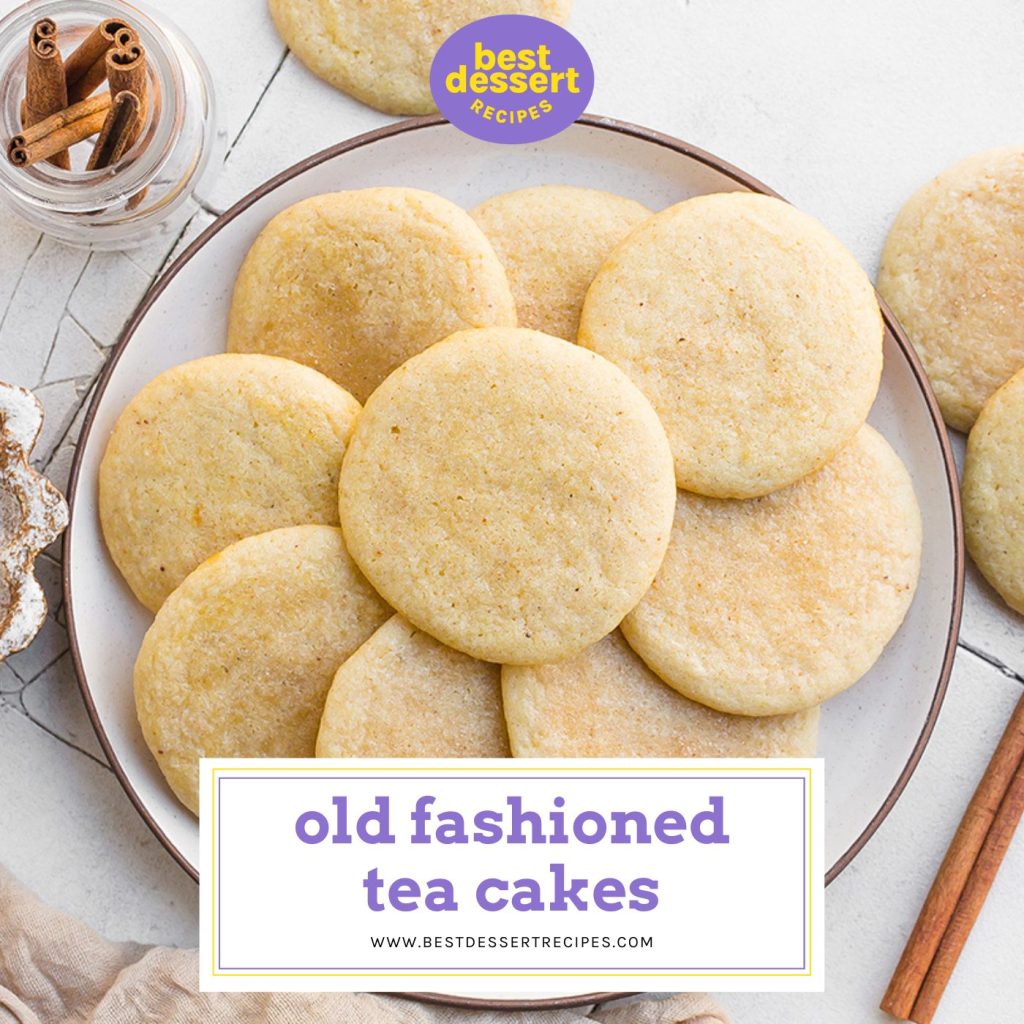 These little "cakes" are a little more like cookies — or even pound cake in cookie form. They're simple sugar cookies that are soft and delicious, and as good with a cup of coffee or a cup of tea (or even a glass of cold milk) as they are with ice cream sandwiched in between them.
If this is your first time making tea cakes, or even your first time baking, these simple cookies are definitely a good place to start. You'll love how easy they are and your guests will, too.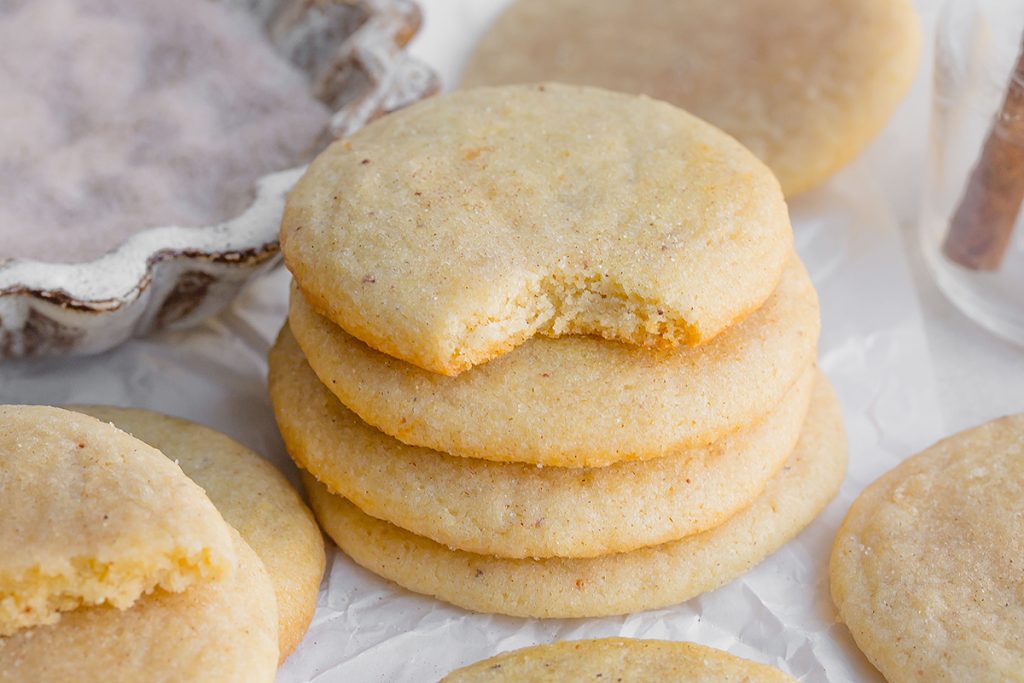 Why You'll Love Old Fashioned Tea Cakes
What's not to love about some simple southern tea cake cookies? They're delicious, customizable, and an easy way to get a dessert ready in no time.
Easy – These little tea cakes come together so quickly and you can prepare the next batch while one is baking.
Pretty – While they may seem slightly plain on their own you can add your own flair to make them perfect for any occasion.
Convenient – Many bakers will have these ingredients in their pantry already.
Portable – You can take these cute "cakes" to any occasion from baby showers to holiday brunches.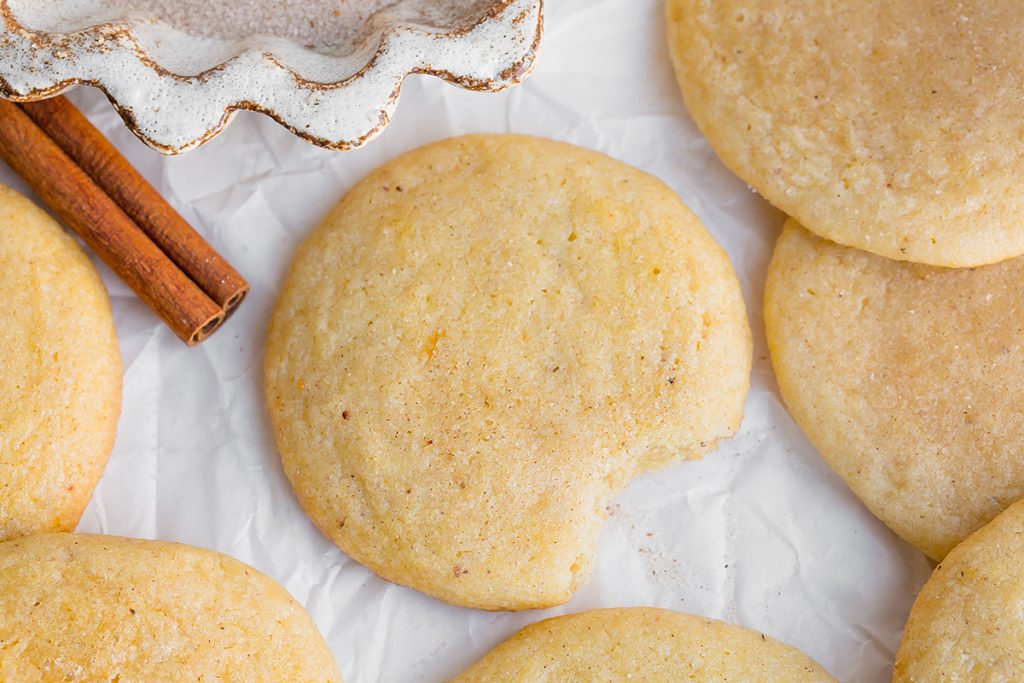 Old Fashioned Tea Cakes Ingredients
All this recipe requires is some super simple ingredients and – voila – you have delicious tea cookies to snack on at home or take to a brunch or book club meet-up.
Unsalted butter – As with most baked goods, this recipe requires unsalted butter. There's other salt in the recipe so you want to rely on that to bring out the flavors in these tea cakes.
Sugar – Granulated white sugar is just the right size to dissolve quickly while mixing.
Eggs – Always use large sized eggs for your baking recipes.
Vanilla extract – Using pure vanilla extract, instead of imitation, is the way to go. You can also easily grab some vanilla bean and make your own homemade vanilla extract.
Almond extract – This adds a nice nutty flavor to the cakes.
All-purpose flour – Be sure to check that you're using all purpose flour and not self-rising flour. Also, when flouring your surface, be sure to use only a little flour to prevent making the dough too dense.
Baking soda – This leavening agent helps to ensure your cakes rise.
Sea salt – Use a fine sea salt for the best results.
Ground nutmeg – A shaker of this spice is easy to find at the store.
Ground cinnamon – Grind your own cinnamon sticks or grab a jar at the store if it isn't already in your pantry.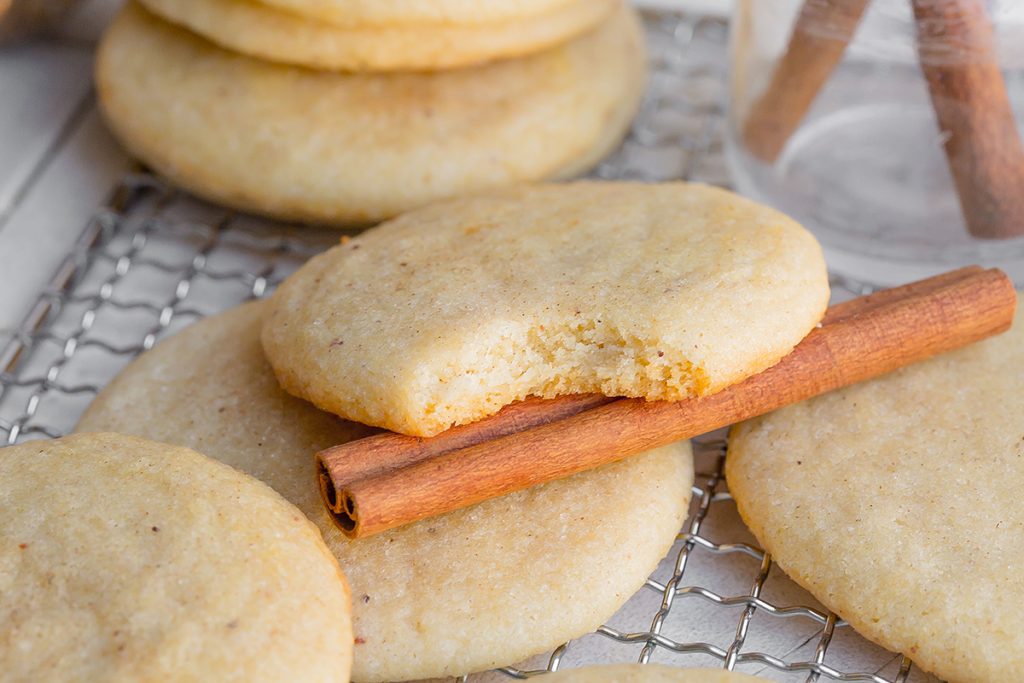 How To Make Old Fashioned Tea Cakes
Transform basic ingredients into a delicious and decadent dessert with a few easy steps.
Add the butter and sugar to a large bowl of a stand mixer fitted with a paddle attachment. Alternatively, use an electric mixer.
Cream butter and sugar until they are fluffy and light.
Turn the mixer from high speed to medium speed and add the eggs, vanilla, and almond extract.
Once all of the ingredients are completely incorporated, set the mixture aside.
Using a sifter, combine flour with the baking soda, salt, nutmeg, and cinnamon in a medium-sized bowl.
Next, add the flour mixture to the butter and sugar. Mix gently, ensuring to completely combine the ingredients while not over-mixing.
Once the ingredients are fully combined, place the dough on a large piece of plastic wrap.
Cover the dough completely with the wrap and flatten. Place dough on a flat surface and refrigerate — cookie sheets are an ideal option to place the covered dough on and place in your fridge.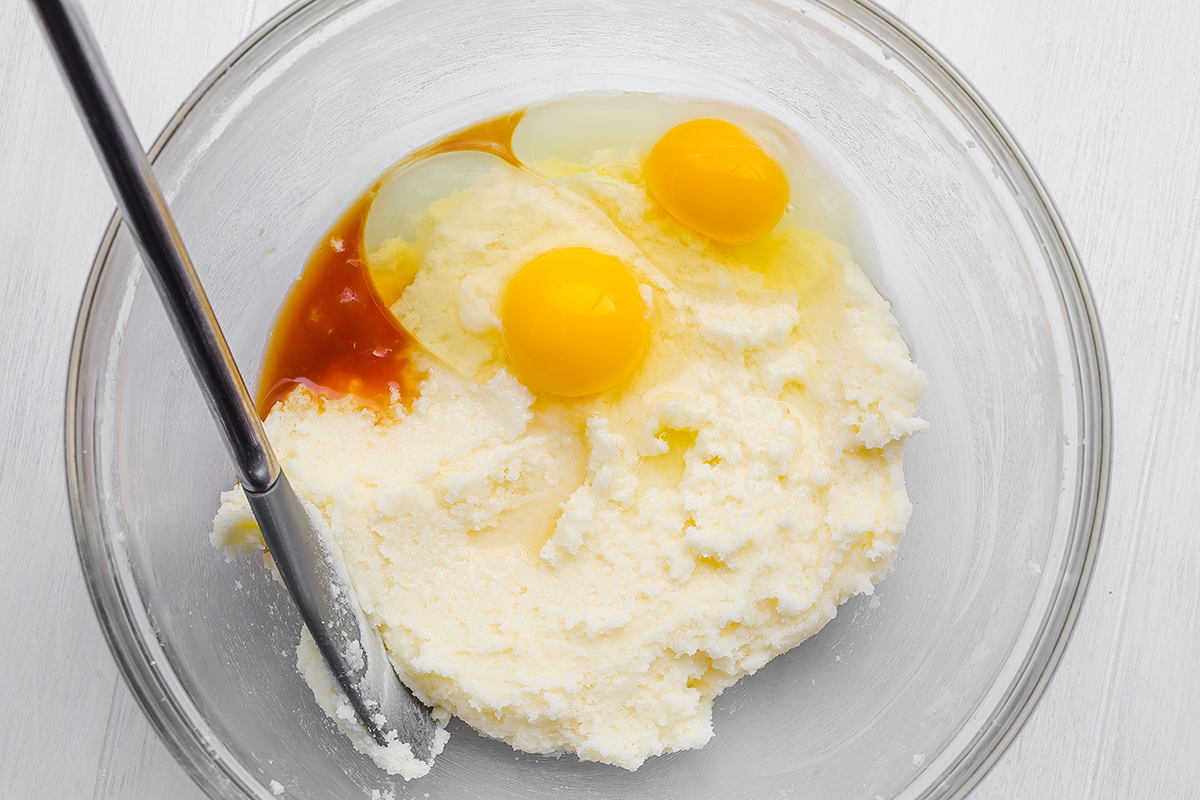 When ready to bake, remove the old fashioned tea cakes dough from the refrigerator and allow it to come closer to room temperature. Then place it in the preheated oven.

Sprinkle flour onto a clean surface. Be careful with the amount of flour that you use to avoid incorporating too much flour into the dough.
Using a rolling pin, roll out a quarter of the dough on a lightly floured surface. Roll dough so that it is about ¼ of an inch thick.
Cut the dough using the cookie cutter or a large biscuit cutter and place the cut slices on the baking sheet prepared with parchment paper.
Bake the cakes until the edges are golden brown.
After removing from the oven, let the cakes rest until they are cool enough to remove them to finish cooling on a wire rack.
Repeat with the rest of the dough.
Serve the cakes plain or choose a glaze or frost to top them with.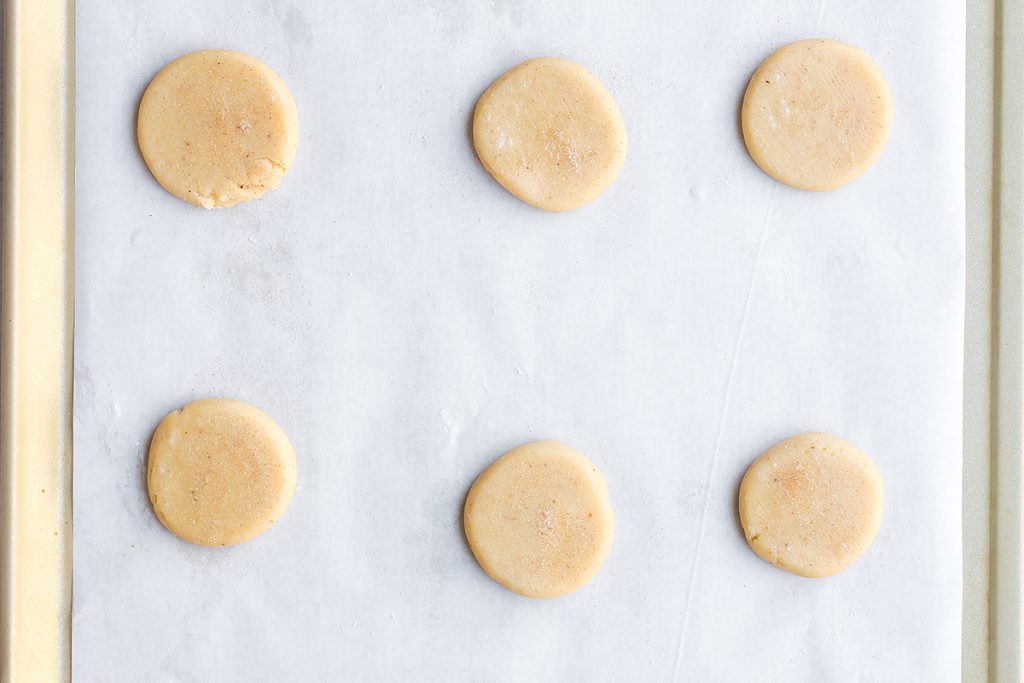 Variations
Make your own version of old fashioned tea cakes by customizing them.
Extracts – Replace some or all of the extracts with others that you prefer to impart different flavors.
Salt – This recipe calls for sea salt but use any that you love. Himalayan pink sea salt is a favorite.
Flour alternatives – Experiment with alternatives to all purpose flour to create a dish that's lower carb or eliminates gluten.
Spices – Change up the spices, or add your own. Cloves, allspice, and pumpkin spice are all good options.
Sugar – If you're looking to lower the sugar, try one of your favorite sugar alternatives.
Chips – Gently fold in some chocolate, peanut butter, or butterscotch chips.
Nuts – Crush some of your favorite nuts and sprinkle them over top after frosting or glazing.
Citrus – Try grating some lemon zest or orange zest into the dough for elevated flavor. You can also try adding a bit of lemon juice.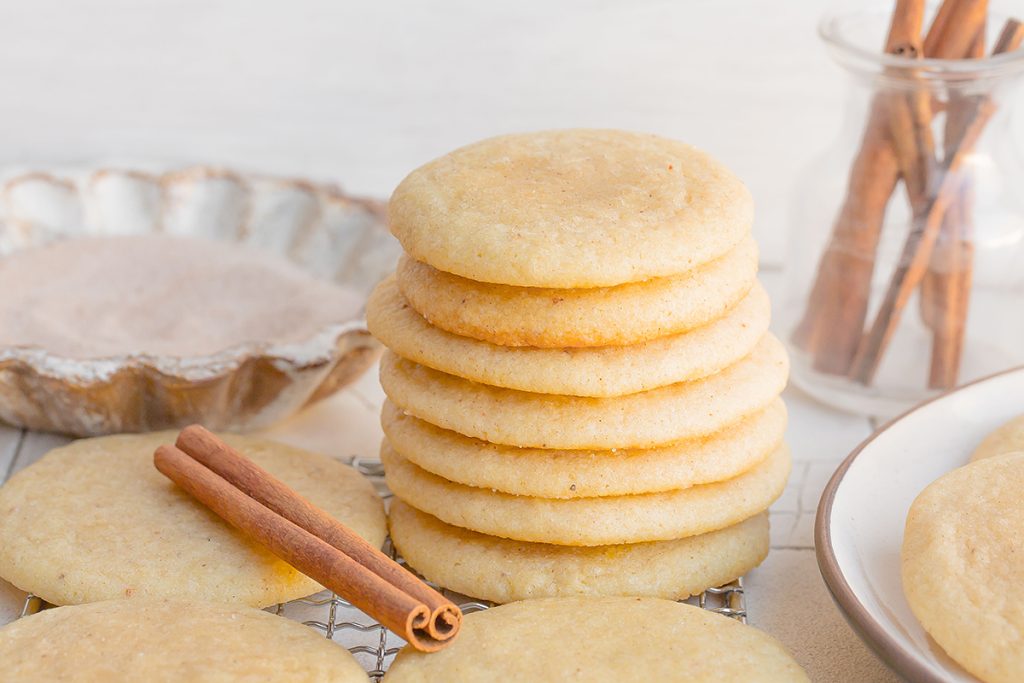 Storage and Freezing
These old fashioned tea cakes are easy to store in the refrigerator or freezer. A tip for keeping baked goods fresh on the countertop or fridge is to keep a piece of bread in the container — it keeps them moist and delicious.
Refrigerator: Keep these tea cakes in the fridge in an airtight container for up to 4 days for maximum freshness.
Freezer: Freeze tea cakes in individual ziploc bags for up to 3 months.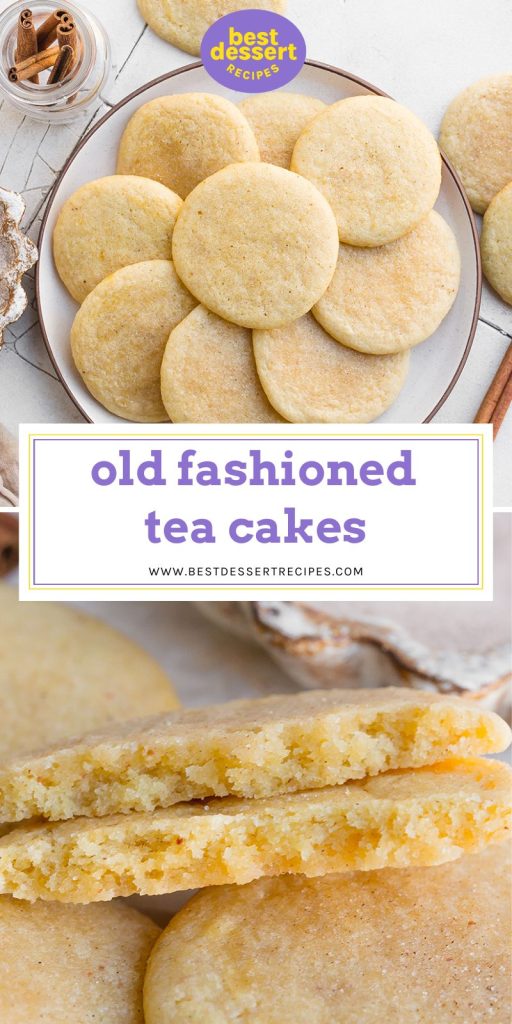 More Easy Desserts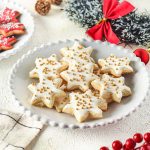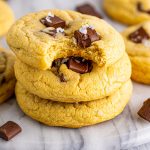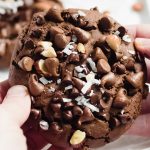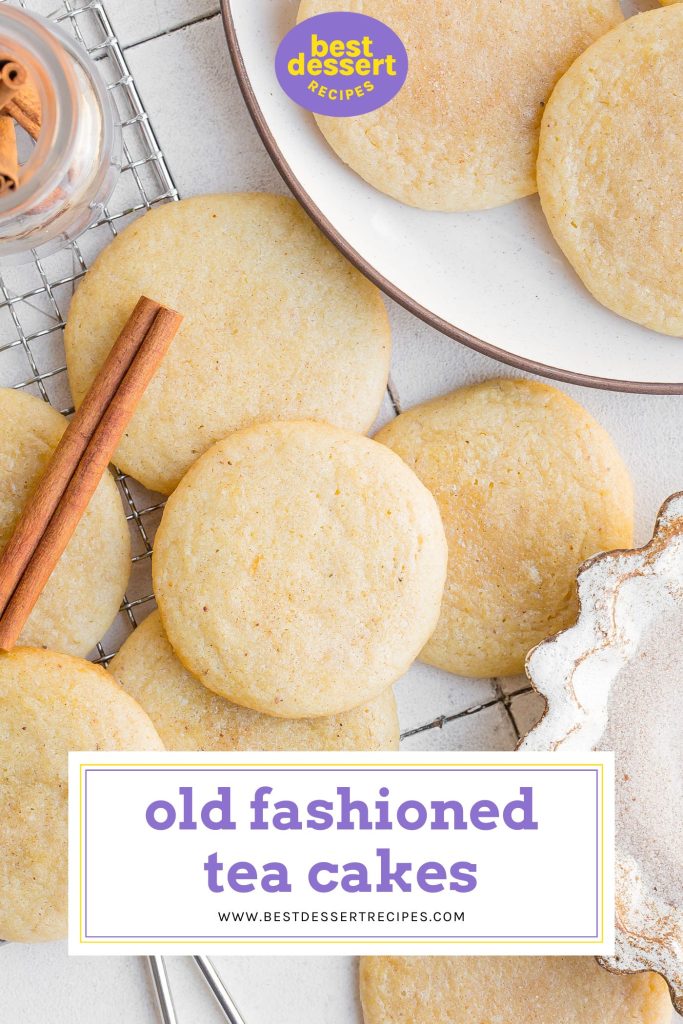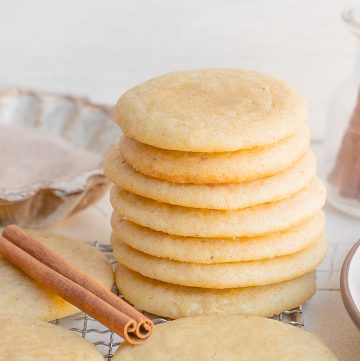 Old Fashioned Tea Cakes
Simple sugar cookies that are soft, delicious, and great with a cup of coffee or tea, these Old Fashioned Tea Cakes are always a winner!
Print
Pin
Rate
Ingredients
1

cup

unsalted butter

1 ¾

cups

sugar

2

eggs

1

teaspoon

vanilla extract

1

teaspoon

almond extract

3

cups

all-purpose flour

½

teaspoon

baking soda

1 ½

teaspoons

fine sea salt

1

teaspoon

ground nutmeg

½

teaspoon

ground cinnamon
Instructions
In a large mixing bowl or the bowl of a stand mixer fitted with a paddle attachment, cream together the butter and sugar until light and fluffy, approximately 1-2 minutes.

Beat in the eggs, vanilla and almond extracts. Set aside.

Sift together the flour, baking soda, salt, nutmeg and cinnamon.

Add the flour mixture to the wet ingredients, being careful to blend until just mixed and not overmix.

Turn out onto a large piece of plastic wrap, covering fully and flattening. Refrigerate for 4 hours to overnight.

When ready to bake, preheat oven to 325°F and line baking sheets with parchment paper.

Lightly flour a rolling mat or clean rolling surface, roll out a quarter of the dough to ¼ inch thickness. Cut using a 2 ½ inch round cookie cutter and transfer to baking sheet, placing them 1-2 inches apart.

Bake for 8-10 minutes or until very lightly browned along the edges.

Remove from oven and allow to cool for 5 minutes before transferring to a wire cooling rack.

Continue with remaining dough.

Serve plain, glaze or frost as desired.

If you've tried this recipe, come back and let us know how it was!
Nutrition
Calories:
4502
kcal
|
Carbohydrates:
638
g
|
Protein:
52
g
|
Fat:
198
g
|
Saturated Fat:
120
g
|
Polyunsaturated Fat:
10
g
|
Monounsaturated Fat:
51
g
|
Trans Fat:
7
g
|
Cholesterol:
815
mg
|
Sodium:
4197
mg
|
Potassium:
608
mg
|
Fiber:
11
g
|
Sugar:
352
g
|
Vitamin A:
6153
IU
|
Vitamin C:
0.1
mg
|
Calcium:
180
mg
|
Iron:
19
mg