These easy no-bake coconut balls with pecans are every coconut lover's dream. They're a little bit like coconut macaroons, but without the baking!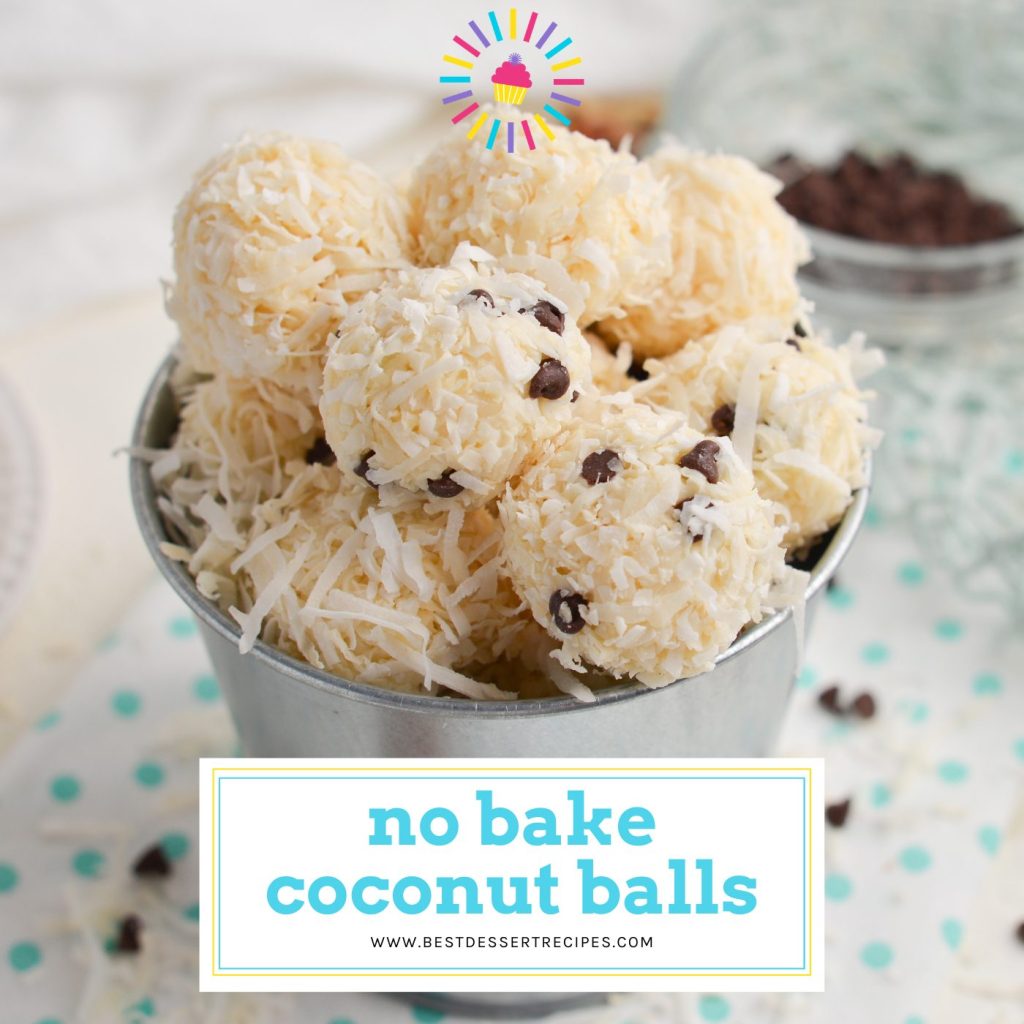 These are great summer dessert to make with your kiddos- hands-on and no need for heat!
What Are Coconut Balls?
If you've never had coconut macaroons, we can also tell you they have a similar rich, coconutty flavor and moist texture as an Almond Joy candy bar — the only thing missing is the chocolate coating. But you can easily change that — just melt some chocolate chips and dip them in to create the chocolate coating. Your choice!
These sweet little coconut balls are a great addition to a cookie swap at Christmas time or a dessert spread for any holiday, but they're bound to be a huge hit at gatherings any time of year.
And if you're into making homemade gifts, these are a perfect way to show your love to someone special on Valentine's Day, or your appreciation to that special teacher at school. Wrap them in cellophane bags (I use these for caramel apples too!) and you are ready to go!
If you're a fan of both coconut and no bake desserts, you're going to go nuts for these pecan-filled coconut balls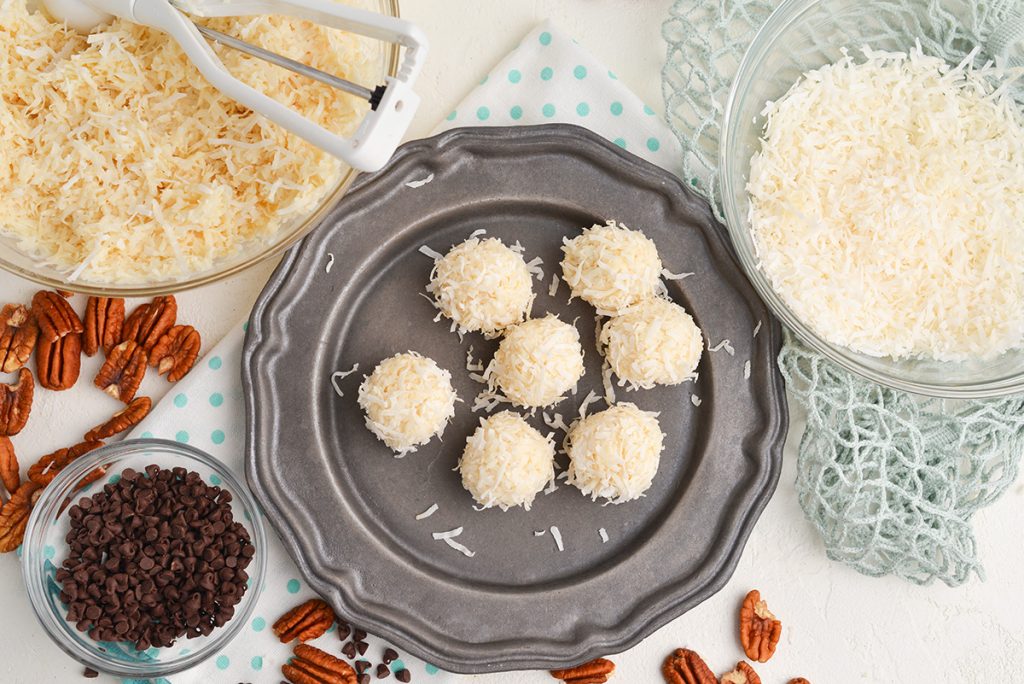 Why You'll Love No-Bake Coconut Balls
Fans of coconut won't be able to resist these sweet little treats.
Customizable: From changing up the type of nuts to adding other flavors, it's easy to tweak these simple balls.
Versatile: These make for a simple sweet treat after lunch or dinner, they're great to pack for a boost of energy on a hike, and they're a simple dessert for gatherings from birthday parties to cookouts.
Easy: There's no need to turn on the oven, and there are no special techniques to make these easy no-bake balls. Plus, cleanup is minimal!
Go Nuts!– Most are just coconut balls or coconut balls dipped in chocolate. We took ours a step further with a little nutty surprise in the middle!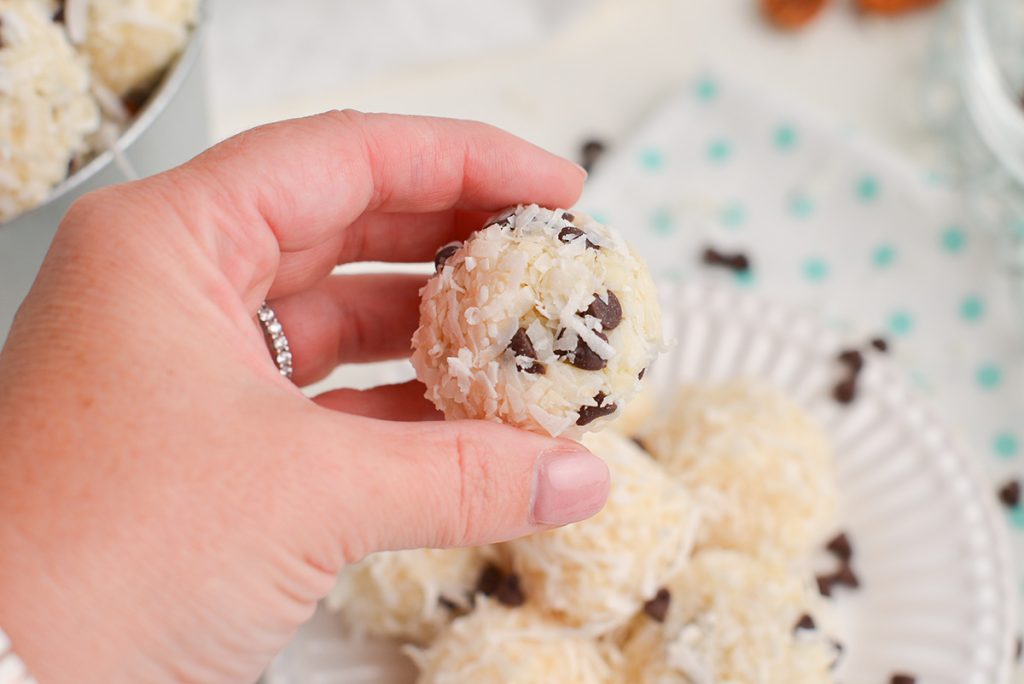 Ingredients
All you need are a few simple ingredients that are easy to find at the grocery store to make these delicious balls.
Unsweetened coconut flakes (divided): These flakes are the star of the show. Be sure to reserve a portion for rolling before beginning the process of making the balls.
Sweetened condensed milk: Condensed milk helps the ingredients to adhere to each other. It sweetens the mixture, as well. You can also make your own sweetened condensed milk.
Powdered sugar: Confectioner's sugar helps to thicken the condensed milk while sweetening the balls, too.
Vanilla extract: Vanilla balances the flavors in the balls.
Fine sea salt: Salt enhances the flavors of the other ingredients. We use fine sea salt because the granules are small and easier to mix into the no-bake dessert.
Pecan halves: These nuts are the perfect size to make a one-bite treat.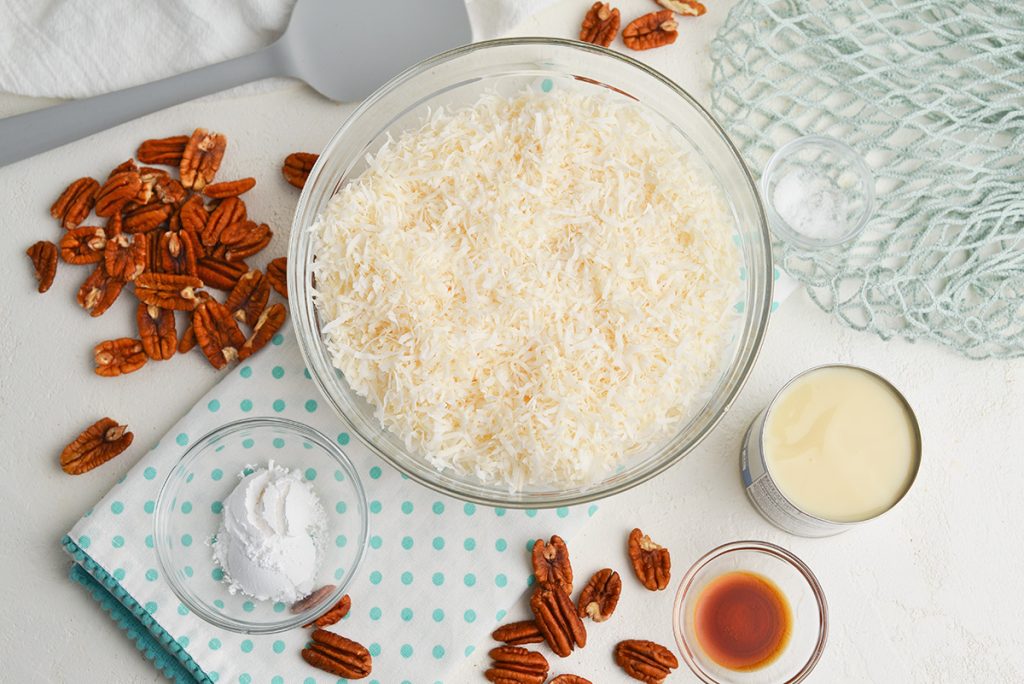 How To Make No-Bake Coconut Balls
You'll be amazed at how quickly you can make this delicious treat.
Add coconut flakes to bowl. Place the recommended amount of coconut flakes in a small bowl and set aside.
Mix remaining ingredients. Add the sweetened condensed milk, powdered sugar, vanilla, and salt to a medium bowl. Mix together until completely combined.
Fold in coconut. Using a rubber spatula or spoon, gently fold in coconut flakes.
Scoop. Portion out the coconut mixture using a cookie scoop.
Add pecans. Place a pecan in the center of the mixture and press the mixture around it.
Roll into balls. Roll the ball to form a perfect sphere before rolling it in the reserved coconut flakes. Place the formed ball on a parchment paper lined baking sheet.
Repeat with remaining mixture. Repeat the process will all of the remaining mixture.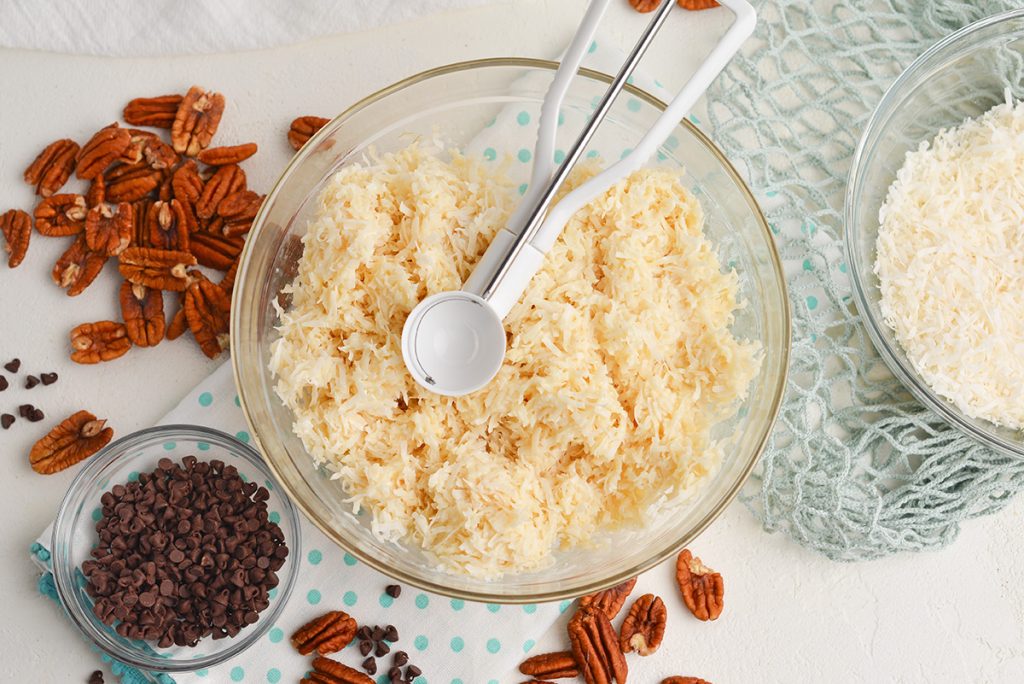 What to Serve With Coconut Balls
We like coconut balls all on their own, but you can also wash them down with a big glass of milk, a cup of hot chocolate, or an iced white chocolate mocha. For adults, you can also consider serving Bailey's Irish Cream coffee.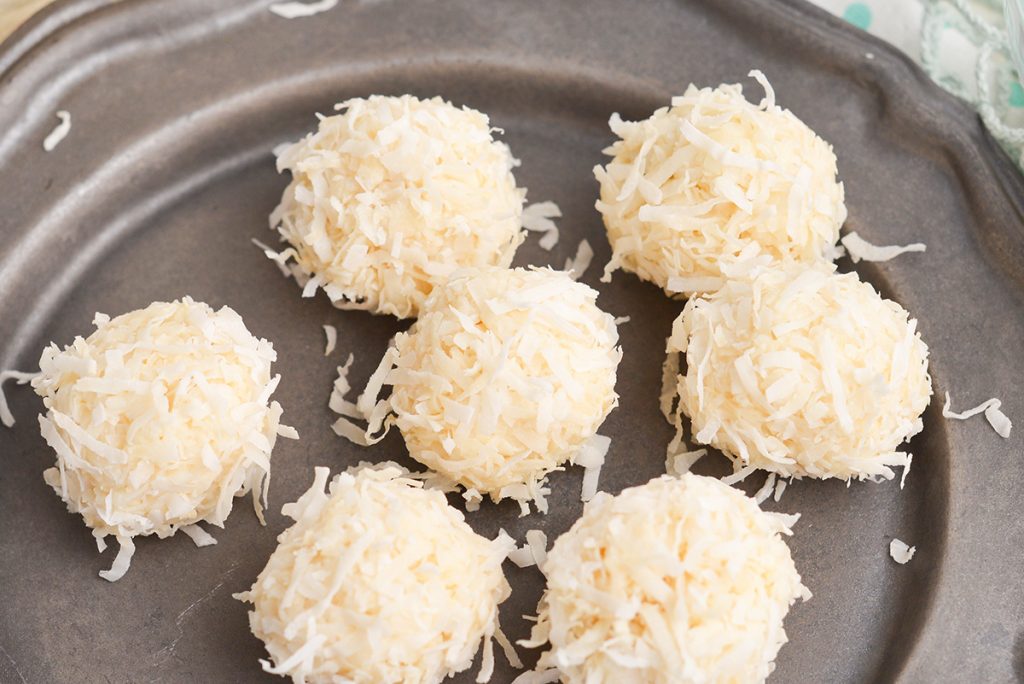 Variations
Although this is a simple recipe, there are several variations you can try, too.
Nuts – I used pecans, but you can also use almonds or walnuts.
Nut-Free – This coconut ball recipe can also be made without a nut center. Just scoop out the mixture and roll.
Mini Chocolate Chips – Add 1/2 cup of mini chocolate chips to the coconut mixture.
Chocolate Dipped – Make chocolate coconut balls by dipping the completed coconut ball in melted chocolate (either milk chocolate, dark chocolate, or white chocolate chips). This will make it more like a coconut truffle.
Cocoa Powder – Instead of rolling the balls in additional coconut flakes, roll them in sweetened cocoa powder.
Cream Cheese – For tangy flavor, and a texture reminiscent of cheesecake, experiment with adding a bit of cream cheese, or replace some of the condensed milk with it.
Dates – Make coconut date balls by replacing the pecan with a date.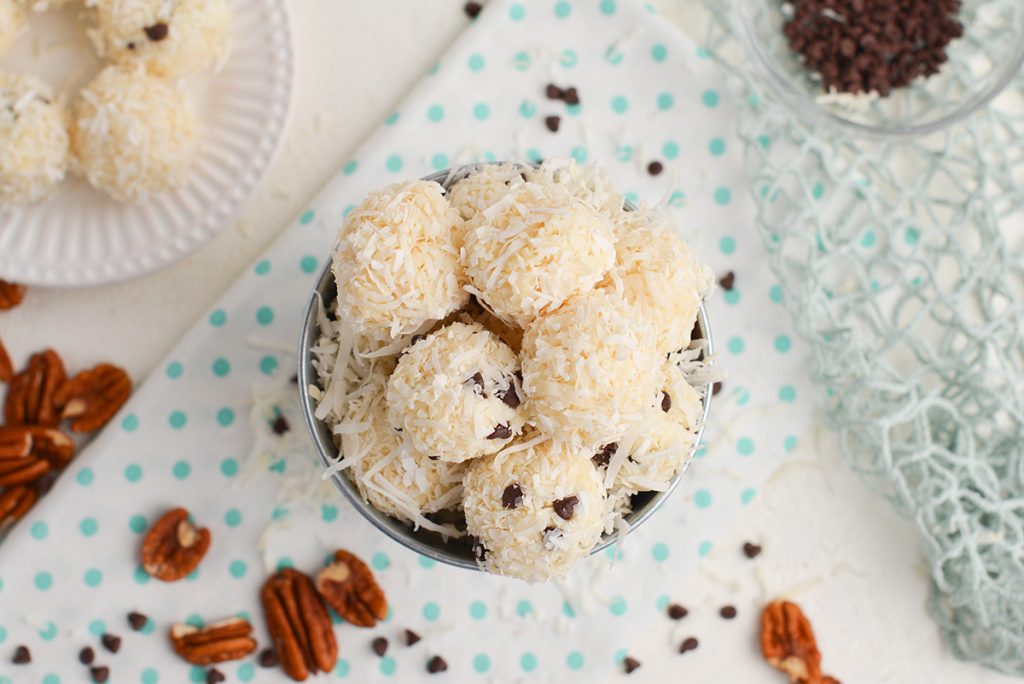 Storage
Since these coconut balls contain condensed milk, you'll want to keep them in the fridge or freezer.
Make ahead: You can make a big batch of these and store them until you're ready to indulge.
Refrigerator: Store coconut balls in an airtight container in the refrigerator for up to 1 week.
Freezer: Place coconut balls in a freezer-safe container or a resealable freezer bag for up to 3 months. To lessen the chance of the balls sticking together, try flash freezing them on a cookie sheet before placing in the bag or container.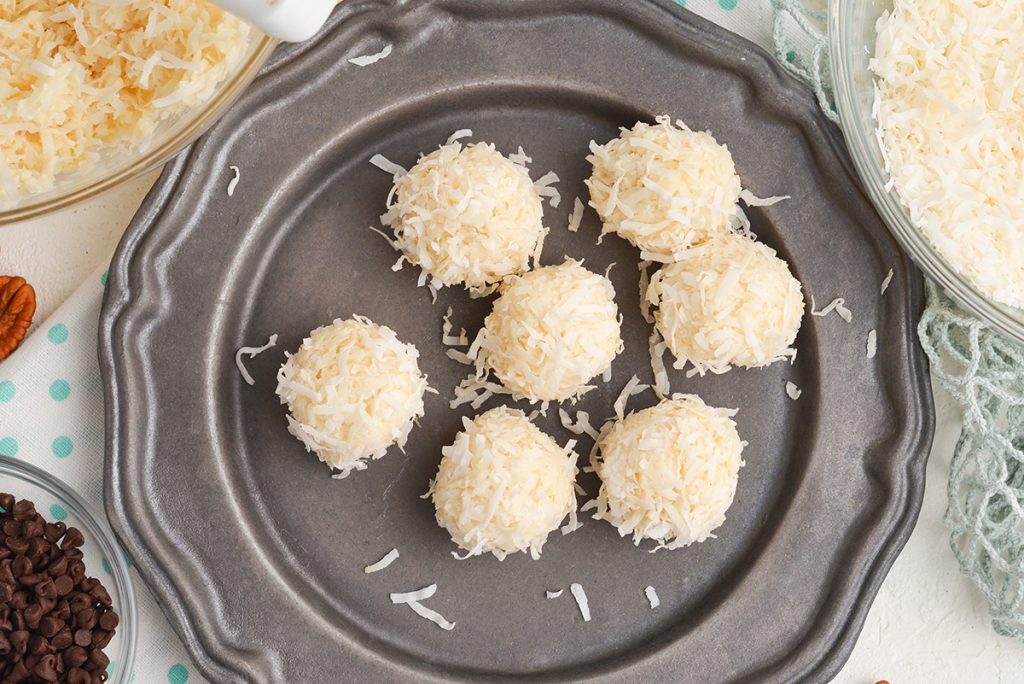 Commonly Asked Questions
Here are some of the most commonly asked questions about how to make coconut balls.
Why won't my coconut balls hold their shape?
Different brands of sweetened condensed milk have different water ratios; some might be a little looser, while others are thicker. To prevent this from happening, chill the coconut mixture before forming into balls or after forming into balls to help them keep their shape.
Can I make no-bake coconut balls ahead of time? 
Yes, you can make coconut balls ahead of time. Simply store them in the refrigerator or freezer and allow them to come to room temperature when you're ready to eat them. 
How do I make no-bake coconut balls without condensed milk?
You can try using coconut milk instead of condensed milk.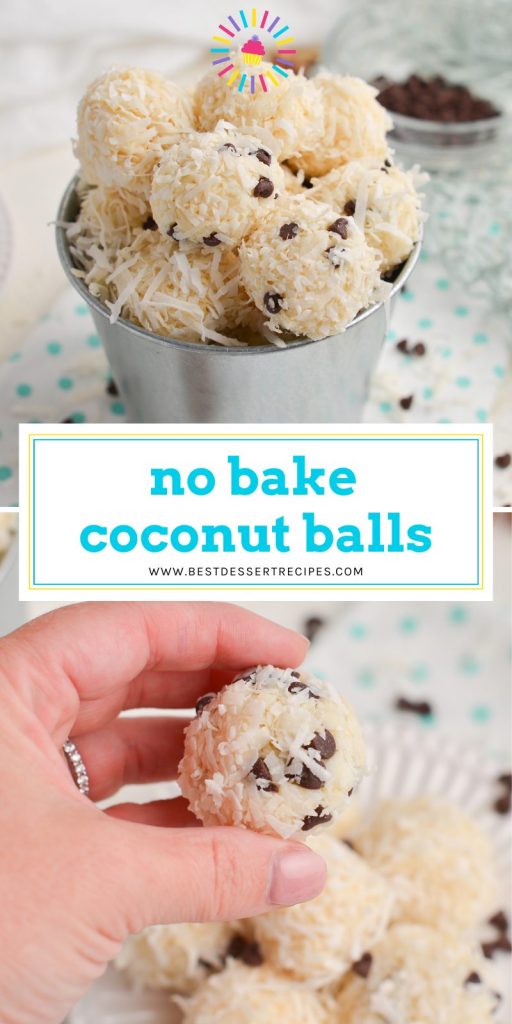 More Easy Handheld Desserts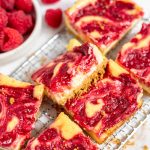 Lemon Bars
These homemade Lemon Bars are the perfect way to channel warm-weather flavors. The citrusy filling paired and shortbread crust are perfect!
Check out this recipe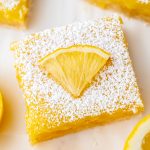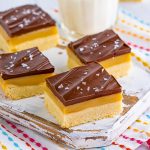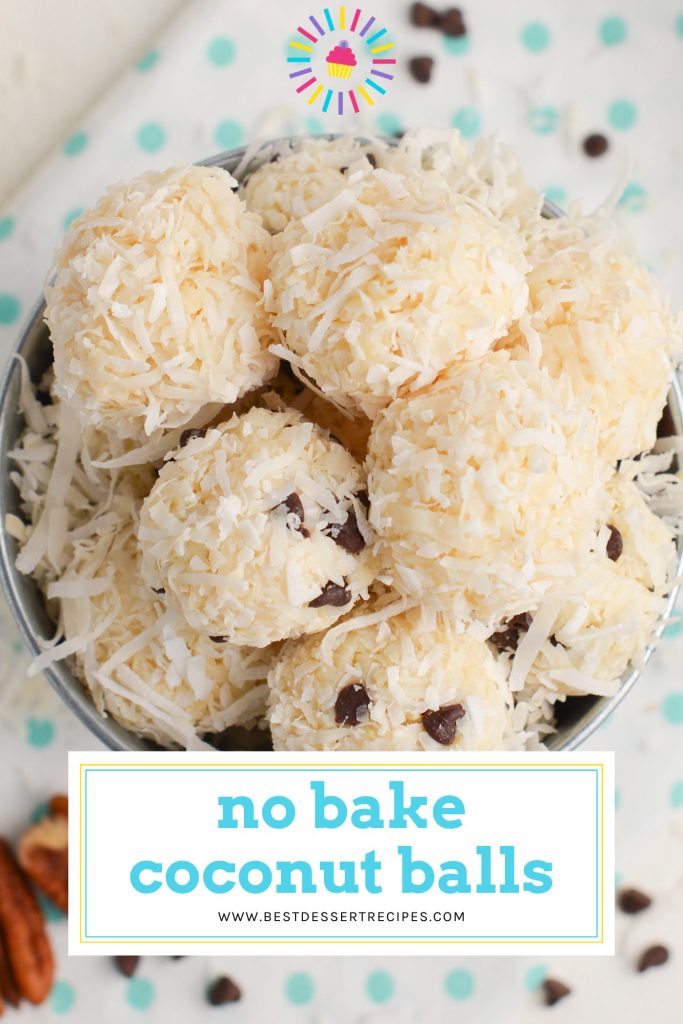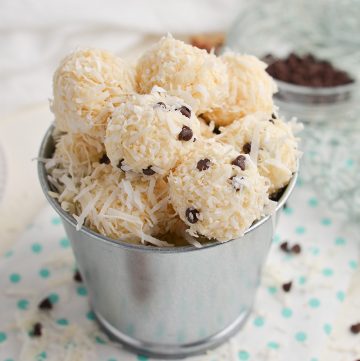 No-Bake Coconut Balls with Pecans
This EASY, moist No-Bake Coconut Balls recipe is every coconut lover's dream, and they're ready in just minutes with simple ingredients!
Print
Pin
Rate
Instructions
Set aside 1/2 cup of the coconut flakes.

In a medium mixing bowl, stir together the sweetened condensed milk, powdered sugar, vanilla and salt. Fold in the remaining coconut flakes. This process is more of a pack and press with a spatula or spoon, than stirring.

Use a 1 1/2 tablespoon cookie scoop and scoop out the coconut mixture. Using your hands, use a pecan as the center and form the coconut mixture around the pecan, rolling and packing.

Roll the formed ball in the coconut flakes set aside.

Repeat with remaining coconut mixture, making approximately 20-30 coconut balls (depending on size).

If you've tried this recipe, come back and let us know how it was in the comments or star ratings!
Nutrition
Calories:
166
kcal
|
Carbohydrates:
13
g
|
Protein:
2
g
|
Fat:
12
g
|
Saturated Fat:
10
g
|
Polyunsaturated Fat:
0.4
g
|
Monounsaturated Fat:
1
g
|
Cholesterol:
5
mg
|
Sodium:
49
mg
|
Potassium:
150
mg
|
Fiber:
3
g
|
Sugar:
10
g
|
Vitamin A:
43
IU
|
Vitamin C:
1
mg
|
Calcium:
50
mg
|
Iron:
1
mg