There is nothing more refreshing on a hot day than a scoop of cold ice cream. With mango chunks and a creamy base, this no churn Mango Ice Cream will whisk you away to the tropics.
Mangoes are one of my favorite fruits. They have such a tropical flavor that I always feel like I'm on vacation when I'm eating one. Mango season is generally from May to October, but I enjoy eating them all year round. One of my favorites at the holidays are mango macarons.
After having a hankering for something sweet, I decided to make my own ice cream, but also to incorporate mangoes. The best part is that it only took minutes of prep time, but yielded the best mango ice cream I've ever had. And I don't have to wait until they're in season to get that tropical mango flavor.
No-Churn vs Churned Ice Cream
There are a few differences between traditionally churned ice cream and no-churn ice cream (besides the need for an ice cream machine.) Both in the ingredients and the process used to make it.
Traditional homemade ice cream requires a few more ingredients and more equipment to make. Churned ice cream often begins by making a custard with eggs and cream, heating it on the stove and then adding it to an ice cream maker where it is slowly churned while it is frozen.
The process of churning while freezing creates the smooth ice cream and prevents crunchy crystals from forming.
No-churn ice cream recipes, like this homemade mango ice cream, on the other hand, requires no heating or special equipment to make. You simply mix the ingredients in a bowl, pour it in a container and toss it in the freezer to set.
There is a definite texture difference between the two with traditional ice cream being a bit firmer and smoother. No-churn ice cream tends to be fluffier and it will melt quite a bit quicker at room temperature than churned ice cream will.
Ingredients
You only need five simple ingredients in order to make this creamy mango ice cream.
Heavy Whipping cream (heavy cream) – The heavy cream, once whipped, is what will give the ice cream the light and fluffy texture.
Sweetened condensed milk – Don't get this confused with evaporated milk. The sweetened condensed milk helps thicken the mixture and adds the sweetness that ice cream needs.
Vanilla extract – Make sure it is a pure extract, not imitation. The best way to do this is homemade, of course.
Fine Sea Salt (optional)- It is amazing how much of a difference just a pinch of salt can make in any recipe, sweet or savory. It brightens the natural flavors and elevates this recipe to a new level.
Mangos- You can use freshly chopped mangos or canned mangos in juice, but make sure they are fully drained. The extra moisture impacts the texture of the cream.
How to Cut a Mango
If you do opt for fresh mango versus canned or jarred for your mango ice cream, here is how to easily cut them.
Stand the mango on a wood cutting board stem end down and cut out 1/4 inch away from the center to avoid the seed.
Firmly push down to separate the mango pulp from the seed.
Using a sharp knife, cut into cubes, like an avocado, while still in the skin.
Either scoop out cubes or flip skin "inside out" to peel out of the skin.
Can I Use Whipped Cream?
It seems like a simple swap to use pre-whipped whipped cream or whipped topping for your mango ice cream, however it isn't that simple.
Whipped cream is already sweetened, so adding this along with the sweetened condensed milk will likely be too sweet.
Whipped topping is also sweetened but made with vegetable oil, which is why it is so stable and doesn't fall. it tastes great, but this would mean you wouldn't have a dairy-based ice cream, you'd have oil-based ice cream. Gross.
How to Store No-Churn Mango Ice Cream
Store any un-eaten ice cream in the airtight container you froze it in. Place a piece of parchment paper directly on top of the ice cream, and then wrap the container tightly with plastic wrap, and then again in foil.
All these layers will help prevent ice crystals from forming. Ice Cream is edible for up to 3 months.
More frozen desserts: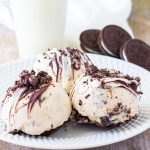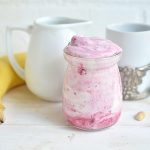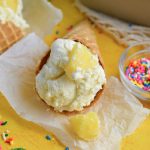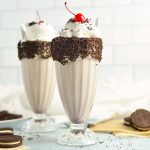 No Churn Mango Ice Cream
With mango chunks and a creamy base, this EASY 5-ingredient no churn Mango Ice Cream will whisk you away to the tropics.
Print
Pin
Rate
Instructions
In a large bowl, mix together the sweetened condensed milk, vanilla extract and salt. Set aside.

In a stand mixer fitted with the whisk attachment or a large mixing bowl using an electric mixer with the whisk attachment, whip the cream until it is stiff, approximately 2-3 minutes.

In batches, gently fold the whipped cream into the sweetened condensed milk mixture.

Fold in about 90% of the mangos, reserving the rest to top.

Pour the mixture into a 9x5x3 bread pan. Place, uncovered, in the freezer for 2 hours.

At 2 hours, remove and press the remaining mango pieces into the top of the ice cream.

Cover with aluminum foil and return to the freezer for 8-12 hours.

Scoop and serve!

If you've tried this recipe, come back and let us know how it was in the comments or star ratings.
Notes
*This is 1 3/4 cups if you making if from scratch.
Nutrition
Calories:
220
kcal
|
Carbohydrates:
13
g
|
Protein:
3
g
|
Fat:
18
g
|
Saturated Fat:
12
g
|
Polyunsaturated Fat:
1
g
|
Monounsaturated Fat:
5
g
|
Cholesterol:
58
mg
|
Sodium:
57
mg
|
Potassium:
144
mg
|
Fiber:
1
g
|
Sugar:
12
g
|
Vitamin A:
1087
IU
|
Vitamin C:
13
mg
|
Calcium:
67
mg
|
Iron:
1
mg