This Linzer cookie recipe combines sweet shortbread-style cookies with fruit jam for a cookie that is both eye-catching and irresistible. With a cut-out cookie on top, the vibrant jam shines through.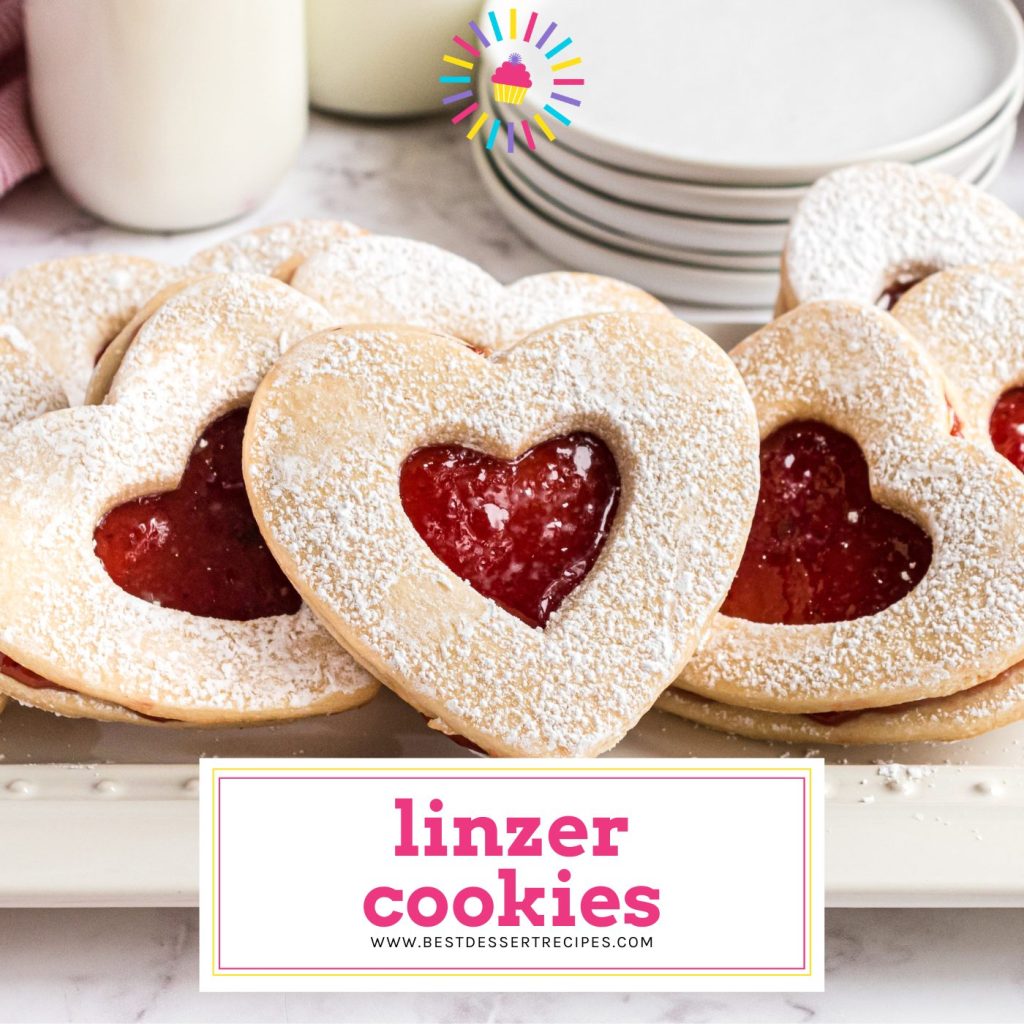 ​What I love about these cookies is that they are such show-stoppers but they're incredibly easy to make. No one will guess that took so little time to whip these up.
The next time you're looking for crowd-pleasing cookie recipes, try these simple Linzer cookies.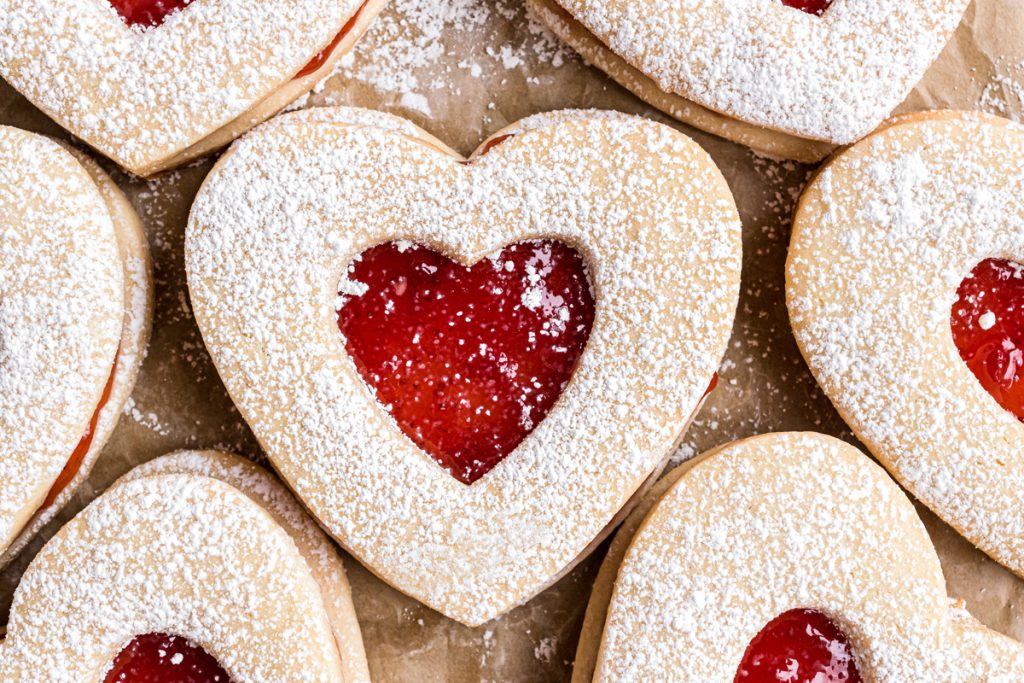 Why You'll Love Linzer Cookies
These delicate sandwich cookies are easy to love!
Easy – These cookies are so pretty but they're also super simple.
Customizable – You can easily switch up the flavor of the cookies or the jam.
Versatile – Take these to holiday parties and baby showers or to casual gatherings like cookouts and potlucks.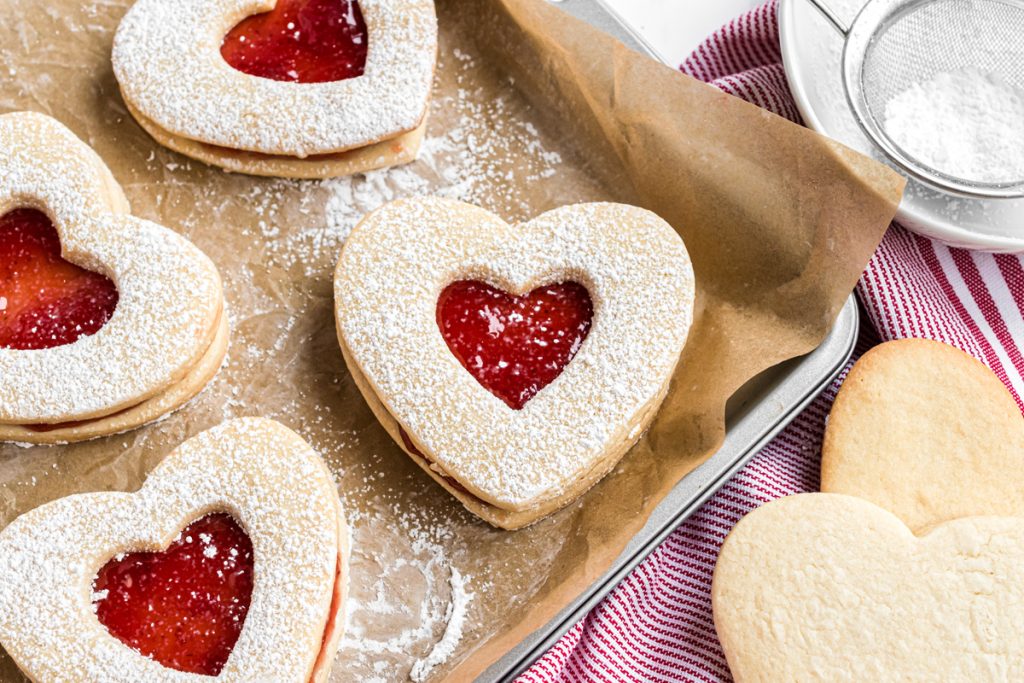 Ingredients
Be sure to allow all ingredients to come to room temperature so that they are easy to mix together.
Unsalted butter – Unsalted butter is best for this easy cookie recipe.
Sugar – Granulated sugar works well because the size of the granules allows them to dissolve quickly when mixed.
Eggs – Eggs help to hold the ingredients together. Large size will work best.
Milk – We recommend full fat milk but you can use a lower fat version if you prefer.
Vanilla extract – Vanilla extract helps to bring out the flavors of the ingredients.
Flour – All purpose flour is perfect for these cookies.
Baking powder – This leavening agent helps the cookies to rise.
Strawberry jam – Use your favorite brand or make your own at home.
Heart-shaped cookie cutters – You'll want to use two cutters. One should be larger than the other.
Powdered sugar – Confectioner's sugar dusted over top of the cookies makes for a pretty presentation.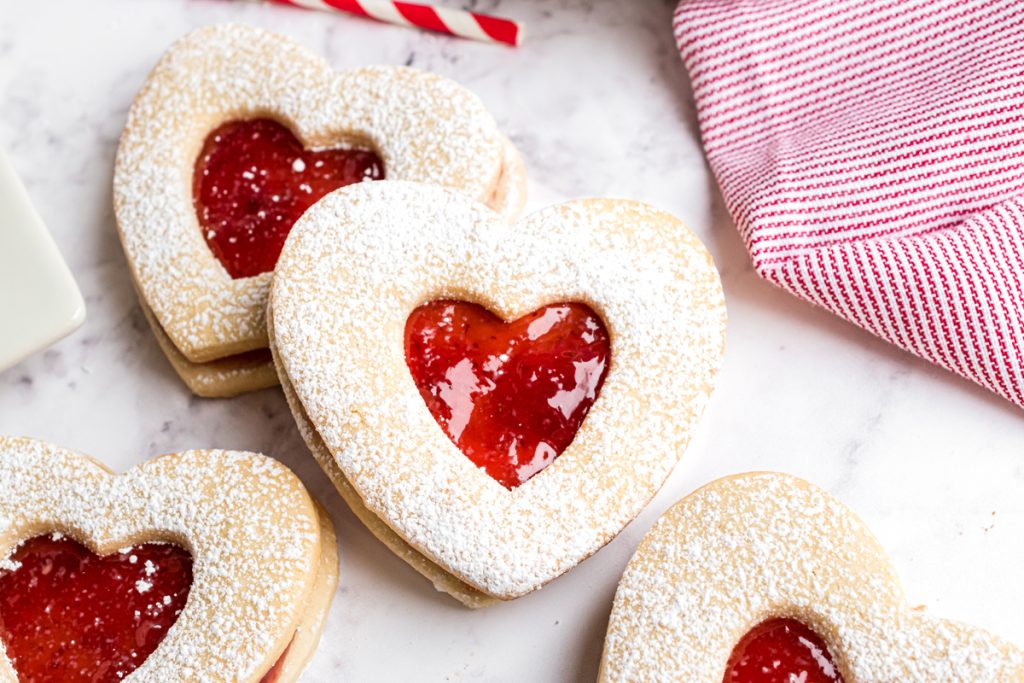 How To Make Linzer Cookies
It's hard to believe that such a cute cookie is so easy to make.
Make the Dough
Cream butter and sugar. Add butter and sugar to a large bowl of a stand mixer fitted with a paddle attachment (or use a hand mixer) and beat.
Add eggs, milk and vanilla. Once combined, add the eggs, milk, and vanilla to the butter mixture and beat again.
Dry ingredients. Sift or pour the flour and baking powder into a separate bowl. In intervals, incorporate the dry ingredients into the wet ingredients.
Chill. Place plastic wrap over the bowl and refrigerate.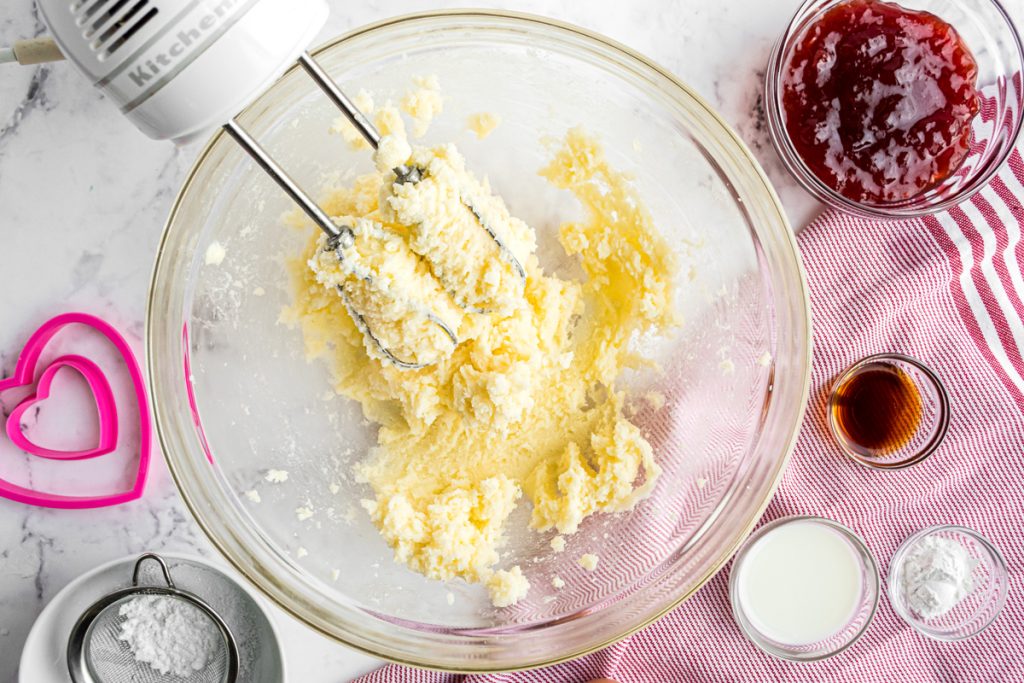 Make Cookies
Roll and cut dough. Place dough on a lightly floured surface and use a rolling pin to roll it out. Use the large cookie cutter to cut out two large cookies. On one of the cookies, use the smaller cookie cutter to cut out the shape.
Bake. Place both cookies on the prepared baking sheets lined with parchment paper or silicone mats. Repeat until all dough has been used. Bake the cookies for the recommended baking time until the cookies are a light golden brown.
Cool. After removing from the oven, all the cookies to cool briefly on the cookie sheets. Then place cookies on a wire rack to come to room temperature..
Spread jam. After cookies have cooled, spread strawberry jam on the large, whole cookies and top with the cut-out cookies.
Top with powdered sugar. Add a dusting of powdered sugar on top of the cookies.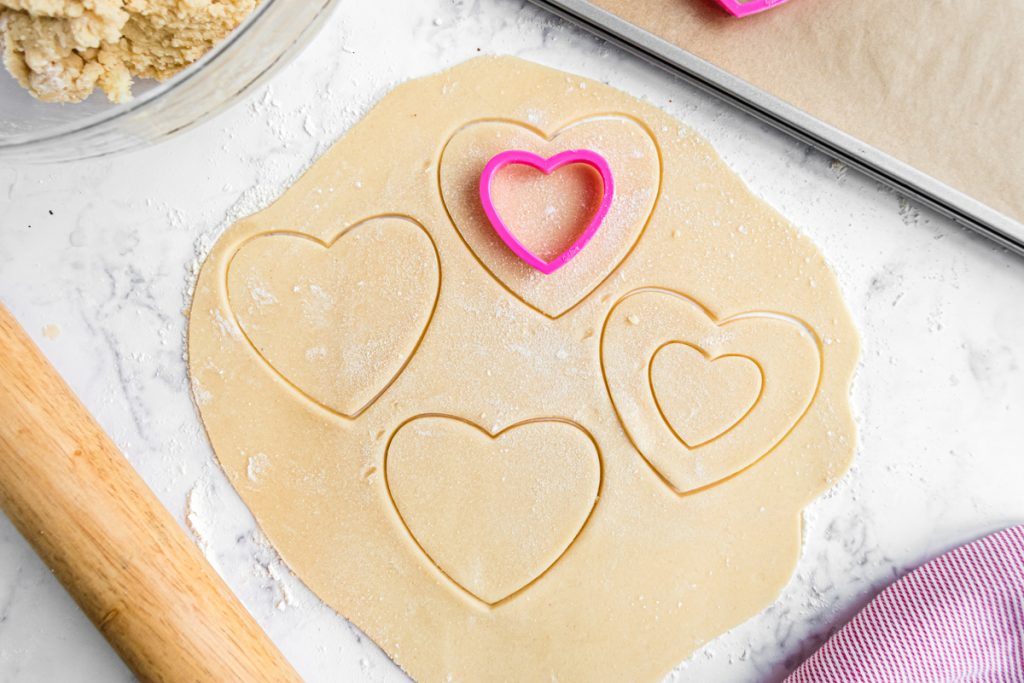 What to Serve with Linzer Cookies
These little Linzer cookies are perfect for a tea party and they also pair well with coffee — try pairing them with a dalgona coffee or an espresso martini. You can also dunk them in whipped cream or serve them alongside ice cream.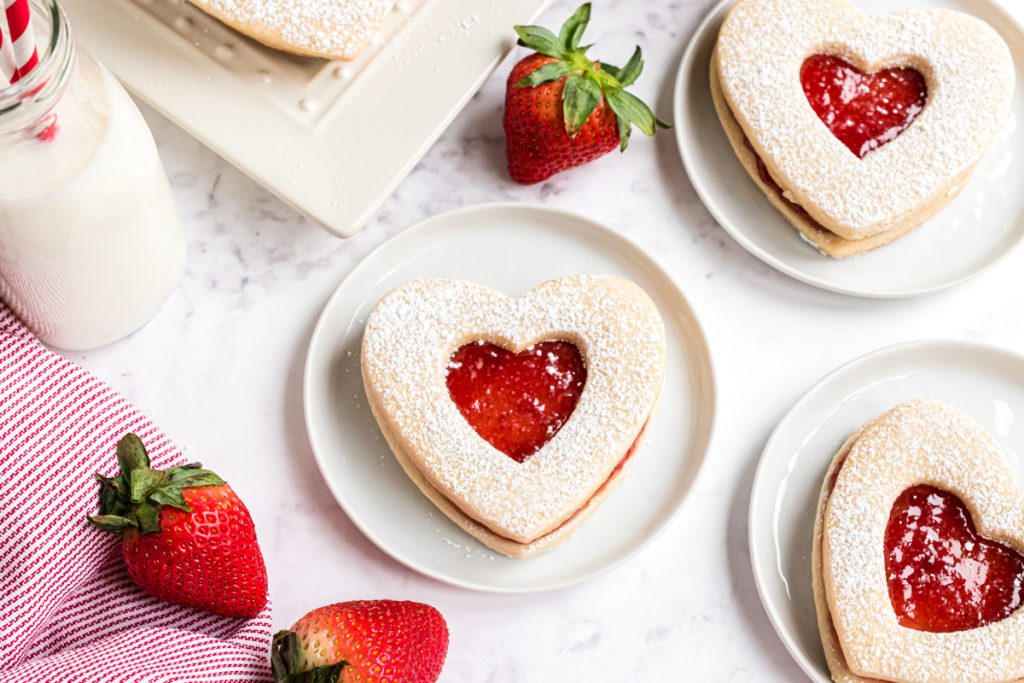 Variations
There are a few fun ways to make these cookies your own.
Extracts – Swap out the vanilla for almond extract or your own favorite flavor.
Flour – Experiment with using an alternative flour like almond flour.
Shapes – Trade out the heart cookie cutter for a round cookie cutter or any other shape that you prefer.
Jam filling – Use any fruit preserves that you prefer. Raspberry jam, black currant preserves, lemon curd, and apricot jam are all good alternatives.
​Citrus – Add citrusy flavor by adding lemon zest to the jam or the cookie dough.
Chocolate – For a rich filling, try replacing the jam with chocolate ganache.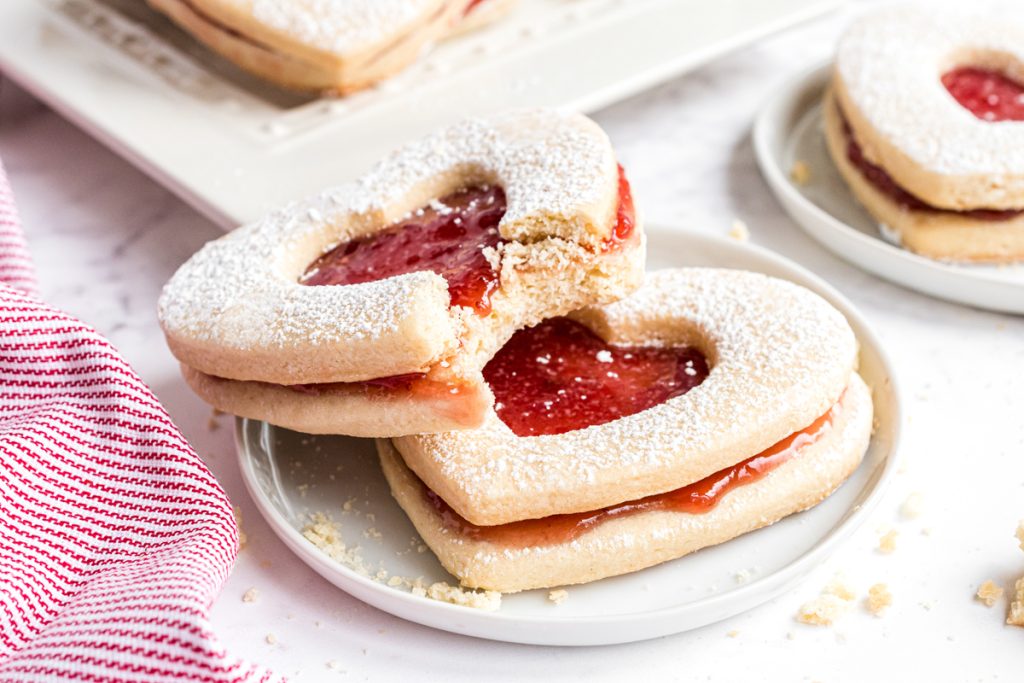 Storage, Make Ahead and Freezing
You easily store cookies that are both baked and unbaked.
Make ahead: You can make Linzer cookies ahead and fill them when you're ready to serve. You can also prepare the dough ahead of time and store it in the refrigerator for up to 3 days.
Refrigerator: Store Linzer cookies in an airtight container in the refrigerator for 2-3 days.
Freezer: Linzer cookies can be stored in a freezer-safe container for up to 2 months.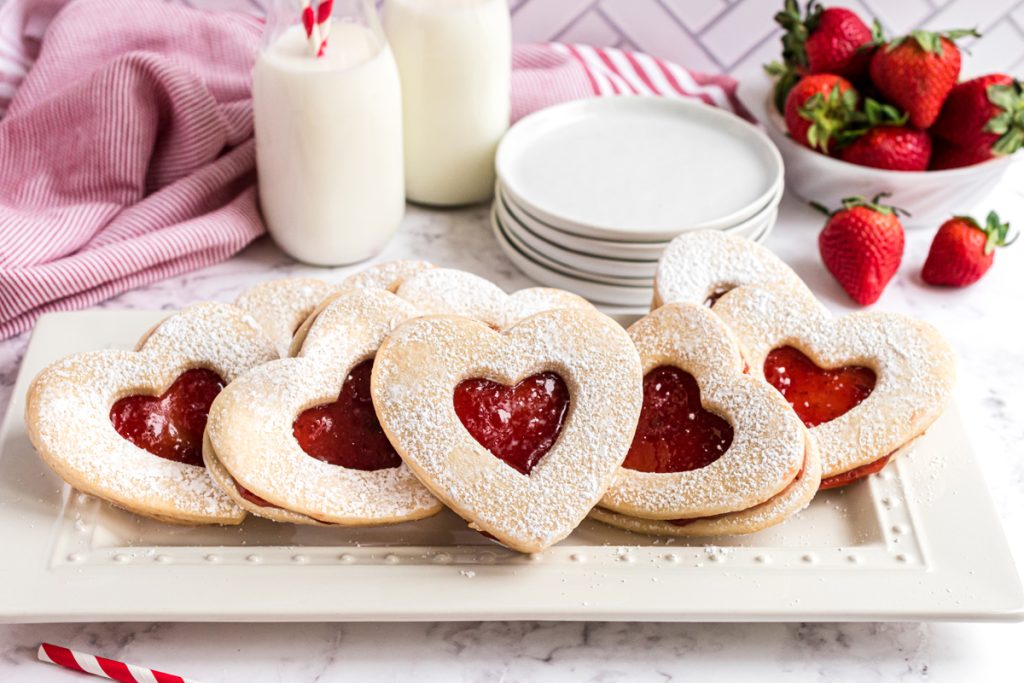 Common Questions About Linzer Cookies
What are Linzer cookies made of?
These shortbread-style cookies are made with basic ingredients including eggs, butter, flour, and vanilla extract. Jam is also used to spread in between two cookies. 
What nationality are Linzer cookies? 
Linzer cookies originated in Austria as a spin-off from the popular Linzer torte. 
What can you use instead of a Linzer cookie cutter?
Fortunately, it's not necessary to use a Linzer cookie cutter. You can use any kind of cutters that you like that are different in size.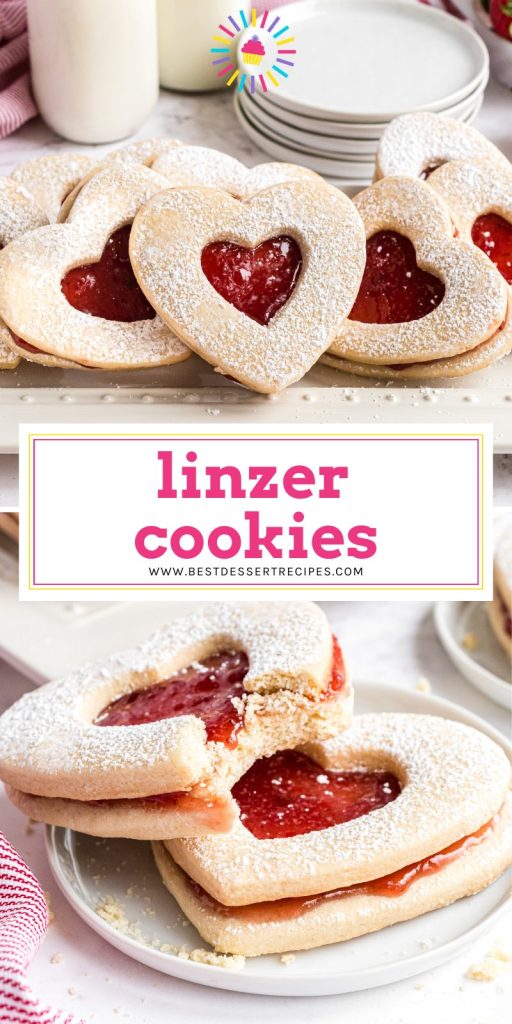 More Easy Cookies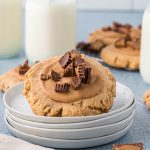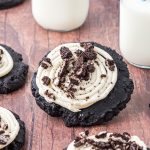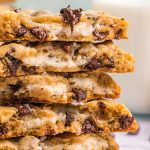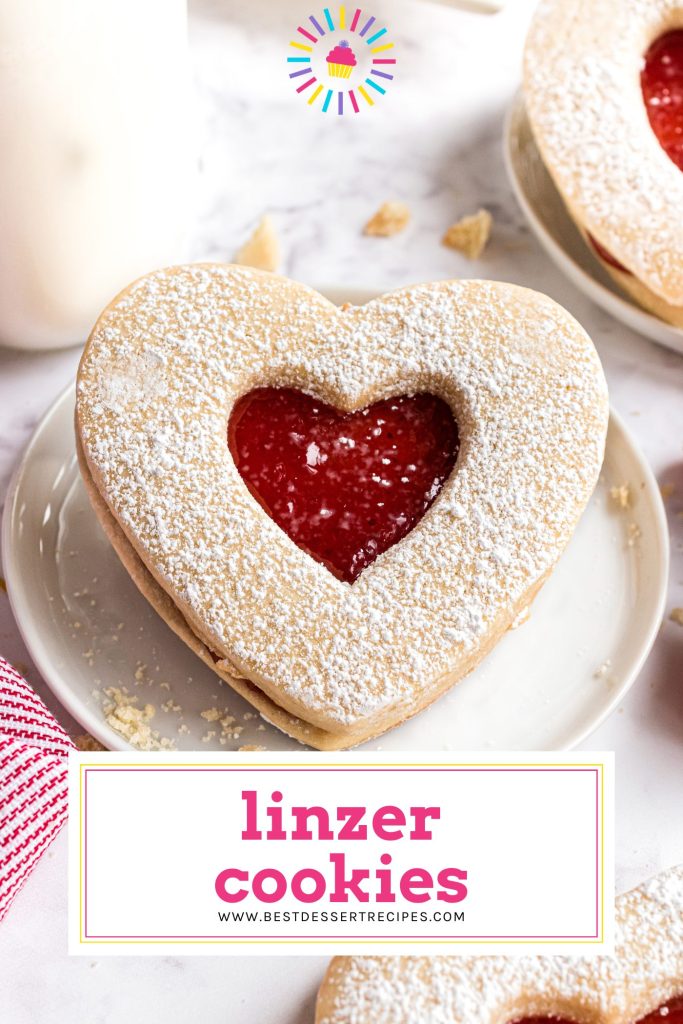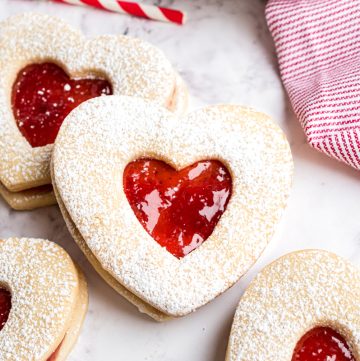 Linzer Cookies
This Linzer Cookies recipe combines sweet shortbread-style cookies with fruit jam for a cookie that is both eye-catching and irresistible!
Print
Pin
Rate
Ingredients
1 1/3

cup

unsalted butter

softened

1 1/2

cups

sugar

2

eggs

2

tablespoons

milk

2

teaspoons

vanilla

4

cups

flour

plus more for rolling

2

teaspoon

baking powder

1

cup

strawberry jam

2

heart shaped cookie cutters one larger

one smaller

Powdered sugar for dusting
Instructions
In the bowl of a stand mixer fitted with a paddle attachment or a large mixing bowl with an electric hand mixer, cream together butter and sugar. Beat until light and fluffy. Beat in eggs, milk and vanilla.

In a separate bowl, stir together flour and baking powder. Add half to wet mixture, blend well and then add the other half.

Cover and refrigerate dough for at least 1 hour, but no longer than 24 hours.

Preheat oven to 375 degrees. Line a baking sheet with silicone mat or parchment paper.

Turn dough out onto a floured surface. Roll to 1/4 inch thick. Cut out two large hearts. In the center of one large heart, cut out a smaller heart. Transfer one whole large heart and large heart with center removed to a parchment lined baking sheet. Continue until no dough is left. I used a 4 and 3 inch cookie cutter.

Bake each batch for 7-11 minutes (time will vary greatly depending on how large your cookies are).

Allow to cool for 10 minutes on the baking sheet, then remove to a cooling rack and allow to cool fully.

After cookies have cooled, spread strawberry jam on the large, whole heart.

Top with a cut-out cookie. Sprinkle with powdered sugar.

If you've tried this recipe, come back and let us know how it went in the comments or ratings!