Ice cream cookie sandwiches are a sentimental dessert for me, bringing back memories of running toward the ice cream truck that was playing catchy songs. Every time I make these, I think of ice cream dribbling down my chin on a warm summer evening.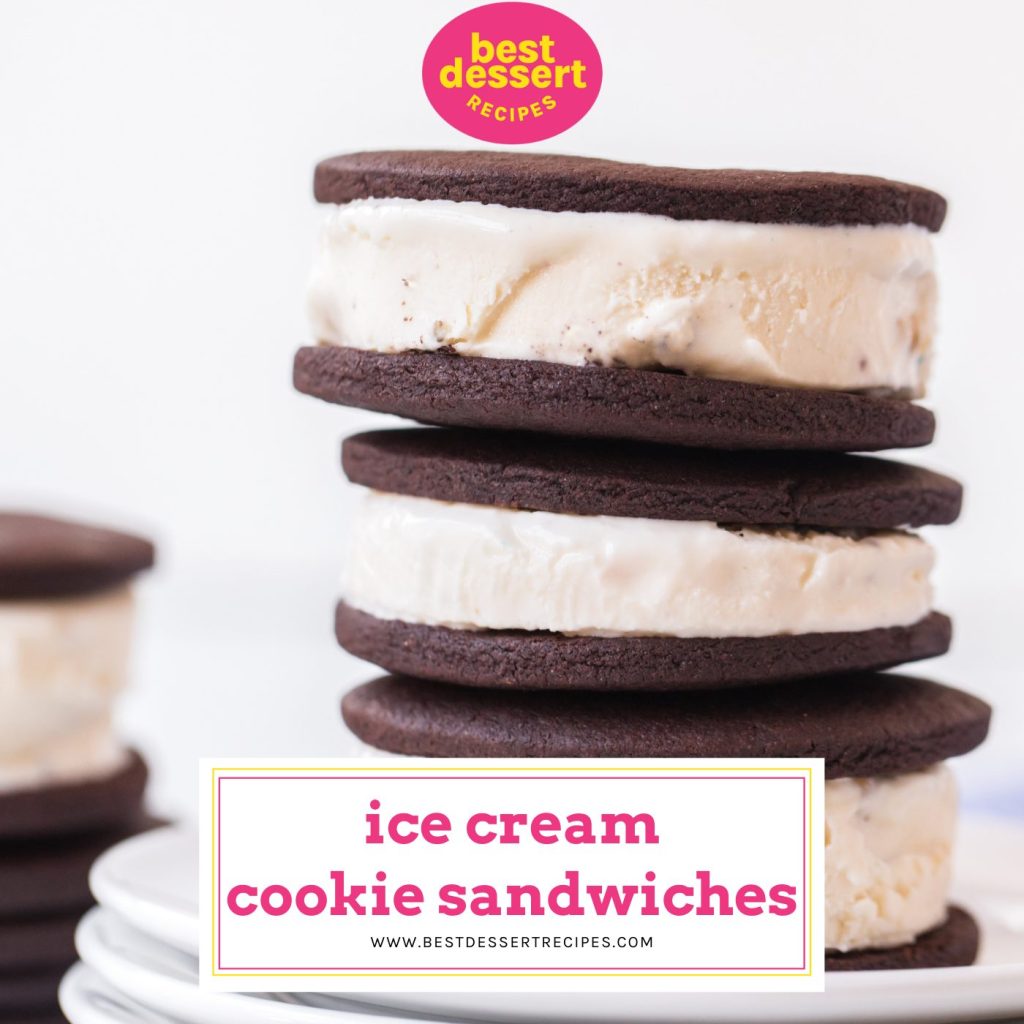 It's become popular to turn ice cream cookie sandwiches into cake or milkshakes, but I prefer my ice cream sandwich in its original form. That said, I do love to roll the sides of these sandwiches in nuts, chopped candies, or sprinkles. I also love to spread a little caramel sauce on the cookies before adding the ice cream in between. That's what makes this ice cream sandwich recipe so great – it's completely customizable.
Homemade Ice Cream Sandwiches
Until recently, I didn't realize there were so many fun facts about ice cream sandwiches! Did you know that in 2017 an Australian grandmother found that her grandson's 4 day old store-bought ice cream sandwich, that had fallen in the yard on a warm day, had still not melted? According to one producer, some ice cream sandwich makers add thickeners like guar gum to the ice cream to change how it melts.
Also, depending on where you're from, there may be a different name for ice cream sandwiches. According to Eclipse Foods, it could be called a chipwich, vanilla slice, or cream between. My favorite is "giant sandwich" – because it's the best sandwich, of course!
Whatever you call it, ice cream sandwiches are definitely one of the best handheld desserts on a warm day. Whether you're at a cookout, sitting by the pool, or just relaxing on the back porch, ice cream sandwiches are sure to make your day better.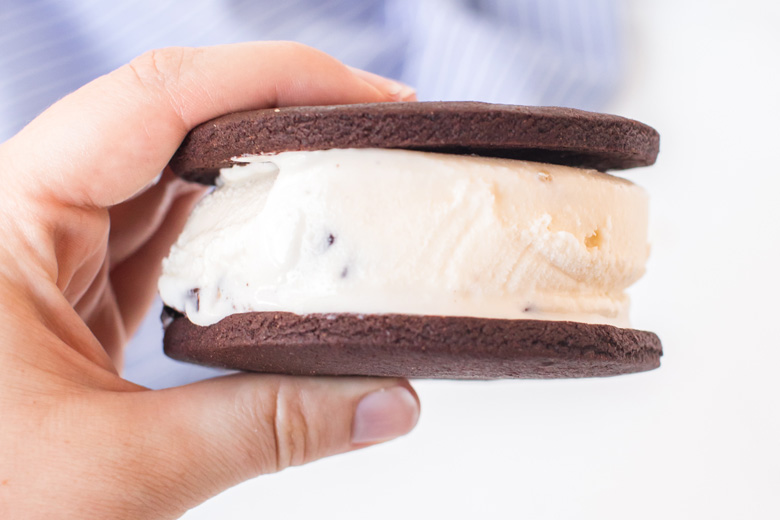 What You'll Need
Salted butter– often for baking I suggest using unsalted butter. However, I like the way that the bit of salt in the butter brings out the sweetness in these fudgy cookies. If you only have unsalted butter on hand, add in 1/8 teaspoon fine sea salt to the cookies.
Sugar- use granulated sugar since it dissolves quickest and mixes best in the batter.
Egg- make sure to use a large egg. You can get your eggs from the grocery store, or your local farmer.
Vanilla- using store-bought vanilla is super easy, but you can also make your own homemade vanilla extract.
Flour– use all purpose flour for this cookie recipe. Check the bag to make sure it's not self-rising.
Unsweetened cocoa powder– these cookies will have plenty of sweetness from the sugar so you'll want to use cocoa powder without any sweetener.
Baking powder– baking powder makes the cookies light and delicious. Avoid using baking soda instead.
Individual containers of ice cream– choose your own favorite flavor. While traditional ice cream sandwiches stick to the vanilla and chocolate combination, nearly any flavor will be delicious sandwiched in between these cookies.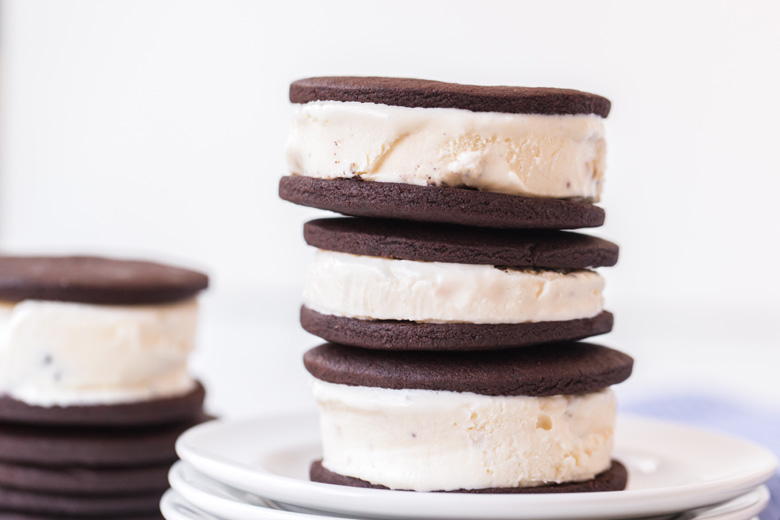 How To Make An Ice Cream Cookie Sandwich
Preheat oven and prepare the baking sheet.
Cream together butter and sugar in your blender or standup mixer until the mixture is light and fluffy. This should take about 3 minutes. Making sure the butter is softened before starting the recipe will ensure that it creams well.
After scraping the sides of the bowl and incorporating all of the mixture together, stir in the egg and the vanilla extract.
Next, add in flour, cocoa powder, and baking powder. I like to sift these together to make sure they are evenly incorporated. Then mix until all ingredients are blended.
Using your spatula (or your hands) divide the dough in half. Place each half of the dough in between two pieces of parchment paper.
Using a rolling pin, roll dough until ¼ inch thick. If you don't have a rolling pin handy, use any long cylindrical object you may have like a drinking glass or even a bottle of wine!
Cut the dough with a round cookie cutter. For this recipe, my cutter was 3 ½ inches. If you don't have a similarly sized cookie cutter, you can use a wide mouth jar.
Poke holes into the dough with a fork so it doesn't bubble up, then place cookies on a parchment-lined sheet pan.
Cook cookies for 10-11 minutes. When they are finished cooking, the tops should no longer be shiny.
Set aside the cookies to cool completely, preferably on a wire rack. Usually cookies take only about 5-10 minutes to cool, but since you are filling these with ice cream, it might be ideal to allow them to rest for 20 minutes or longer otherwise the ice c
While the cookies are cooling, remove ice cream from the refrigerator.
Using a sharp knife, cut ice cream (container and all) into 4 sections. For this step, a serrated knife will work best.
Sandwich the ice cream slices between the two cookies. Then, peel off the ice cream container paper.
At this point, if you're choosing to add extra goodies to your ice cream sandwiches, roll the sides in your chosen toppings.

Storage & Freezer Life
Wrap the ice cream sandwiches in plastic wrap or freezer paper and store in the freezer until the ice cream has completely frozen. The tighter they are wrapped, the less chance of freezer burn.
Homemade ice cream sandwiches will stay good for up to 6 months if wrapped properly.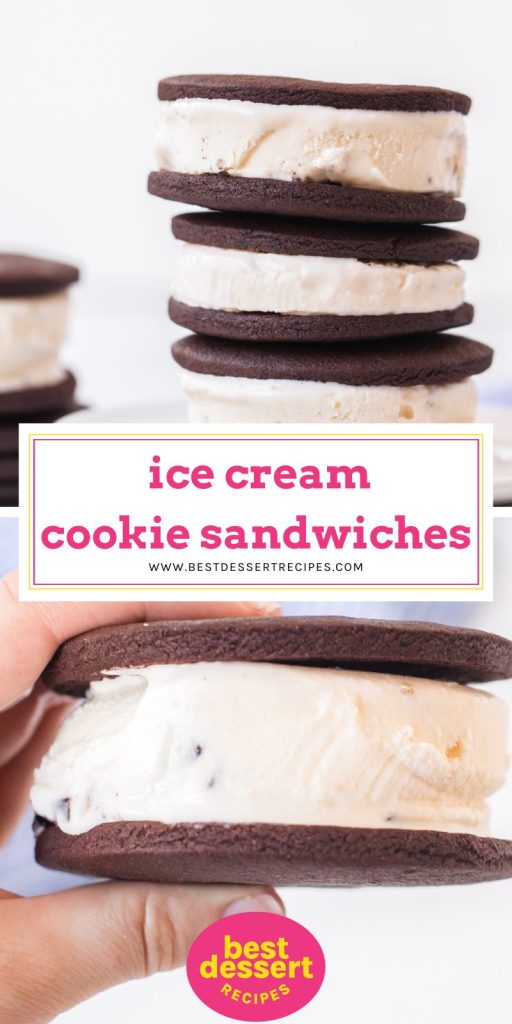 More Ice Cream Desserts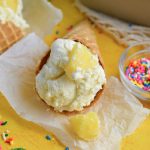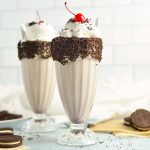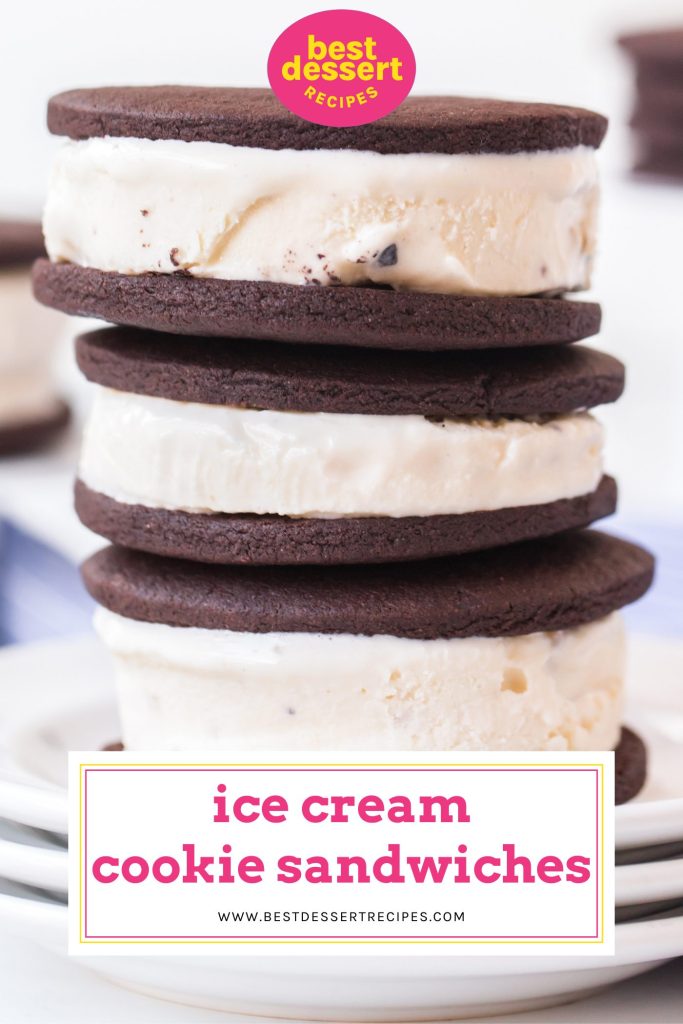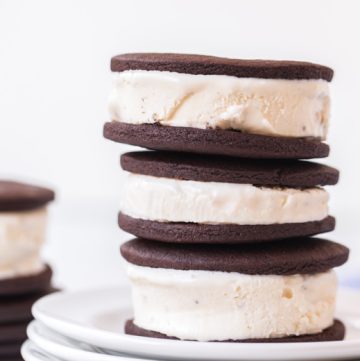 Homemade Ice Cream Cookie Sandwiches
Chocolate fudge cookies with ice cream centers. Make different flavors using my simple trick for stuffing them!
Print
Pin
Rate
Ingredients
¾

cup

salted butter

softened

1

cup

sugar

1

egg

1

teaspoon

vanilla

1 ½

cups

all-purpose flour

¾

cup

unsweetened cocoa powder

1

teaspoon

baking powder

2 16-

ounce

containers of ice cream

choose your favorite flavors!
Instructions
Preheat the oven to 350 degrees and line a large cooking sheet with parchment paper. Set aside.

Cream together the butter and sugar until light and fluffy, approximately 3 minutes.

Add the egg and vanilla, mixing until incorporated.

Sift or whisk together the flour, cocoa powder, and baking powder. Add the dry ingredients to the wet ingredients, mixing until not dry spots remain. Do not overmix.

Divide the dough in half and place each piece between two pieces of parchment paper (dough will be sticky) and roll dough until ¼ inch thick.

Cut the dough using a 3.5 inch round cookie cutter or a wide mouth jar. Poke a series of 3 lines of holes using a fork. Place the cookies on the prepare baking sheet.

Bake the cookies for 10-11 minutes or until tops are no longer shiny.

Set aside cookies to cool on a wire rack. Cool completely.

Using a serrated knife, cut the ice cream (container and all!) into 4 sections.

Sandwich ice cream slices between two cookies and peel off ice cream paper.

If using sprinkles, roll the edges in sprinkles in a shallow bowl or dredging pan.

Cover each individual cookie with plastic wrap or freezer paper and place in freezer until the ice cream is completely frozen before enjoying.

If you've tried this recipe, come back and let us know how it was in the comments or star ratings.
Notes
Homemade ice cream sandwiches will stay good for up to 6 months if wrapped properly.
Nutrition
Calories:
494
kcal
|
Carbohydrates:
63
g
|
Protein:
7
g
|
Fat:
26
g
|
Saturated Fat:
16
g
|
Polyunsaturated Fat:
1
g
|
Monounsaturated Fat:
7
g
|
Trans Fat:
1
g
|
Cholesterol:
94
mg
|
Sodium:
251
mg
|
Potassium:
289
mg
|
Fiber:
4
g
|
Sugar:
39
g
|
Vitamin A:
830
IU
|
Vitamin C:
1
mg
|
Calcium:
133
mg
|
Iron:
2
mg