Easy Oreo brownies are the best way to give into your inner chocolate cravings. These fudgy brownies speckled with creamy, chocolatey Oreos are absolutely amazing for anything from a solo night of Netflix to a Friday night at-home happy hour with friends.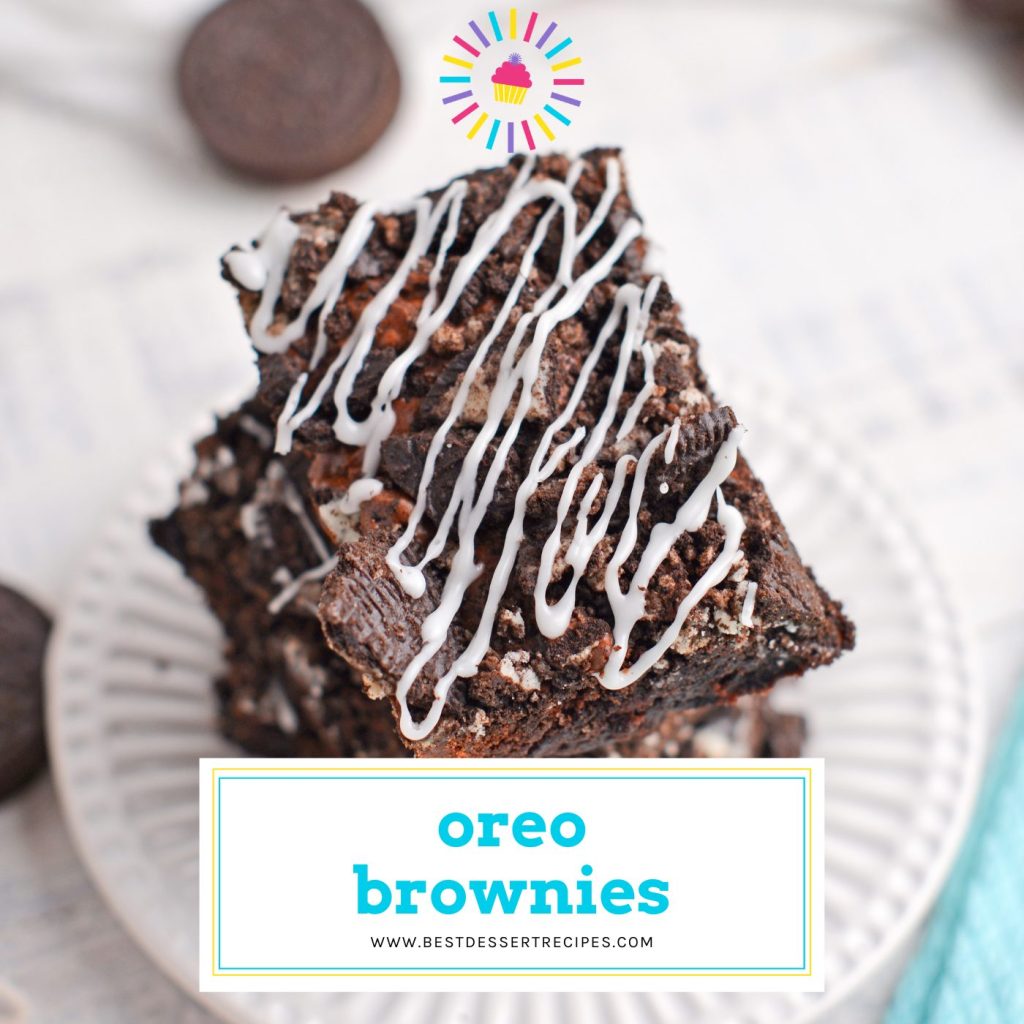 While I love cakey brownies, the fudgy varieties are so deliciously decadent. In fact, these brownies are so full of Oreo cookies that you might not even be able to tell they are brownies.
We tried using a whole bag of Oreos but were shocked to find out that it's actually too much. There was almost more cookie than brownie, so we toyed around until finding the perfect cookie to brownie ratio.
Pair all of that with a tasty vanilla drizzle and you've got a pan of stunning and delicious brownies. Plus, you can eat them all on their own or top them with anything from homemade whipped cream or fresh fruit to a big ol' scoop of vanilla ice cream.
Whether you're looking to indulge on your own or you need a recipe for the best brownies to wow people at a party, this is the recipe to try. You'll be getting all of the requests for this recipe by the end of the night.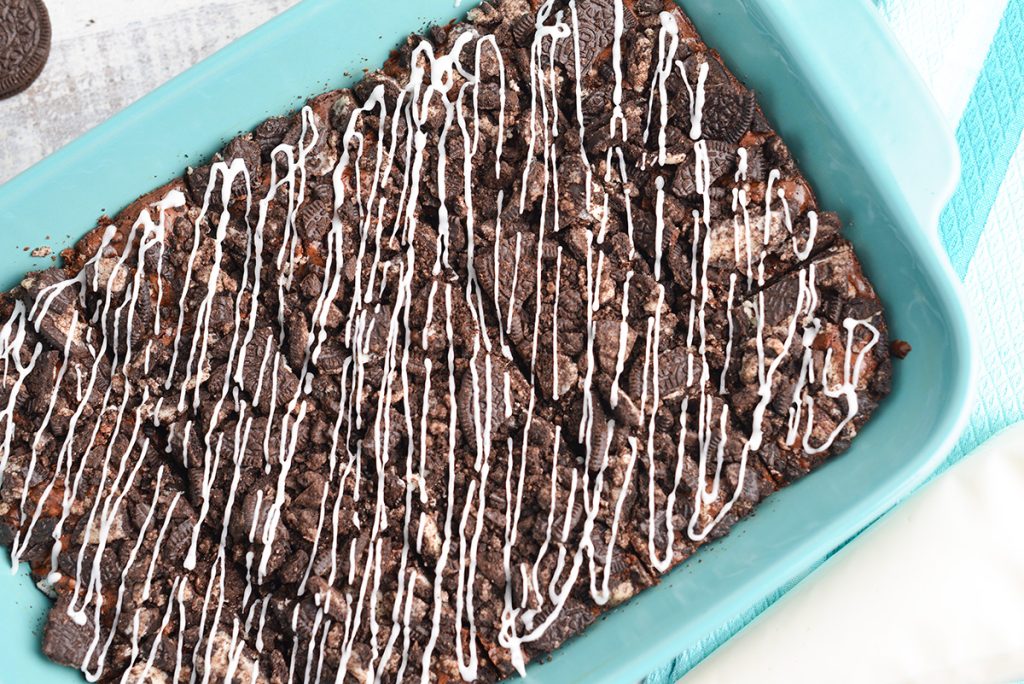 Why You'll Love Oreo Brownies
Oreos + brownies = a winning combination — what's not to love about these sweet treats?
Easy – There are only a few ingredients and simple steps to pull together these decadent brownies.
Affordable – Using a a basic box of brownie mix and a few other ingredients you likely have on hand (or can easily get at the grocery store) makes this a cost-effective dessert that can still impress guests.
Versatile – These are a great dessert for a casual get-together as well as a fancier party. There are few people who would turn down decadent chocolate brownies dotted with Oreos and drizzled with a gorgeous glaze.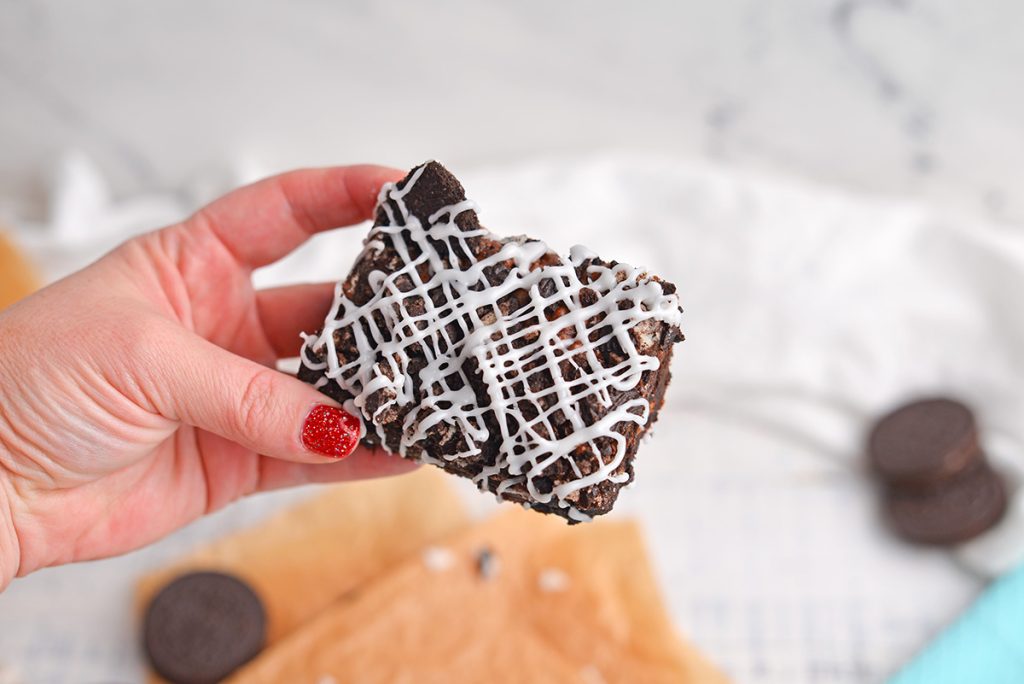 Ingredients
Just a few simple ingredients come together to make these easy brownies.
Oreo Brownies:
Fudge brownie mix – Choose your favorite fudge brownie mix but be sure to follow the directions for this recipe and not the package directions.
Vegetable oil – This is the typical oil you'd use for a brownie recipe but you can choose other neutral flavored oils if you prefer.
Water – Adding just the right amount will make sure your brownies turn out to be the perfect consistency.
Eggs – Large eggs are the standard for baking.
Vanilla extract – Pure vanilla extract has superior flavor over the imitation variety.
Oreo cookies – Be sure to divide them so you have enough to mix into the batter but also to put on top.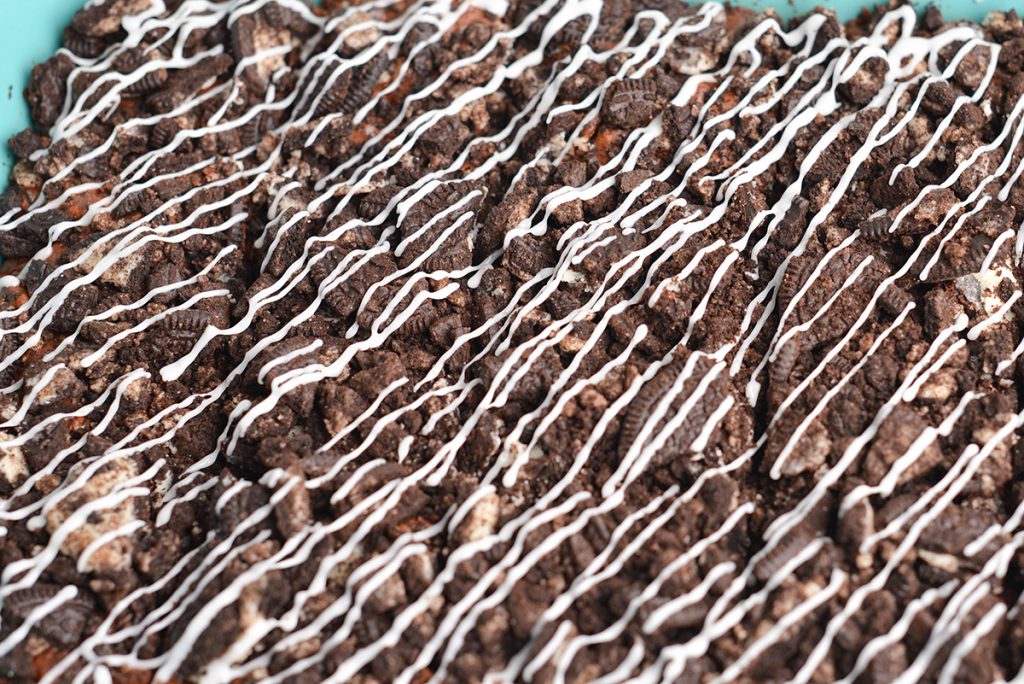 Drizzle:
Powdered sugar – Confectioner's sugar is what gives this drizzle its silkiness.
Vanilla extract – This extract will make the sweetness of the sugar shine while rounding out the flavor.
Milk – Full fat milk will give the glaze the best consistency.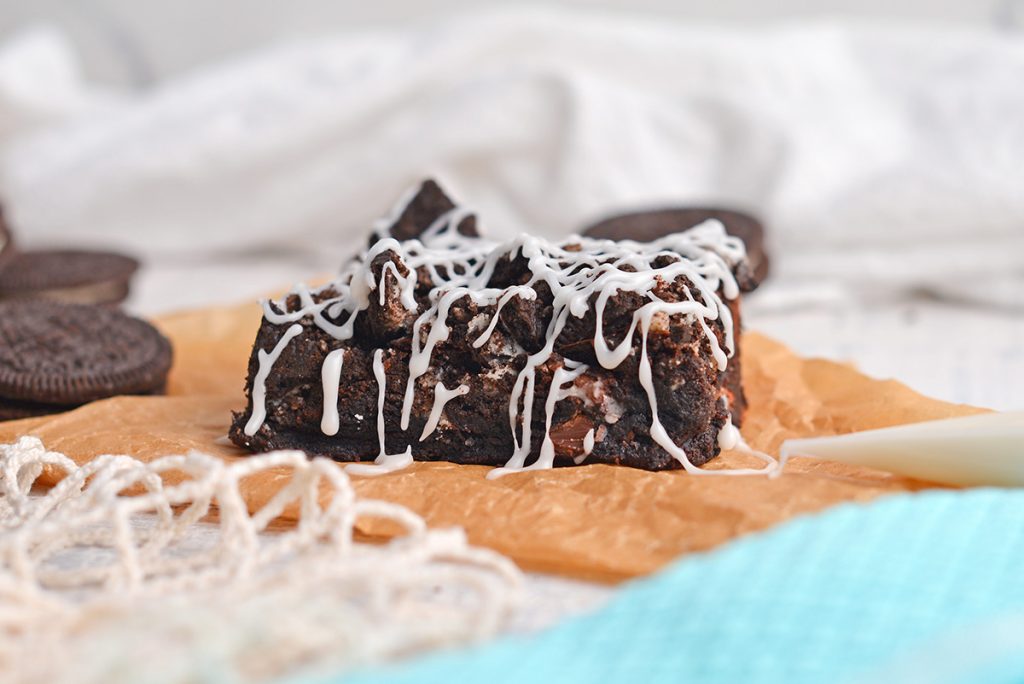 How To Make Oreo Brownies
It couldn't be easier to whip up these fudgy Oreo brownies.
Prepare the Oreos by placing them into a large resealable bag.
Use a rolling pin or a meat mallet to crush the whole Oreos.
Place one half of the Oreo pieces in a separate bowl or container.
Pour the brownie mix, vegetable oil, water, and eggs into a large bowl.
Mix the chocolate mixture together until combined.
Pour one half of the crushed Oreos into the batter.
Fold the pieces into the brownie batter until they are evenly dispersed.
Pour the batter into the prepared baking pan — scrape the sides of the bowl with a rubber spatula to incorporate all of the batter.
Sprinkle the remaining Oreos on top of the brownies. Make sure to create an even layer.
Bake the brownies until they are fully set.
Remove the brownies from the oven and allow them to cool until they reach room temperature.
Once the brownies are cooled, combine the powdered sugar, vanilla extract, and milk in a bowl.
Whisk the ingredients together until the mixture is silky smooth.
Use a pastry bag (or plastic bag with the corner snipped off) to pipe the glaze over the brownies.
Slice the brownies just before serving.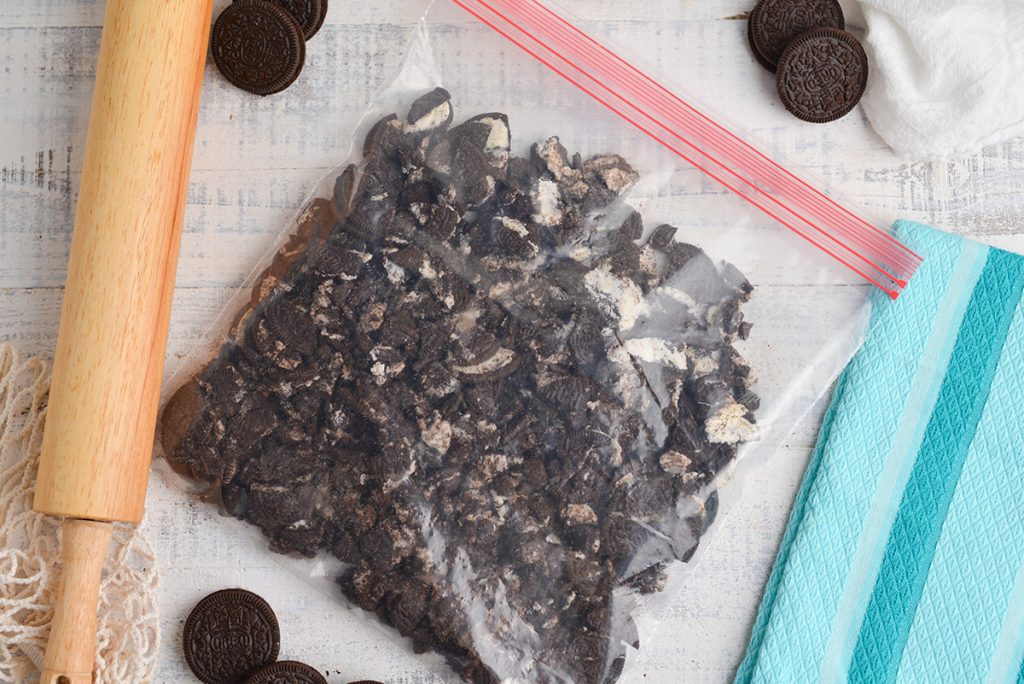 Variations
Chocolatey homemade brownies mixed with crunchy Oreos is already a winning combination but you can up your brownie game with some add-ins or swaps.
Nuts – Add crushed nuts to the batter or gently press them into the top just after baking.
Extract – Add seasonal flair or just different flavors by changing up the extract.
Melted chocolate – Melt some chocolate (in the microwave or using the double boiler method) and drizzle even more chocolate over top.
Cream cheese – Mix a little bit of cream cheese into the drizzle for a tangy addition to the topping.
Dried fruit – Craisins or raisins add a bit of flavor and texture to brownies.
Chocolate chips – Mix in some dark chocolate, milk chocolate, or white chocolate chips for even more rich chocolate flavor.
Candies – Swap out some or all of the Oreos for your favorite candy. Crush them in a sealed bag using a rolling pin or meat mallet before adding them to the batter.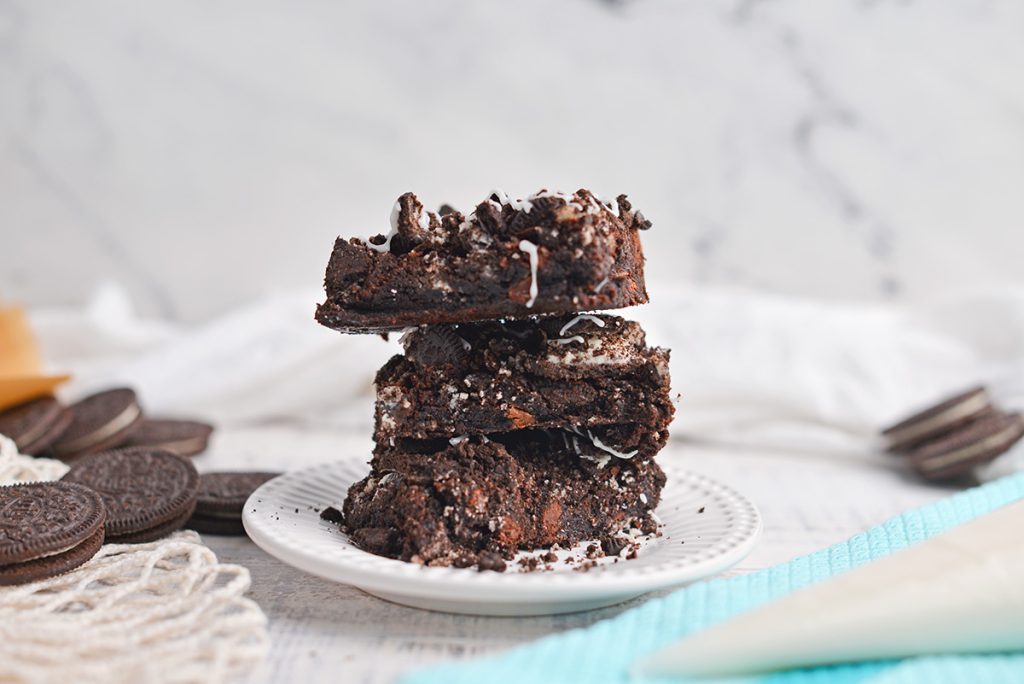 Storage, Make Ahead and Freezing
Brownies are one of the easiest desserts to store and they remain fresh-tasting even after freezing.
Make Ahead: For maximum freshness when serving, try to make these no more than 3 days ahead of time. Avoid slicing and wrap the whole brownie tightly in plastic wrap, then aluminum foil — store at room temperature.
Refrigerator: Brownies do not need to be refrigerated — you can keep them on the counter wrapped in plastic wrap or foil or in an airtight container. If they're in a container, either keep them in a single layer or store with parchment paper or wax paper in between layers to avoid having them sticking together.
Freezer: To freeze brownies, first slice them and wrap them tightly, individually, in plastic wrap. Brownies can be stored for up to 3 months in the freezer.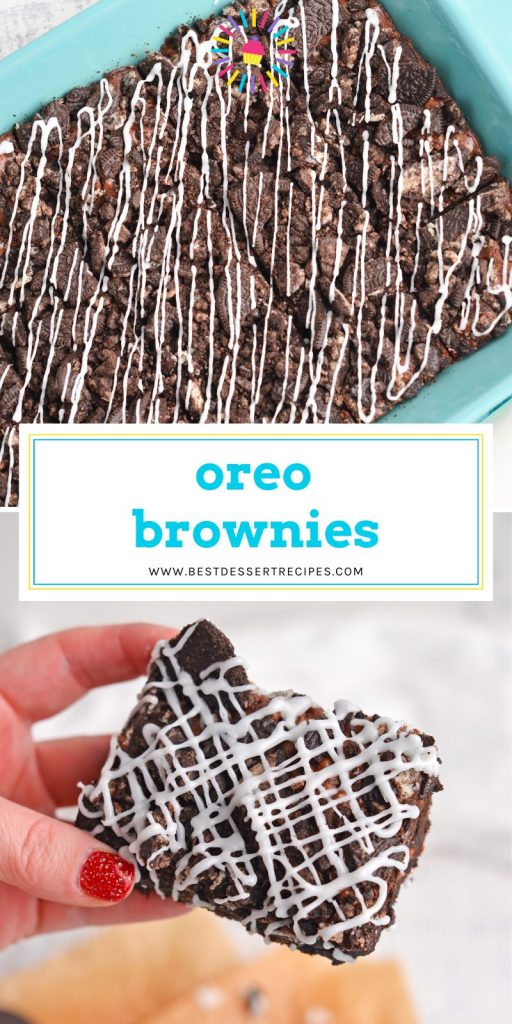 Other Delicious Brownies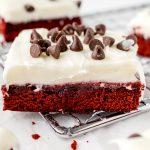 Zucchini Brownies
These EASY Zucchini Brownies are easy to take on the go for picnics, cookouts, and parties, but they're also a delicious evening dessert!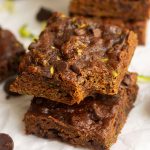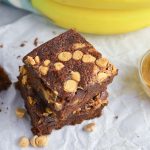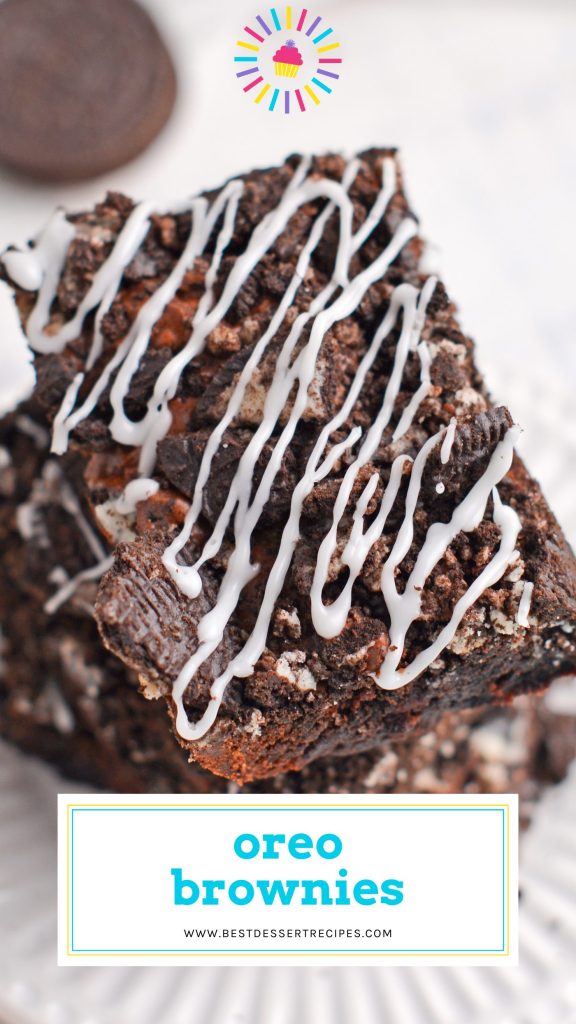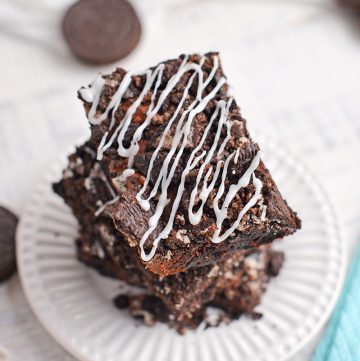 Oreo Brownies
Chock full of chocolatey Oreos and topped with a vanilla drizzle, these Oreo Brownies are sure to satisfy your sweet tooth craving!
Print
Pin
Rate
Ingredients
Oreo Brownies:
18.3

ounce

fudge brownie mix

2/3

cup

vegetable oil

1/4

cup

water

2

eggs

1

teaspoon

vanilla extract

30

Oreo cookies

divided
Instructions
Preheat the oven to 350°F and line a 9×13 baking dish with parchment paper or aluminum foil. Coat with cooking spray. Set aside.

In a large mixing bowl, combine the brownie mix, vegetable oil, water and eggs. Set aside.

Place all 30 Oreos into a large plastic bag and using a rolling pin, break into larger pieces. Some can be crumbled more than others. Divide the crumbled Oreos into two equal parts.

Fold one part of the Oreos into the brownie batter. Pour the batter into the prepared baking dish.

Top the brownies with the remaining crumbled cookies.

Bake for 23-26 minutes or until the center has set.

Remove and allow to cool fully.

Whisk together the powdered sugar, vanilla extract and milk until smooth. Drizzle over cooled brownies using the tines of fork, a pastry bag or a plastic bag with a corner snipped.

Cut into squares.

If you've tried this recipe, come back and let us know how it was in to comments or star ratings.
Nutrition
Calories:
488
kcal
|
Carbohydrates:
65
g
|
Protein:
5
g
|
Fat:
24
g
|
Saturated Fat:
5
g
|
Polyunsaturated Fat:
8
g
|
Monounsaturated Fat:
8
g
|
Trans Fat:
0.1
g
|
Cholesterol:
27
mg
|
Sodium:
254
mg
|
Potassium:
83
mg
|
Fiber:
1
g
|
Sugar:
44
g
|
Vitamin A:
42
IU
|
Calcium:
12
mg
|
Iron:
5
mg