This cream cheese pecan pie is the kind of dessert that dreams are made of. Just think of your favorite ooey gooey pecan pie and add a layer of creamy, decadent cheesecake filling.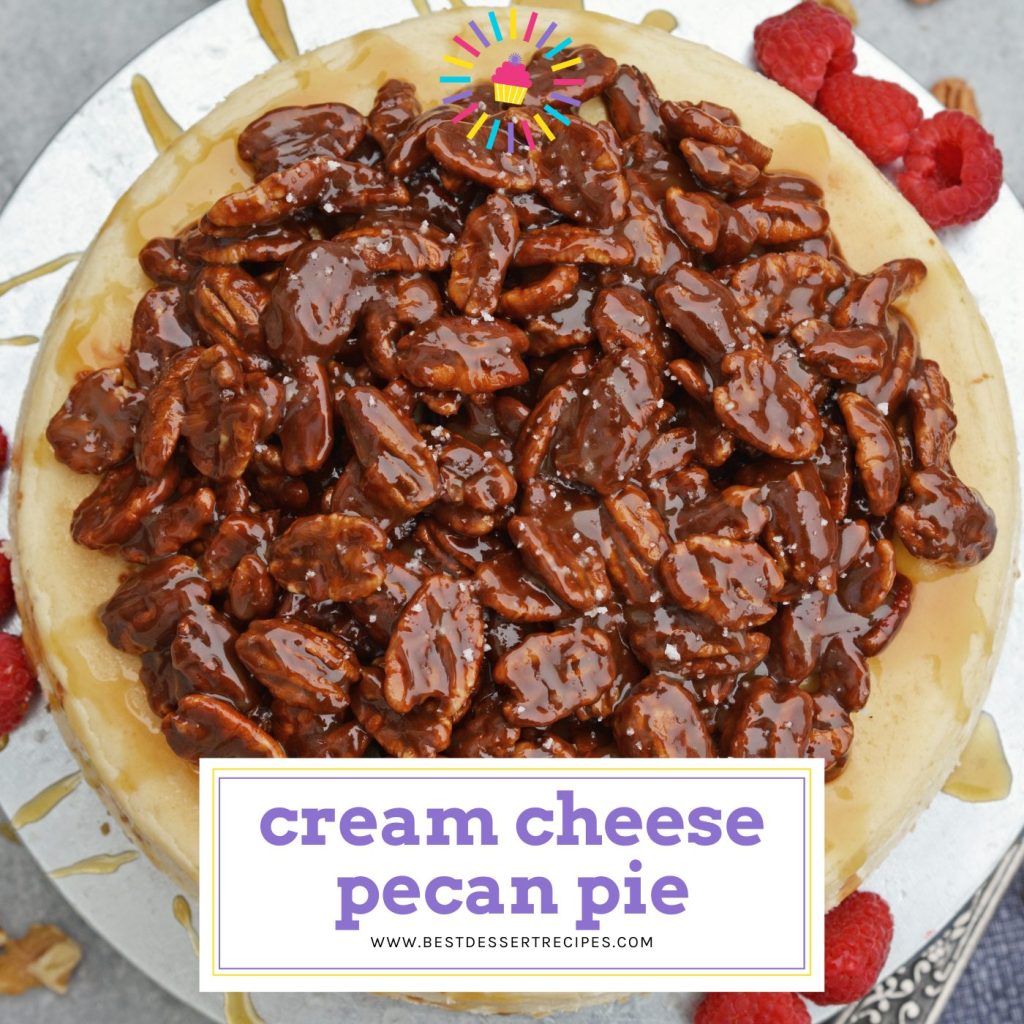 That's essentially what this pecan cream cheese pie recipe is.
What is a Cream Cheese Pecan Pie?
This recipe takes regular pecan pie to the next level with a cheesecake-style filling that is, honestly, mind-blowing. You'll never go back to a standard pecan pie after trying this version that will have all of your guests coming back for more. 
A show-stopper on any Thanksgiving table (you may just need to shelve that pumpkin pie!), it's also amazing any time of year and on nearly any occasion. If you're looking for a way to impress guests with your baking prowess, this easy pie is the way to do it.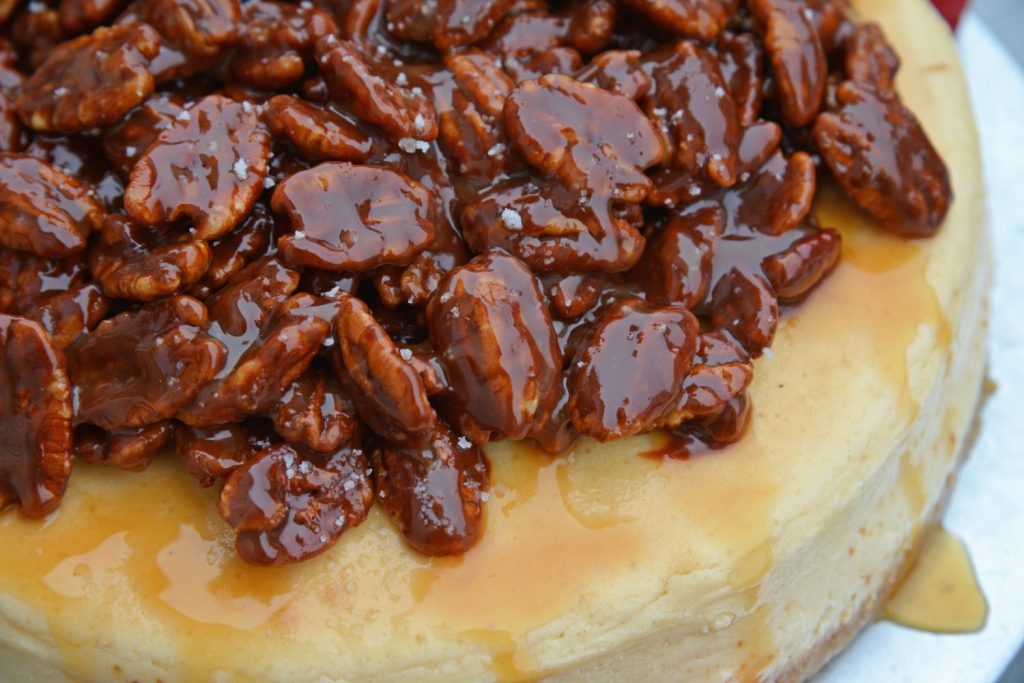 Why You'll Love Cream Cheese Pecan Pie
Creamy cheesecake topped with the most delectable pecan pie filling- what's not to love!
Easy – There may be a few different steps to making this pie, but it's an easy recipe that requires no special techniques.
Delicious – The sweet deliciousness of pecan pie is combined with the creamy indulgence of cheesecake for a dessert that doubles down on decadence.
Versatile – This irresistible pie can be served at nearly any occasion from casual get-togethers to upscale dinner parties.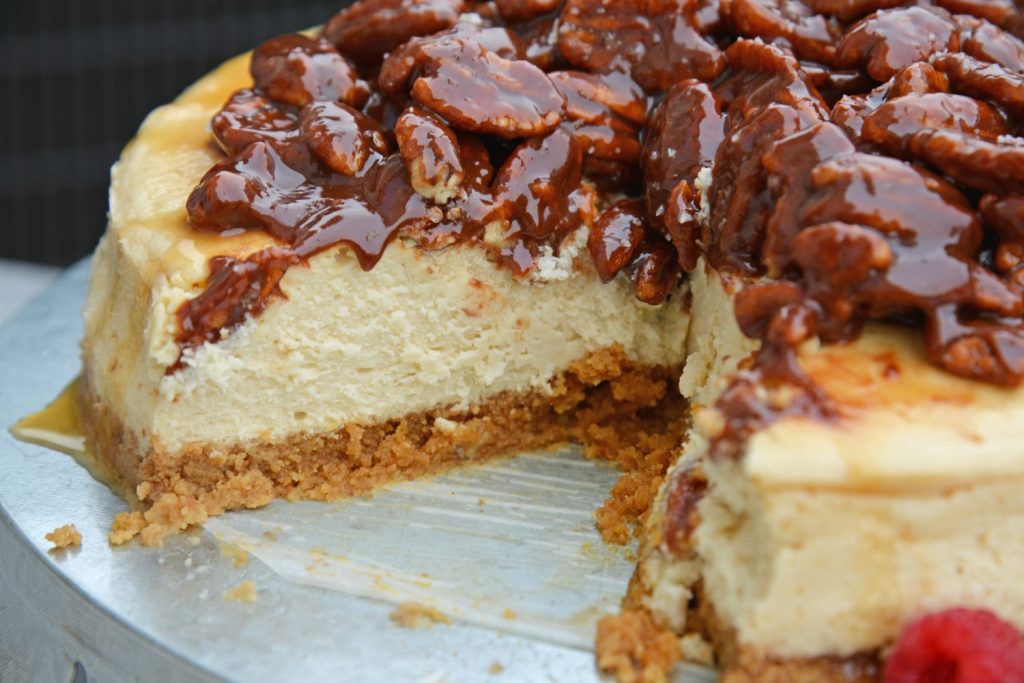 Ingredients
Even though there are a decent amount of ingredients in this recipe, they're all affordable and easy to find at a local grocery store.
Pie Crust
Graham cracker crumbs: This foundation for the pie crust provides a sweet and slightly nutty flavor that complements the pecan filling.
Dark brown sugar: Dark brown sugar adds sweetness and a rich caramel-like taste to the crust.
Kosher salt: Salt balances the sweetness in the crust.
Unsalted butter: The butter binds the graham cracker crumbs together.
Cheesecake Layer
Cream cheese (softened): Cream cheese forms a creamy filling.
Sour cream: Sour cream adds a slight tanginess to the cheesecake layer.
Dark brown sugar: The dark brown sugar in the cheesecake layer contributes to the richness and molasses-style flavor.
Eggs: Eggs act as a binding agent, giving structure to the cheesecake.
Flour: The addition of flour helps stabilize the cheesecake layer, ensuring a creamy, consistent texture.
Vanilla extract: Vanilla extract provides a subtle aromatic note that complements the other ingredients.
Kosher salt: Just like in the crust, the salt in the cheesecake layer balances the sweetness to create a well-rounded flavor
Pecan Topping
Unsalted butter: Butter contributes richness to the pecan layer.
Light brown sugar: Light brown sugar adds sweetness and a subtle caramel flavor.
Heavy cream: The heavy cream helps to build the silky smooth texture.
Semi-sweet chocolate chips: The chocolate chips add an extra layer of indulgence and a hint of chocolate flavor that pairs wonderfully with the pecans and caramel elements.
Pinch of Kosher salt: The pinch of salt in the pecan layer intensifies the flavors and elevates the taste of the pecans.
Shelled pecans: The star of the show, these nuts add crunchy texture and signature flavor to the pie.
Finishing
Easy Caramel Sauce: The easy caramel sauce drizzled over the pie adds sweetness and an ooey-gooey texture that complements the luxurious creaminess of the cheesecake.
Fleur de sel: The fleur de sel, or sea salt, sprinkled on top of the caramel provides a decadent sweet and salty contrast.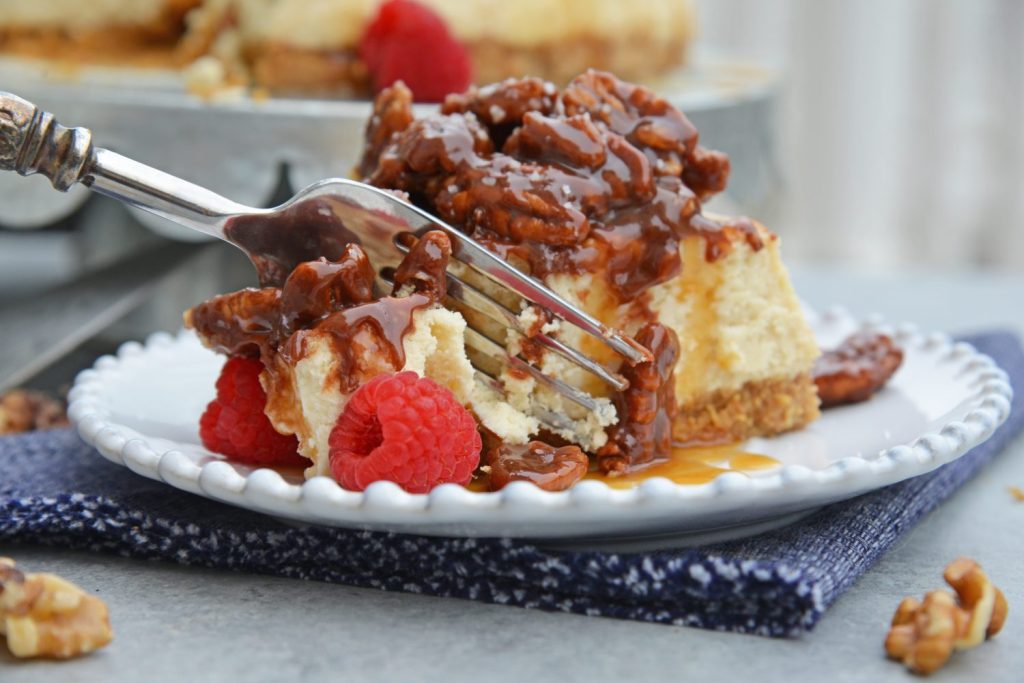 How To Make Cream Cheese Pecan Pie
This recipe may have more than a few steps but it results in the most divine, creamy pie.
Make crust. Add crushed graham crackers, brown sugar, and salt to a small bowl. Mix together. Pour the melted butter into the mixture and combine. Press the graham cracker mixture into the bottom of the prepared springform pan.
Bake. Bake the crust until it is a light golden brown, then remove and set aside.
Beat cream cheese and sour cream. Beat the cream cheese briefly. Add sour cream to the cream cheese while continuing to mix, being sure the scrape down the sides of the bowl with a rubber spatula.
Add remaining ingredients. Then, continue to mix while incorporating dark brown sugar and then eggs to the cream cheese mixture, one at a time. Next, add flour, vanilla, and salt.
Add to pie crust. Using a rubber spatula, spread cheese mixture over the bottom of pie shell.
Bake. After wrapping the pan in aluminum foil, place the dish in a larger baking dish filled halfway with water. Bake pie for the recommended time.
Allow to cool. Turn off the oven, open the door, and allow the cheesecake to cool. Place in the refrigerator to chill for the recommended time.
Make topping. For the topping, melt butter, then add brown sugar and heavy cream and mix until smooth. Add chocolate chips, continuing to stir until fully incorporated.
Add pecans and salt. Remove the butter mixture from the heat and add chopped pecans and salt.
Spoon over cheesecake. Cool to room temperature, then spoon over cheesecake.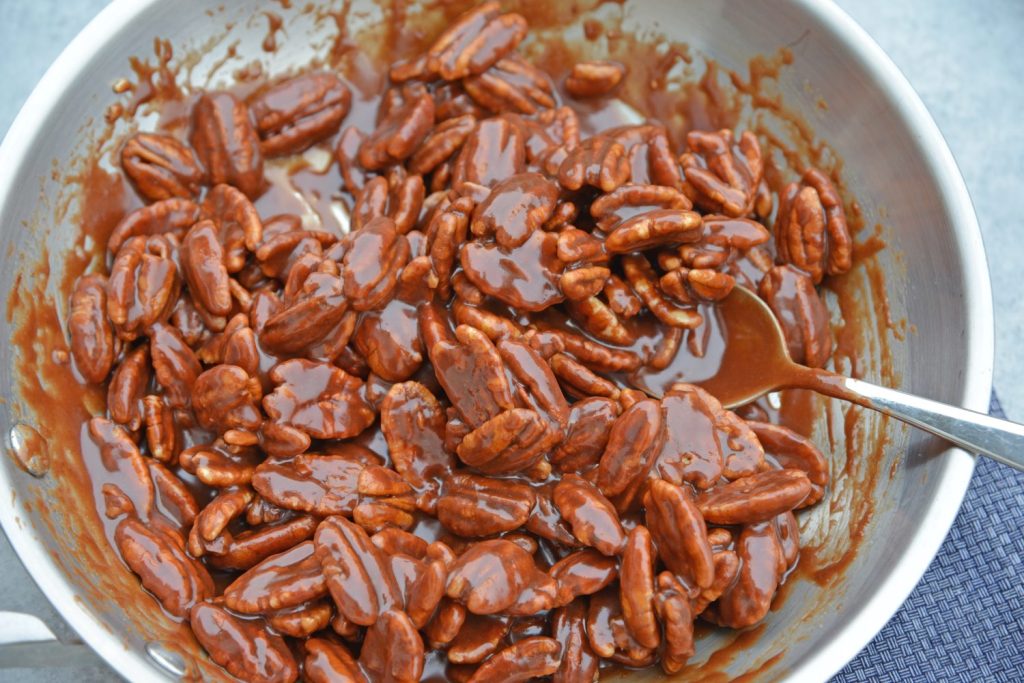 What to Serve With Pecan Cheesecake Pie
As with any dessert, this pie is amazing served with whipped cream or ice cream. You can also drizzle caramel or hot fudge sauce over top.
Variations On Pecan Cream Pie
We love this delicious pie as-is, but you can create your own signature version.
Nuts – Substitute another nut for the pecans.
Crust – Instead of a graham cracker crust, use a premade store-bought crust, make your own pie crust, or crush gingersnaps for an extra spicy zing of flavor.
Chips – Use butterscotch, caramel, or peanut butter chips instead of chocolate chips.
Syrup – Drizzle the top of the pie with pure maple syrup for even more sweetness.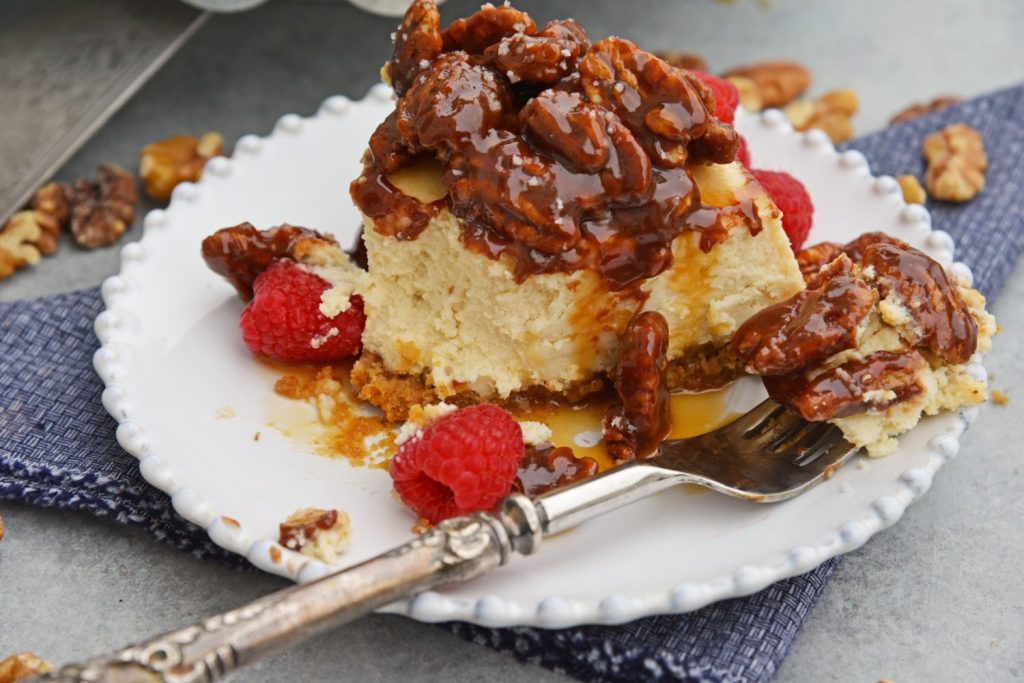 Storage and Freezing
Always be sure to store baked goods made with dairy in the fridge or freezer.
Refrigerator: Store this simple pie in the fridge in an airtight container for 3-4 days. Or, wrap slices with plastic wrap.
Freezer: Freeze in a resealable freezer bags or a freezer-safe container for up to 3 months.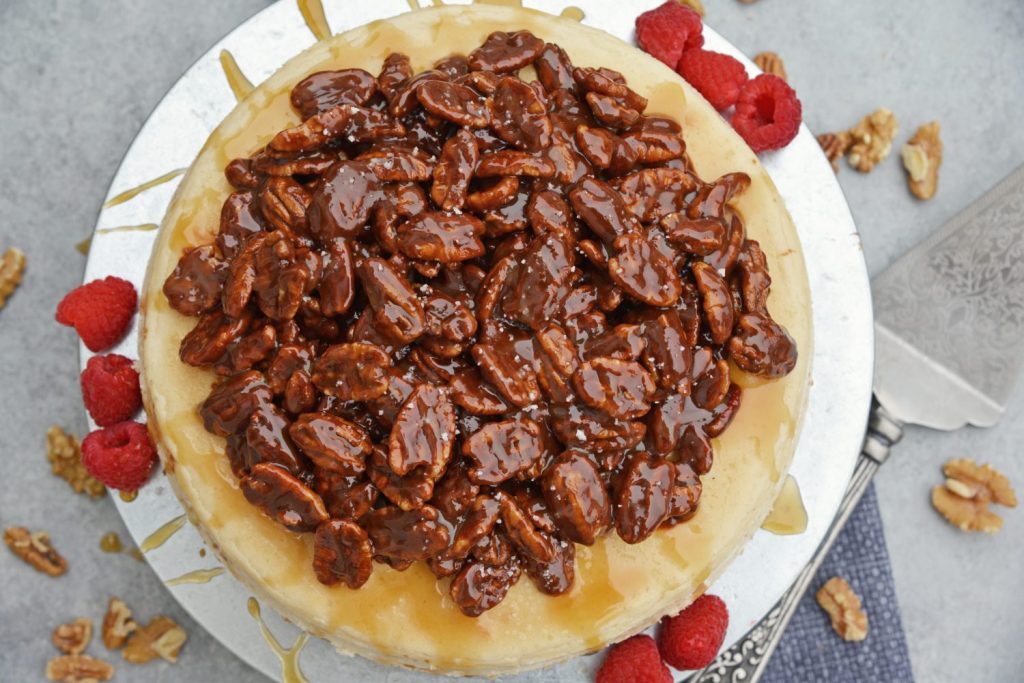 Common Questions About Cream Cheese Pecan Pie
What is cream cheese pecan pie?
Cream cheese pecan pie adds a cream cheese layer to the filling of traditional pecan pie. The cream cheese adds richness and tangy flavor that is not found in the traditional version.
What are the ingredients for cream cheese pecan pie?
The ingredients for cream cheese pecan pie are typically the same as those for traditional pecan pie but with an additional cream cheese filling that also incorporates sour cream and brown sugar.
How long does it take to bake cream cheese pecan pie?
As with any recipe, the baking time for cream cheese pecan pie will vary depending on various factors including the specific recipe and the oven. However, this recipe calls for 90 minutes of oven time.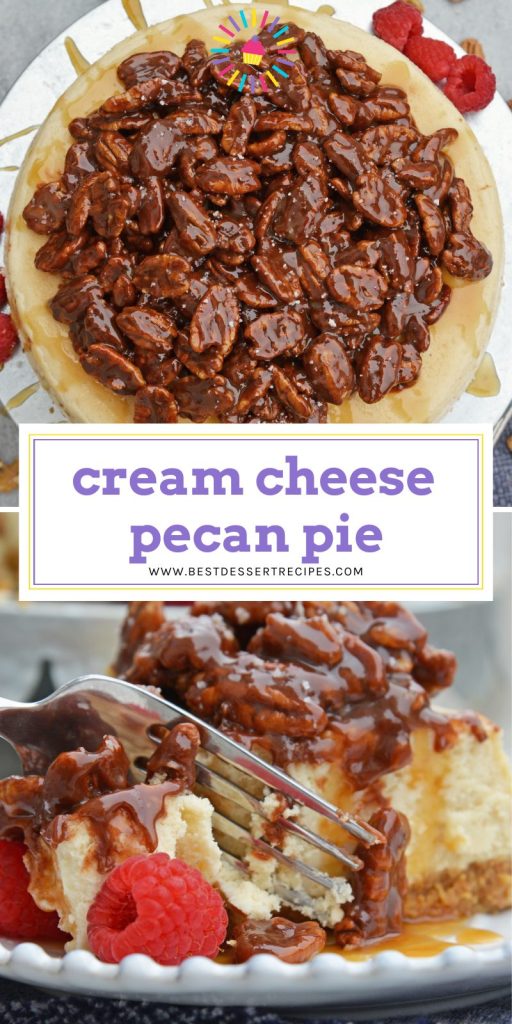 More Easy Pies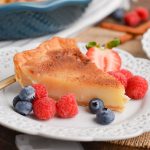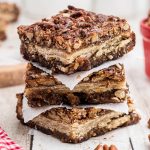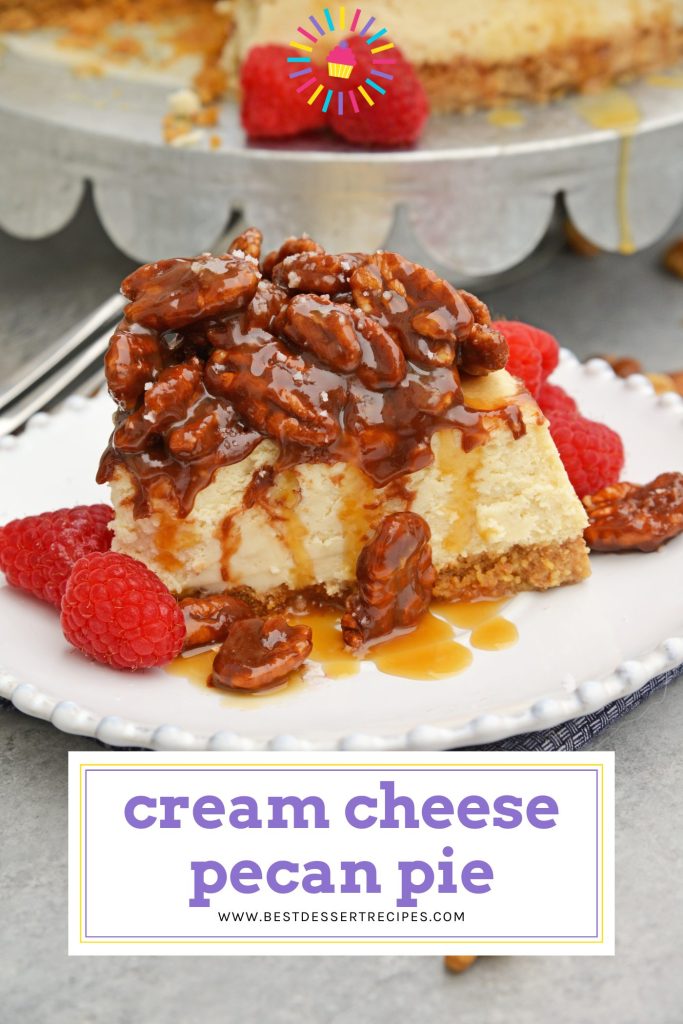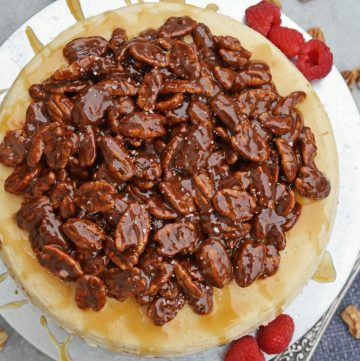 Cream Cheese Pecan Pie
This Cream Cheese Pecan Pie is your favorite ooey gooey pecan pie with a layer of creamy, decadent cheesecake filling. The perfect dessert!
Print
Pin
Rate
Ingredients
Crust:
2

cups

graham crackers crumbs

about 1 sleeve

1/3

cup

dark brown sugar

½

teaspoon

Kosher salt

5

tablespoons

unsalted butter
Cheesecake Layer:
24

ounces

cream cheese

softened

1/4

cup

sour cream

1

cup

dark brown sugar

3

large eggs

2

tablespoons

flour

1

teaspoon

vanilla extract

1/4

teaspoon

kosher salt
Pecan Layer:
4

tablespoons

unsalted butter

½

cup

light brown sugar

1/4

cup

heavy cream

¼

cup

semi-sweet chocolate chips

Pinch

Kosher salt

10

ounces

whole shelled pecans
Instructions
Preheat oven to 350 degrees.

Line the bottom of a 9-inch spring form pan with parchment paper, then coat with cooking spray.

Stir together graham crackers crumbs, brown sugar and Kosher salt until well combined.

Add melted butter until fully combined. Press into bottom of springform pan.

Bake for 6-7 minutes or until crust is lightly browned. Remove and set aside to cool while you assemble the cheesecake layer.

In the bowl of a stand mixer fitted with the paddle attachment or a large mixing bowl with electric mixer, beat cream cheese until light and fluffy. Add sour cream and continue to beat until combined. Scrape down the sides and paddle.

Incorporate dark brown sugar, beating until well combined. Scrape down the sides and paddle.

Add eggs, one at a time, until fully combined.

Add flour, vanilla and salt.

Spread cheesecake mixture over cooled graham cracker crust. Tap several times to release air bubbles and settle the batter.

Wrap the bottom of your springform pan in aluminum foil to prevent water bath from seeping in.

Place your cheesecake in another, larger baking dish. Fill with water to half way up springform pan.

Place in oven for 90 minutes. If the top starts to brown, cover loosely with a piece of aluminum foil.

After 90 minutes, turn off oven and vent door, allowing to cool naturally for about an hour.

Remove from water bath and take off aluminum foil wrap. Cover and place in the refrigerator to chill for 8-24 hours.

To make pecan pie cheesecake, melt butter over low heat in a medium skillet.

Add brown sugar and heavy cream. Continue to stir and heat over low heat until sugar is fully dissolved and mixture is smooth.

Add chocolate chips until smooth.

Remove from heat, add pecans and Kosher salt, tossing until fully covered. Set aside to cool for a minimum of 30 minutes.

Spoon over cheesecake before serving.

Garnish with Easy Caramel Sauce and Fleur de Sel.
Notes
DO NOT add pecan topping ahead of serving, the butter will get really hard and it will be hard to serve. DO refrigerate leftovers. You'll remember how glorious it was fresh.
Adapted from Delish.
Nutrition
Calories:
698
kcal
|
Carbohydrates:
54
g
|
Protein:
9
g
|
Fat:
52
g
|
Saturated Fat:
21
g
|
Polyunsaturated Fat:
7
g
|
Monounsaturated Fat:
19
g
|
Trans Fat:
0.4
g
|
Cholesterol:
129
mg
|
Sodium:
452
mg
|
Potassium:
294
mg
|
Fiber:
3
g
|
Sugar:
41
g
|
Vitamin A:
1201
IU
|
Vitamin C:
0.3
mg
|
Calcium:
131
mg
|
Iron:
2
mg