Love is in the air with this fun and tasty Conversation Heart Bark Recipe. Super simple to make and always a gift of love for your friends and family this Valentines Day.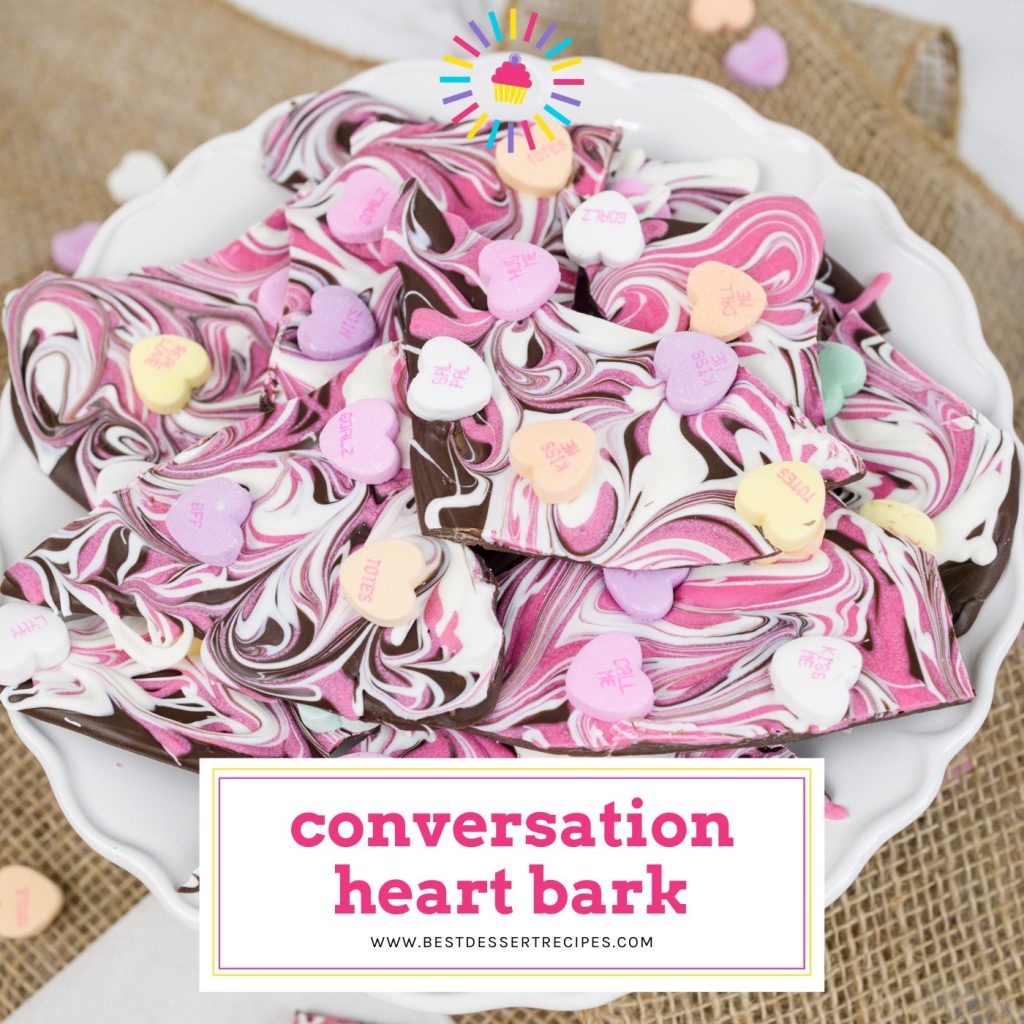 Made with just a few simple ingredients, this recipe is truly a no bake recipe that can be made within just a few minutes.
Topped with Conversation Hearts you can enjoy the sweet messages of love in every bite.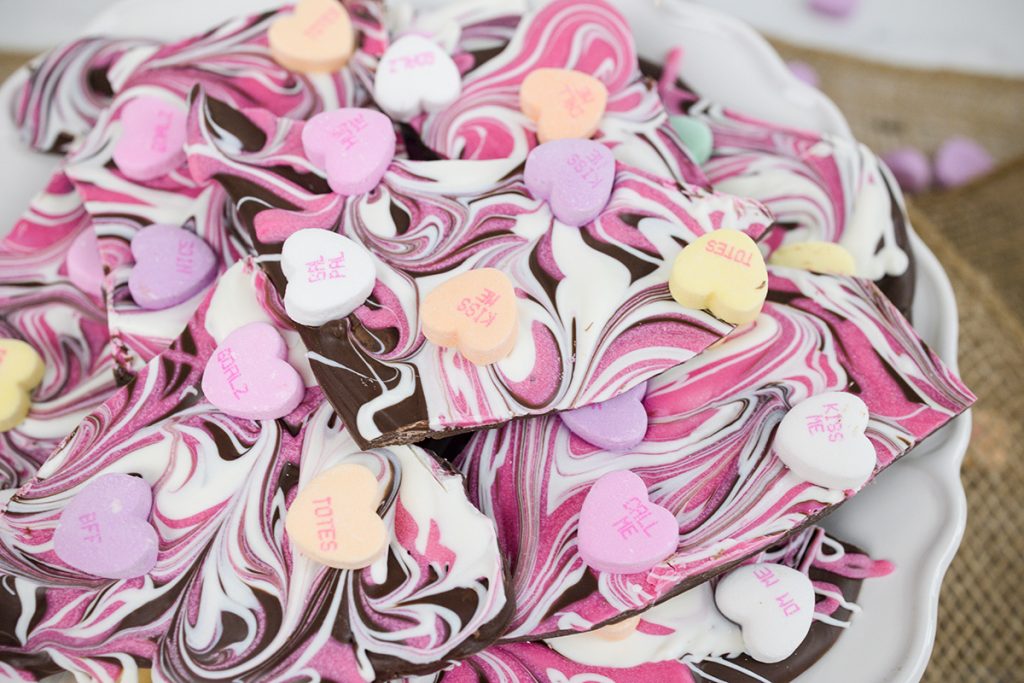 Conversation Heart Bark Ingredients
The shopping list is short for this recipe, but that's the beauty of chocolate bark!
Chocolate candy wafers – Rather than have all white chocolate, I like to add a swirl of regular chocolate too to add to the flavor.
Pink candy wafers – You can't have a Valentine's Day treat without some pink, right?
White candy wafers – The swirled effect makes this chocolate bark that much more fun and festive. I used pink and white, but throw in some red if you'd like too.
Conversation hearts – And of course you will need conversation hearts. These pastel hearts each have a fun message to share from "Call Me" to "Real Love" and so much more.
You can also try semi-sweet chocolate chips or dark chocolate, white chocolate chips and a pink candy wafer if you prefer. I do recommend using a high quality chip as they tend to melt more smooth.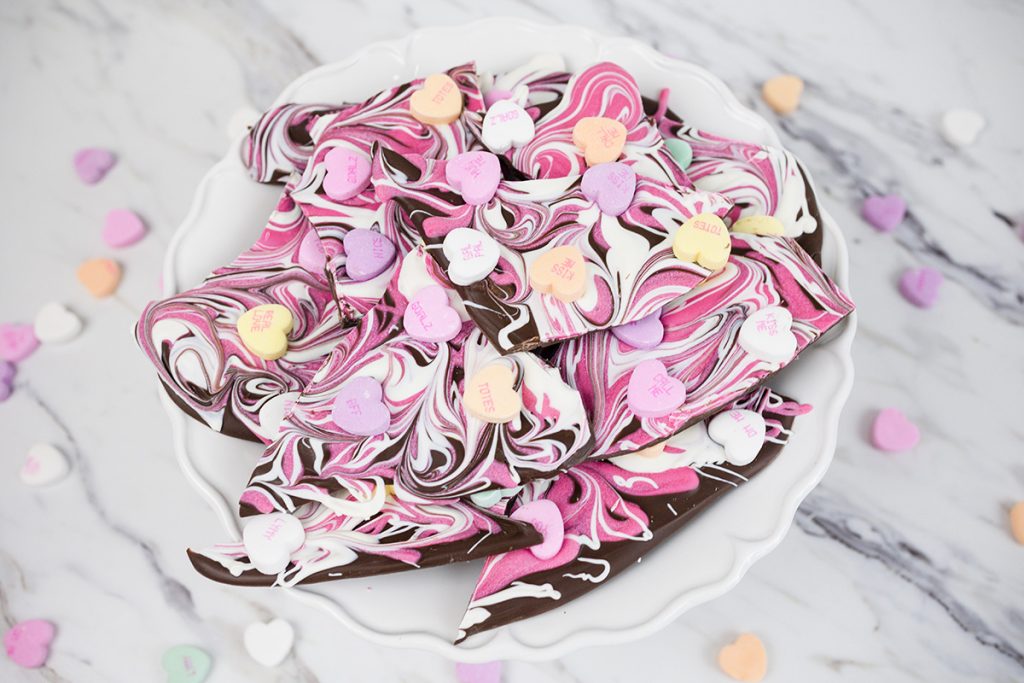 How to Make Conversation Heart Bark
This is a fun recipe the kids can help with. Or you can make and surprise that special someone. It's also a fun recipe to package up and deliver to neighbors and co-workers too.
Melting Chocolate
Place candy wafers or chocolate chips in a glass bowl and microwave each bowl separately for 30 seconds. Stir candy wafers and melt for 30 seconds more.
Keep stirring as chocolate wafers candy melts should be soft enough that they are melting nicely. If additional time is needed go ahead and heat for 15 seconds.
Stir the chocolate until smooth. Repeat with each candy wafer or chocolate chips.
Don't get ahead of yourself and think you can do this one at a time. It's important to get all 3 colors of chocolate melted so you can layer and swirl together for this conversation heart bark.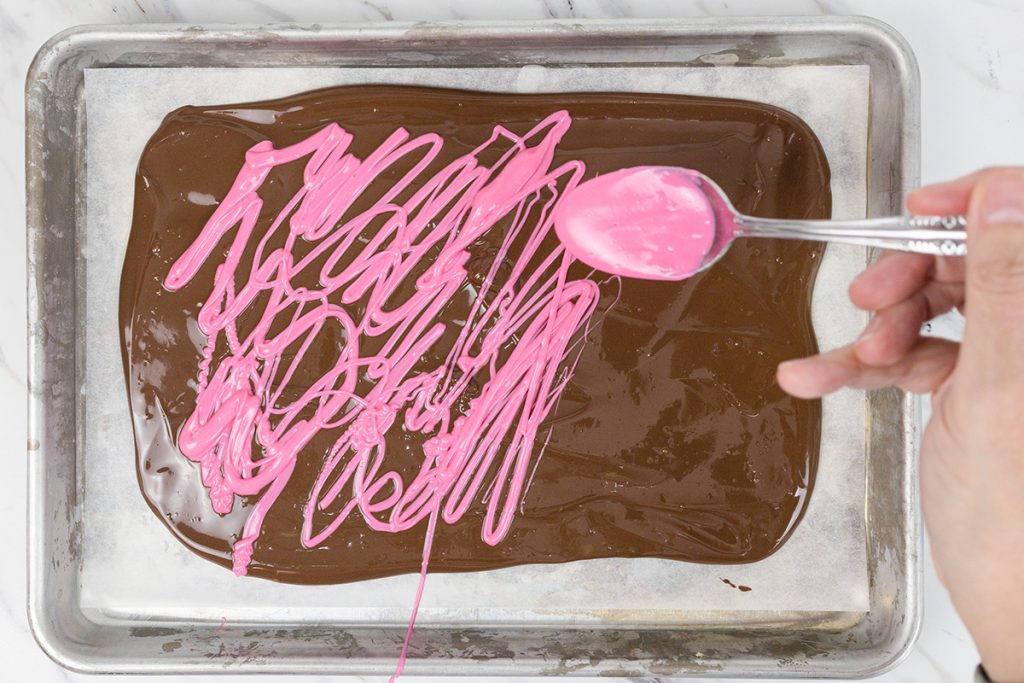 Layering Bark
Line a baking sheet with parchment paper or a silicone baking mat. This will make it easier to lift the cooled bark off of the pan.
Don't make the mistake of placing directly on a cookie sheet. It will be a cold stuck mess that is very difficult to lift up.
Pour chocolate layer on bottom of sheet lined cookie sheet and carefully spread evenly to form a thin base. Immediately top with a drizzle of melted pink candy wafers and then white chocolate.
Using a toothpick or knife, carefully swirl chocolates together creating a beautiful swirl pattern.
I found a toothpick is ideal as it really pulls the colors together beautifully.
Then top with conversation heart candies. I personally place them individually making sure to spread the colors of hearts evenly across the chocolate bark. You could also just sprinkle them and let them be where they lay.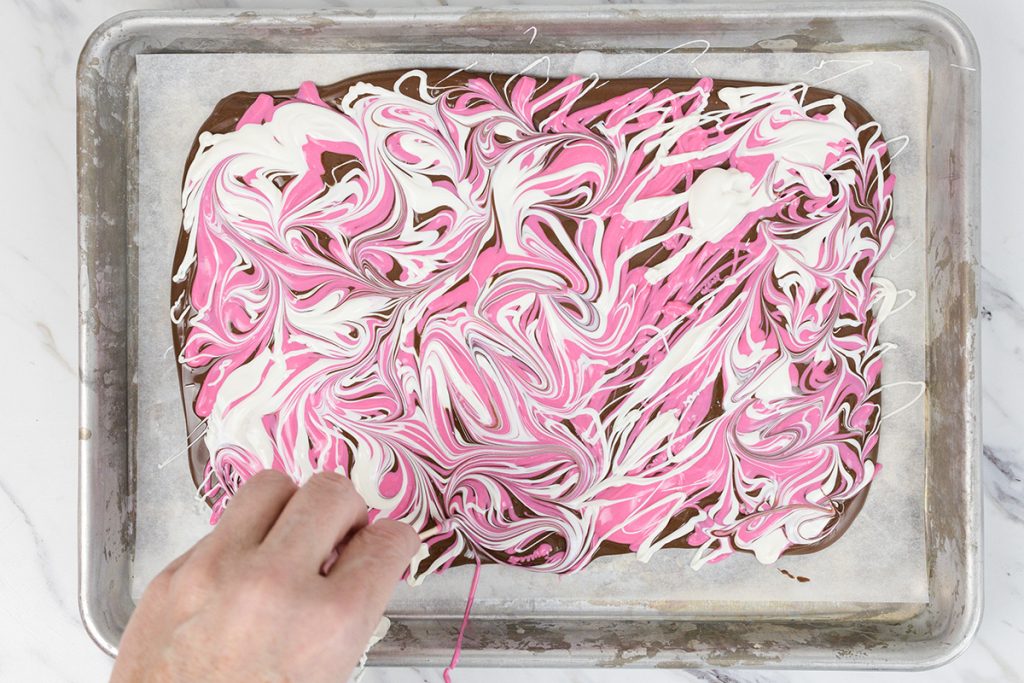 Cooling Chocolate Bark and Cutting
Place chocolate bark in the refrigerator to cool and set. Within about 10 minutes the bark is cold enough to cut. But can easily be left in refrigerator longer if needed.
Using a sharp knife press into bark. Conversation Heart Bark will snap and break into pieces.
Do you best to not cut through a conversation heart as it tends to crumble and not look as pretty.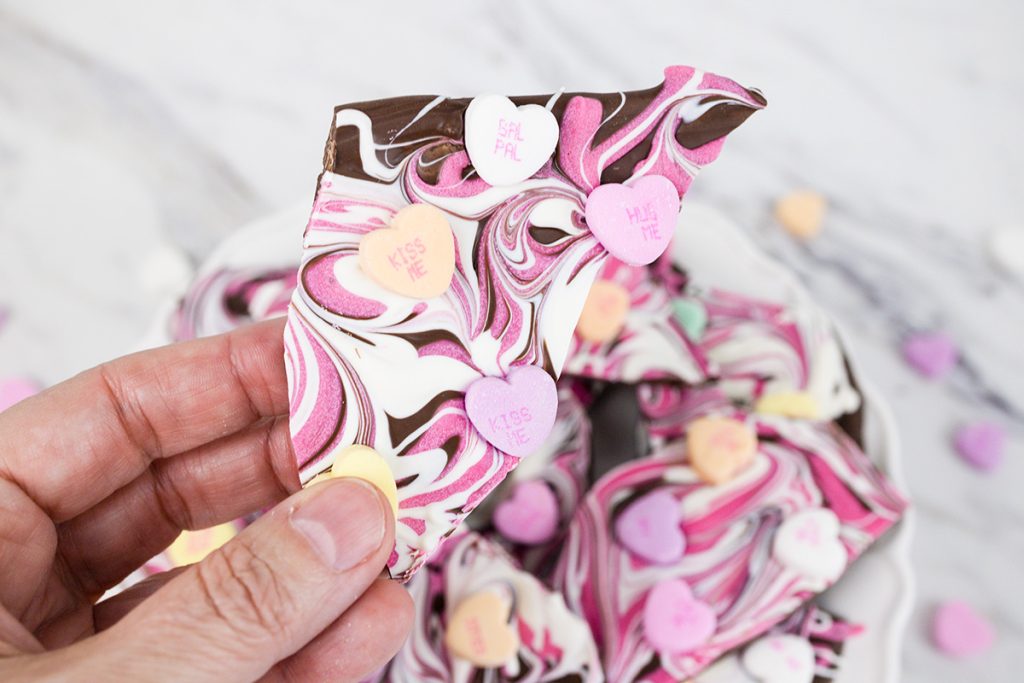 Gift Giving
Valentines Day is a time to celebrate your love to friends and family. Package up this Conversation Bark in baggies tied with a ribbon and a sweet note.
Friends, neighbors, co-workers and of course family will love the thoughtful gift.
Making a fun Valentine's Day treat with pink chocolate, white chocolate and semi-sweet chocolate will be a fun favorite tradition for years to come.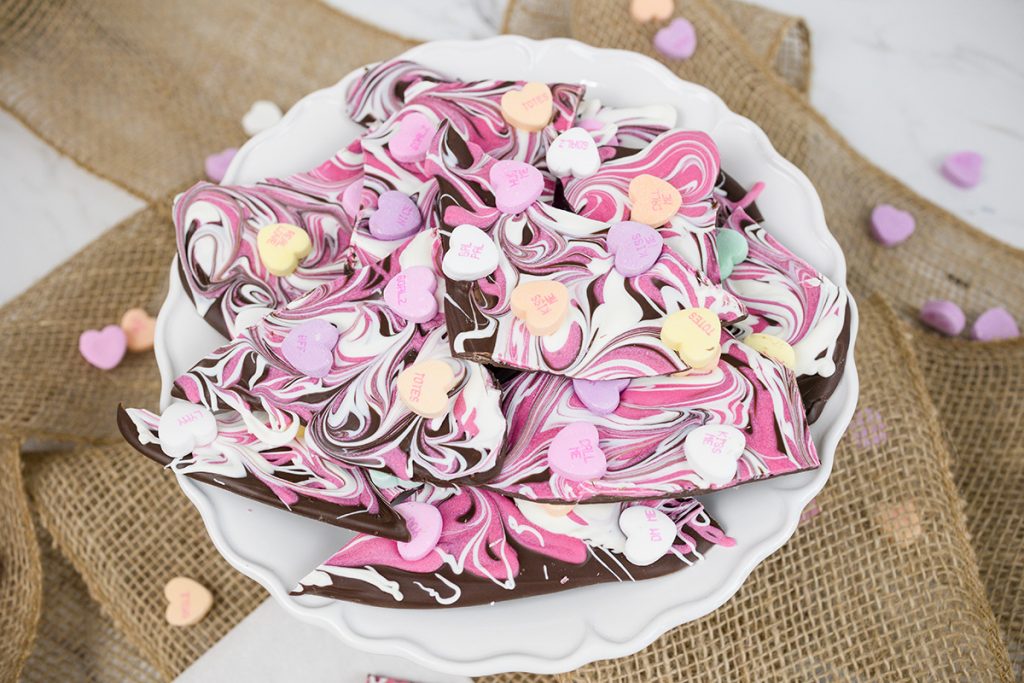 Storage and Freezing
Storage: You can store this conversation heart bark in an airtight container in a cool, dry place. It does not need to be refrigerated.
Freezing: Freezing this bark is an option, but definitely not necessary. Make sure it is in an airtight container.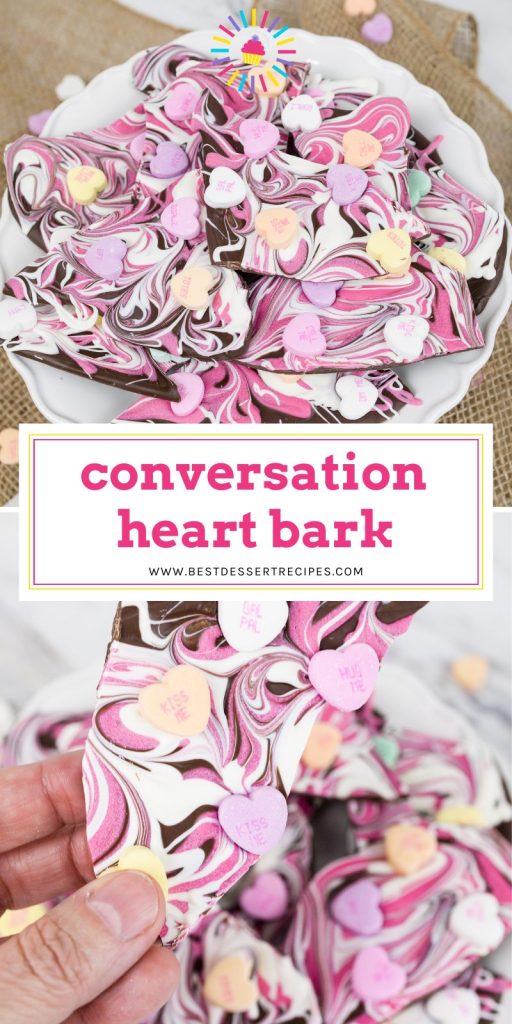 More Chocolate Desserts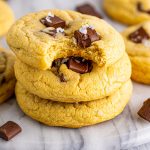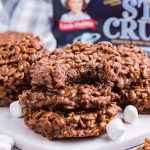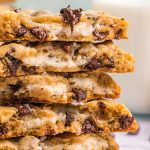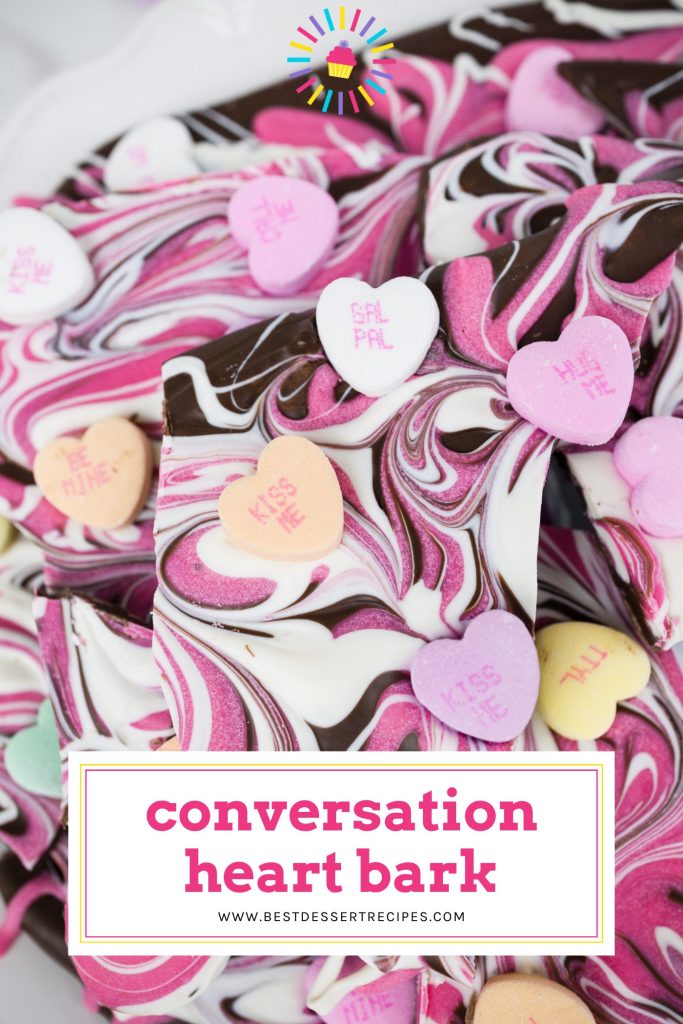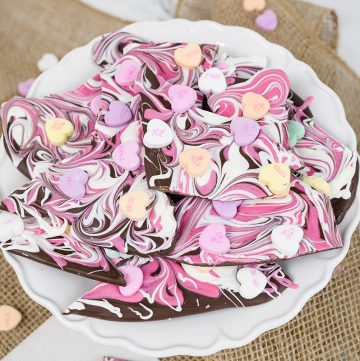 Conversation Heart Bark
Love is in the air with this fun and tasty Conversation Heart Bark recipe. Simple to make and perfect for gifting this Valentines Day.
Print
Pin
Rate
Ingredients
8

ounces

chocolate candy wafer

4

ounces

pink candy wafer

2

ounces

white candy wafer

½

cup

conversation hearts
Instructions
Line baking sheet with parchment paper or silicone baking mat

Melt candy wafers by individually placing each color candy melt in a microwavable safe bowl. Melt for 30 seconds and stir chocolate. Heat for 30 more seconds and stir.

If additional time is needed add 15 seconds and stir. Continue until melted

Repeat for each color candy melt.

Spread chocolate layer on cookie sheet and spread creating a thin layer.

Immediately drizzle melted pink candy wafer on top of chocolate layer

Drizzle melted white candy wafer on top of pink

Using a toothpick or knife carefully swirl chocolate

Place conversation heart candies on top of chocolate.

Allow bark to cool until set. Placing bark in refrigerator will help speed the process up.

Once fully cooled cut bark with sharp knife into smaller pieces

Store in sealed container
Nutrition
Calories:
223
kcal
|
Carbohydrates:
32
g
|
Protein:
1
g
|
Fat:
10
g
|
Saturated Fat:
8
g
|
Polyunsaturated Fat:
0.1
g
|
Monounsaturated Fat:
1
g
|
Cholesterol:
3
mg
|
Sodium:
18
mg
|
Potassium:
41
mg
|
Fiber:
0.03
g
|
Sugar:
31
g
|
Vitamin A:
4
IU
|
Vitamin C:
0.1
mg
|
Calcium:
28
mg
|
Iron:
0.03
mg