During the holidays I love to bake all varieties of cookies — peanut butter, sugar cookies, you name it. But if there's one type I like to bake year-round, it's these chocolate chunk cookies.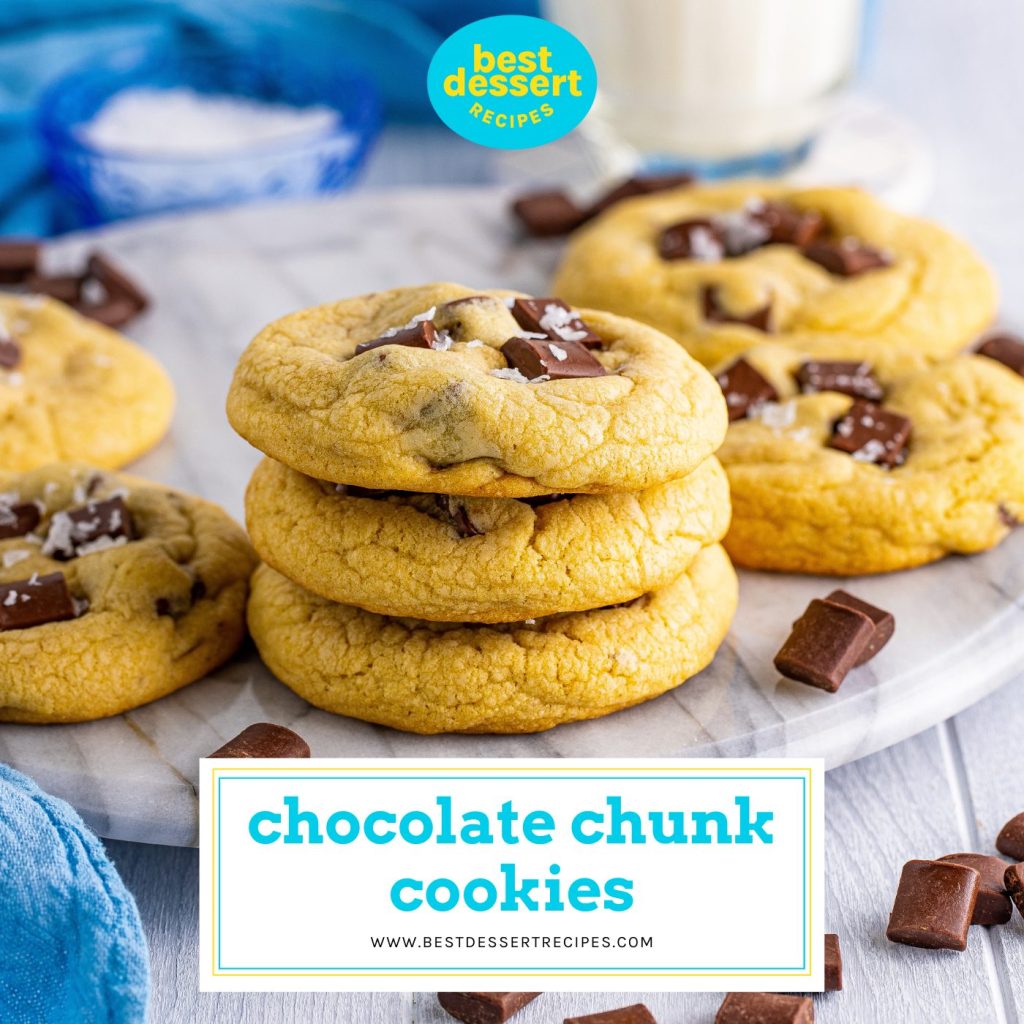 These big, soft cookies, with a chewy center full of rich chocolate flavor, are on the top of my list because they're so easy to make. But they're also a crowd pleaser — few people are going to turn down the most chocolatey of desserts.
They're also perfect for parties — you don't need to slice or serve like with a big chocolate cake. Just grab and go… and chow down.
The next time you're looking for an easy recipe for a dessert you can serve at nearly any occasion, check out these chocolatey cookies.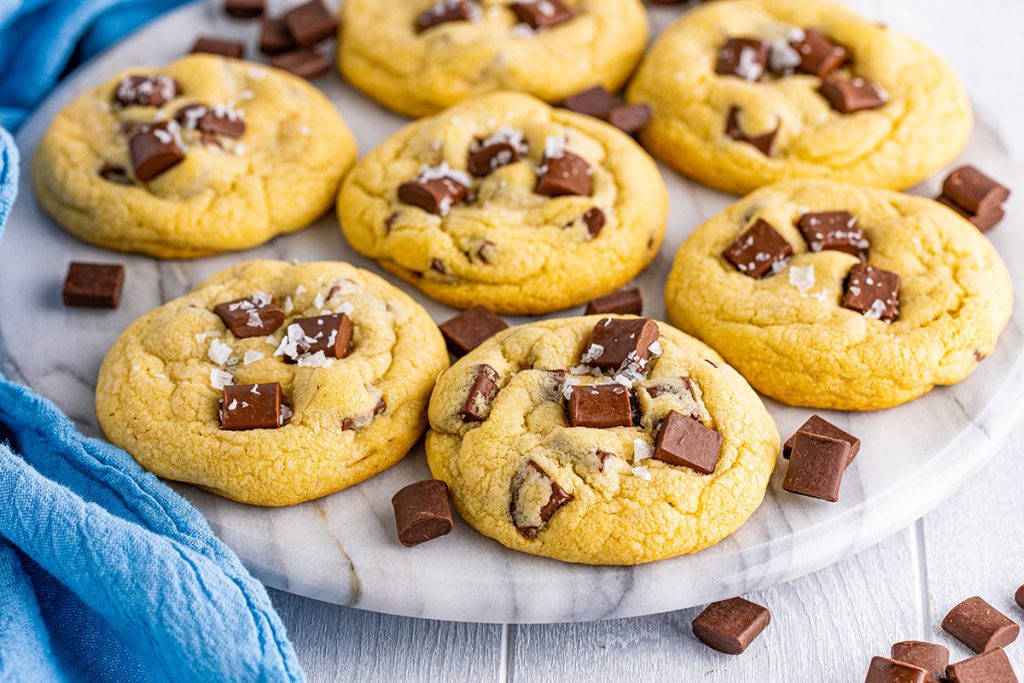 Why You'll Love Chocolate Chunk Cookies
If you love chocolate you'll fall head over heels for these cookies. But here are a few other reasons to love them.
Easy – Just use one bowl to make this recipe and you're done! Easy prep and short cleanup time makes for less time in the kitchen than many scratch cookie recipes.
Delicious – These cookies are chock full of chocolate goodness and they are as perfect for an after-school snack or picnic lunch as they are for making fancy ice cream sandwiches. You can also whip them up quickly for a bake sale or birthday party.
Customizable – You can make these the special snack that everyone wants you to bring to the next event by tossing in your own unique ingredients.
Portable – There's no gathering where super chocolatey desserts are unwelcome, and you can easily take these anywhere.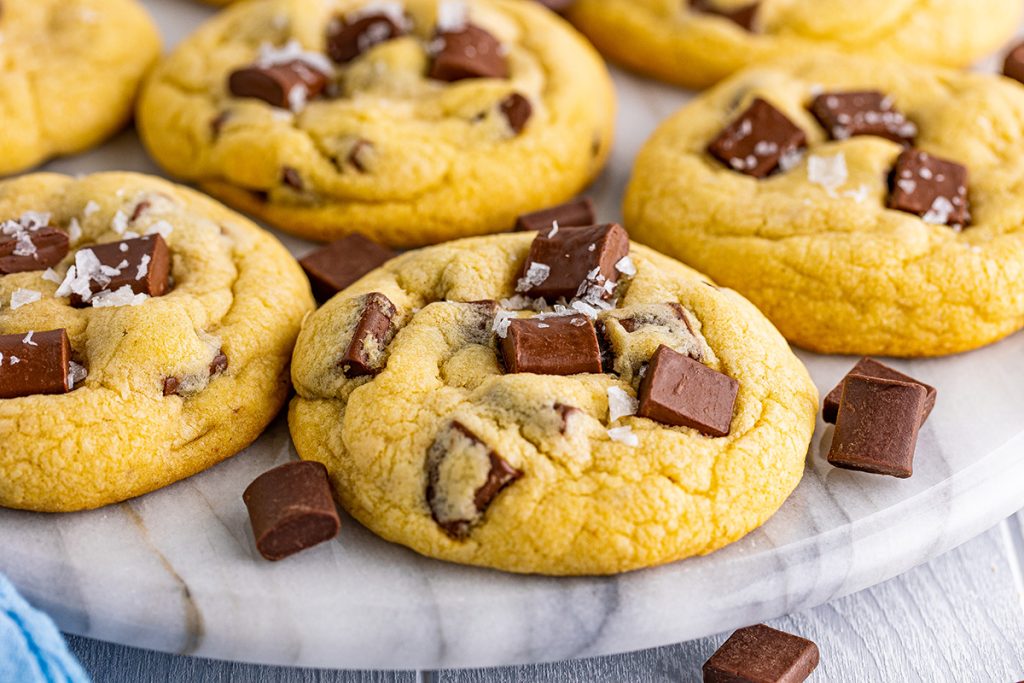 Ingredients
All-purpose flour – One of the leavening ingredients, this flour will help the chocolate chunk cookies to rise.
Cornstarch – Not frequently seen in cookie recipes, cornstarch is making its appearance here. It keeps the cookies soft — be sure not to skimp!
Baking soda – Another leavening ingredient, this one will help to get that light, puffy appearance and texture.
Sea salt – Use a fine granulated salt to ensure that it dissolves quickly.
Butter – Unsalted butter is definitely the option to use here since there are other elements of salt in the recipe. Make sure to soften the butter so that it mixes easily.
Granulated sugar – The small granules of white sugar make it easy to mix in and fully incorporate.
Light brown sugar – Make sure to pack it into the measuring cup to get just the right amount.
Eggs – Use large eggs which are standard for most baking recipes.
Pure vanilla extract – Use what you have or get crafty and make your own homemade vanilla extract.
Semi-sweet chocolate chunks – Divide the reserved ones up so you'll have enough to put about 3 on each cookie.
Maldon flake sea salt – This ingredient is optional but it gives these cookies that amazing salty/sweet flavor. While we prefer this type, use any salt you want from Kosher salt to an infused variety.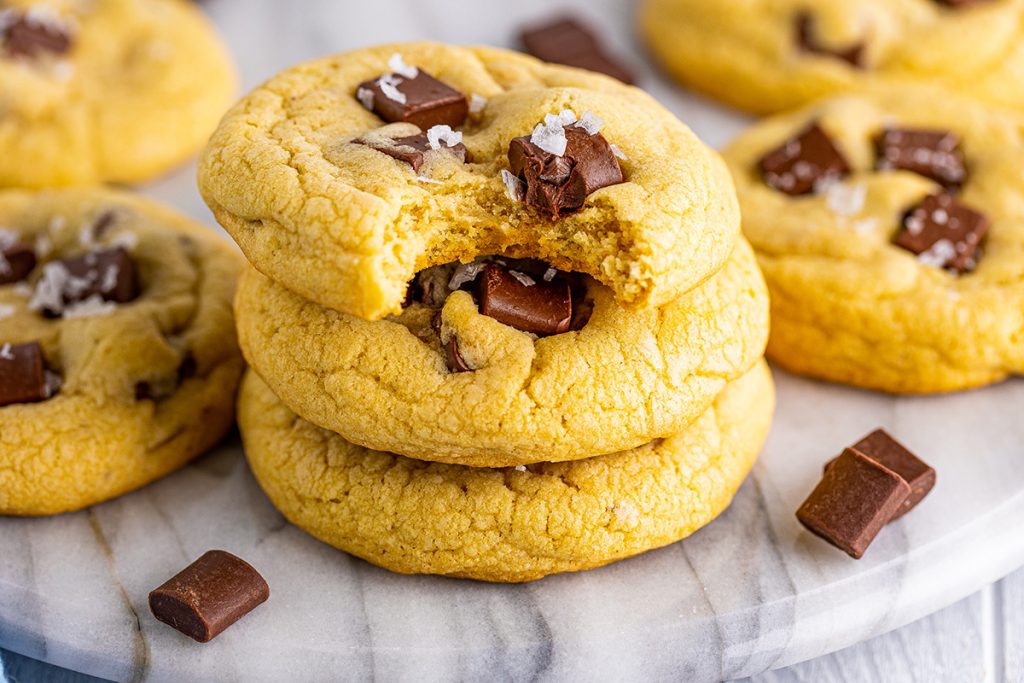 How To Make Chocolate Chunk Cookies
Combine the flour, cornstarch, baking soda, and salt in a large bowl either by whisking them together or sifting the mixture into the bowl, then lightly stirring.
Place the butter and sugars in a large mixing bowl in the body of a stand mixer with the paddle attachment (or use an electric hand mixer).
Beat the flour mixture until it is light and fluffy on medium speed.
One at a time, add each egg to the mixture and fully combine it before adding the next. It helps to have the eggs already cracked into a bowl.
On low speed, mix in the vanilla extract, ensuring that it is entirely incorporated.
Add the remaining dry ingredients to the mixture.
Gently mix them into the other ingredients until all of the ingredients are combined. Remember to scrape the sides of the bowl with a rubber spatula.
Add all but the reserved chocolate chunks to the batter and mix again until they are completely dispersed.
Using a spoon, melon baller, or cookie scoop, portion the cookie dough out evenly.
Form smooth balls by rolling the dough in your palms. It's helpful to either grease your hands or coat your palms with cooking spray to avoid stickage.
Place each of the cookie dough balls onto the baking sheet prepared with parchment paper. Leave adequate distance between the balls of dough to ensure that they do not spread into each other.
Use the reserved chunks of chocolate to top, gently pressing them into the top of the cookies.
Place the sheet pan in the oven and bake until the cookies are golden brown along the edges. A toothpick inserted into them should come out clean and they should be lightly puffed.
If using sea salt, immediately sprinkle the cookies when you remove them from the oven.
Let the cookies cool completely on the cookie sheet or a wire rack. Move them from the cooling rack to a serving dish once they've reached room temperature.

Variations
While these big, soft and chocolatey cookies are delicious as is, you can always add your own unique spin. Here are some ideas for inspiration.
Nuts – Try adding your favorite crushed nuts into these chocolate chunk cookies. Chopped pecans and walnuts work well.
Chocolate – Experiment with any type – milk chocolate or dark chocolate will work as well as semi-sweet. You can also fold in white chocolate chips for color and flavor.
Extracts – Switch out the vanilla for peppermint, strawberry, coffee, or almond.
Chips – Butterscotch, peanut butter, caramel, or bits of toffee can all complement the flavors of this cookie.
Marshmallows – Toss in some mini-marshmallows for a flavor reminiscent of summertime s'mores.
Salt – While flaky sea salt is our recommendation, feel free to use your favorite from flavor-infused salts to pink Himalayan.
Dark brown sugar – Substitute this for the light brown sugar if you want richer flavor.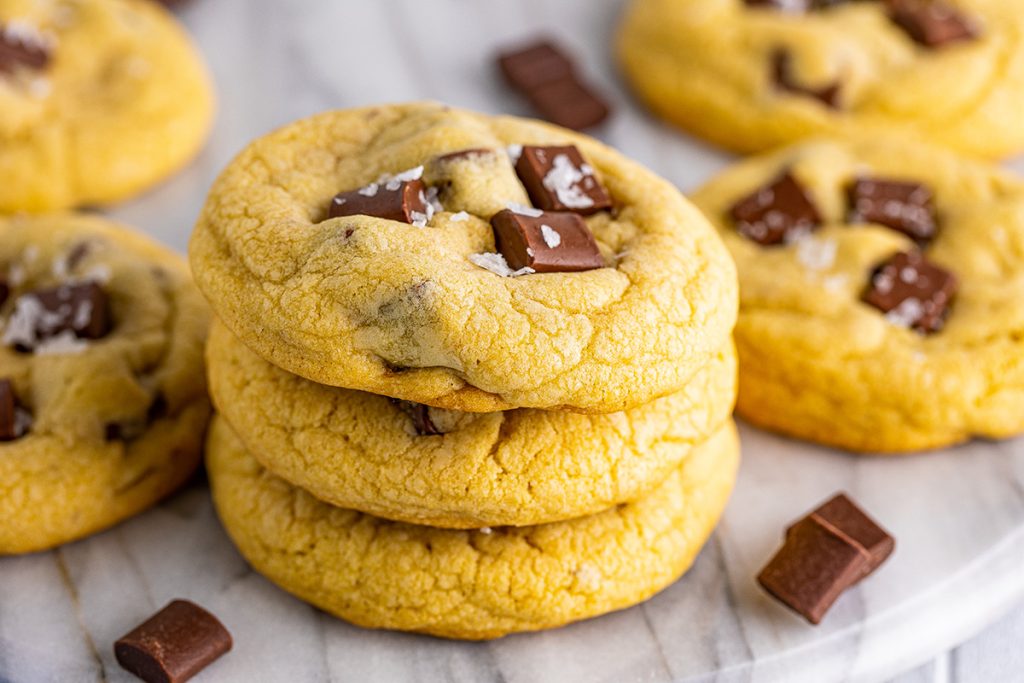 Storage, Make Ahead and Freezing
Storage: Keep these cookies in an airtight container or ziploc bags (or wrapped individually in plastic wrap) for up to 5 days at room temperature or a week in the refrigerator.
If you like your chocolate chunk cookies warm, microwave them for about 10 seconds or heat them in a preheated oven for 3 minutes.
Make-Ahead: Dough can most often be made ahead and wrapped and kept in the fridge for 24 hours or the freezer for a few days — just wrap the individual cookies and then thaw for 24 for hours before baking.
Freezing: Freeze cookies that are individually wrapped for up to 3 months.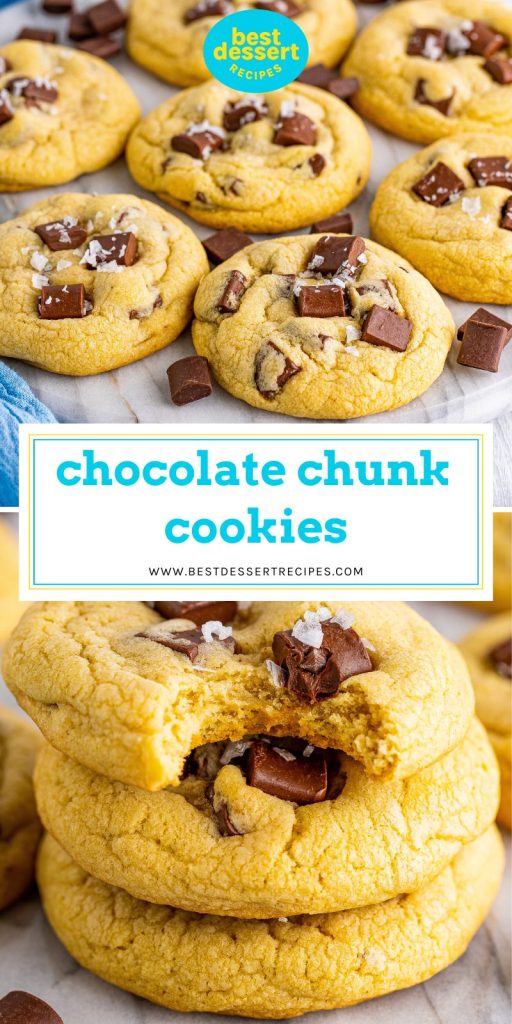 More Cookie Recipes
Andes Mint Cookies
Soft and chewy, these chocolate and minty cookies don't require any chilling time and are frosting with lovely green icing and Andes mints.
Check out this recipe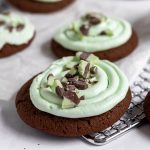 Kitchen Sink Cookies
Looking for a cookie recipe that's got it all? These Kitchen Sink Cookies include chocolate chips, nuts, pretzels, potato chips and more!
Check out this recipe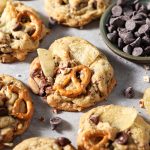 White Chocolate Chip Cookies
With crispy edges, soft centers, and loads of white chocolate chips these EASY White Chocolate Chip Cookies are totally over the top!
Check out this recipe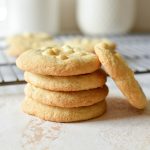 Old Fashioned Tea Cakes
Simple sugar cookies that are soft, delicious, and great with a cup of coffee or tea, these Old Fashioned Tea Cakes are always a winner!
Check out this recipe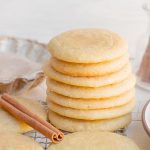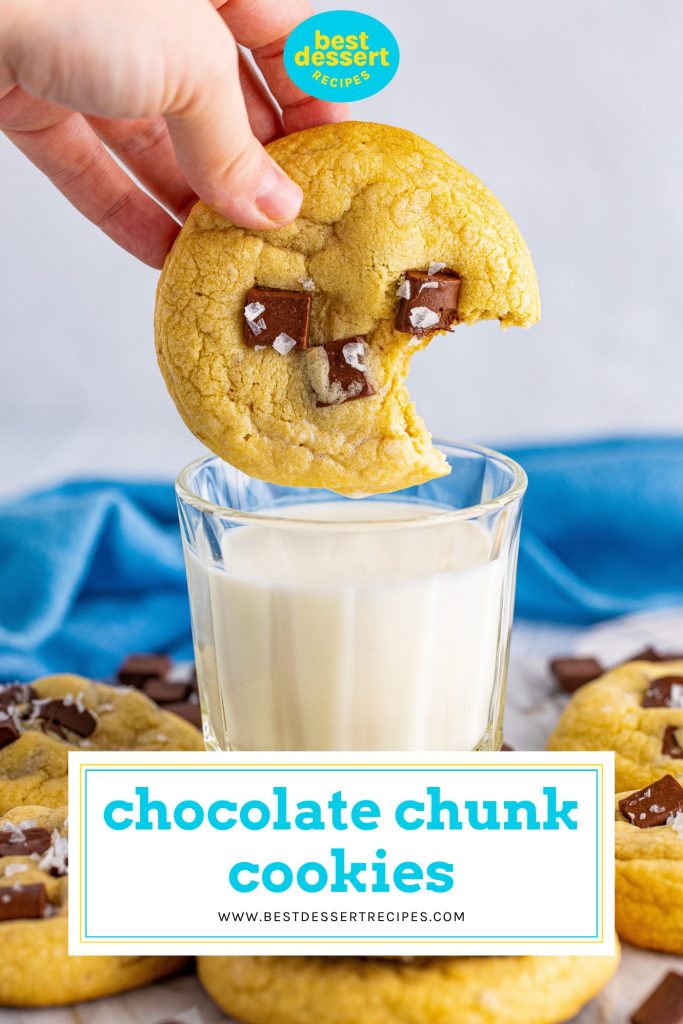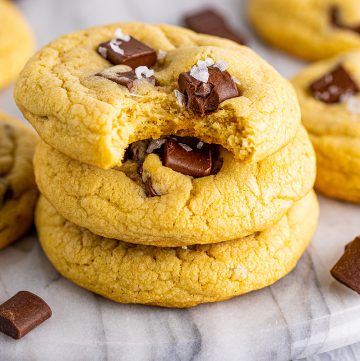 Chocolate Chunk Cookies
Big and soft with a chewy center full of rich chocolate flavor, you will want to make this Chocolate Chunk Cookies recipe every weekend!
Print
Pin
Rate
Ingredients
3

cups

all-purpose flour

2

tablespoons

cornstarch

1

teaspoon

baking soda

3/4

teaspoon

fine sea salt

1

cup

unsalted butter

softened

3/4

cup

granulated sugar

3/4

cup

light brown sugar

packed

2

large eggs

1

tablespoon

vanilla extract

11.5

ounce

bag semi-sweet chocolate chunks

divided

Maldon flake sea salt

optional
Instructions
Preheat the oven to 350°F. Line sheet trays with parchment paper, set aside.

In a large bowl stir together the flour, cornstarch, baking soda, and salt, set aside.

In the body of a stand mixer with the paddle attachment cream the butter with the sugars for 3 minutes until light and fluffy.

Add the eggs in one at a time making sure the first one is fully mixed in before adding the next. Stir in the vanilla.

Add the dry ingredients and slowly stir them in until combined. Scrape down the sides as needed.

Reserve ½ cup of the chocolate chunks on the side. Add the remaining chocolate chunks and mix until just combined.

Portion the cookie dough into 18 portions, about 2.5 ounces each.

Roll the cookie dough between your hands to form a smooth ball. Place them onto the sheet trays 4 inches apart.

Top each cookie with the reserved chocolate chunks, about 3 chunks per cookie, and gently press them into the tops.

Bake for 12-13 minutes until the cookies are puffed up, they do not appear moist in the center and they start to very lightly brown along the edges.

Immediately sprinkle them with some flaky sea salt if using. Let them cool completely on the sheet tray.

If you've tried this recipe, come back and let us know how it was in the comments or ratings!
Nutrition
Calories:
350
kcal
|
Carbohydrates:
44
g
|
Protein:
4
g
|
Fat:
18
g
|
Saturated Fat:
11
g
|
Polyunsaturated Fat:
1
g
|
Monounsaturated Fat:
5
g
|
Trans Fat:
0.4
g
|
Cholesterol:
46
mg
|
Sodium:
171
mg
|
Potassium:
148
mg
|
Fiber:
2
g
|
Sugar:
24
g
|
Vitamin A:
351
IU
|
Calcium:
28
mg
|
Iron:
2
mg