As a massive fan of carrot cake, I like having it all year round. My carrot cake obsession grew even larger when I whipped up the most amazing quick snack ever. Introducing… the carrot cake dip!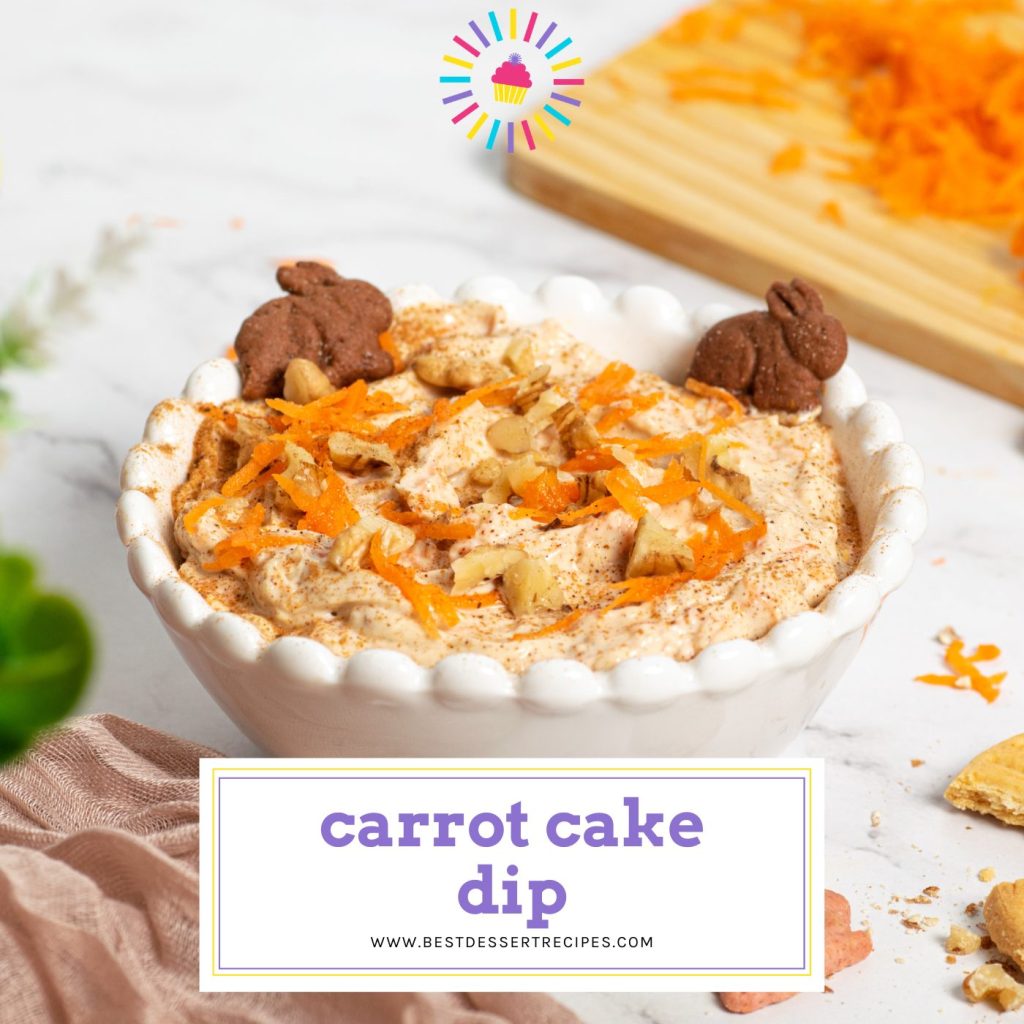 This dip recipe brings the flavors of carrot cake reimagined in a fun and exciting way. The perfect combination of cream cheese, shredded carrots, and spices make this recipe an absolute must on every Easter – and not only.
This creamy carrot cake dip is sure to be a hit with everyone. Whether you're looking for a new dip recipe to try or a fun way to use up some leftover carrots, this recipe is sure to become a family favorite.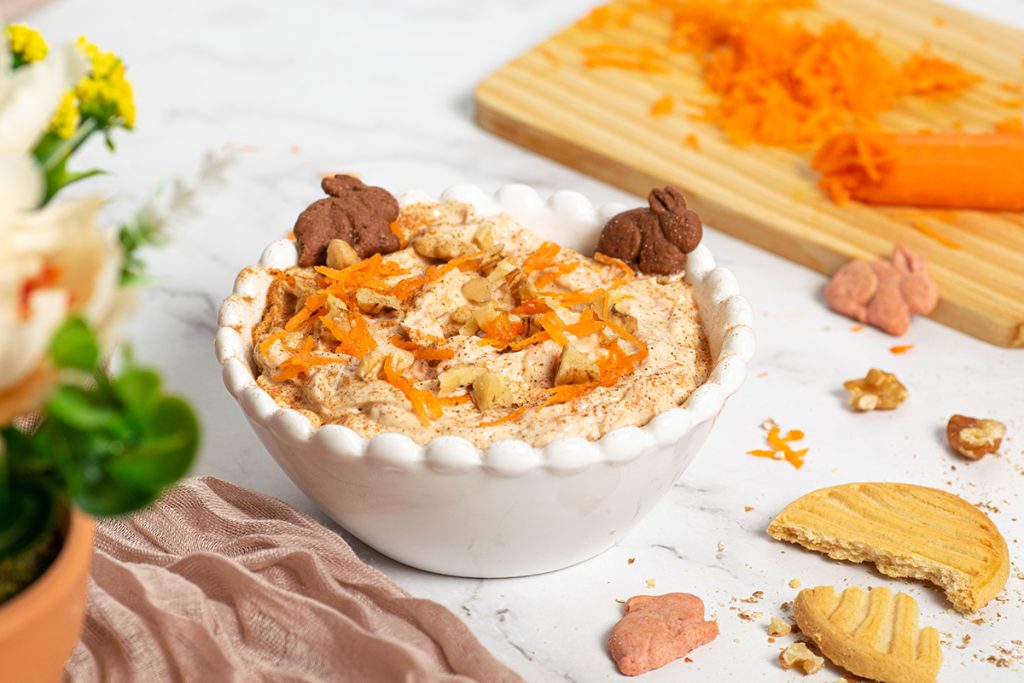 What does it taste like?
Carrot Cake Dip tastes just like the most decadent carrot cake, but in dip form. It's smooth and creamy, with warm hints of spices like cinnamon, nutmeg and ginger.
The dip has shredded carrots, which add a lovely earthy flavor without being overly sweet. Cream cheese is used as a base, which makes the dip velvety rich and creamy, with a slight tanginess to it.
This carrot dip has it all – it's sweet, creamy, spiced to perfection and with a subtle tangy kick. So flavor wise it's almost identical to a carrot cake, just in a different texture.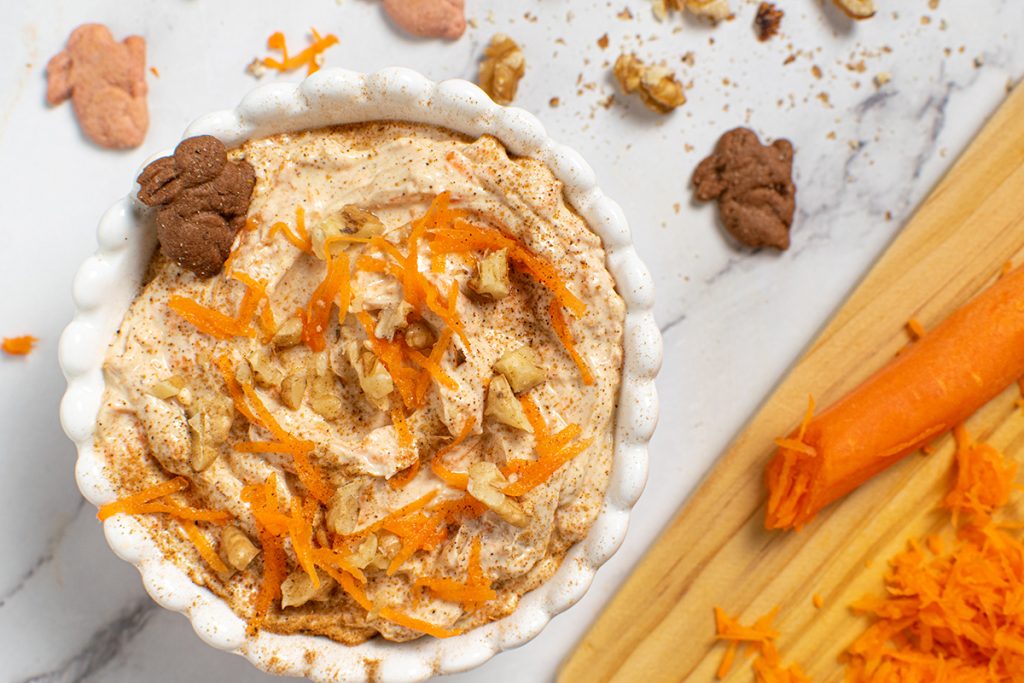 Why We Love This Carrot Cake Dip
This dessert dip is loved by many, and I'm sure you'll love it for your own reasons; but here are a few reasons why we do.
Tastes just like carrot cake: I mean, who doesn't love carrot cake?! Well, this dip tastes exactly like the real deal! The combination of spices, cream cheese and sweet carrots makes this carrot cake dip an absolute triumph.
Warm & cozy flavors: This Easter dip contains cinnamon, nutmeg and ginger, which work together to make this dip taste like a warm hug.
Super easy to make: This recipe is really simple and takes just minute to prepare, making it perfect for everyone.
Only a few ingredients: Not only is this carrot dip quick to make, it also only needs a handful of ingredients.
Versatile: The best part about this carrot cake dip is that it can be used in many different ways. You can use it as a dip for cookies, crackers, fruit sticks or even use it as a spread.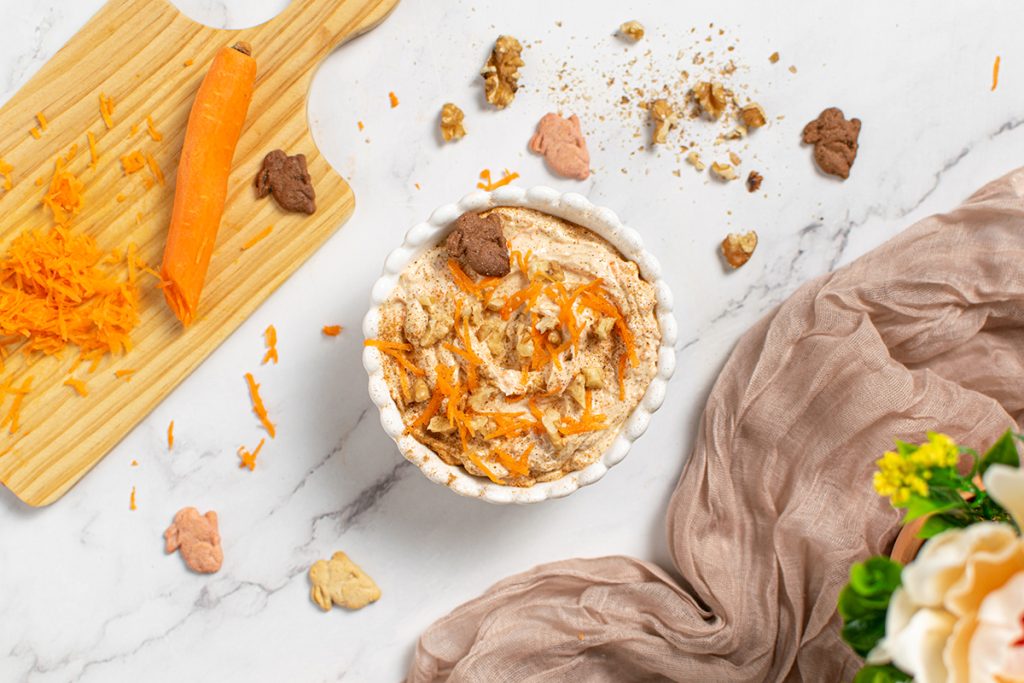 Ingredients
Although this carrot cake dip tastes just like the real deal, it's much simpler to make. All you need it a few minutes and a handful of ingredients.
Carrots – the star ingredient in this recipe. Make sure to choose firm carrots for the best flavor. Clean, peel and finely shred the carrots for a smooth texture.
Sugar – any type of sugar can be used for this dip recipe. Personally I recommend brown sugar, because it adds a lovely caramel flavor.
Cream cheese – I recommend using full fat cream cheese because it's extra creamy and delicious. You can also use low fat, but the final dip can turn out a little more runny.
Spices – are extremely important in replicating the carrot cake flavor. I like to use a combination of cinnamon, nutmeg and ginger. You can also add a pinch of ground cloves or allspice for a more intense flavor.
Vanilla – optional, but it does add a lovely aromatic flavor. I recommend using vanilla bean paste for the most natural taste.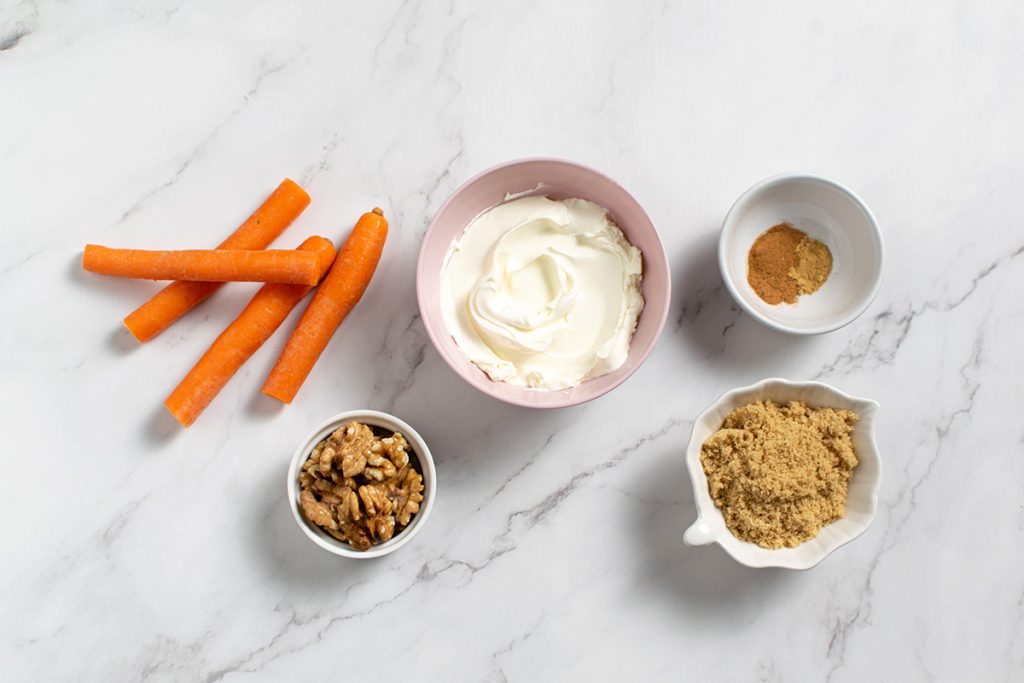 How to Make Carrot Cake Dip
Making this dip is literally as easy as 1, 2, 3! Which makes it the perfect dessert to throw together quickly at the last minute.
Peel and finely grate the carrots.
In a separate bowl, combine the cream cheese, sugar and spices. Mix well until fluffy.
Fold the shredded carrots into the cream cheese mixture. Serve immediately or chill for later use.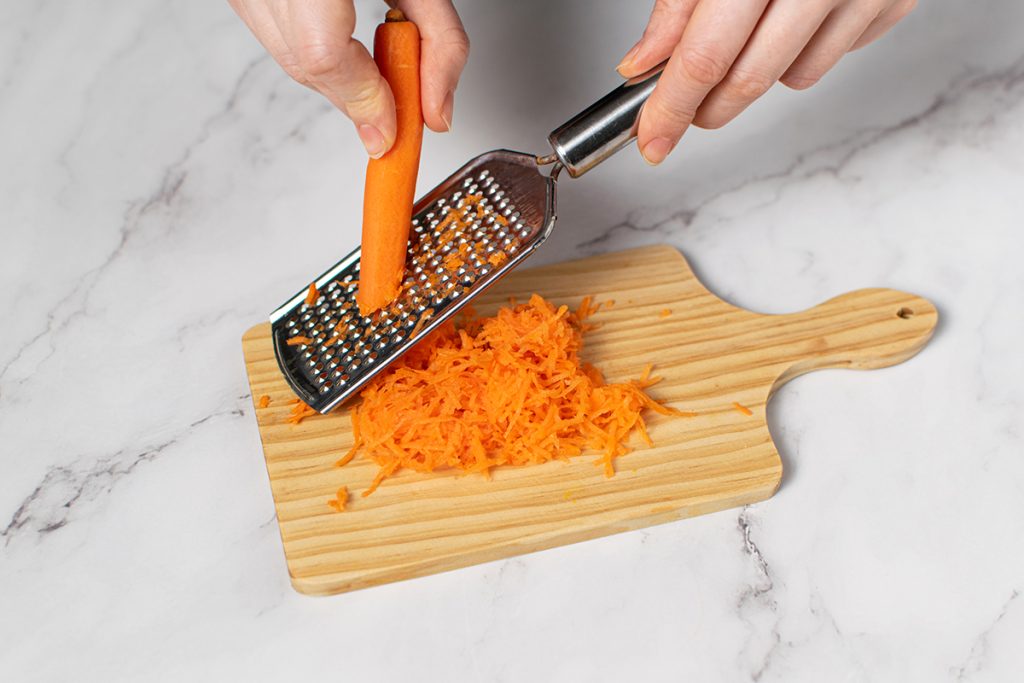 Carrot Cake Dip Variations
You can use this carrot cake dip as a base recipe to add extra ingredients to and make it extra special. Here are some of my favorite additions:
Nuts: mix in your favorite chopped nuts like walnuts, almonds or pecans to add extra crunchiness. Plus, the best carrot cakes always contain nuts too!
Dried fruit: a lot of carrot cakes actually contain raisins or other dried fruits, which add extra flavour and sweetness. You can add raisins, sultanas, cranberries or apricot.
Coconut: If you're feeling adventurous, add a few coconut flakes or shredded coconut for a tropical kick.
Maple syrup or honey: You can add them in addition to the sugar or to completely replace it. Both natural sweeteners have a wonderful caramelized flavor, which enhances the taste of the dip.
Orange zest: Bring a little zing to the Easter dip by adding some freshly grated orange zest. In case you didn't know, carrots and oranges are a match made in heaven in terms of flavor!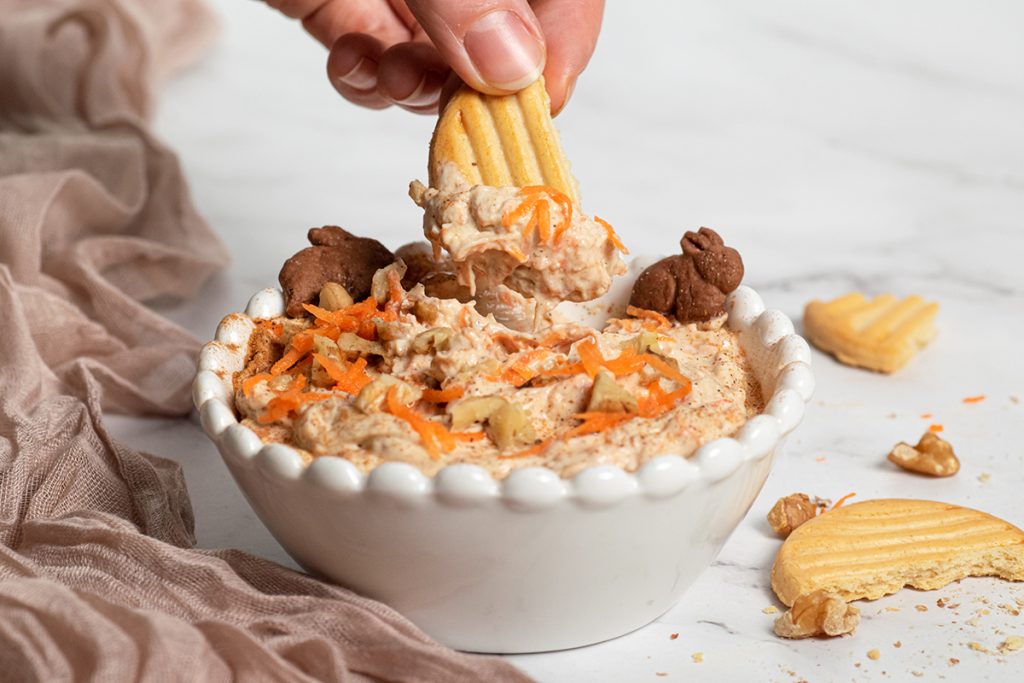 How to Serve
I love this Easter dip because it's extremely versatile. It can be served in so many different ways, and here are some of my favorites:
Dip: it does what it says on the tin! Use this carrot cake dip with cookies, crackers, lady finger biscuits or any other type of dry snack.
Spread: use it as a cream cheese spread on toast or bagels for a delicious Easter breakfast
Topping: this carrot cake dip works like a charm as topping for pancakes, waffles or crepes. A drizzle of maple syrup on top will always work well to enhance the flavor. You can also use it as a topping for yoghurt, oatmeal or granola pots.
Filling: you can also use this carrot dip as a filling for cakes, cupcakes or any other types of bakes. Make sure the shredded carrot is extra fine if you want to pipe the cream.
Storage and Freezing
Storage: Carrot cake dip contains dairy, so it needs to be refrigerated. The best way to store it is in an airtight container or jar, then kept in the fridge for up to 3 days. Carrots can release extra moisture after a few hours, so the dip can become a little runnier than intended. To prevent this, fold in the carrot before serving the dip.
Freezing: For longer term storage carrot cake dip can also be frozen for up to 3 months. To thaw, leave it in the fridge overnight, then mix well to make it smooth.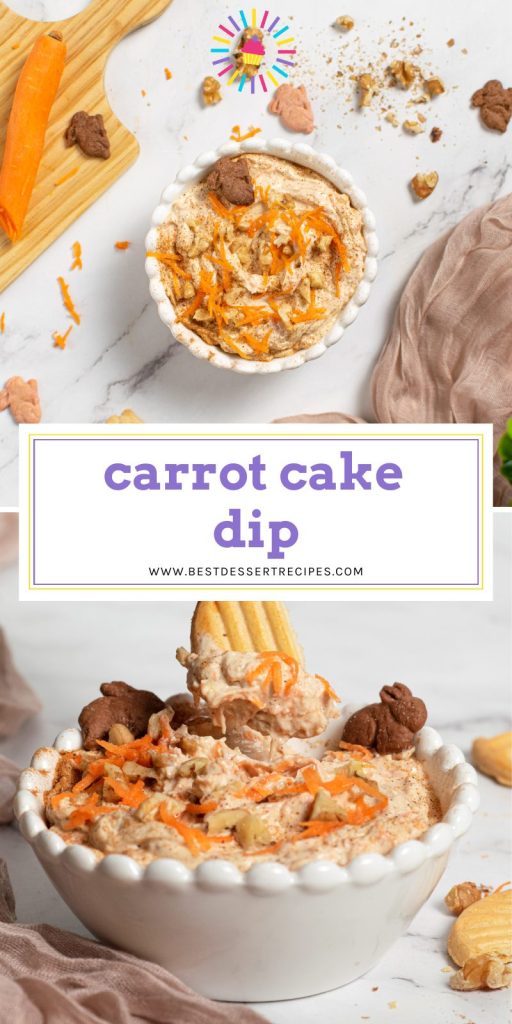 More Spring Desserts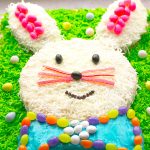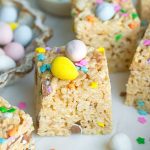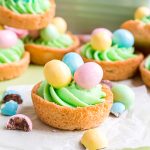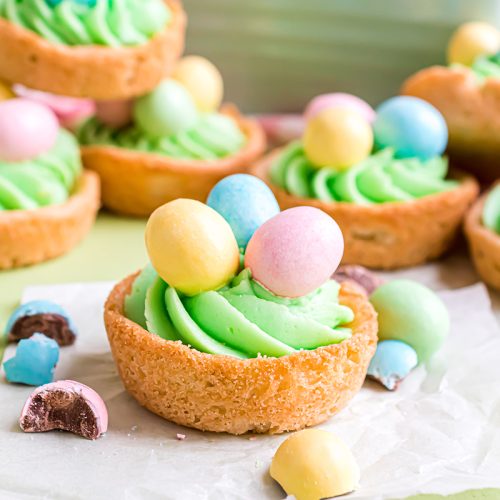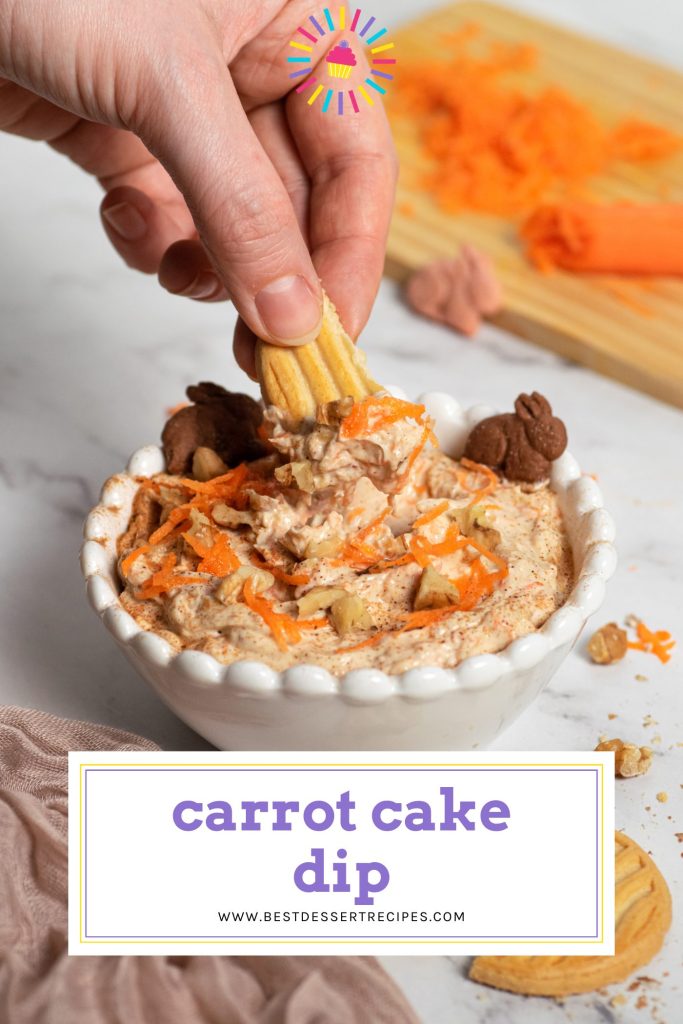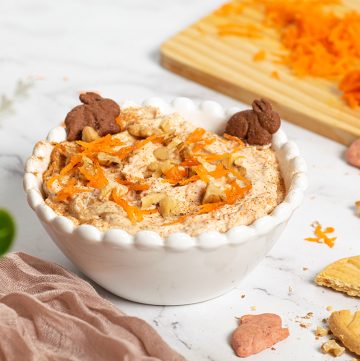 Carrot Cake Dip
The perfect combination of cream cheese, carrots and spices, this Carrot Cake Dip is the perfect dessert for Easter and spring celebrations!
Print
Pin
Rate
Ingredients
8

ounces

cream cheese

½

cup

brown sugar

½

teaspoon

ground cinnamon

¼

teaspoon

ground nutmeg

¼

teaspoon

ground ginger

1/3

cup

carrots

finely shredded

Optional: chopped walnuts or almonds
Instructions
In a medium bowl, add the cream cheese and sugar. Mix them well until fluffy in texture.

Add in the cinnamon, ginger and nutmeg and mix to combine,

Separately, wash and peel the carrots. Grate them finely, then add them to the cream cheese mixture.

Top with more shredded carrots or chopped walnuts and serve with cookies or fruit.
Nutrition
Calories:
206
kcal
|
Carbohydrates:
21
g
|
Protein:
2
g
|
Fat:
13
g
|
Saturated Fat:
8
g
|
Polyunsaturated Fat:
1
g
|
Monounsaturated Fat:
3
g
|
Cholesterol:
38
mg
|
Sodium:
129
mg
|
Potassium:
99
mg
|
Fiber:
0.3
g
|
Sugar:
20
g
|
Vitamin A:
1696
IU
|
Vitamin C:
0.4
mg
|
Calcium:
56
mg
|
Iron:
0.2
mg