There is nothing I like more than a decadent dessert after a truly good meal (or a rough day, honestly!). This birthday cheesecake brings that to the table with added colorful festivity!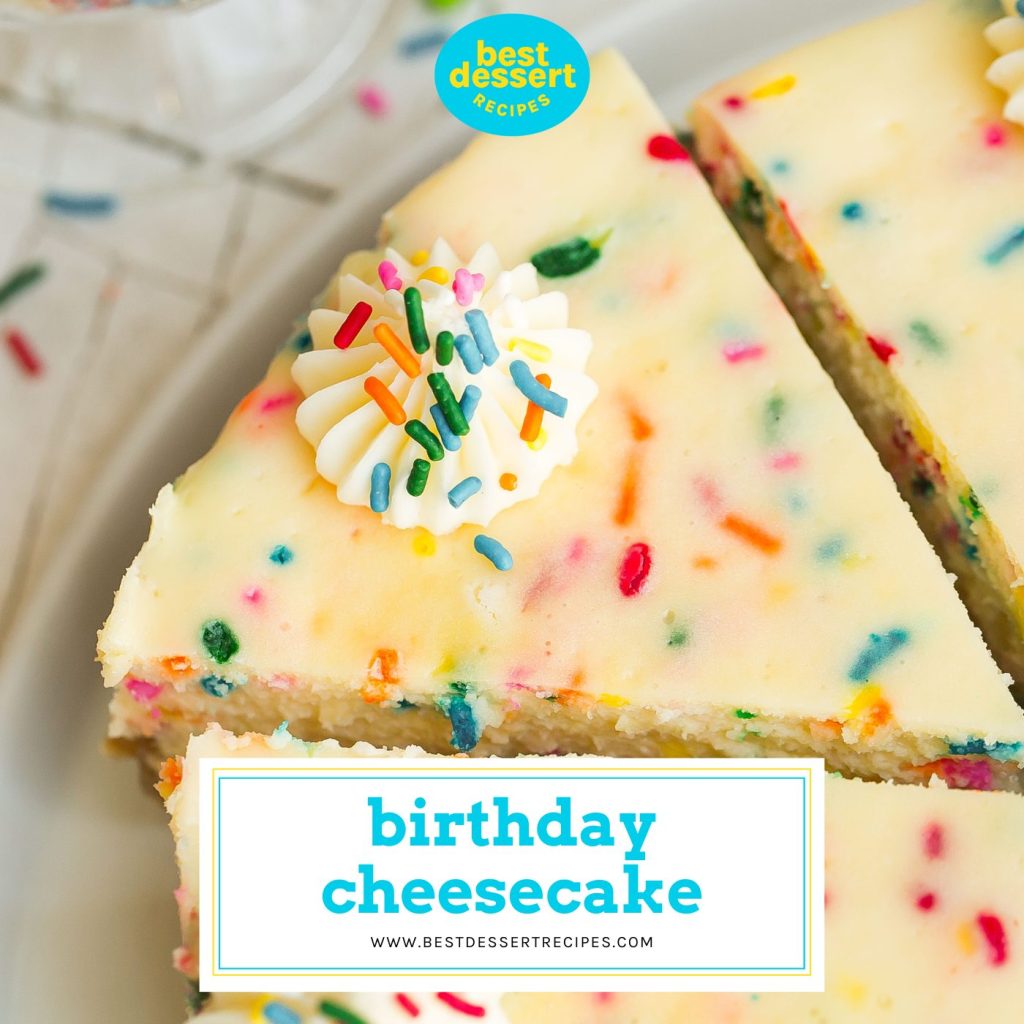 Even without the sprinkles, this is the best cheesecake ever. However, the sprinkles give it some flair and texture.
If you're a cheesecake lover, you're going to adore this recipe. It does take some time and precision, but the beautiful, delicious results are amazing and so much better than a regular ol' birthday cake — it has confetti baked in, and it's so much creamier!
The best part of this confetti cake is that it is so pretty and it's great for so many things — literally any special occasion. And, honestly, is there any time right now when we don't need some confetti sprinkles to brighten our lives?
If you love lots of sprinkles and a decadent, delicious dessert, this is for you. Add some extra sprinkles after you bake it — you deserve it!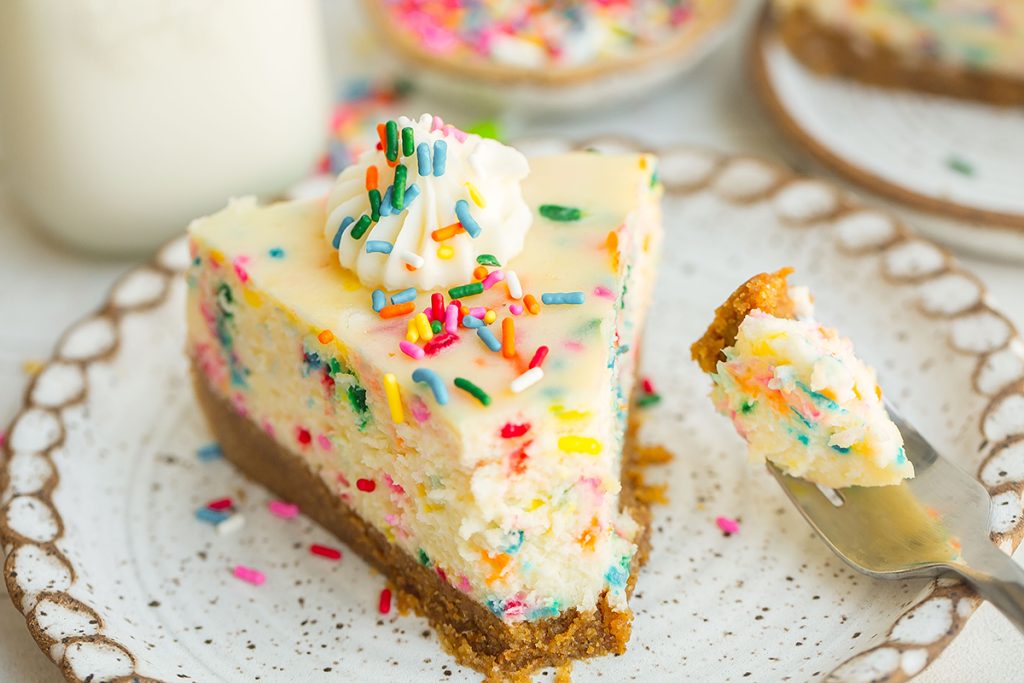 Why You'll Love Birthday Cheesecake

Why wouldn't you love birthday cheesecake? Sure, its moniker suggests that it's birthday-ready, but it is a fun addition to any celebration.
Pretty – This colorful cheesecake will cheer up anyone and is perfect for any celebration.
Tasty – Who doesn't love cheesecake? This one is particularly pretty but also delivers on all of the decadence and delicious flavor of a traditional cheesecake.
Party-ready – There's nearly no party that doesn't warrant colorful sprinkles so this will work for almost any occasion.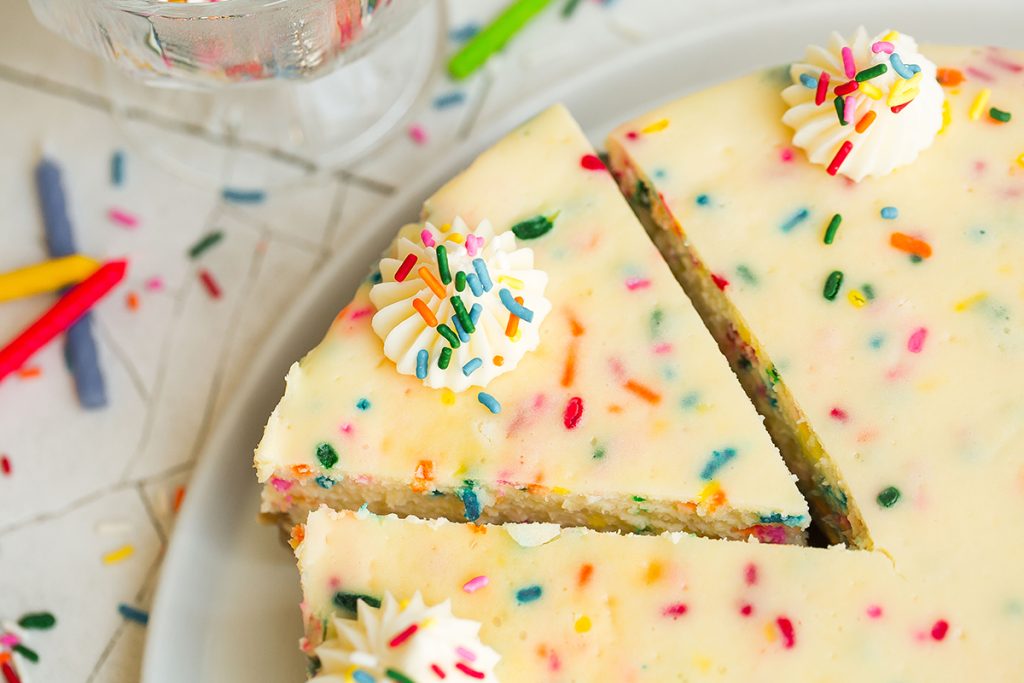 Ingredients
Room temperature ingredients will work best for this recipe since they make it easier to mix. Be sure to use full-fat ingredients for the dairy products to get the optimal creamininess.
Crust:
Graham cracker crumbs – The best way to get these into crumbs is to put them in a ziploc bag and roll them with a rolling pin.
Salted butter – Make sure your butter is melted to get the best results. I prefer to melt it in the microwave in intervals until it reaches the best level of meltiness without being too hot.
Sugar – You can use the regular white sugar you likely store in your cabinet.
Cheesecake mixture:
Cream cheese – Softened cream cheese is easiest to work with. It's as easy as leaving it out for an hour or so at room temperature, but you can microwave it in a bowl in intervals if you choose.
Sour cream – Full fat sour cream is the way to go for this birthday cheesecake recipe. It helps lend a creamy consistency.
Eggs – Use the whole eggs, and be sure to use the large size.
Almond extract – This lends just the slightest nutty texture.
Vanilla extract – Pure vanilla extract helps bring out the sweet and salty flavor of the ingredients.
Rainbow jimmy sprinkles – These bring the party to the cheesecake!
Sugar – Again, typical white sugar will work just fine.
Heavy whipping cream – Don't skip and go for light or half and half. A cheesecake with the proper creaminess demands heavy cream.
Toppings (optional):
Frosting – Use any flavor you like!
Whipped cream – Add a dollop of cream that you've made or from a container. You can also spray it on.
Sprinkles – It's birthday cake, so we love confetti colors, but use whatever you love.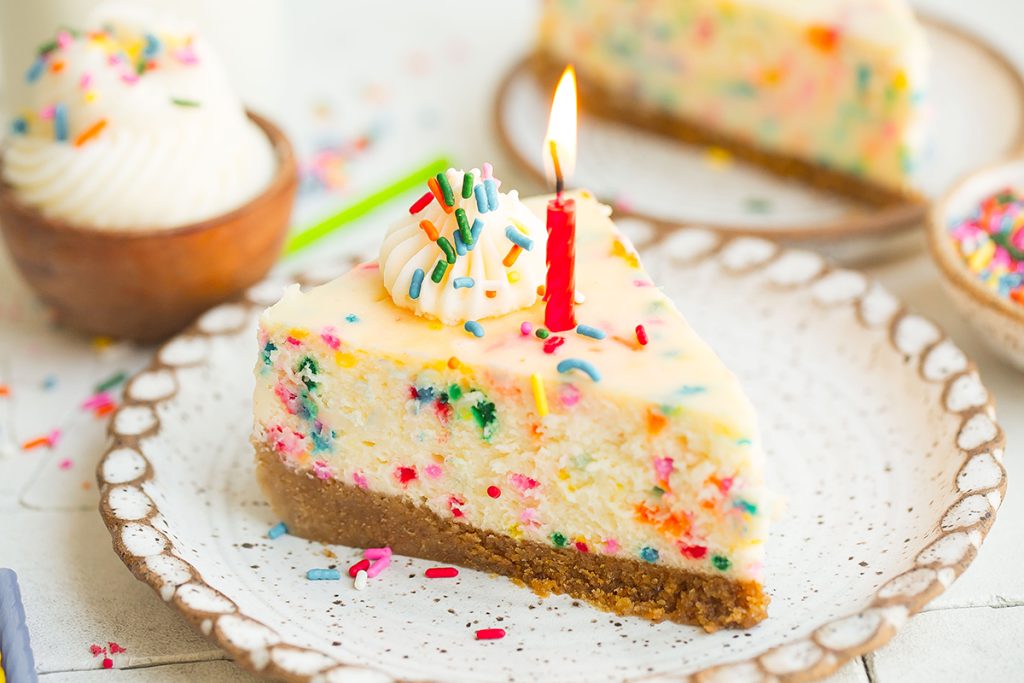 How To Make Birthday Cheesecake
Add the graham crackers, melted butter, and sugar to a large bowl of a food processor or stand mixer with a paddle attachment. Use a spatula to incorporate the ingredients on the side of the bowl.
Pulse the mixture until fully combined.
Using your hands, press the mixture into a prepared springform pan with parchment paper or cooking spray. Ensure that the crust is even — using a drinking glass to press it down will help to press the crust.
While the crust bakes and cools, prepare the filling.
Add the cream cheese and sugar to a large mixing bowl with an electric mixer (or use a hand mixer).
Beat the cream cheese and sugar until it's silky smooth — no one wants a lumpy cheesecake!
Next, add the sour cream, heavy whipping cream, and extracts to the cream cheese mixture. 
Continue to mix the birthday cheesecake ingredients until they are all combined. Be sure to scrape down the sides of the bowl often with a rubber spatula to incorporate all ingredients.
Then, reduce the mixer speed to low as you add the eggs one at a time. It is helpful to have them portioned out ahead of time.
Once the eggs are fully incorporated, gently fold in the rainbow sprinkles into the cheesecake filling. Ensure that you do not overmix so that the sprinkle colors don't blend into the batter.
Pour the cheesecake batter into the cooled graham cracker crust in the springform pan then place it into the roasting pan with hot water bath.
Bake until the center is set but has a little jiggle.
After allowing the cheesecake to rest in the oven, place it in the refrigerator to chill until ready to remove the springform pan and serve.

Variations
This birthday cheesecake, with its colorful rainbow jimmies, is festive enough all on its own. But, if you want to customize it to make it yours, there are lots of options.
Sprinkles – If you're not going for the birthday vibe, you can use just chocolate sprinkles.
Yogurt – Instead of sour cream, try using Greek yogurt for a healthy, fun twist.
Nuts – You can add crushed nuts of your choice to the filling, or sprinkle them over top.
Fruit – Garnish with any fruits that you like. Berries work well — you can also add diced pineapple or your favorite fruit.
Oreos – Try crushing golden oreos or the regular style with the graham crackers (or instead) for a switch-up on the crust. You can also sprinkle them over top.
Dough – Instead of graham cracker crust, try using packaged sugar cookie dough as your base. You can even make individual cheesecakes by pressing the dough into the bottom of a muffin pan and then adding the filling.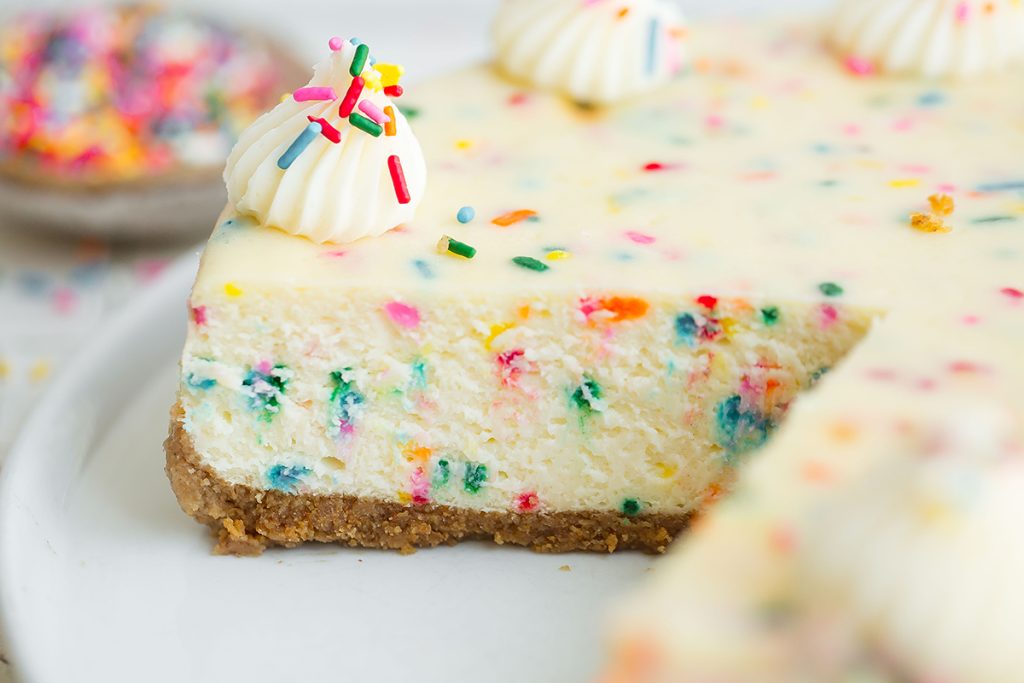 Storage and Freezing
Storage: Store the birthday cheesecake in the refrigerator in an airtight container for up to four days. You can also individually wrap each slice to keep it even fresher.
Freezing: If freezing cheesecake, wrap each individual slice in plastic wrap to store for up to 3 months. Make sure the slices are wrapped tightly to avoid freezer burn.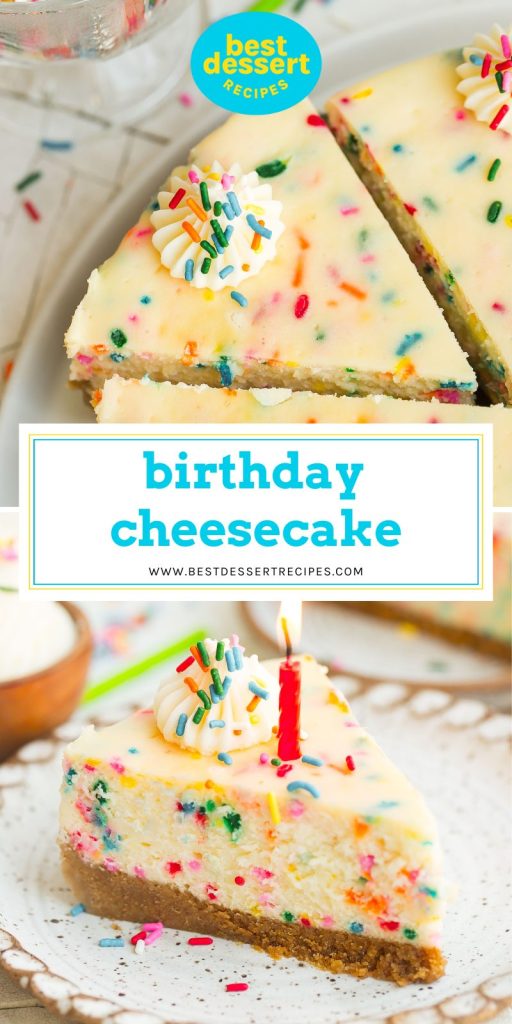 More Cheesecake Recipes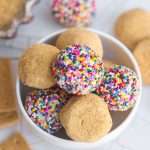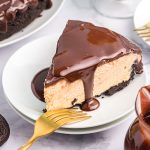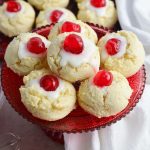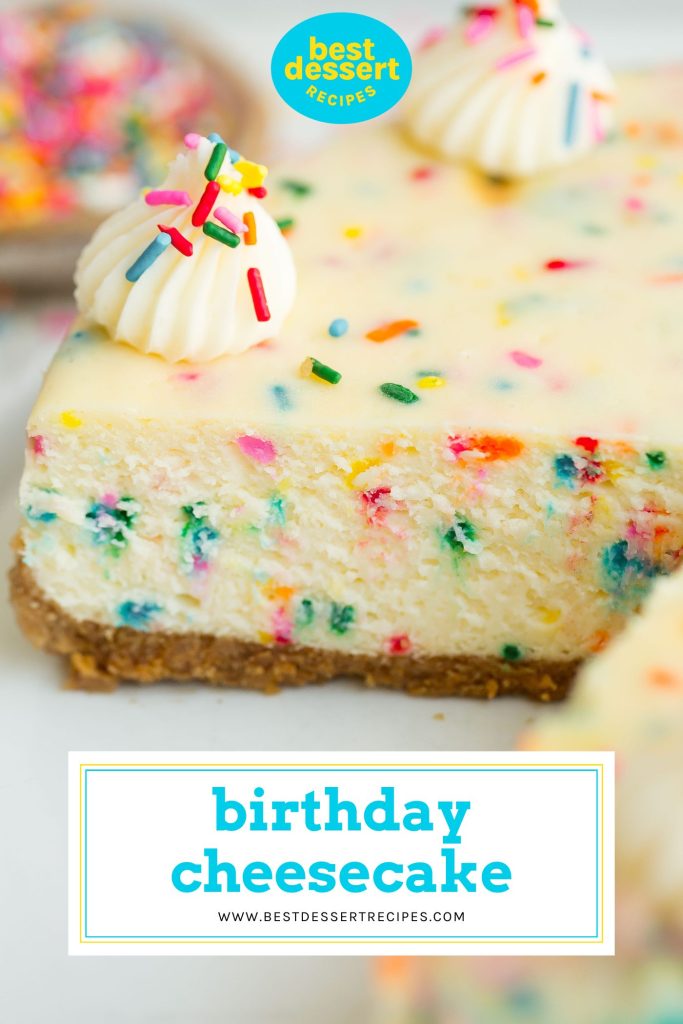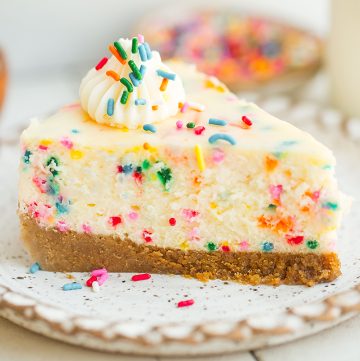 Birthday Cheesecake
Perfect for any celebration, this Birthday Cheesecake recipe is sure to become a favorite with it's fun sprinkles and decadent flavor!
Print
Pin
Rate
Ingredients
Crust:
1 3/4

cups

graham cracker crumbs

about 11 sheets

6

tablespoons

salted butter

melted

2

tablespoons

sugar
Cheesecake mixture:
24

ounces

cream cheese

softened

3/4

cup

sour cream

3

whole eggs

1

tablespoon

almond extract

1/2

tablespoon

vanilla extract

3/4

cup

rainbow jimmy sprinkles

1 1/2

cups

sugar

1/4

cup

heavy whipping cream
Toppings (optional):
Frosting

Whipped cream

Sprinkles
Instructions
Preheat the oven to 350 degrees F and line a 9 or 10 inch springform pan with parchment paper. Spray the sides of the pan with nonstick spray or line with stripes of parchment paper.

In a food processor, combine the graham crackers, melted butter, and sugar. Pulse until graham cracker crumbs form and the mixture is combined. Add the graham cracker crust mixture to the pan and press into the bottom and 1 inch of the sides using your hands. The crust should be an even layer, you could also use the bottom of a drinking glass to press down. Bake the crust for 8-9 minutes. Remove from the oven and let the crust cool.

In a large mixing bowl with an electric mixer on medium speed, beat together cream cheese and sugar until smooth, about 2 minutes. Add sour cream, heavy whipping cream, and extracts. Continue to beat together just until combined, scraping down the sides of the bowl often with a rubber spatula.

Reduce the mixer speed to low and ddd in eggs one at a time.

Fold in sprinkles, be sure not to fold too much otherwise the sprinkle colors can wear off in the batter.

Cover the sides of the springform pan with foil, this will help the cheesecake from browning and from water getting into the cheesecake. Pour the cheesecake filling into the cooled graham cracker crust. Fill a 9×13 inch roasting pan with hot water covering about 1-2 inches of the springform pan. This will help the cheesecake be extra smooth, creamy, and prevent any cracks.

Bake the cheesecake for 60-70 minutes or until the center is set. You can check by gently shaking the cheesecake, and it should be mostly firm with a slightly jiggly center. Turn off the oven and let the cheesecake sit in the oven for 1 hour. Remove from the oven and let the cheesecake cool completely at room temperature, about an hour. Place the cheesecake in the refrigerator to chill overnight or at least 6 hours.

When ready to serve, carefully and slowly release the springform pan and remove the rim of the pan. Top the cheesecake with frosting or whipped cream, and more sprinkles (optional). Slice into slices by cutting with a sharp knife and enjoy!
Nutrition
Calories:
374
kcal
|
Carbohydrates:
51
g
|
Protein:
12
g
|
Fat:
14
g
|
Saturated Fat:
8
g
|
Polyunsaturated Fat:
1
g
|
Monounsaturated Fat:
4
g
|
Trans Fat:
0.2
g
|
Cholesterol:
77
mg
|
Sodium:
546
mg
|
Potassium:
222
mg
|
Fiber:
0.4
g
|
Sugar:
43
g
|
Vitamin A:
427
IU
|
Vitamin C:
0.2
mg
|
Calcium:
235
mg
|
Iron:
1
mg