While I'm a big fan of American buttercream on a lot of cakes and cupcakes, there's nothing quite like the sweet tanginess of homemade cream cheese frosting.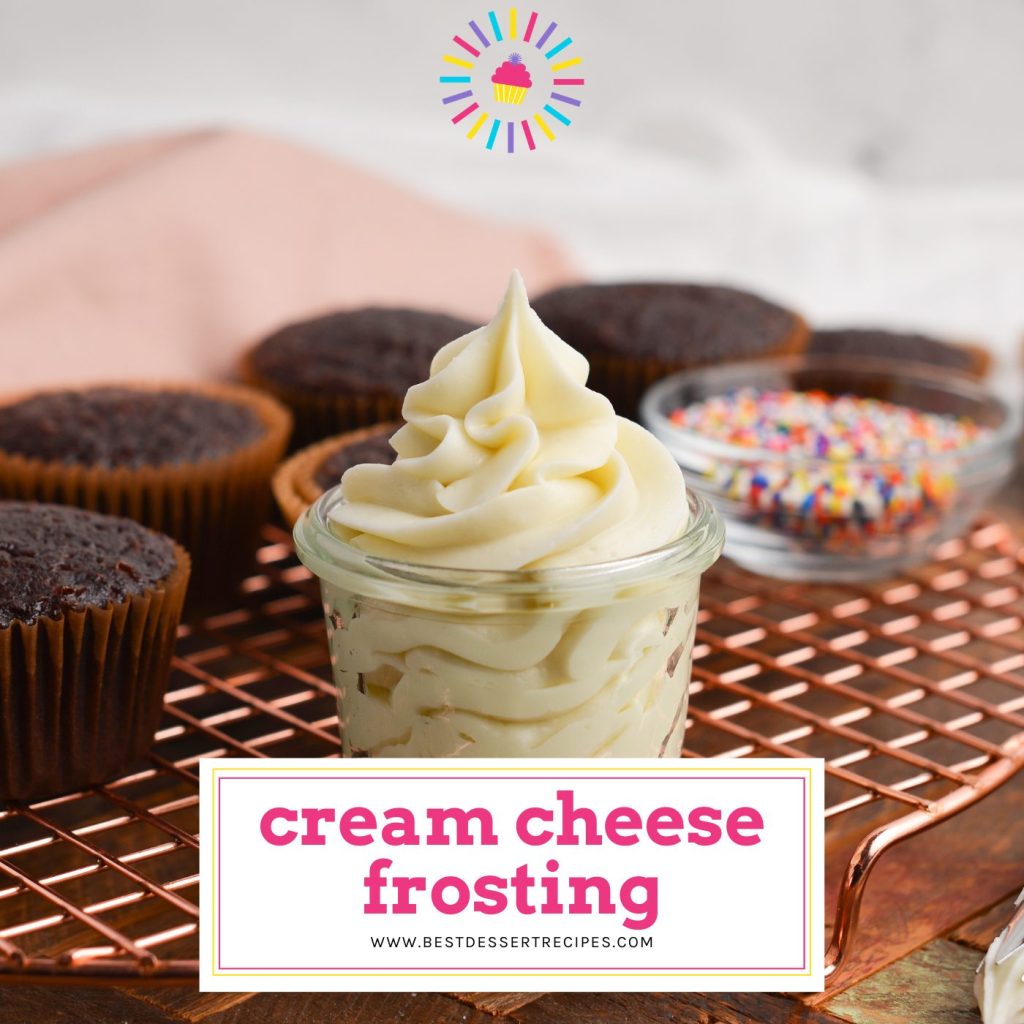 By combining powdered sugar, butter, and cream cheese, and adding a sprinkle of salt and a dash of vanilla extract, you can make the most mouthwatering, fluffy frosting. It's a perfect pairing for red velvet cake or pumpkin cake and it will take a simple chocolate cake to the next level.
The next time you're looking to switch up what you choose to top your cakes and cupcakes with, try this easy frosting.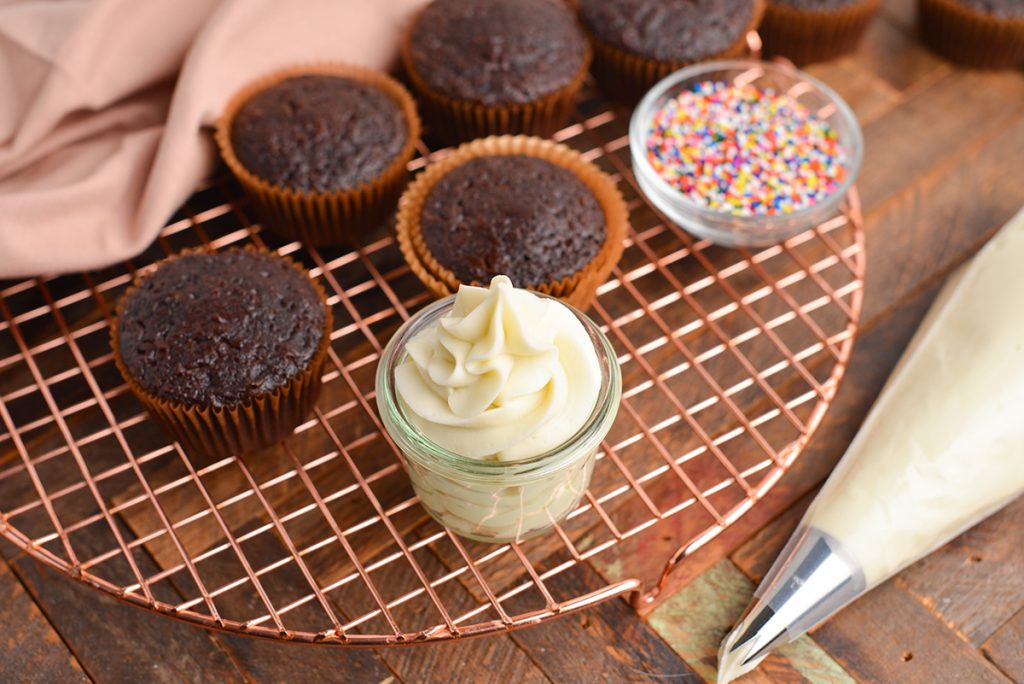 How to Fix Thick Cream Cheese Frosting
The best way to get a thinner frosting is to add liquid. Add small amounts of milk or heavy cream incrementally.
Beat the frosting to fully incorporate the liquid. Check the consistency and repeat if needed.
How to Fix Thin Cream Cheese Frosting
For cream cheese frosting that is too thin, try these ideas to make a thicker frosting:
Add more powdered sugar: The easiest way to thicken up thin cream cheese frosting is to add more powdered sugar. Just add it incrementally until you reach your desired consistency.
Chill the frosting: Try placing the frosting in the refrigerator for 20-30 minutes to firm it up.
Add more cream cheese: Adding more cream cheese can help thicken up the frosting while also adding more flavor. Start by adding a tablespoon at a time until you reach the desired consistency.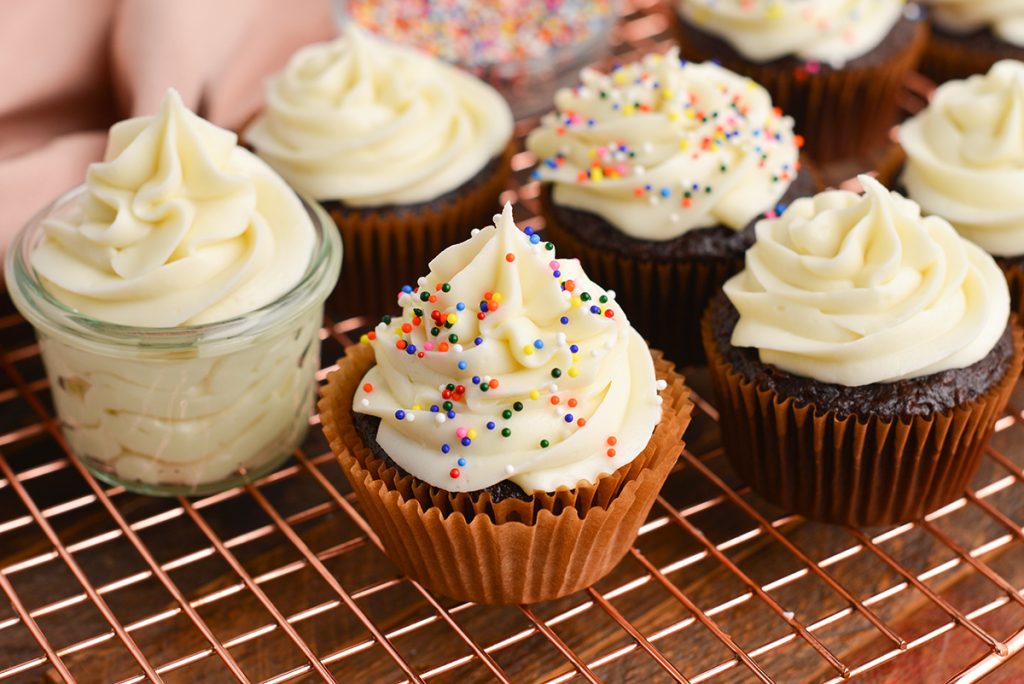 Why You'll Love Cream Cheese Frosting
This frosting is so dreamy that this might just become your go-to frosting recipe.
Delicious: This frosting is tangy yet and adds a luxe mouthfeel to any dessert.
Versatility: Add cream cheese frosting to tons of desserts from cakes and cupcakes to cookies and cinnamon rolls.
Easy: This is a simple recipe that you can make with just a few ingredients, making it an easy topping for any dessert.
Customizable: You can customize this frosting with different flavors to create a unique and delicious frosting.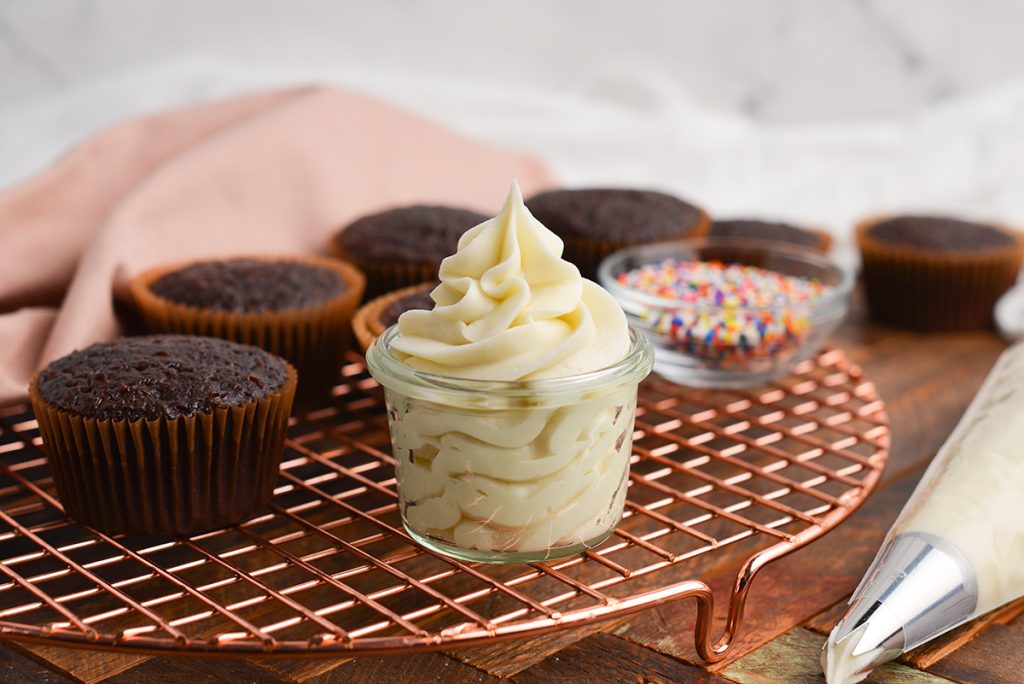 Ingredients
These basic ingredients come together to make the most delicious sweet and tangy frosting.
Unsalted butter: Butter makes the frosting rich and creamy.
Full-fat cream cheese: Cream cheese adds tangy flavor. Use a full-fat version for richness.
Pure vanilla extract: This extract balances the flavor of the frosting.
Fine sea salt: A dash of salt balances the sweetness and enhances the flavors in the frosting.
Powdered sugar: This sugar sweetens the frosting and helps to give it a silky smooth texture.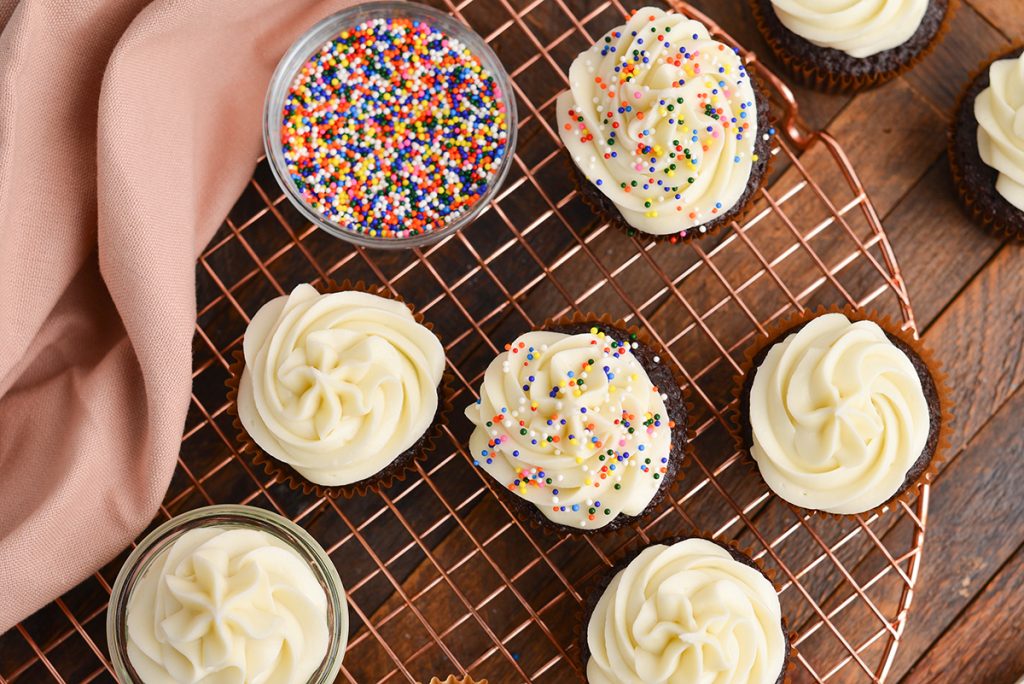 How To Make Delicious Cream Cheese Frosting
It couldn't be easier or quicker to make this simple frosting.
Beat cream cheese. Add the cream cheese to a large bowl and use an electric hand mixer or stand mixer fitted with a paddle attachment to beat the cream cheese until smooth.
Add butter. Once smooth, add butter and continue to beat until the two ingredients are completely combined.
Add salt and vanilla. Continue to beat while pouring in the vanilla and salt.
Add powdered sugar. Pour in a portion of the powdered sugar, mixing until it is fully moistened. Use a rubber spatula to scrape the sides of the bowl to ensure all ingredients are incorporated.
Continue adding until desired consistency. Continue to add powdered sugar incrementally until it reaches the desired consistency.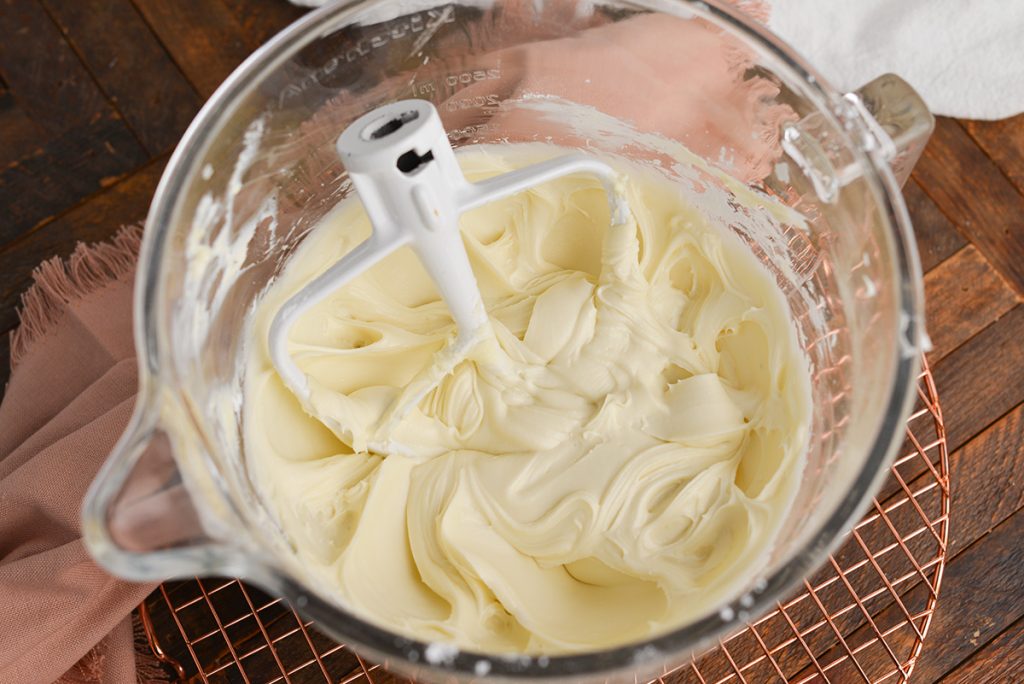 Variations
There are lots of ways to add even more flavor to this frosting. You may need to adjust the amount of powdered sugar when making any of the variations.
Chocolate – Add unsweetened cocoa powder to create a rich and decadent chocolate frosting.
Lemon – Fresh lemon juice and lemon zest can both impart bright and refreshing flavor.
Cinnamon – Shake in some ground cinnamon to give your frosting warm flavor.
Berries – Mix in pureed berries, such as strawberries or raspberries, to the recipe for a fruity and vibrant flavor.
Color – You can adjust the color by adding your favorite shade of gel food color to the frosting.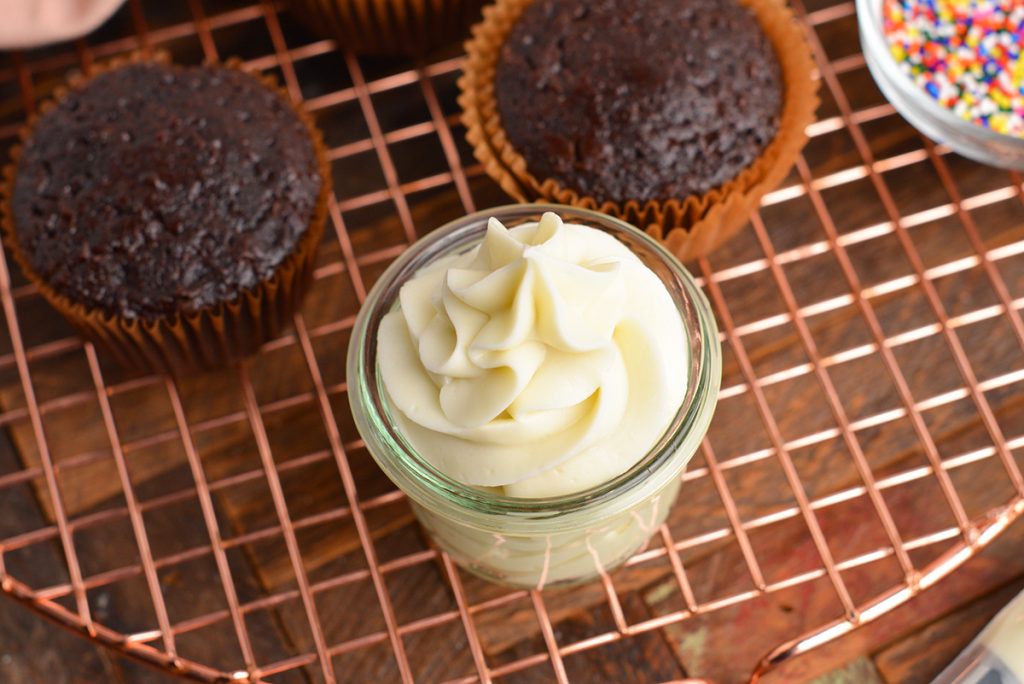 Uses for Easy Cream Cheese Frosting
You can spread this frosting on any baked goods! Try it on vanilla cupcakes, a sheet cake, or a mug cake.
This irresistible frosting can also be used as a dip for graham crackers, cookies, or fruit — or use it to frost oatmeal cookies.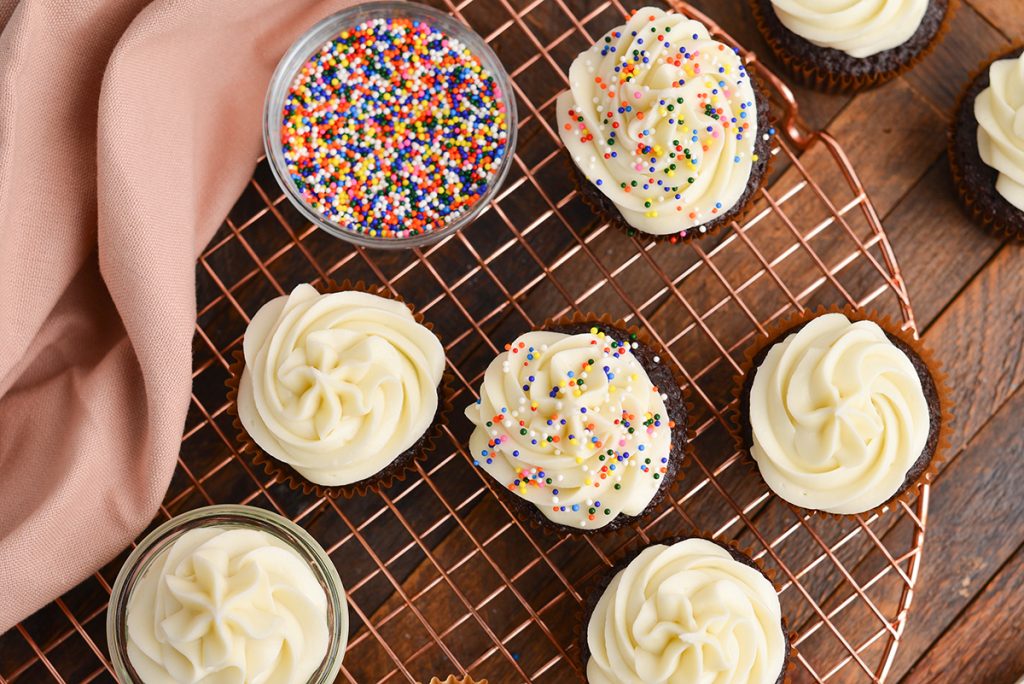 Storage, Make Ahead and Freezing
Since it contains dairy, always store this frosting in the refrigerator or freezer.
Make ahead: This easy frosting can be made ahead of time and stored in the refrigerator or freezer.
Refrigerator: Store leftover frosting in an airtight container (or in the mixing bowl, covered with plastic wrap) in the refrigerator for 5-7 days.
Freezer: Store in the freezer for up to 3 months.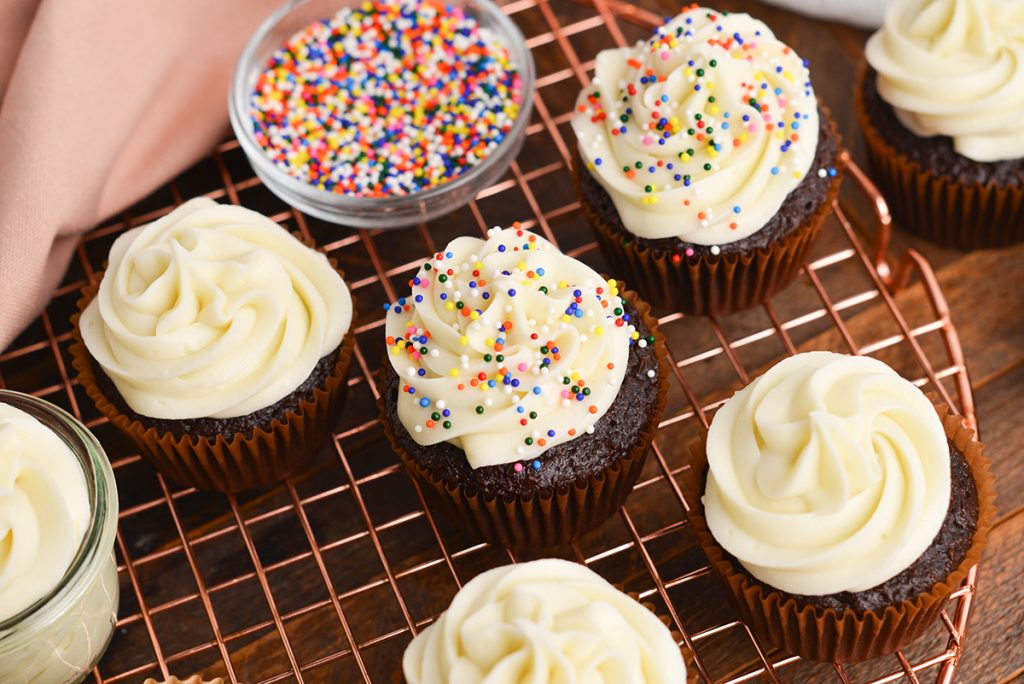 Common Questions About Cream Cheese Frosting
What is cream cheese frosting made of?
Cream cheese frosting is a combination of cream cheese, butter, and powdered sugar. Vanilla and salt help to add flavor and balance the frosting.
Is there a difference between cream cheese icing and cream cheese frosting?
Cream cheese icing tends to be thin — it's often referred to as a glaze. Cream cheese frosting is rich and thick, perfect for spreading on cakes, cupcakes, and other baked goods. 
Which is better buttercream or cream cheese frosting?
This is a matter of personal preference — both are delicious. Cream cheese adds a little bit of tanginess to the frosting which complements cakes like red velvet, or those with spice added.
Why is there a range for powdered sugar?
The recipe card lists a range for the measurement of the powdered sugar because it may require more or less powdered sugar to achieve the desired consistency. You'll start with a few cups and then gradually increase until the frosting reaches the texture that you prefer.
Why can't I use spreadable cream cheese?
Spreadable cream cheese is whipped. The process of whipping introduces too much air into the cream cheese — your frosting will not maintain its consistency if you use a spreadable version.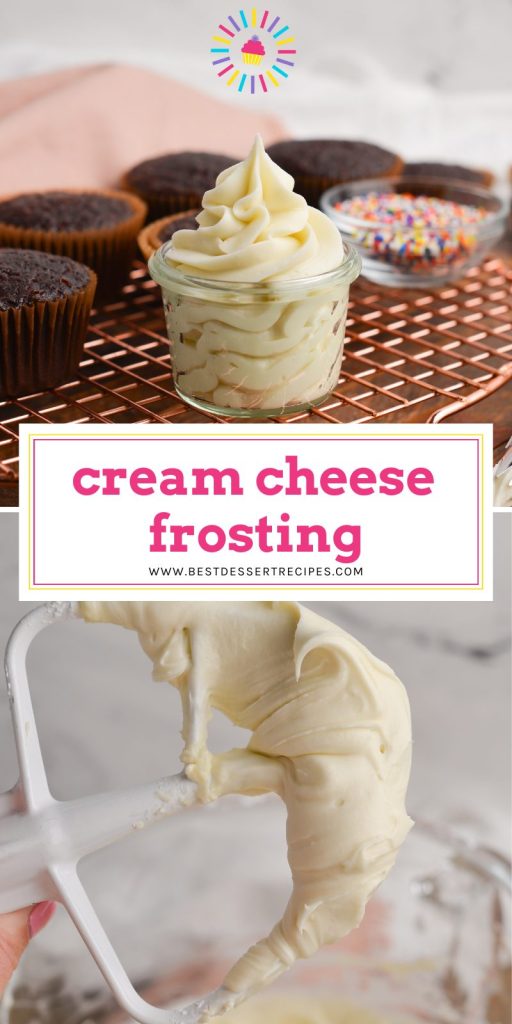 More Easy Frostings and Icings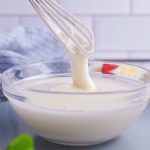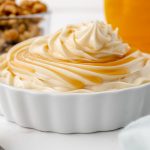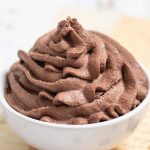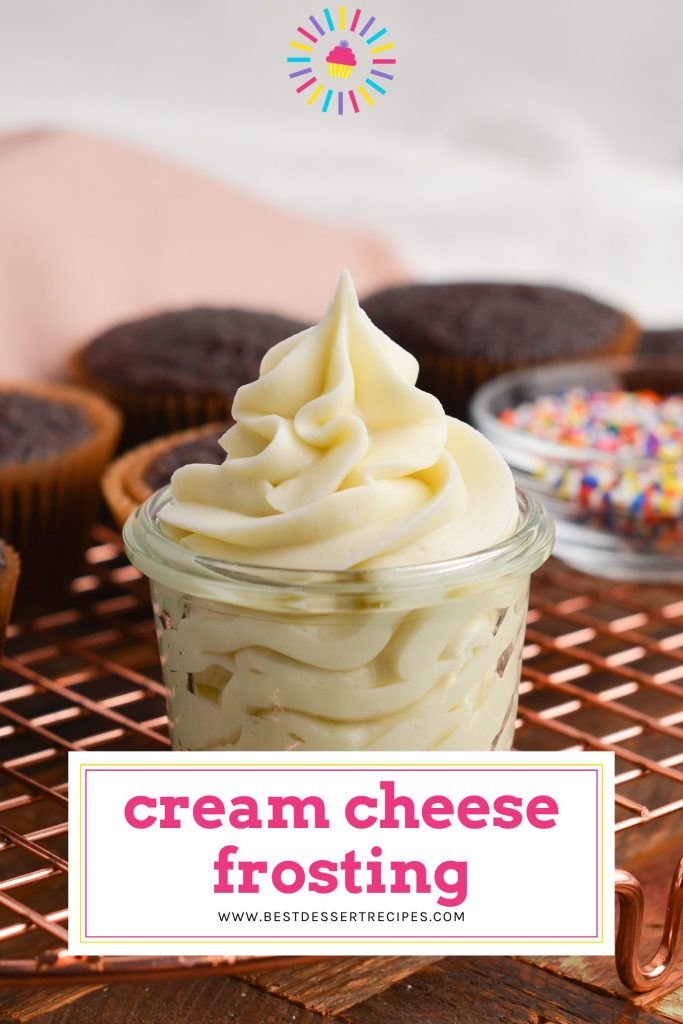 Best Cream Cheese Frosting
Powdered sugar, butter, and cream cheese team up with salt and vanilla extract, to make the BEST Cream Cheese Frosting recipe!
Print
Pin
Rate
Ingredients
1/2

cup

unsalted butter

softened

8

ounces

full fat cream cheese

softened

1

teaspoon

pure vanilla extract

1/2

teaspoon

fine sea salt

3-4

cups

powdered sugar
Instructions
Using an electric hand mixer or stand mixer fitted with a paddle attachment, beat the cream cheese until smooth. Add the butter and beat again until fully mixed.

Add the vanilla and salt, mixing again.

Start with 3 cups of powdered sugar, mixing until no dry spots remain. If the frosting is thick and holds its shape, it is all finished. If it starts to fall, slowly add up to 1 cup of powdered sugar by 2 tablespoon increments until it does.

Use it on any recipe that calls for cream cheese frosting.

If you've tried this recipe, come back and let us know how it was in the star comments and ratings.
Nutrition
Calories:
1510
kcal
|
Carbohydrates:
186
g
|
Protein:
7
g
|
Fat:
85
g
|
Saturated Fat:
52
g
|
Polyunsaturated Fat:
3
g
|
Monounsaturated Fat:
22
g
|
Trans Fat:
2
g
|
Cholesterol:
237
mg
|
Sodium:
947
mg
|
Potassium:
170
mg
|
Sugar:
181
g
|
Vitamin A:
2941
IU
|
Calcium:
126
mg
|
Iron:
0.3
mg