While I'm a big fan of decadent cakes that incorporate chocolate and thick, rich icing, sometimes I want something sweet that's a little lighter. That's when this angel food cake wins the day.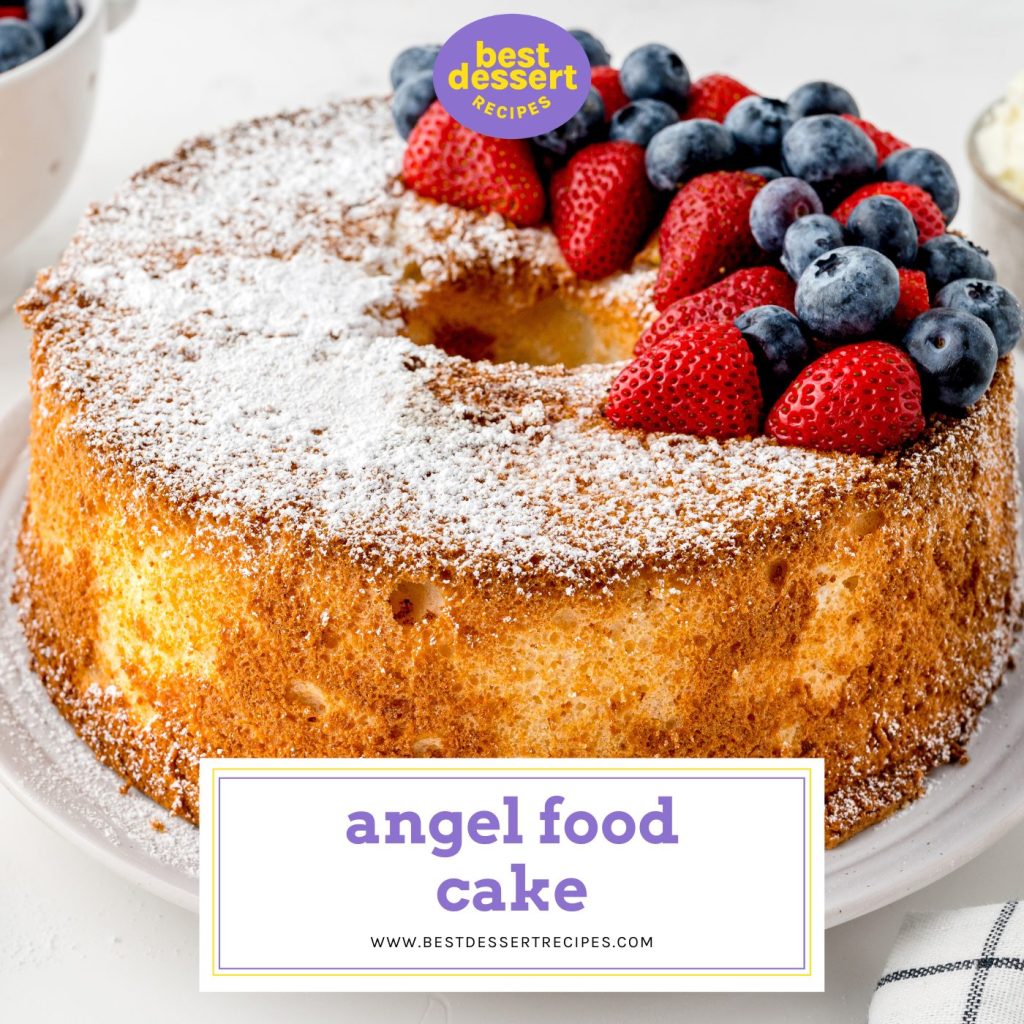 With simple sweetness and a light, fluffy texture this cake can steal the show all on its own. Or, you can dress it up with a glaze, fresh berries, or a scoop of ice cream.
And while I won't tout any cake as necessarily being "healthy," this tasty one does tend towards that end of the spectrum in terms of desserts. Since it doesn't require butter or egg yolks, it's basically fat free.
Even if you've never made angel food cake before, you'll find this recipe easy and it just may become your new go-to cake to take to gatherings or to just snack on at home.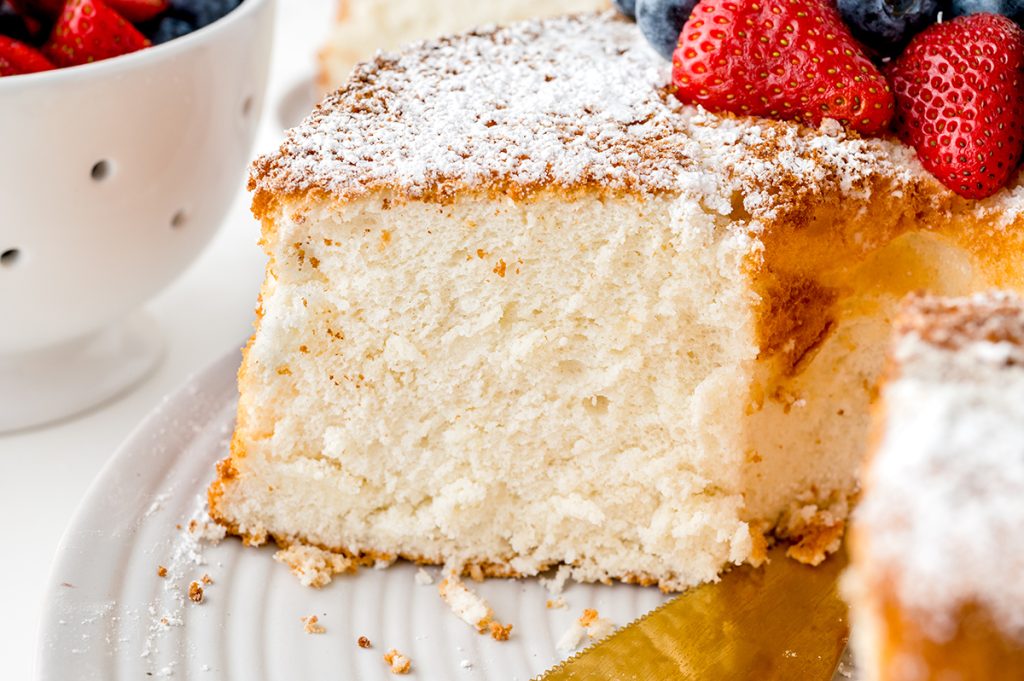 Why You'll Love Angel Food Cake
There's little not to love about a light and sweet cake that's perfect for any occasion. Here are some other reasons to rush to make this recipe.
Easy – This is an uncomplicated cake that takes just a bit of hands-on prep time that results in a delicious dessert.
Versatile – Angel food cake can be made for any occasion and looks pretty gracing any dessert table.
Tasty – Not only is it sweet but its texture is, appropriately, heavenly.
Portable – You can easily take this cake to any event from parties to cookouts.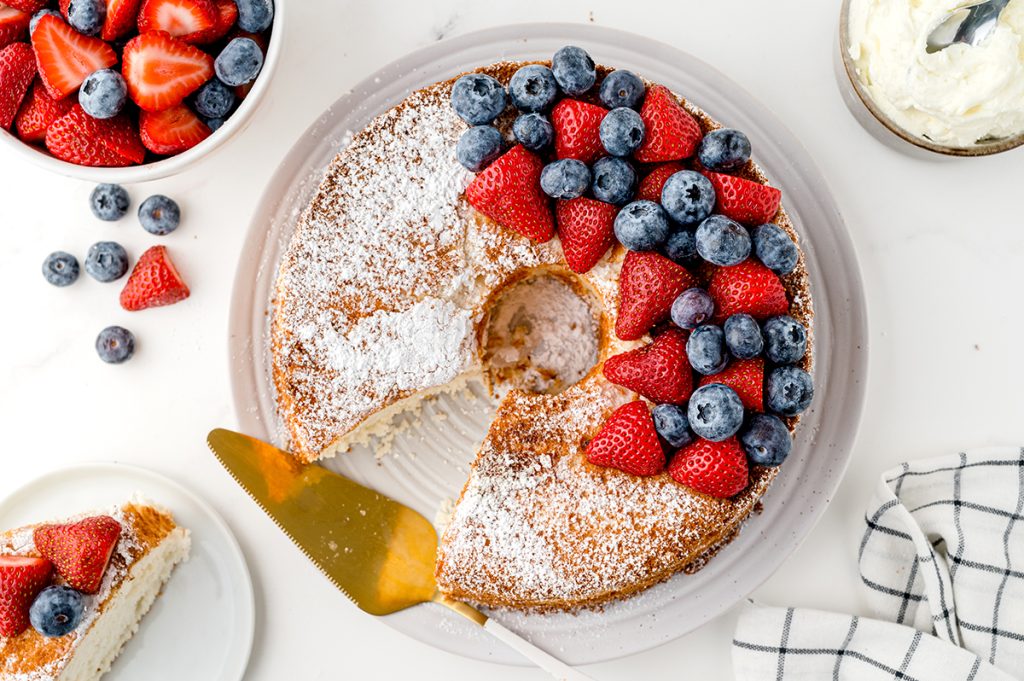 Ingredients
Having all (or many) of the ingredients already handy is one of the things that makes this an easy recipe.
Cake flour – Be sure to use cake flour instead of all purpose flour to make sure that you get the light, fluffy, and airy texture of angel food.
Sugar – Granulated sugar is the best to use for this recipe so that it dissolves quickly and easily when you're mixing the ingredients.
Egg whites – To get both the right texture and color be sure not to use the egg yolks. Reserve them for another recipe.
Vanilla extract or almond extract – Either of these extracts works well with this recipe. Just choose the flavor that you prefer.
Cream of tartar – This ingredient is crucial to ensuring that the cake maintains its shape. It works with the egg whites for that purpose and without it an angel food cake can collapse.
Fine sea salt – Just a bit of high quality salt brings out the best of all of the flavors of the other ingredients.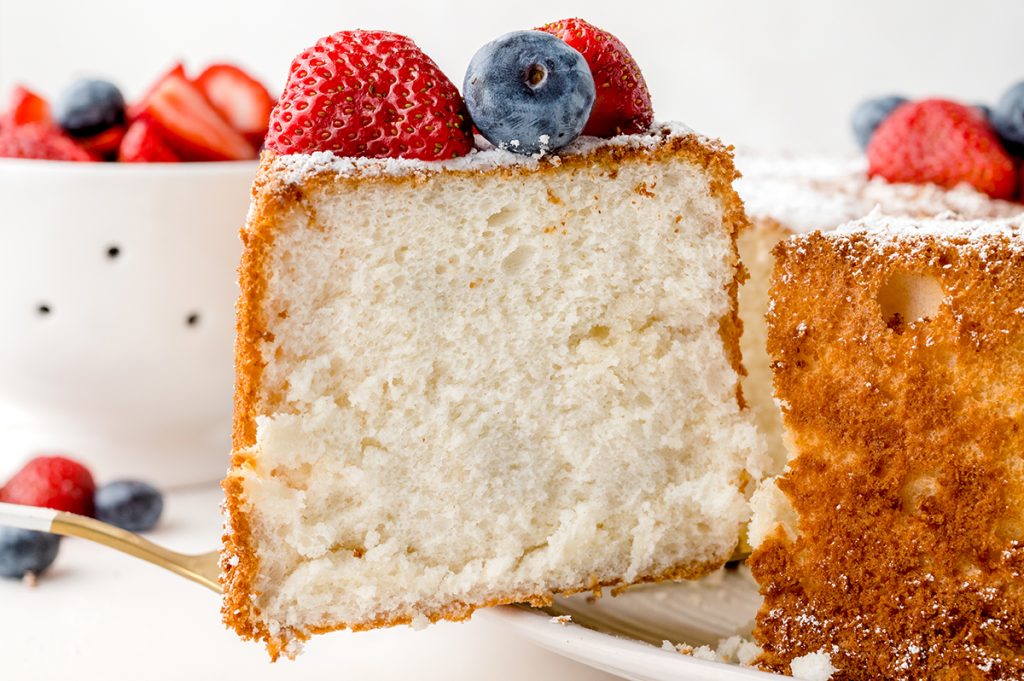 How To Make Angel Food Cake
With just a few quick steps, this angel food cake comes together in nearly no time.
Using a sifter, add the flour and larger portion of sugar to a small bowl and set aside.
Add the egg whites, extract, cream of tartar, and salt to a large bowl of a stand mixer fitted with a whisk attachment (or use a hand mixer).
On high speed, beat the ingredients. The whipped egg whites should form soft peaks.
Turn the mixer to low speed and slowly add the remaining sugar to the beaten egg whites.
Beat the mixture until it then forms stiff peaks.
Turn off the mixer.
Using a rubber spatula, gently fold in the sifted flour mixture (dry ingredients) gradually. Be very careful not to overmix to avoid having the egg white mixture deflate.
Pour the finished cake batter into the tube pan or specific angel food cake pan (make sure that it is an ungreased pan).
Once the batter is in the pan, gently tap the pan so that any air bubbles are released. This will help the mixture to completely settle and ensure there are no spaces between the batter and the bottom, or the side, of the pan.
Bake cake until it is a light golden brown and the top springs back when pressed. Test for doneness by inserting a toothpick in the center — it has finished baking when the toothpick comes out clean.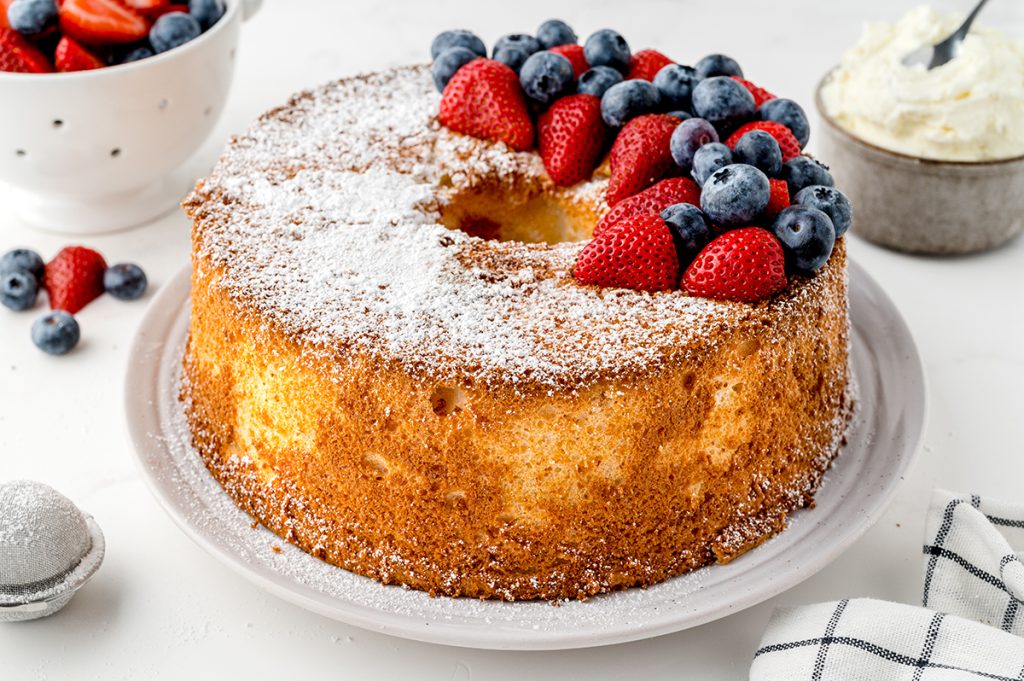 Cooling and Serving Process
Invert pan onto a wire rack so that the cake can come to room temperature. It should cool upside down in the pan.
Once the cake cools, use a butter knife or serrated knife to loosen the edges of the cake from the sides of the pan.
Then, turn the cake upside down onto the serving plate of your choice for serving, tapping the bottom of the pan so that the cake comes out.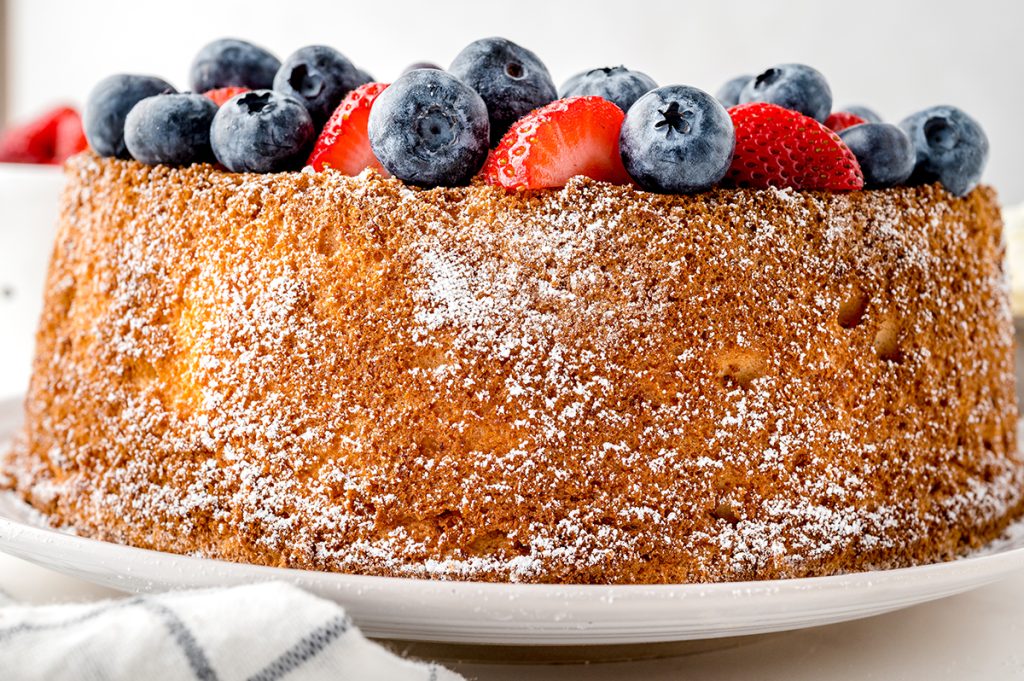 Angel Food Cake Variations
This is a basic angel food cake recipe but you can customize it to make it your own signature cake.
Nuts – Crush pecans, walnuts, or your favorites and add them to the batter.
Glaze – Make a quick glaze with powdered sugar and milk and drizzle it over top of the cake for extra sweetness.
Chocolate – Gently fold the chips into the batter for a cake speckled with chocolatey goodness. Or, melt dark, milk, or white chocolate and spoon or spread it over top.
Dried fruit – Raisins or craisins are a great addition and add some color to the cake.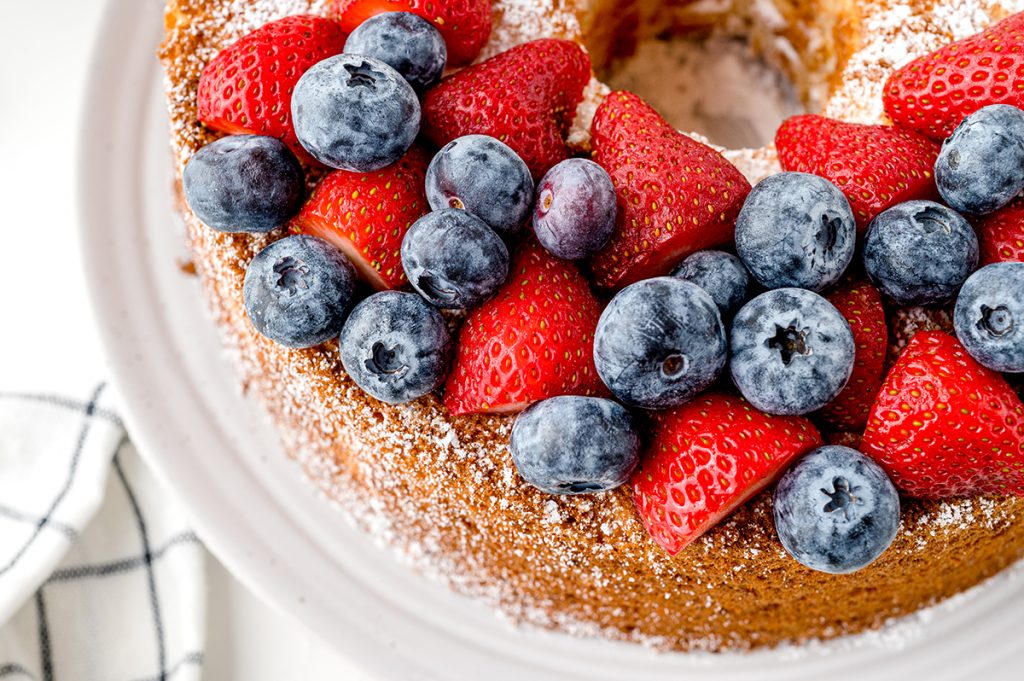 Storage, Make Ahead and Freezing
This angel food cake will likely be eaten up pretty quickly, but in the event that you have leftovers, you can store them easily.
Make Ahead: While cakes turn out best when baked just after the batter is finished, you can store the batter for up to 2 days in the refrigerator.
Refrigerator: Angel food cake does not need to be refrigerated. You can store it at room temperature for up to 2 days — just be sure to wrap it tightly in plastic wrap or store it in an airtight container.
Freezer: To freeze angel food cake, place slices in individual ziploc bags and store for up to 3 months.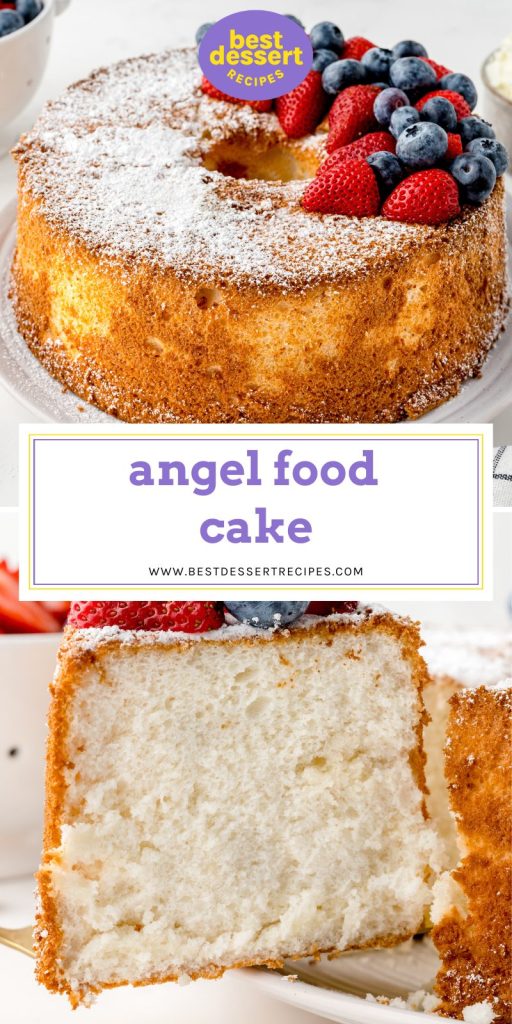 More Easy Cake Recipes
Vanilla Mug Cake
With basic pantry ingredients, you can have a fun single-serve Vanilla Mug Cake ready in under 5 minutes! So EASY to whip up!
Check out this recipe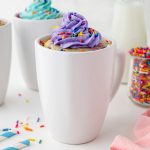 Honey Bun Cake
A soft and buttery Honey Bun Cake recipe with a spiced sugar filling and a shiny glaze. This classic is EASY to make in under an hour!
Check out this recipe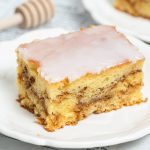 Cherry Dump Cake Recipe
With only five ingredients, you can have this EASY Cherry Dump Cake recipe ready in under one hour! Serve with a scoop of vanilla ice cream!
Check out this recipe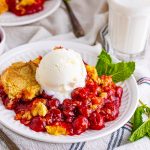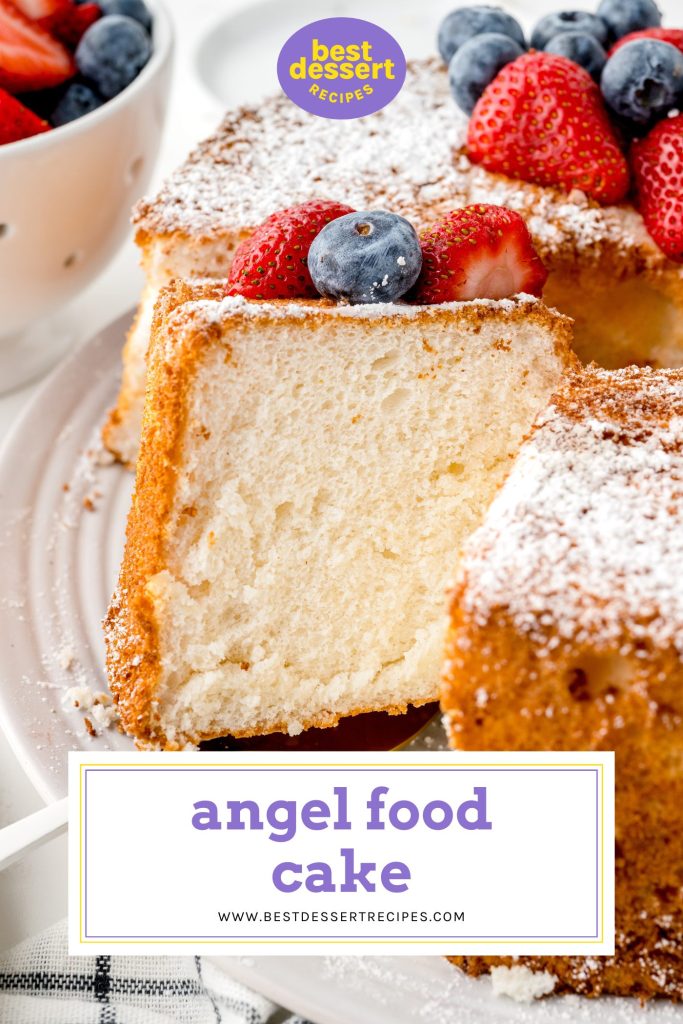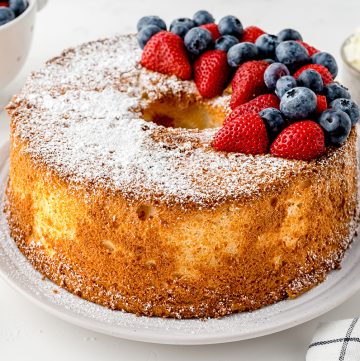 Angel Food Cake
With a light and airy texture, this classic Angel Food Cake recipe is perfect for any occasion. Top with fresh fruit and whipped cream!
Print
Pin
Rate
Ingredients
1

cup

cake flour

1 ½

cups

sugar

divided

12

egg whites

1 ½

teaspoons

vanilla or almond extract

1 ½

teaspoons

cream of tartar

½

teaspoon

fine sea salt
Instructions
Preheat the oven to 375°F. Prepare a 10-inch tube cake pan by making sure it is clean and fully dry. DO NOT GREASE OR OIL THE PAN. Set aside.

Sift together the flour, and 3/4 cup of the sugar, set aside.

In the bowl of a stand mixer fitted with the whisk attachment or a large mixing bowl using an electric mixer with the whisk attachment, beat the egg whites, extract, cream of tartar and salt, until soft peaks form.

Gradually add the remaining ¾ cup of sugar while continuing to whip until stiff peaks form. When the egg white mixture has reached its maximum volume, fold in the sifted ingredients one third at a time by hand and using a spatula. Do not overmix or the egg whites will deflate. Do not overmix. Pour the batter into the tube pan and gently tap to release air pockets.

Bake for 40 to 45 minutes or until the cake springs back when touched, is lightly browned and passes the toothpick test.

Invert the cake onto a wire cooling rack and allow to cool (still in the pan ) for 3-4 hours.

When cool, run a butter knife around the edge of the pan to loose, invert onto a serving dish and tap the top to lease the cake. Tapping it several times before inverting also helps.
Nutrition
Calories:
228
kcal
|
Carbohydrates:
49
g
|
Protein:
7
g
|
Fat:
0.5
g
|
Saturated Fat:
0.04
g
|
Polyunsaturated Fat:
0.1
g
|
Monounsaturated Fat:
0.02
g
|
Sodium:
221
mg
|
Potassium:
184
mg
|
Fiber:
0.4
g
|
Sugar:
38
g
|
Vitamin A:
0.3
IU
|
Calcium:
6
mg
|
Iron:
0.2
mg